About Chandigarh: Chandigarh, the capital of two northern states of Punjab and Haryana, has world-renowned and unparalleled architecture. At just about 265 km from Delhi, Chandigarh is literally a hub for content writing. It has many institutes training aspiring content writers in the art of content writing. Below is a list of the Top 7 Content Writing Courses in Chandigarh.

Content writing, as such, is in demand globally. Cities with rapid digital transformation do see an increase in demand for content writers than smaller towns. It is not surprising given, all businesses, IT, real estate, start-ups, etc., are shifting to the digital platform to create and build their online presence.
Any written word comes under the realm of content writing, be it web content, advertisements, brochures, newspapers, research papers, academics, and so on. Thus the content writing industry is humungous with enormous scope.
Residents of Chandigarh aspiring to explore the career of a content writer can go through our research-based list and join a training institute as a first step. But before diving into the list of institutes, let us understand the different types of content writers.
TYPES OF CONTENT WRITERS
Today, businesses big and small require content writers for their content marketing strategy, which in turn is the core of digital marketing. Creating content demands time, and most marketers find it challenging to devote time to content creation. Enter content writers.
Digital marketing has various verticals, and content is the bedrock requiring a reliable and experienced hand. The quality of content can make or mar a business; such is the importance of content writing.
Some content writers can write on any topic under the sun, and then there are niche writers. Some prefer to specialize in a niche area such as travel, food, music, entertainment, politics, sports, etc.
Just like the various niches in content writing, various businesses require multiple forms of content. Content written for a solar panel industry will be extremely different from that written for an entertainment business.
The type of business dictates the kind of content writer services required. There are various types of content writing niches, such as:
Technical writing.
Academic writing.
SEO content writing.
Instructional design.
Feature writing.
Research papers.
Business writing.
Ghost Writing.
Fiction/storytelling.
Blogging, and so on.
Of all these forms, blogging and blog articles form a chunk of the inbound marketing process. It would not be an overstatement if said; blogging is CRUCIAL to inbound marketing. Yes, true that!
Check out our top Content Writing Courses In Delhi
BLOGGING:
Contrary to most people's belief of blogging being an easy-going, just pen your thoughts kind of job, blogging is a serious business. Blogs are tools that within the inbound marketing realm help a company develops its online presence. Most often, content marketing involves creating a series of blogs around a topic of expertise for business.
For instance, a hospital website might have blog posts on various topics related to health and well-being. A food delivery site will have blog posts on food and nutrition. An interior decoration firm will have blog posts on home décor and so on.
The primary purpose of furnishing blogs on the sites is to provide valuable information to the target audience and build the brand name and trust. Engaging and informative blog posts often attract traffic and lead to conversions, thus benefitting the business.
As per HubSpot, businesses adopting the blogging approach attract 55% more traffic than those that do not. As per Worldometers, the total number of blog posts published per day is six million-plus!
How, then, do you stand out and make a name for yourself in the blogging jungle?
Some of the innate traits of a good blogger are:
Bloggers convert complex topics into friendly and cordial conversations.
They create highly engaging blogs with in-depth research.
Bloggers are a passionate lot very willing to share knowledge and valuable information.
They have excellent organizational skills with strong work ethics, sticking to schedules.
SEO knowledge is something that has become an indispensable quality for all types of content writers, including bloggers.
Blogging consistently and producing high-value content increases the organic traffic and delivers long-term benefits, a considerable ROI.
Some valuable tips for blogging (for inbound marketing) are:
Creating blog posts that align with the business goals. Often, bloggers write on ideas that interest them. It is one of the biggest blunders if those ideas do not align with the company goals. A great blogger has a clear vision of the business goals and generates content that is valuable to the target audience. In turn, this increases the traffic and conversions thereafter.
Thinking from the customer point of view to produce content. Every business has a unique buyer persona. The blog posts should cater to the information that this buyer persona seeks. When you answer all the questions and queries that the buyer persona might have, you are infusing value into your content, and it is sure to evoke positive responses.
Conversational tone. The style of writing leaves a lasting impression on the audience. When you strike a conversation, it is a lot more friendly and likely to elicit positive responses from the opposite person, than when you are merely giving a lecture, one-way that. The conversational tone undoubtedly strikes a chord with the masses. It gives them the feeling that they are dealing with "people who will understand their needs," not robots. So, keep the conversation flowing. Use simple, understandable language that requires no Oxford or Cambridge dictionaries.
Formatting is another crucial aspect. As per statistics, the attention span is down from 12 seconds in 2000 to a mere eight seconds now. Eye-catching headlines and subheadings, a clean template, clear, concise ideas, and simple writing all play a vital role in blogging.
There are many other guidelines such as proper research with back up, citing when insights are from elsewhere, and giving them due credit, editing, rewriting, etc. Besides, great bloggers provide wings to their creativity and think out of the box.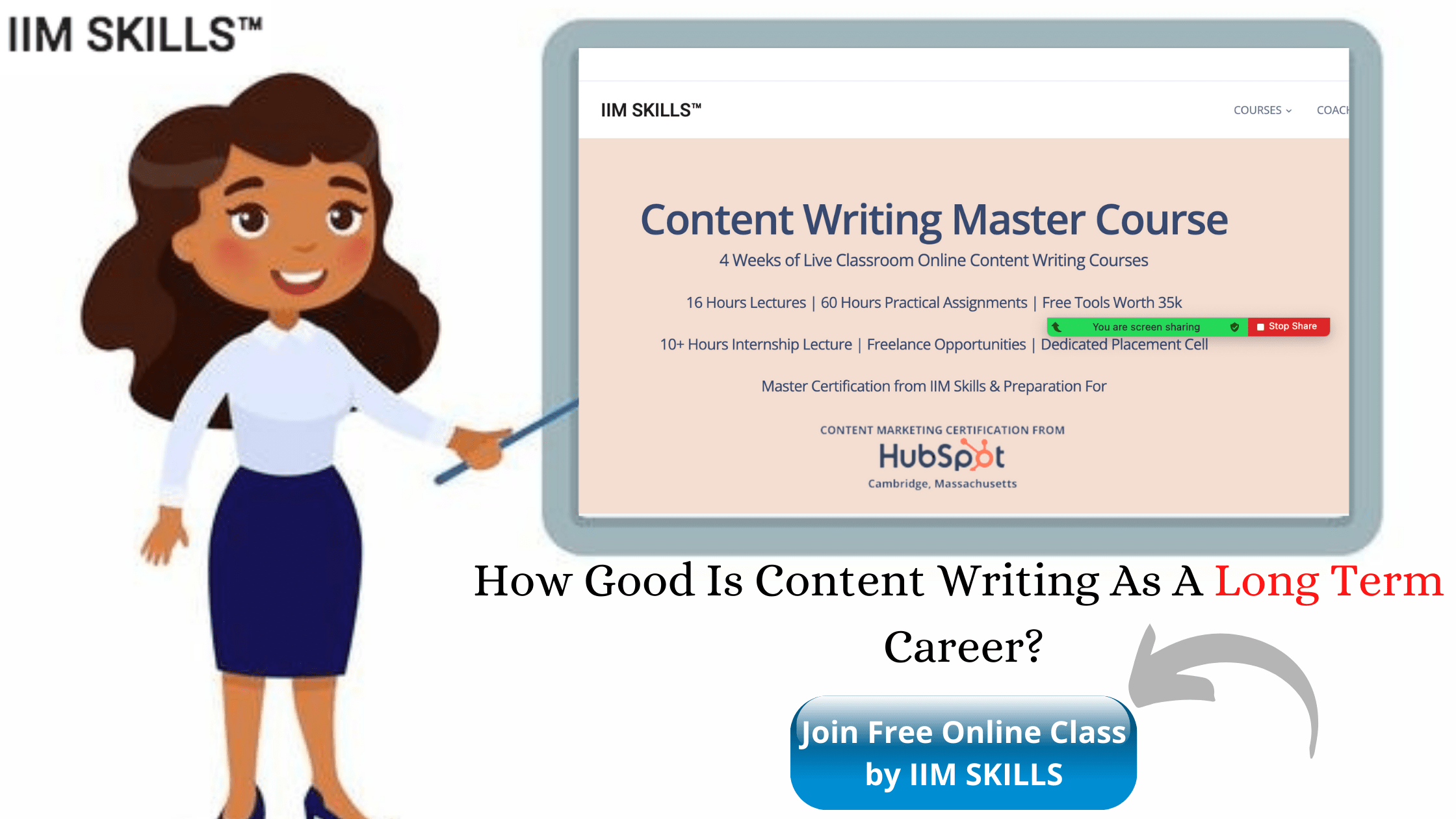 TOP 7 CONTENT WRITING COURSES IN CHANDIGARH
Let us now see in detail the top institutes offering a content writing course in Chandigarh along with the course details.
IIM SKILLS has its headquarters in New Delhi but offers one of the best content writing courses for aspirants all over, including Chandigarh. It is an online training institute having courses for Digital Marketing, Content Writing, and CAT Coaching.
The institute aims at providing affordable training programs to the masses. In that pursuit, IIM SKILLS has already trained 5000+ people from over 30+ countries with 1000+ pieces of training.
The course/program design is such that it covers all practical aspects to make candidates industry-ready. Experts in the respective domains create and curate the course curriculum.
The faculty/mentors are incredibly passionate about teaching and up-skilling candidates, boosting their careers and employability.
Today, there is a gap in the skills required to remain employable, and IIM SKILLS has the vision to identify and fill such gaps. All of their courses are highly interactive and fast-paced, making learning enjoyable.
The faculty at IIM SKILLS encourages creativity and learning through doing environment. They are courteous and excellent when it comes to teaching the nuances of the courses, even to novices.
IIM SKILLS is a forerunner in the content writing industry. Its flagship course, the Content Writing Master Course is by far the most famous content writing course.
Being an online course, it has the advantage of access from anywhere at any time. Whether the aspiring content writers are in Delhi, Chandigarh, Mumbai, or Dubai, it does not matter, and they can avail of this beautiful, comprehensive content writing course.
Salient Features of the content writing course:
The training spreads over four weeks with live interactive training sessions of 16 hours.
The training follows a 20:80 pattern, 20% theory, and 80% practicals. Thus giving the participants invaluable hands-on experience in live projects.
It is a pervasive course covering all aspects of content writing and even some necessary elements of digital marketing.
The course curriculum includes:

A web development module.
Blog creation module.
A module on introduction to content writing.
The content keyword research module.
A module on starting content writing.
Content writing tools.
A module on detecting duplicate content.
Distribution of content using email.
A chapter on setting up of Google local pages.
Social media marketing module.
Various social media tools.
Ultimately, a complete module covering the aspects of monetizing your newly learned skill.

Post completion of the training and an examination, all participants get a certification from IIM SKILLS in addition to a content marketing certification from HubSpot, the cherry on the cake. The HubSpot certification is renowned globally and adds immense value to the resume/profile of aspiring content writers.
Certifications bring with them enormous job opportunities.
The mentors at IIM SKILLS also educate the participants on how to start freelancing, or even start up their content agency, providing support much after the training is over, such is their dedication.
Here is the most genuine guide to – Is IIM SKILLS Fake?
The Content Writing Master Course is for 14,900 + GST.
Location:
IIM SKILLS (Co-Offiz) H B Twin Tower 8th Floor,
Max Hospital Building, Netaji Subhash Place,
Pitampura, New Delhi-110034
Phone: 99118-39503
TECHEDO TECHNOLOGIES
Techedo is a software company in Chandigarh offering technical education as well as training. Apart from software skills and training, Techedo also offers various job-oriented courses. Some of these are digital marketing, web development and designing, graphic designing, mobile applications, cloud computing, AWS, and content writing.
The aspects that differentiate Techedo from the rest are:
They offer elite courses at an economical fee structure.
The training comes with a lifetime free membership.
There is 100% practical training with flexible timings.
The faculty is knowledgeable and excellent.
The institute provides an authorized certificate for all the courses post-completion.
Techedo Technologies offers advance technical training in various courses with 100% placement to boost your career. It provides one of the top content writing courses in Chandigarh. Aspirants can learn basic and advanced skills, which will help them start right away with a career.
Salient features of the content writing course:
The course is exhaustive, covering fundamental and advanced skills.
The curriculum includes:

Introduction to writing, different types of writing.
Planning the writing with guidelines.
Reader-centric documents and reading for writing.
Referencing, plagiarism, and writing effective paragraphs.
Pre-writing, grammar, and proofreading.
Editing, communication with the graphic artist, and publishing.
Writing for the web.
Professional development skills.
Keyword research and SEO.
Blogging, email writing, and tools of content writing.
Essentials of UI &UX.
Interview preparation.

The different types of content under the course curriculum are:

Branding and journalism style.
SEO copywriting.
Digital and user experience writing.
Lead generation or conversion rate optimization writing.
Subject matter.
Influencers.
Social Media Writing.
Advertisement copywriting.
Technical writing.
Narrative writing.

Thus, the course curriculum is extensive, covering all aspects of content writing, and aspirants can be sure to learn the ropes during the training.
Location:
SCO 134-135, First Floor, Above Axis Bank
Sector 34-A, Chandigarh-160022
Phone: 78375-05001
WEBHOPERS ACADEMY
WebHopers is a digital marketing and web design training institute, run by a well-known company, WebHopers Infotech Pvt. Ltd.
The institute offers professional training and industry visits. Their professional courses include digital marketing, SEO training, PPC training, web development and designing, and a lot of software training courses.
One of their courses is content writing training. Being one of the top digital marketing training institutes, it offers one of the best content writing courses in Chandigarh. There is the option of a demo class of one to two days. Aspirants can avail of the demo before making a decision.
Salient features of the content writing course:
The content writing training at WebHopers is a five-stage process.

Why content writing, what it entails, and whether you are ready for it.
Things to know before writing, what a reader expects, guidelines on writing, and how to write for different topics.
How to start writing, efficient reading, different styles of writing, and grammar aspects for writing.
Discussion of your abilities, proofreading, editing, and consultation with editors.
Setting work in order and learn how to publish it.

The different types of content writing under the course include:

Brand journalist.
SEO copywriting.
Technical writing.
Lead generation writing.
Publication based and editorial writing.
Communication and marketing writing.
Social media and advertisement writing.
Feature writing and press release writing.

Mentors and trainers have 8+ years of experience.
Placement assistance is an added benefit.
Location:
SCO-40, 1st Floor, Sector 11,
Panchkula, Chandigarh-134109
Phone: 76962-28822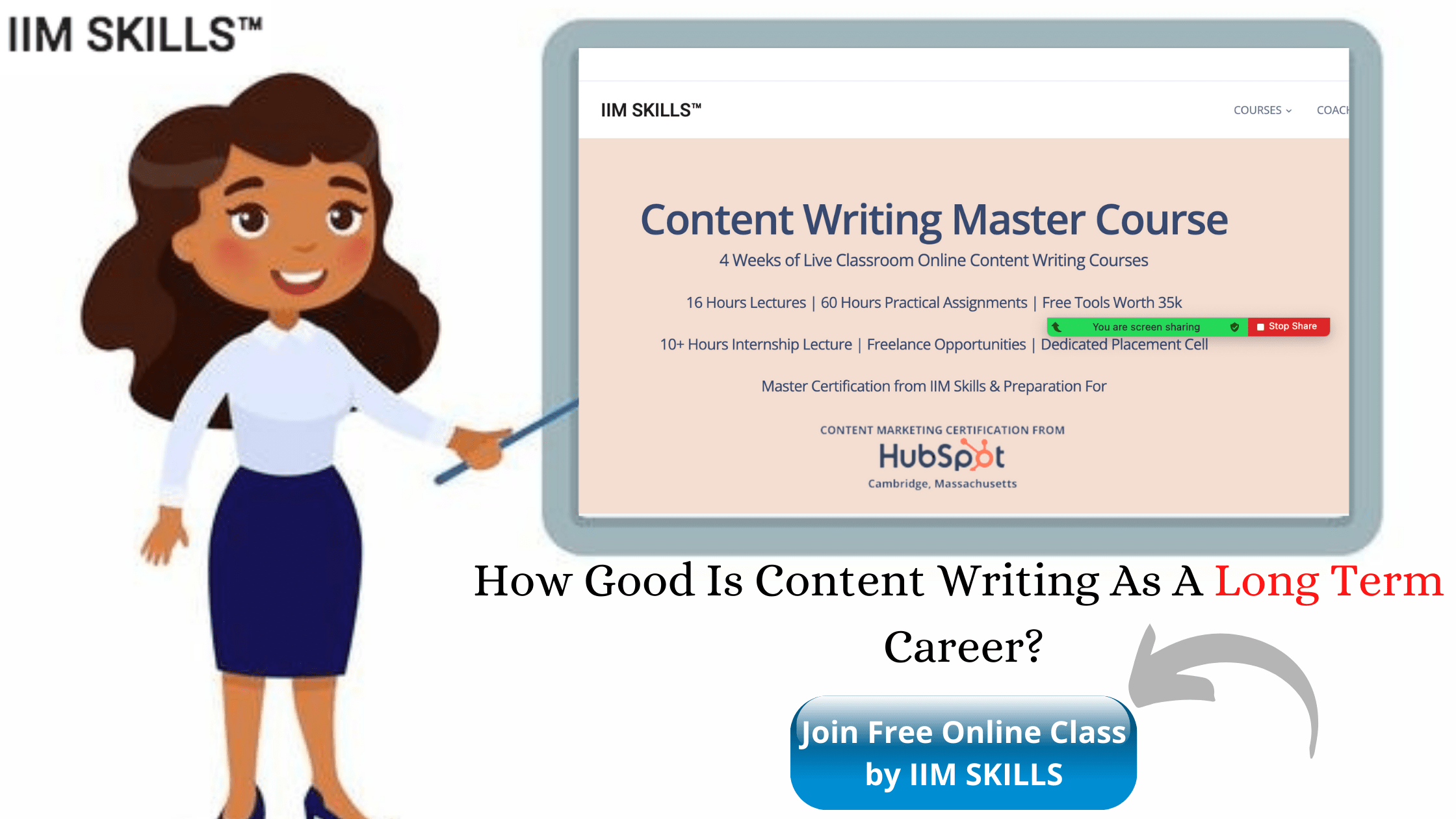 WEBTECH LEARNING
Webtech Learning is an ISO certified academy with its inception in 2010. The academy provides training in digital marketing, web development and designing to students from India and abroad.
The founder of Webtech Learning is a serial entrepreneur, digital marketer, and a user experience consultant.
The academy has to its credit trained 7850+ professionals in 2450+ successful batches. The various courses it provides includes web designing, digital marketing, android developer, software testing, cloud computing, etc., including content writing, blogging, Amazon marketing, and so on. The academy also provides industrial training programs.
Webtech Learning also provides one of the best content writing courses in Chandigarh. You can learn from experts with 14+years of experience with 100% practical training.
Salient Features of the content writing course:
The course syllabus has five modules:

Essentials of writing: Why become a writer and do you have talent, breaking through the block.
Before you write: Introduction, planning, guidelines, referencing, plagiarism, and reading to write.
Write right: Effective writing, paragraphs, and common grammatical mistakes.
After you write: Proofreading, editing, and rewriting.
Publishing: Writing for the web and publishing.
Career development for writers: Professional development skills.

The course has assignments and certification with 100% job placement assistance.
Location:
SCO 54-55, Above Oriental Bank of Commerce,
Sector 34A, Sector 34, Chandigarh-160022
Phone: 99153-37448
CHANDIGARH INSTITUTE OF DIGITAL MARKETING
The CIDM is yet another digital marketing institute that offers a content writing course in Chandigarh. They offer courses in:
Digital marketing.
SEO training.
Amazon and market place training.
Industrial training.
Reputation management
Social media
Content writing
Web designing
SAP training.
The programs here teach the students to be customer-centric. The institute provides students with a wholesome training for each of the courses. World-class amenities, flexible learning modules, and up-to-date course curriculum are a part of the training at CIDM.
Salient Features of the content writing course:
The course is on the weekends. The duration of the course is 20 hours.
The training is practical with certification.
The curriculum design and fine-tuning are by subject experts and are up-to-date.
Faculty promotes a friendly environment for students to think, explore, and learn.
There are interactive sessions with assignments on live projects.
Location:
SCO 842, Near Housing Board Lights,
Shivalik Enclave, Chandigarh-160101
Phone: 88727-20055
Recommended 
Content Writing Courses In Coimbatore
Content Writing Courses In Goa 
Content Writing Courses In Delhi 
CBITSS TECHNOLOGIES
CBitss or Compiling Binary Information to Security Specialization is a unit of Sukrala IT Pvt. Ltd. CBitss is yet another digital marketing institute that offers an excellent content writing course in Chandigarh.
It is an ISO-certified professional digital marketing institute. They provide training not just to students but to working professionals, corporates, and even entrepreneurs.
The main courses on offer are digital marketing, YouTube training, PPC training, Facebook marketing, WordPress, Email marketing, SMM, Content writing, Bidding, Web analytics, Web hosting, and SEO techniques.
So far, CBitss Technologies has trained 2000+ students with over 800+ projects. They aim to provide the highest quality of education and training programs. They have a faculty that is certified and super proficient in their quality of teaching and delivery.
Salient Features of the content writing course
The course gives complete information on the different types of writing, such as SEO content writing, lead generation writing, social media writing, and more.
The course teaches you to write content to:

Motivate people to take action.
Increase sales, traffic, and brand recognition.
Write content to boost website rankings.
Strategies to write content for different platforms.

Certification upon completion of the course.
Location:
SCO 23, 24, 25, 2nd and 3rd Floor,
Sector 34-A, Chandigarh-160034
Phone: 99887-41983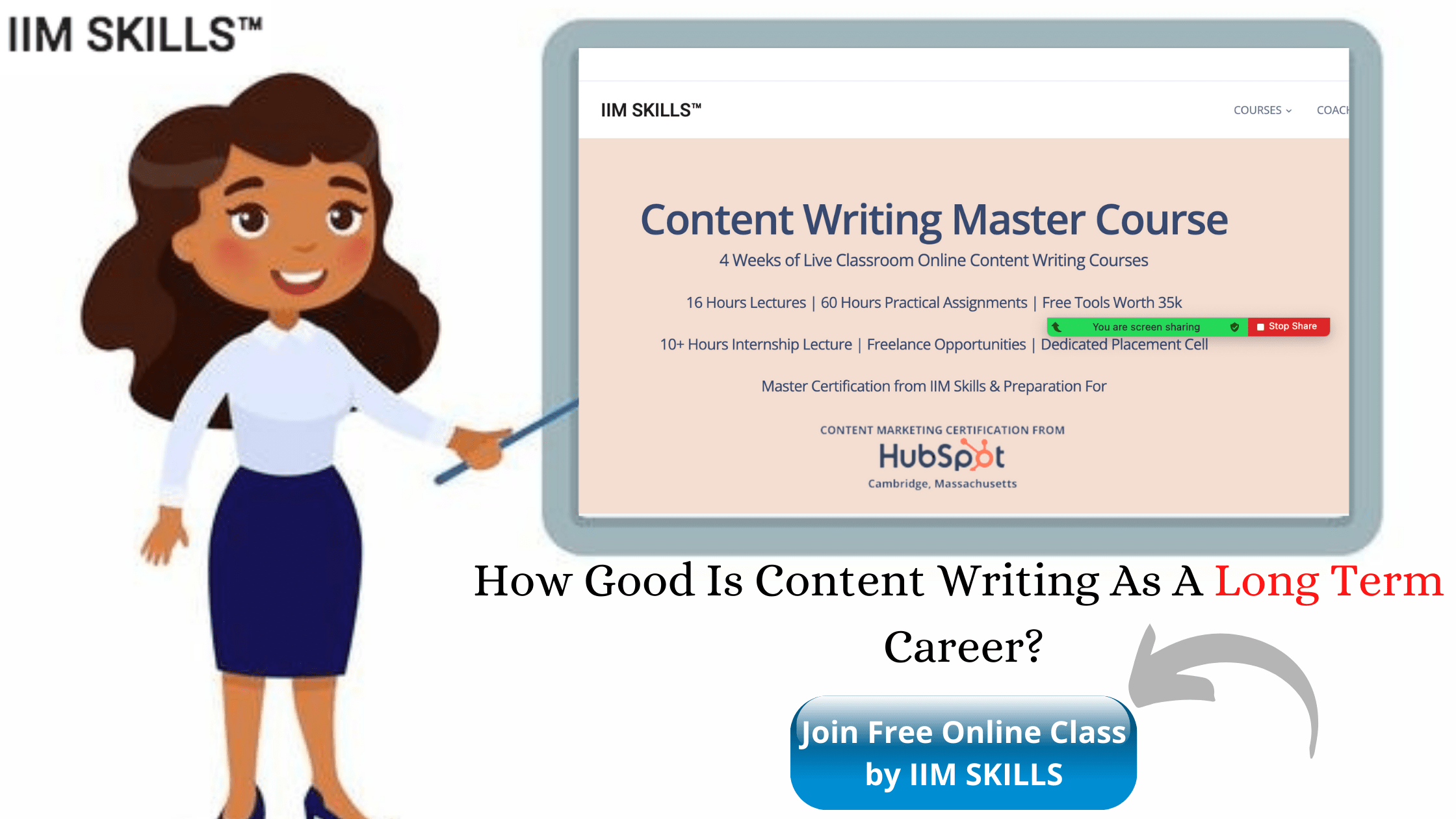 IRA INSTITUTE
The Ira Institute is also a digital marketing institute offering an excellent content writing course in Chandigarh. It is a professional institute providing practical training in:
Digital Marketing
SEO
PPC
Content Writing
Google Analytics training
Affiliate Marketing
Social Media Marketing
Web Designing
PHP Training
Industrial training
Video Marketing
Bidding
WordPress
Tally
The training at Ira Institute has set benchmarks in responsibility, competence, integrity, and high standards. They deliver training compatible with current trends. Their knowledge and skill levels are consistent with tech developments.
The institute has quality academic staff with a focus on concept building.  Personalized counseling guides students/aspirants. The healthy learning environment at Ira Institute has been providing excellent results.
Salient Features of the content writing course:
Ira Institute offers an advanced certification course in content writing.
The course helps trainees learn the nuances of developing content for various platforms.
It provides real-time experience in corporate organizations.
The institute has rich knowledge in training students and professionals alike.
Hands-on experience adds to the practical learning with industry-centric case studies.
The institute provides 100% job assistance.
Ira Institute makes learning fun. It educates about five main types of writing:

Expository.
Descriptive.
Persuasive.
Narrative.
Creative.
Location:
SCO 393, Second Floor,
Sector 8, Panchkula, Haryana 134109
Phone: 62840-99046
FAQs
1. Which Is the Best Content Writing Institute In Chandigarh?
Considering all the important criteria like faculty members, Job-support, training methodology, curriculum, post-placement support, student reviews, and testimonials, we rank IIM SKILLS in Position 1 for Content Writing Courses In Chandigarh.  
2. Will there be 100% Placement Assistance Once I complete the content writing course?
Several institutes offer placement guarantees, interview assistance, and resume preparation. We recommend you to check with the institutes regarding the same. 
3. What Is The Average Fee for Content Writing Courses In Chandigarh?
The Average Fee for Content Writing courses is anywhere between Rs 10000 to Rs 20000 for a duration of 1 month to 3 months (4 weeks-12 weeks).  
4. What is the best way to start a content writing career in Chandigarh?
The best way to start your content writing career would be to sign-up for an intensive content writing training course. Thereafter, create your own website. This will enable you to create content around your niche. Disseminate it on different online channels. Relevant and good quality write-ups you will get visibility. In turn, you will get content writing projects in your niche.  
SUMMING IT UP
The content writing industry is vast. The most encouraging factor for aspiring content writers is perhaps the eligibility criterion.
Anyone with any background can become a content writer. With practice and hard work, and keeping yourself up-to-date with the industry trends, it is possible to become a content writer within a short period.
The content writing profession is unlike other professions that require a long training period and an even more extended period to find a foothold and start earning. The options of earning too are multiple. Those looking at content writing as a side hustle can become freelancers or work part-time. For entrepreneurs, a start-up of a content writing agency is a good bet.
Last but not least, for the writers who can think of no other profession other than writing, there are lots of opportunities as full-time content writers, content marketers, or content specialists. The choices are plenty, and the one step that you take of enrolling in a course can change your life for the better.