Top 4 Content Writing Courses in Cochin With Placements
Content writing is a challenging field with a lot of competition. We endeavour to furnish a list of top content writing courses in various cities for the benefit of aspiring content writers. Today, we bring you the list of the top 4 content writing courses in Cochin.
Success in businesses today is a measure directly proportional to getting the right content to the right audience and ensuring conversions and sales. Content is a driving force behind creating and increasing brand awareness. A good content writer is an asset to any business, small or big.
Given the scope of content writing today, it is not surprising to see many people of different age groups aspiring to become content writers.
For wannabe writers, now is a great time to become a content writer. Though different forms of content are gaining importance in 2020, especially video content, it is still an exciting and excellent time for content writing.
Written words are something that will never go out of fashion or not be a necessity. Words to express thoughts, words to reach out to the masses on different platforms, words to engage in efficient marketing; the written word is of paramount importance for everything. Hence, the opportunities for a content writer career are only going to see a rise.
True, there is a sea of opportunities, but do all aspiring writers have it in themselves to become good content writers?
All great professionals have some characteristics that take them to exceptional levels. There will be some aspects that they delve into deeper than the average common man, which takes them to greater heights. These very traits are the secrets to getting better results and becoming a better version of yourself.
You can also check out our list of Content Writing Courses in Chennai 
SOME CONTENT WRITING TIPS FOR THE BEGINNERS:
Let us unravel some Tips, Tricks, and Secrets to becoming great content writers.
The habit of Reading and Researching:
In-depth research is the bedrock of good content. Frivolous content neither gets you the traffic nor the rankings. To top it, the content writer writing fluff appears to come across as scatter-brained. You surely want to avoid that.
With the vast amount of information generated each day on every topic, it is not difficult to find relevant information on your topic of research.
Do your research well, but find the gaps in available information that can be useful to the audience and furnish that information to stand out from the rest. Always have a unique selling proposition or a differentiator to make your writing exceptional and valuable.
A great writer is always in the alert reading mode, meaning bookmarking references, jotting down ideas no matter how raw and undefined, to build upon later. The research part takes longer than the actual writing, so staying in a research mode surely has enormous plus points.
This element might seem a little tough initially, but once you become a content writer, it becomes second nature to bookmark and jot down ideas and references, and even build an outline of what you want to write.
Sometimes, you come across web pages with valuable information that is pertinent to what you want to write. At times, there are web pages with fresh ideas that appeal to the writer in you. At all such times, bookmarking the webpages is a good thing to do.
Tip:  Evernote is a great companion to bookmark and take notes on while in the research mode. It is a cloud-based file system allowing you to bookmark and even write down notes and create separate folders. When you start writing, you can always take it from the respective folders. It is a very efficient and advanced tool of great use to content writers.
Create your individuality and write a unique style of writing
Every human is unique. In the same way, let your content have a unique voice. With an information overload in the digital era, it is impossible to write exclusive content, but the voice and the writing style can be unique.
Each content writer has a different way of writing. In their choice of words, sentence structure, tone of writing, rhythm, and style of storytelling, every content writer is different.
If you find this task confusing and intimidating, wondering what a "voice" in writing means, do not stress. Most writers, to become professional writers, go through imitation, mastery, and finally, innovation.
Elaborating on the stages of development for a content writer, you can initially imitate the layout, the format and structure, the introduction and conclusion, and the call to action of your preferred content writers. You can write in the same style but not copy.
Once you are comfortable with the flow and rhythm and find yourself writing with ease, it is time to innovate. Tweak your writing so that it sounds like it is you who is talking. Give it your personal touch, that uniqueness that is only you.
Having crossed the writer's voice hurdle, the next challenge is not to become monotonous. As a content writer, you should continuously upgrade yourself and be up-to-date with all the happenings in the content writing industry.
Content writing and marketing are part of digital marketing. Digital marketing is a dynamic field, and so to be up-to-date is of prime importance.
Keep yourself well-informed of the latest trends and tips in the content writing sphere and adapt without resistance.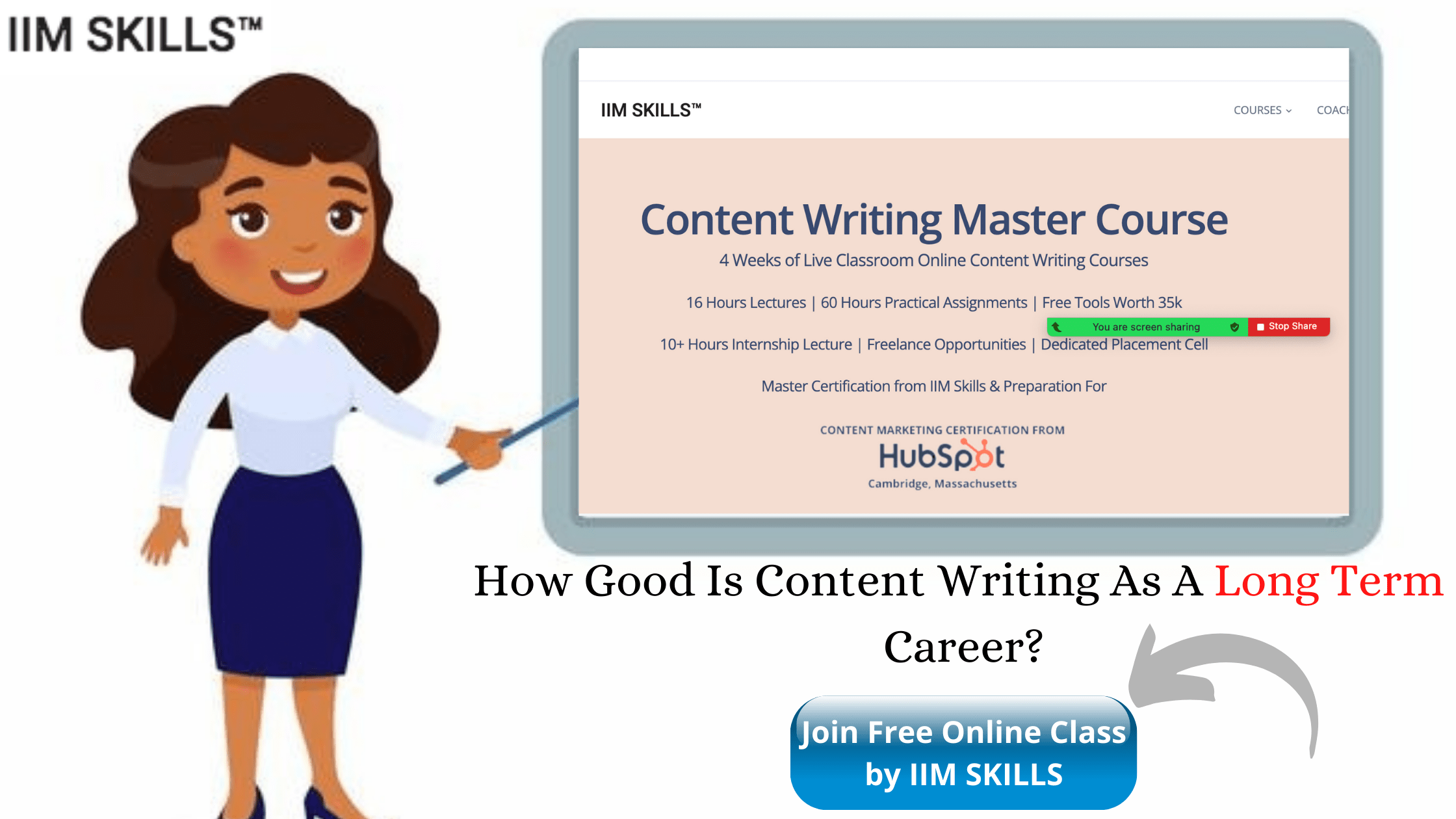 The importance of Nimble Writing
In the content writing context, nothing is more beautiful than nimble, agile, precise, and understandable writing. An article/blog with complicated words that need a dictionary to understand, or a blog with simple words that you can easily understand, what would you prefer to read?
The answer is obvious, isn't it? The main idea of content creation is for more and more people to read and benefit. If your content is complicated for the common man, that goal remains unachievable.
Writing that appeals to people is plain and simple. The mantra for success in content writing on the digital platform is to keep it simple and understandable.
Short paragraphs, simple words, and shorter sentences are elements of good content writing.
Structure/Framework:
Once you master how to write crisp, clear, and clutter-free content, your next hurdle is the structure. The writing sometimes does not flow with rhythm and structure, which is detrimental to good content writing.
The solution to this hurdle lies in creating a framework/skeleton of sorts. Apart from the main, introduction, body, and conclusion, articles/blogs, or any form of writing cover various points.
The ideal thing is to create a framework for any content, from articles/blogs to copywriting or FAQs. You can create your headline and subheadings to give a plot and character to your content. Then you can go backfilling the content to furnish all the information and produce the article.
Read, Edit, and Rewrite.
Yet another fact, for aspiring content writers, good content never happens in one go. The first attempt is a draft. You need to read the draft, edit and cut out the fluff, and rewrite many times if need be to furnish the final product.
The first attempt usually only brings together the ideas into words. Editing is the most critical aspect of content writing. You need to be critical of your work when editing. Any high-quality content has gone through multiple edits.
Ultimately, regardless of what the subject matter is, a good content writer can make any piece of writing interesting and enjoyable. Clarity, simplicity, conversational tone, and, most importantly, providing a solution for the benefit of the target audience can help you get people reading.
TOP CONTENT WRITING COURSES IN COCHIN
Moving on, we will now list out the top 4 content writing courses in Cochin
Kochi (Cochin) is the most densely populated city in Kerala. It has one of the highest literary rates at 96.29%. Kerala itself is the most literate state in India. In terms of the growth of industries, infrastructure, the potential for further education, and job opportunities, Kochi is one of the best places to live in. As with the rest of India and the world, the prospects for a content writing career are also very bright in Cochin.
IIM SKILLS
IIM SKILLS is a premier institute in the online Edu-space. In a field with fierce competition, IIM SKILLS has managed to build itself as a trusted brand name with its up-skilling online courses.
To impart training in various fields is one thing and impart training that makes people employable is a whole different thing altogether. The working ideology at IIM SKILLS is to fill the gap in skills and transform people into industry-ready professionals.
In a constant effort to find such skill gaps and build online courses to fill these gaps, IIM SKILLS now offers courses in Digital Marketing, Content Writing Courses, Technical Writing Courses and CAT coaching. The result of pursuing these courses is a highly rewarding career.
With over five years of excellence, IIM SKILLS has impressive milestones of training 5000+ students from 30+ countries through 1000+ training programs. Interview assistance, job opportunities across countries, and internationally acceptable certifications are some aspects that make IIM SKILLS a popular name today.
IIM SKILLS is an institute that is up-to-date with the progress in technology and digital marketing. The Content Writing Master Course is a certification course that will prepare aspiring writers to enter the field of content writing.
The reviews of the happy graduates, the impressive milestones, are all facts to conclude that IIM SKILLS offers one of the best content writing courses in Cochin.
Highlights of the Content Writing Course at IIM SKILLS:
There is no eligibility criterion for the Content Writing Master Course, and practically anyone can take up this course.
The course duration is for one month with a fee of 14,900/- plus GST.
The training involves 16 hours of lectures and 60 hours of practical assignments, so a 20:80 mix of theory and practical.
The hands-on tasks on live projects are what makes this course so great in terms of skills acquired.
The icing on the cake is the free lifetime access to the learning management system and free tools worth 35K.
The training offers flexibility in terms of weekdays and weekends and a common batch timing.
You can avail of a free demo session, talk to an expert, and register for the course. Upon completion of the training and successful examination completion, you become a happy graduate/content writer.
The certifications trainees available upon course completion are those from IIM SKILLS and HubSpot. The HubSpot Academy content marketing certification is globally renowned and adds value to your resume as a content writer.
The trainer/mentor has a rich experience, and the training sessions are lively and interactive. The mentor guides participants at every step.
The training is fast-paced, and the course syllabus is extremely extensive and includes:
A web development module with an understanding of WordPress, various plugins, and the importance of an HTTPS secure server.
The next module is on blog creation, web traffic, landing page creators, and the setting up of accelerated mobile pages.
The session on introduction to content writing educates on various types of writing, content publication channels, and distribution of content.
The keyword research module is extensively educative on keyword research and competition analysis.
Upon learning the basics, aspirants proceed to content writing, exploring topics, and creating compelling content with some briefing on logos and infographics.
A module on content writing tools explores all the standard tools of content writing.
Then comes an understanding of plagiarism and how to detect and avoid it.
Post content creation comes content distribution, and the content writing course delves into this along with email automation.
There are also modules on social media marketing, its importance, and tools for the same.
Finally, an in-depth session on the opportunities in the content writing field. The trainer imparts information on freelancing, part-time, full-time, or starting a content writing agency.
There are support and guidance in terms of interview preparation and also placement.
Course fee – INR 14900 + GST
Contact Details:
Location:
IIM SKILLS (Co-Offiz) H B Twin Tower 8th Floor,
Max Hospital Building. Netaji Subhash Place,
Pitampura, New Delhi-110034
Phone: 99118-39503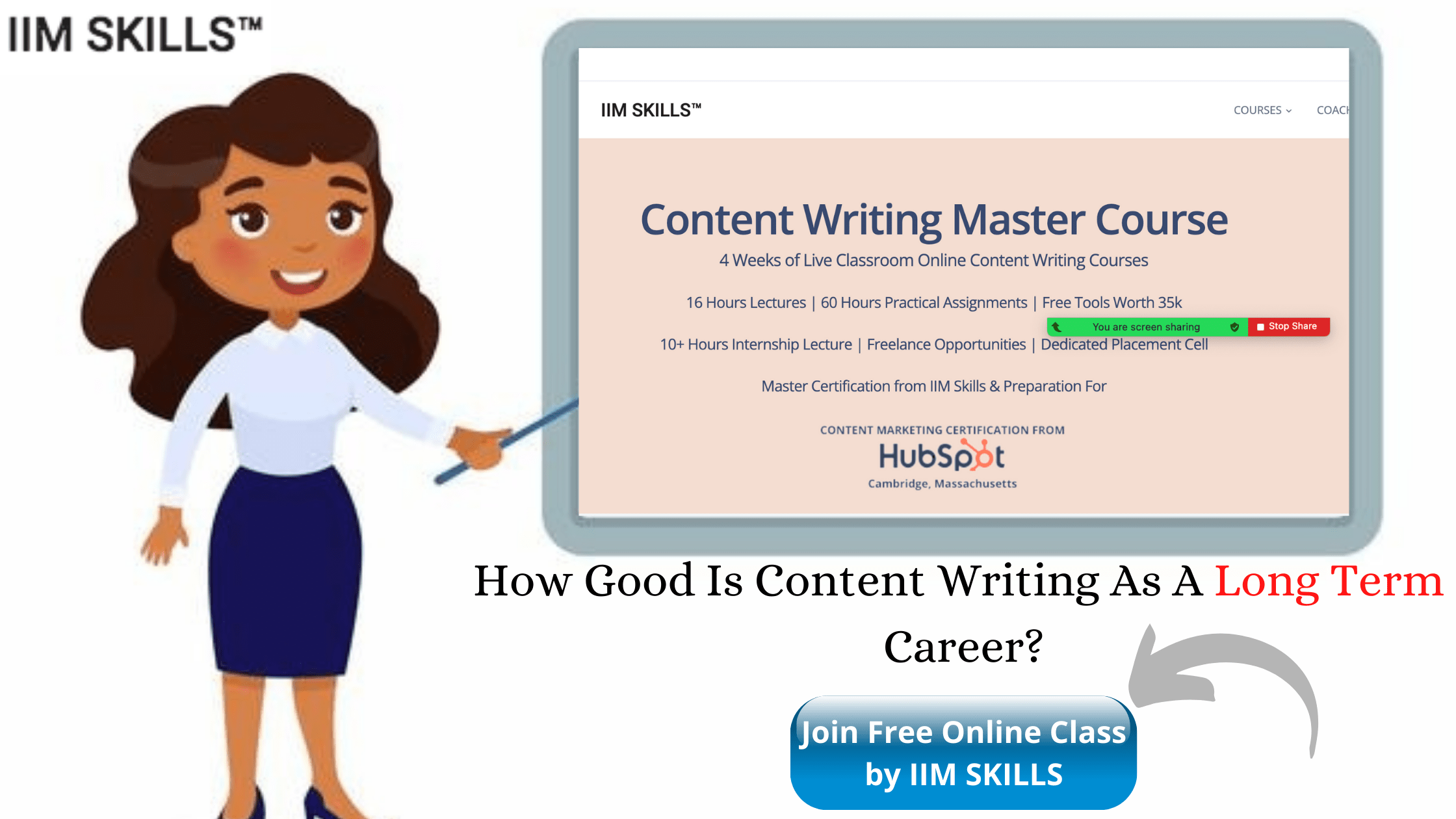 NESTSOFT
Nest soft since 2001 been a leading institute in web development, SEO, and training. They have 500+ projects/clients across India, the USA, Dubai, Canada, Oman, etc. Nestsoft has a 100% job placement record. Nestsoft provides services in:
Mobile app development.
Web development.
Software (ERP/CRM)
Digital Marketing
Training and Internship
It also is into industrial visits/tours, online training, and corporate training. They have 20+ courses with the placement of 1000+ students.
Under digital marketing courses, they offer technical/content writing courses. It is one of the top content writing courses in Cochin.
Highlights of the Content Writing Course at Nestsoft:
This course covers various aspects of content writing, including tips to improve one's writing.
Much of the course is in video format.
The course covers topics on good writing, strong research skills, punctuality, an understanding of SEO/marketing, etc.
The syllabus includes:

Essentials of writing: An introduction to writing, ways to get inspired, create content, and go through the block.
Before you write: An introduction to different types of writing, planning, guidelines, reading to write, and referencing and plagiarism.
Write right: Reading to write, writing effective paragraphs, pre-writing, communication with subject matter experts, grammar for writers, and common grammatical errors.
After you write: Proofreading, editing, communication with a graphic artist, and rewriting.
Publication/project work: writing for the web and publication.
Career development for writers: Professional development skills.

The training is on real-time projects, and students get individual attention.
Contact Details:
Location:  Opposite KSFE, Near Ravipuram Temple, Ravipuram Road,
Menon Chambers, Cochin – 682016
Phone: 83010-10866
98954-90866
Recommended Read: Digital Marketing Courses in Gujarat
WORDSLINE GLOBAL PRIVATE LIMITED
Wordsline is a content writing company catering to all types of corporate content requirements. The company has creative and technical content writers with years of experience. Wordsline offers cost-effective content writing services, including:
SEO content writing
Blogs/articles
Branding guides and strategies
Marketing collateral contents
Social media posts
Advertisement scripts
Corporate video scripts
LOR/SOP writing
Technical writing
Official documents
Press releases
Personal profile/CV
Presentation and seminar materials
Academic writing
Copywriting
The company also offers a certified training program for content writing. Understandably, being a content writing agency, it has one of the best content writing courses in Cochin.
Highlights of the Content Writing Course at Wordsline:
The training is on a one-on-one basis helping aspirants from any background to become content writers.
The training program is for 100 hours with a certificate, and the trainers are professionals with years of experience.
The course modules are well-researched and practical, and the training gives equal importance to theory and practical.
During the training, trainees get hands-on experience in different types of content writing.
The course fee is INR 10,000.
The syllabus and modules include five days (10 hours of theory):

What is content writing?
An introduction to different types of writing:

Technical writing
Creative writing
Academic writing
Copywriting
Travel writing
Medical writing
Article writing
Copy editing

Ways to get inspired to create content.
Tips to improve content writing skills.
Careers in the content industry.
Build efficient, content writing strategies with ease.

Overview of the process of professional writing that includes:

Fundamentals of writing
Pre-writing guidelines
Tips for writing professionally in different styles
Ensuring clarity and readability
Creating error-free drafts, grammar for writers.
Proofreading and editing techniques
Checking and correcting plagiarism.
Rules for referencing.

Content layout for different purposes
Writing for the web/online, which includes:

What is SEO?
Guidelines to create SEO content
Keyword integration and usage
Creating a reader-centric document with perfect SEO.

Guide to freelancing opportunities in content writing
The practical assignments are extensive (90 hours), and include hands-on experience with expert guidance.
Contact Details:
Location:  Wordsline Global Private Limited
Kudilil Building,
Near Metro Pillar 450,
SBT Junction, Edapally,
Cochin – 682024
Phone: 6238777456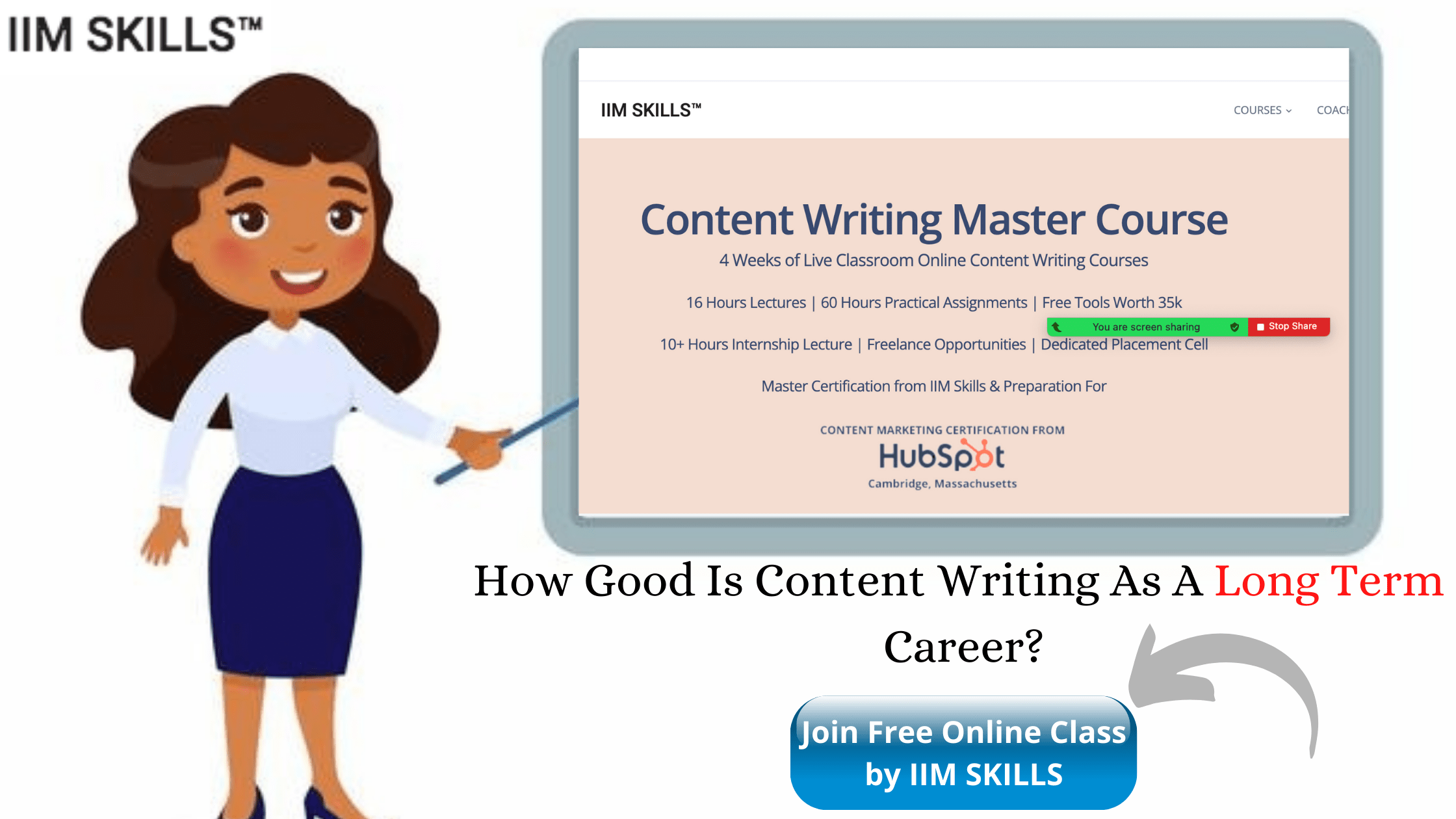 INFIG CONTENT HUB
Infig Content Hub is a content writing agency that offers one of the best content writing courses in Cochin. They cater to website copywriting, newsletter content, SEO article writing, social media writing, blog content, advertisement scriptwriting, and other techno-creative and branding solutions.
It is a one-stop shop for website designing, corporate branding, graphic designing, personal branding, digital marketing, and product branding as well. Infig Content Hub believes in professionalism, delivers quality, and originality in a timely fashion. In short, it is a full spectrum of content development and content creation service provider.
What better way to learn content writing than from a content writing agency itself? Infig Content Hub has a team of experts passionate about content.
They train aspiring writers to be the best in the field. Their course has a thorough syllabus and a robust methodology.
Highlights of the content writing course at Infig Content Hub:
The agency's effective content writing training program helps hone your writing skills.
The agency has over a decade's experience in the realm of writing, covering a multitude of verticals. Hence, the training here has the right mix of experience and talent to transform you into an excellent content writer.
The training approach centres on the needs of the trainees.
During the training, there is no restriction on creative freedom.
The practice has real-life simulations giving trainees exposure to the challenges.
The content writing course offers persistent guidance by the trainer along with professional support upon course completion.
By the end of the program trainees can:

Write creative and engaging articles.
Create blogs
Create effective sales with write-ups
Become proficient in SEO content writing
Craft engaging and crisp social media posts.
Contact Details:
Location: 2nd Floor, Ariyatil Building, Near Arakkakadavu Bridge,
Vennala, Ernakulam, Kerala – 682028
Phone: 90488-15031
70127-34477
FAQs
1. Which Is the Best Content Writing Institute?
Considering all the important criteria like experience of faculty members, duration of the course, Job-support, training methodology, curriculum, post-placement support, student reviews, and testimonials, we rank IIM SKILLS in Position 1 for Content Writing Courses.
2. Will there be 100% Placement Assistance Once I complete the content writing course?
Several institutes offer placement guarantees, interview assistance, soft skills development, and resume preparation. We recommend you to check with the institutes regarding the same. 
3. What Is The Average Fee for Content Writing Courses?
The Average Fee for Content Writing courses is anywhere between Rs 10,000 to Rs 20,000 for a duration of 1 month to 3 months (4 weeks-12 weeks).  
CONCLUDING THOUGHTS:
Aspiring content writers of Cochin will benefit from the above list of the top content writing courses in Cochin.
Honest and transparent content serves to build and maintain brand presence and essence. Content writing is an indispensable part of content marketing and online reputation management.
You can work on your writing skills and hone them. You also need to adhere to digital marketing and content marketing aspects. An understanding of the importance of search engine optimized content is in order.
Balancing creative and SEO parts are challenging for a content writer, but it serves to produce content that appeals to people as well as the search engine. An alliance between the two, therefore, is the ideal choice for a content writer.
An institute that deals with digital marketing or with exclusive content writing is an excellent place to learn. Given the institutes already know the working principles of digital marketing, content creation, and marketing training will be highly productive for aspiring content writers.
A very famous aphorism by the Renaissance artist, Leonardo da Vinci that holds good for content writing is:
"Simplicity is the Ultimate Sophistication."