Are you a commerce graduate who is looking to make a career in the accounting and taxation domain? Or a working professional wanting to upgrade their current skills with a much-demanded industry-based practical skill and add some extra numbers to your earnings? Former or latter, if your goal is to make a successful career in this competitive industry, then a professional BAT course is a must for you. In order to suit your needs, examining hundreds of resources all through the web, we have got a list of 9 best Business Accounting and Taxation Courses in Tamil Nadu.

Accounting and Taxation is an ever-growing industry that is currently expanding in numerous dimensions. Across all sectors, it has become an integral part of any business. The current formal graduation degree does not encompass the accounting contents in depth. Only such candidates are often sought after in this industry who are well versed in the industry methodology and proficient in their practical accounting skills.
What is Business Accounting?
Business Accounting is basically the systematic analysis, evaluation, recording, and presentation of all the financial transactions of a company. The task of accounting is either managed by a single individual in a small organization or by different teams in a large corporation.
Accounting plays a significant role for businesses as every business is obliged to keep a track of its financial operations in order to make better decisions. This crucial information is then presented in reports, showcasing various aspects of a business decision. Accounting at its utmost is an extremely powerful tool for business owners which helps them in meeting their regulatory obligations and making wise decisions.
An Accountant is an individual who takes up the role of efficiently managing the finances of an organization. He prepares proper accounts of his company's revenue and expenditure estimates, using various accounting skills. In the same way, taxation is yet another important category for any business because it helps them to comply with the government's tax laws and regulations.
What is Taxation?
Taxation refers to the process by which a government or taxing authority imposes or levies taxes on its citizens and business entities. Taxation is applied at all levels, from income tax to goods and services tax (GST). A tax accountant plays a vital role in fixing all the tax-related issues of a company.
As professionals, they take up the responsibility of producing all the financial and income tax-related statements for a company. Their arena of work includes researching, studying, and interpreting tax laws. A tax accountant advises companies on taxation-related issues in order to avoid any risk.
It is their job to prepare tax provision schedules, returns, and payments reports and maintain a tax database for a company. They also identify legal tax savings and advice companies to comply with all federal, state, and local tax regulations.
Owing to the mass digitalization of this decade, many businesses have now become completely digital. In such times as these, it has become extremely crucial for businesses to safeguard themselves from all modern types of hacking through smart accounting, and to serve this purpose, accounting professionals are in high demand by companies.
Business accounting and accounting courses, or BAT for short, is a professional certification program offered by some top-notch institutes in India to students and professionals interested in a variety of finance topics. This educational curriculum covers topics like GST, Tally, TDS, and payrolls, as well as stock markets and shares, all of which are important in the finance industry.
The Business Accounting and Taxation courses in Tamil Nadu are one of the most in-demand courses. It involves practical and experiential learning with industry expert faculty to help individuals evolve into job-ready accounting professionals. It comprises detailed modules about the basic to the complex structure of financial accounting, tax systems, and various essential accounting skillsets. 
What are the Job Opportunities After BAT Courses in Tamil Nadu?
Graduates and freshers with less or no work experience are given this entry-level position in a company. The role of an Auditing Assistant is to monitor and analyze financial reports and help auditors with the documentation process of the audits.
As the name suggests, a tax assistant works with the accounting department of a company. Their role involves monitoring tax reports, tax expenses or tax filings, etc. A tax assistant is required to be proficient with his mathematical, Microsoft excel, and word skills in order to ensure timely tax filing by a company.
The role of an accounting assistant involves evaluating budgets, tracking account expenses, producing balance sheets, and processing important documents like invoices, financial statements, etc. They also ensure the smooth functioning of an accounting department of a company.
A budget analyst is entitled to oversee an organization's spending in order to ensure the proper allocation of company funds. They work to maintain budgetary records and reports while working to analyze specific data and recommending funding for various programs.
Following is the list of Top 9 Business Accounting and Taxation Courses in Tamil Nadu –
1. IIM Skills
IIM Skills is one of the world's leading Online Education Service institutions with its headquarters in New Delhi, India. With its branches in over 23 cities across Asia, IIM Skills offers myriad Skill Development Courses for working professionals, students, and entrepreneurs helping them to achieve their career goals.
The Business Accounting and Taxation Courses in Tamil Nadu by IIM Skills is one of the most comprehensive courses in the industry. With its explicit courseware designed by industry experts, every module is conceptualized to train the students according to the industry standards, in order to make them ready for the highly competitive market.
This exhaustive course is divided into 6 detailed modules to acquaint students with the in-depth knowledge of advanced accountancy standards, cutting-edge tools like tally, a complete understanding of the GST taxation system, MIS reporting using Advanced Excel, and payroll policies, income tax using tally, and financial auditing or reporting.
BAT Course Content
Module 1 – Accounting and Accounting in Tally
Module 2 -GST and GST in Tally
Module 3 -TDS and TDS in Tally
Module 4 -Payroll and Payroll with Tally
Module 5 -Income Tax with Tally
Module 6 -Advanced Excel and MIS Reporting
Course Perks 
120 + Hours of Lectures 

60 + Hours Practical Assignments 

Hands-on Learning

Internship Opportunities

Lifetime Support

100 % Interview Guarantee

Tools Based Practical learning 

Mentorship by Top Level CAs

Community Access to the Alumni

Lifetime Access to the recordings
The duration of this course is 4 months. Upon completion, students will be entitled to a globally recognized Master Business Accounting and Taxation Certification from IIM Skills.
Price 
Rs 49,900/-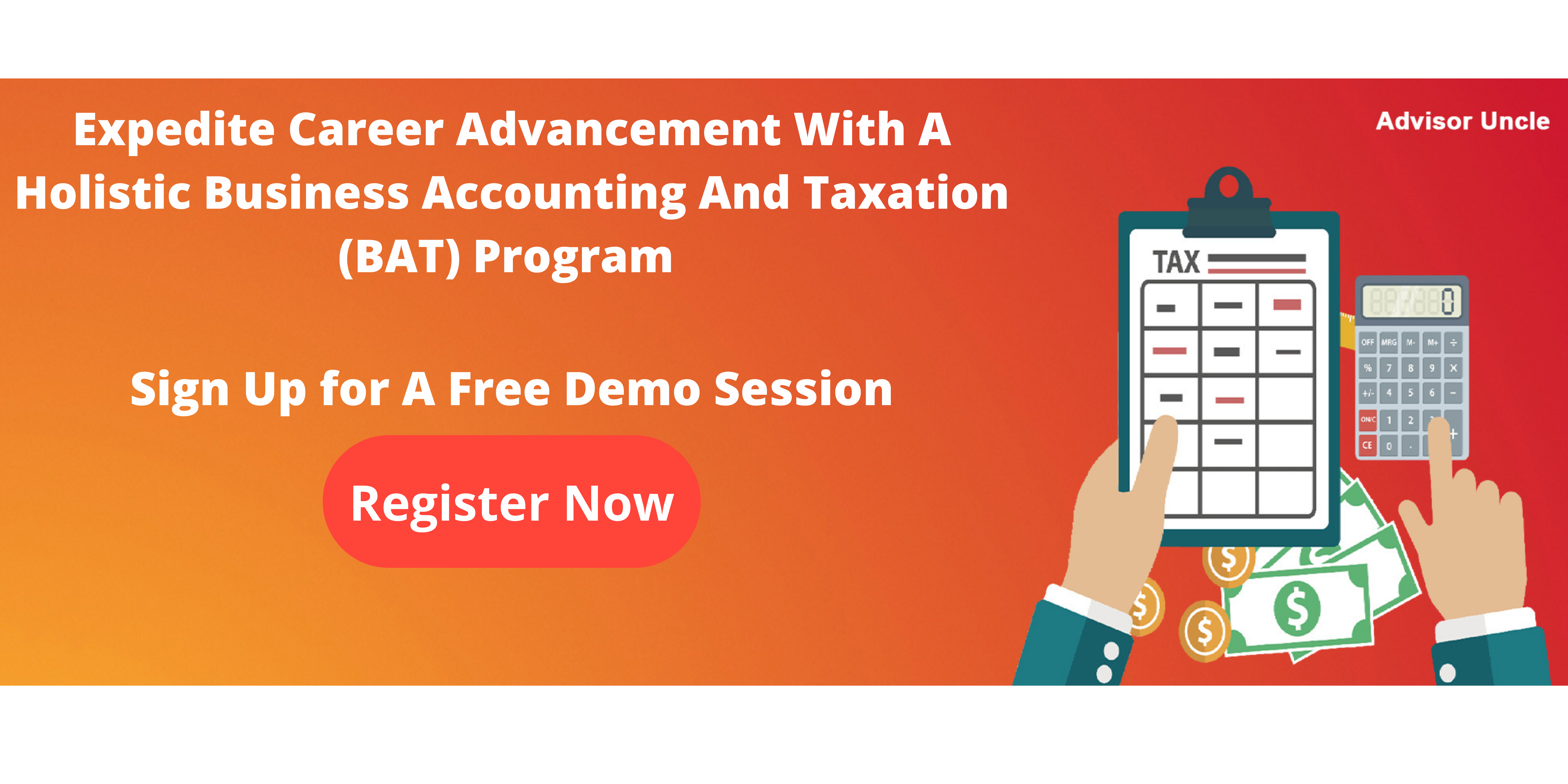 Also, read about the top Business Accounting and Taxation Courses in Chennai
2. Accopedia
Accopedia is a new age concept aimed at imparting candidates with all the practical and market-oriented knowledge in the domain of Accounting, Finance, or Taxation. With its excellent faculty comprising of all Charted Accountants, Company Secretaries, Lawyers, and Bankers, it strives to impart such valuable skills to students as could give them a practical edge in the market and make them employable in their desired fields.
This A- School gives training to both entrepreneurs and freshers to ace their careers in the field of Accounting and Taxation. Accopedia stands out from the rest of the institutions, chiefly because of its excellent mentorship and training. It is trusted by more than 50,000 people including many business owners, accountants, college students, teachers, and other individuals.
This Institute Offers Two Online Accounting Courses and Covers Topics From Fundamental Level to Expert Level:
First Accountant (Level 1)

 
This course is for all individuals wanting to make careers in the field of accounting. This course is basically designed for all the freshers who want to transform into expert accountants and make a living handling accounting functions. Any graduate with basic math skills can take up this course.
Accountant Plus (Level 2)

 
This course is for candidates with already basic accounting experience, who want to upgrade their current skills. This course tracks one's journey from an Accountant to an Expert Accounting Executive, who could be qualified to lead the accounting department of a company. The course demands completion of the Level 1 Accountant Course. Participants have to go through an easy screening process before starting the course.
Perks of BAT Courses in Tamil Nadu
100 Hours of Content by Industry Leaders

One Month Internship

Guaranteed Job Assistance

Certification upon completion
The duration of this course is 2 months with 1 month dedicated to the professional internship.
Price
Rs 14,999/-
3. Institute of Company Accountants (ICA)
Established in 2004 by the combined efforts of SSI Development Society and M.K. Audit Services private limited, ICA offers various professional courses in the fields of Accounting and Finance. It is a registered Income Tax Practioner institute in India that provides comprehensive professional Business Accounting and Taxation courses in Tamil Nadu. The Certified Company Accountant course by ICA provides candidates with practical knowledge and much demanded industry-based skillsets.
This Company Accountant Course Comprises 4 Papers as Follows:
Paper 1: Corporate Accounts
Paper 2: Tax Practice and Procedure
Paper 3: Financial Accounting Software
Paper 4: Company Law and Statutory Legislation
Perks of BAT Courses in Tamil Nadu
ICA is a pioneer in various taxation courses and GST training accounts training

Quality Education 

Certification upon completion
The mode of learning for this course is through offline classroom classes. ICA offers various other Accounting, Tax Practioner, and GST Training courses as well. Some of them are as follows:
Professional Tax Preparer Course

Accounting Technician Course

Income Tax Technician Course

GST Technician Course

GST Practioner Course

GST Training Course

GST Return Filing Course
Recommended Read: Business Accounting and Taxation Courses in Trivandrum
4. APG Learning 
With an aim to educate students and impart valuable skills, APG Learning started its operations in 2013. APG Learning in current times runs some of the most successful employability programs in different fields of technology, business, finance, and lifestyle. With an alumnus of 1,00,000 + worldwide, it aims at delivering such courses as could bridge the wide gap between conventional academic programs and industry-demanded practical skillsets.
It partners with Coreco technologies, Foxberry technologies, and the RPG foundation. The Certification in Business Accounting and Taxation courses in Tamil Nadu by APG Learning is one of its kind. It provides participants with a practical edge in the market of Accounting and Tax.
Candidates are taught the latest trends in the market related to taxation which helps them to hone their skills and be completely job-ready upon completion of this course. This amazing course consisting of 8 modules is led by highly qualified tutors with industry-rich experience.
BAT Courses in Tamil Nadu Curriculum
Industrial Accounting- 

Direct Taxation

Goods and service tax GST

Payroll and its components 

Excel and MIS

Business Computer Application
Course Perks 
Participants will get in-depth knowledge about accounting 

Participants will learn various trends about Payroll, GST, and IT

Participants will get practical knowledge of Excel and MIS

Certification upon successful completion 

After this course participants will be able to take up various roles as Accounting managers, Finance Managers, Tax analysts, and Accounts executives.
Students with a commerce background (B.com, M.com, MBA Finance) or individuals pursuing CA, CFA, CS, ICWA, etc. can easily take up this course. Even the candidates with no commerce background but 1-year work experience can do these Business Accounting and Taxation courses in Tamil Nadu.
The course period is 3 months.
Price
Rs 35,000/-
Recommended Read: Business Accounting and Taxation Courses in Trichy
5. Synergy School of Business Skills (SBS)
India's largest network of management training institutes, Synergy School of Business Skills, is a division of the CADD Center which specializes in providing short-term programs for project management, operational excellence, and various skills.
With a wide network of over 75 centers, Synergy is one of the largest Registered Education providers of Project Management Institute (PMI), a global organization of project management professionals. Synergy has trained more than 50,000 people to date, providing over 10,000 certifications in the field of management.
Synergy's Business Accounting and Taxation courses in Tamil Nadu are designed for all those commerce graduates whose area of interest lies in the field of finance and taxation. This course covers all the practical aspects of both Direct and Indirect taxation with accounting, excel, and reporting-related skills. Its syllabus is precisely designed by industry experts.
With this expert program, candidates learn detailed accounting procedures and brush up their knowledge of software- tally. After taking this course candidates can kickstart their careers either as freelancers or, work in a corporation as a junior accountant.
Course Content
Practical Accounting

Advanced Excel

Payroll

Goods & Service Tax

Income Tax
 Perks of BAT Courses in Tamil Nadu
Case Study based training

Industry-based practical training

Training by Industry Experts

Master Training in accounting software like Tally

Knowledge of Advanced Excel and Payroll Management

Training in GST (Goods & Service Tax)

Practical Income Tax Training

Accounting Process Training

100 % Placement Assistance

Certificate upon completion
The course features an exhaustive classroom schedule with self-paced, industry-endorsed learning content, experienced faculty, and dedicated discussion forums for the best learning experience.
The duration of this course is 2 months (120 hours).
Recommended Read: GST Certification Courses in Chennai
6. National Institute of Finance Markets (NIFM
)
One of the leading educational institutes with over 15 centers all over India, NIFM is widely recognized for its systematically organized curriculum of Business Accounting and Taxation courses in Tamil Nadu. NIFM offers 100% job-oriented courses with hands-on practical training.
It offers a myriad number of certification and diploma courses like Certification courses in Financial Modeling, Equity Research, Stock market, Diploma in Financial Market Management, and Investment analysis Portfolio management to name a few.
This BAT course in Tamil Nadu comprises 6 detailed modules on accounting and taxation taught by expert faculty. The course provides more than 80% practical-based knowledge with flexible learning hours and classroom-based training.
BAT Courses in Tamil Nadu Curriculum
Accountancy
Goods and services tax (GST)
TDS / TCS
Tally ERP 9 with GST
Income Tax
Auditing
The duration of this course is 6 months including 1 week of the practical workshop.
Price
Rs 45,000 + GST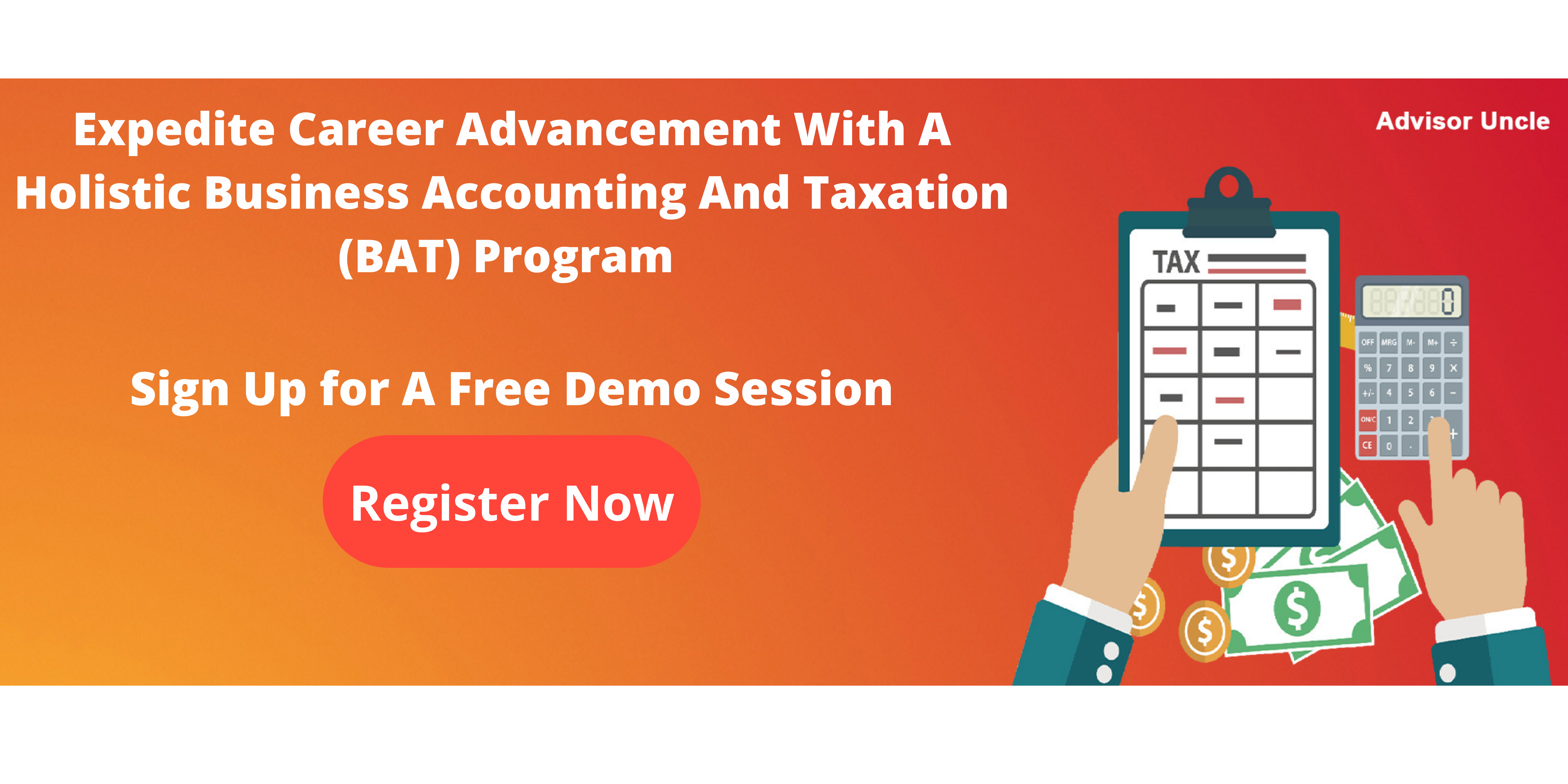 7. Edu Pristine
Established in 2008 by the combined efforts of industry professionals from MNCs like Standard Chartered, Goldman Sachs, S & P, and Accenture, Edu Pristine is a Premier Finance Training Provider all over the world. This company continues to prosper over its five verticals of – Finance, Accounting, Analytics, Marketing, and Healthcare.
With a super-strong online platform and network of classrooms across India, it caters to self-paced online and classroom modes of learning. Edu Pristine is trusted worldwide by Fortune 500 companies, various professionals, and students all across India.
The Post Graduate Program in Business Accounting and Taxation (PGP -BAT) in Tamil Nadu is an empirical and practical learning program to transform individuals into industry-ready accounting professionals. This program is divided into 9 well-structured modules, designed with the help of industry experts having years of experience.
Along with this course, students get an additional opportunity to acquire the right soft skills needed to crack job interviews. Through this program students gain enormously with industry-relevant content, case studies and discussion forums, effective presentation skills through boot camps, mock interviews, resume writing, interpersonal skills, and extremely important problem-solving skills.
Course Content
Basics of Accounting & Accounting in Tally
Basics of GST & GST in Tally
Basics of Income Tax & Income Tax in Tally
Payroll and its components
Excel for Accounting & MIS
Finalization of Financial Statements
BUSY Practical's
SAP
Soft Skills
 Perks of BAT Courses in Tamil Nadu
Hands-on training on 14 projects 

4 Softwares

4 Certificates

Extra mentoring for students beyond lectures for support and doubt solving 

100% Job assistance 

The duration of this course is 6 months.
Recommended Read: Online Financial Modeling Courses
8. City Commerce Academy 
City Commerce Academy is one of the top best institutes for Business Accounting and Taxation courses in Tamil Nadu. It was established in 1999 with a dream to transform the lives of thousands of students and help them make a living as successful professional accountants. Some of the courses offered by the institute are Accounting, Tally, GST, Income Tax, TDS, and Payrolls.
 The institute is greatly known for its Accounts and Tax Expert Course which is an all-in-one course, comprising complete content of their Business Accounting, Accounts Expert, and Tax Expert Course. This course is for freshers, B.com, M.com, MBA, CA, ICWA, CS, or any individual wishing to work as an accounting professional.
This course provides complete practical knowledge from basic to finalization of Balance Sheets and filing of online returns. With this comprehensive course, students quickly become experts in their accounting techniques.
BAT Courses in Tamil Nadu Curriculum
Basic Accounting 

Accounting Theories

Journal Entries

Manual Accounts

Computerized Accounts

Tally ERP 9

Inventory Accounting

Reconciliation

Balance Sheet

Reports & MIS

Indirect Taxes

Goods and Services Tax (GST)

Income Tax: Concept & Returns 

Tax Deduction & Collection at Source

Employees Provident Fund (EPF)

Employee state insurance (ESI)

Payrolls
Short Courses – GST, Income Tax, TDS, Payrolls.
The duration of this course is 40- 50 days.
Price 
Rs 17,500/-
9. ICA Edu Skills
ICA Edu Skills is a very popular training and skill development institute with numerous branches all over India. It started its journey back in 1999 with a vision to make youth employable with expert industry training at a very affordable cost. With the increased need for skilled professionals in the industry, ICA Edu skills have expanded its horizon to not just providing practical training but placement support at top companies and MNCs.
This institute features one of the best Business Accounting and Taxation courses in Tamil Nadu. The Certified Industrial Accountant (CIA) course features the best teaching faculty and a 100% job guarantee with the best placements in the industry.
BAT Courses in Tamil Nadu Curriculum
Business Computer Applications
Business Accounting
Tally Prime
Business Communication
Direct Tax
GST

Advanced Accounts
The duration of this course is 4 months for online and 12 months for classroom training. 
Price 
Rs 39,999/- (Online Course)
FAQs related to Business Accounting and Taxation Courses in Tamil Nadu
Q1. What are Business Accounting and Taxation courses in Tamil Nadu?
Business Accounting and Taxation course is a comprehensive course for those commerce graduates who want to make their career in the field of accounting, finance, and taxation. Many practical aspects of direct and indirect taxes are discussed along with the core concepts of foundational accounting, excel, and reporting skills. Different institutes all over Tamil Nadu offer many fascinating courses in this field.
Q2. What is the eligibility for Business Accounting and Taxation courses in Tamil Nadu?
Any individual with a background in commerce can pursue this course. This course is pursued by both people with different degrees (B.com, M.com, CA, CIS, MBA, ICWA) or freshers wishing to have a sound career in the accounting and taxation domain.
Q3. What is the average salary after the business accounting and taxation courses in Tamil Nadu?
BAT Professionals are highly sought after by many organizations and corporate institutions. After successfully completing this certification course an individual can go up to earn a salary of 2 lakhs to 8 lakhs per annum in India. 
Q4. What are some career options after the Business Accounting and Taxation Courses in Tamil Nadu?
After completion of this course, a candidate can take up various careers in the field of accounting and taxation as Accounting Manager, Accounting supervisor, and Accounting Assistant.
Conclusion
To stay afloat in these changing times, you must regularly refresh your knowledge in this competitive era. The Business accounting and taxation courses in Tamil Nadu are one such program that could provide you with a wealth of opportunities and can help you advance in your career goals significantly. It is one of the most popular courses among business graduates. It not only trains you in business accounting but gives you a practical edge in performing tax audits, stock analyses, and management accounting. All the certification courses listed above are top courses in the industry. Go through the list once again and pick out your fit to ensure a profitable career and a destiny of endless success.