Have you heard a lot about the best Content writing course worldwide – the IIM Skills Content Writing Master Course? Yet before becoming an entrant, you want to be double-sure if it's worth a dime. Then, you have come over to the right place. This article unfurls the IIM Skills Content Writing Course Review point-by-point to bring you an X-ray copy of the course. 
So, let's get started with the IIM Skills Content writing Course Review.

Content Writing- An Overview
According to CMI research, 91% of the B2B respondents use content marketing to reach the target audience. 
Conceiving the above metrics, it is not hard to say that content marketing is the way to accelerate website traffic, drive more sales, and ultimately increase ROI.
Content marketing is a systematic and strategic approach to create and curate relevant, valuable, and consistent content to magnetize the target audience. Here comes the indispensable role of content writing.
Content writing refers to writing professional content or copy to fulfill specific marketing objectives. The content becomes the brand face and helps garner brand trust and brand authority from the online audience.
Once you have established yourself as a Brand, Google, and thus, audience, gives more value to your content. All of this becomes possible due to seasoned content on your platform.
Content Writing as a Career
Of all the buzz around the content writing industry, content writing has flared as one of the most promising career options. Witnessing the expansive demand for content writing in the last 5 years, more and more Gen-Z are treading it as a full-time career.
The predictions around the exponential growth of the content and digital industry further strengthen the credibility of this career prospect.
Even more, what makes it attractive is the umpteen career prospects with little investment. Here, check out the diverse career options post content writing course:
Blog writer/ article writer
Social media writer
Content marketer
Product description writer
Ghostwriter
Scriptwriter
Technical writer
Academic writer
Freelancer
Nonetheless, you can also choose to be a niche-specific writer, most likely, travel writer, lifestyle writer, review writer, to name a few.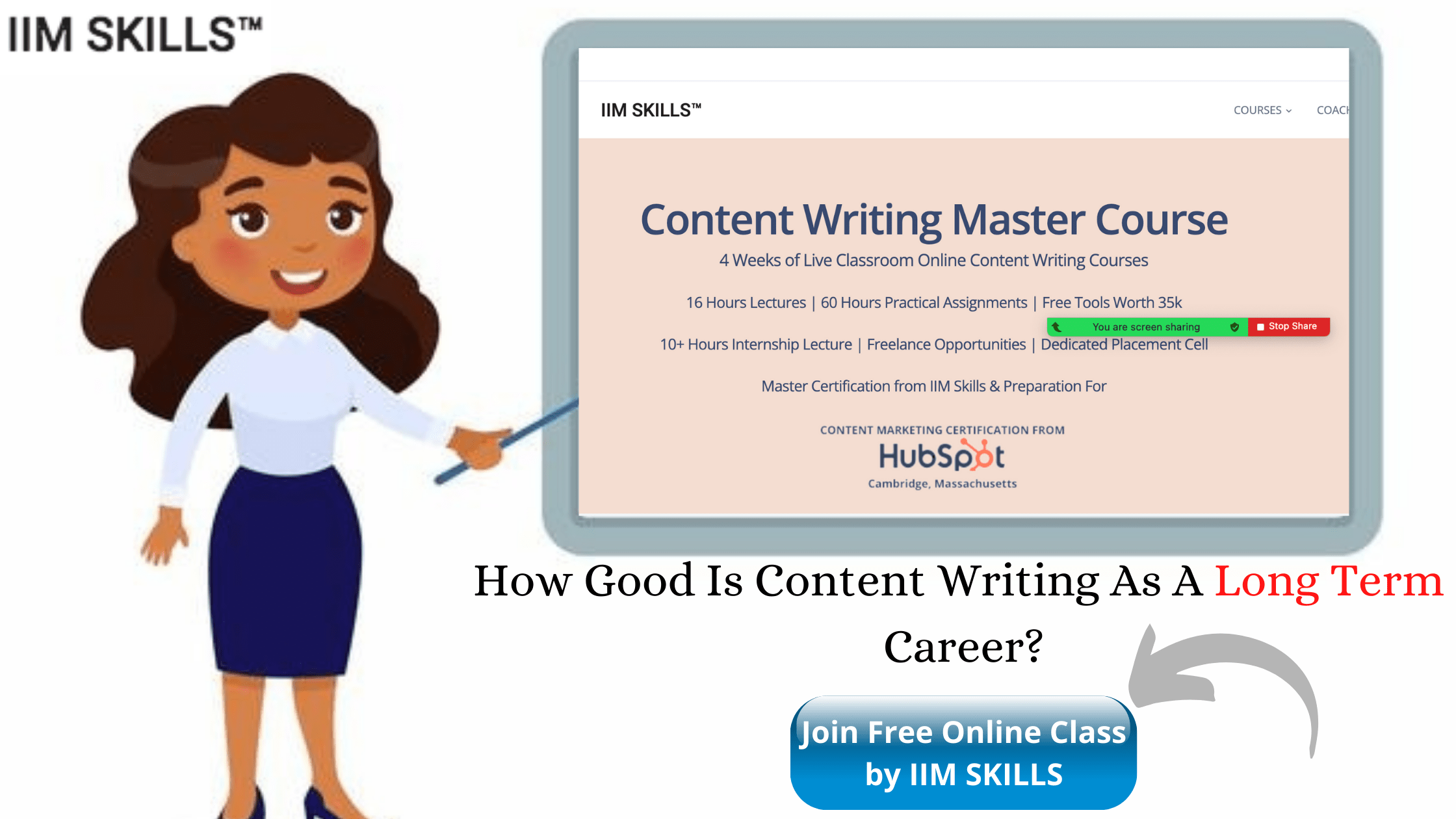 Pay Check- A wide-eye expectation
Let's be honest here- salary brackets do have a say in your career choice. No one wants a career without rewarding paychecks. Thus, before you bring your content writing goal to life, get some insights about what you can make from it.
As per Glassdoor statistics, the average salary of a content writer in a metropolitan city like New Delhi is INR 20,944. Further additional cash compensation stands up to INR 34,425.
As for any other profession, the salary packet of a content writer keeps on seeing a vertical rise based on the following factors:
Experience
Skillset
Location
Company size
Now that you have a fair idea of what the content writing industry entails, we can proceed toward the IIM Skills Content Writing Course review.
More about IIM Skills
Based out of New Delhi, IIM Skills is a well-established ed-tech institution. With its high-quality premium courses, IIM Skills dominates the world as a global leader in professional coaching.
The first course by the institute was the Content Writing Master Course, which became an instant success. All thanks to its well-defined curriculum structure, exceptional delivery, and global recognition.
Soon, IIM Skills launched the next big course- Digital Marketing Course. The program manifested to bridge the gap between the demand and supply for digital marketing professionals. Over the top, IIM Skills houses GST certification courses to produce equipped GST practitioners. Further, IIM Skills plans to come up with more in-demand courses to meet the industry demand for professionals.
Recommended Read: Top 10 Digital Marketing courses in India
Before heading on to the comprehensive IIM Skills Content Writing Course Review, knowing about the details and features of the course is a must!
 Content Writing Master Course (CWMC)
As the name resonates, the CWMC is a mastery-level course unleashed to help students acquire the knack of content creation. The thought-out program is perfectly defined to suit the needs of students, homemakers, bloggers, freelancers, entrepreneurs, traditional marketers, budding content writers, and anyone wanting to step into this field. Out and about, the course is a one-size-fits-all type of program. Thus, it is considered one of the best content writing courses in India.
Duration: 4 weeks (1 month)
Fees: 14,900+18% GST
The 4- week period mindfully assorts into 16 hours of lectures and 60-hours of practical assignments. The notable feature here is that IIM Skills exercises the learn-by-doing approach. Conforming to that profound approach, the course administers weekly assignments. Moreover, trainees undergo quick to-do tasks in between lectures to gauge their learning curve.
Not to overlook, the CWMC acquires No.1 rankings by renowned media houses, agencies, and educational blogs like Careers360, CourseDekho, Write-Right, Naukri Learning, Contentholic, and more.
The staggered characteristics of the course form the core part of the IIM Skills Content Writing Course Review. Let us drill down the vividness of each feature one-by-one to know what makes it the top-ranked among the top 25 online content writing courses.
Online Learning
As the world was hard-hit by the pandemic, offline learning took a back seat. Since then, by and large, online education has surpassed traditional learning strategies.
How is online training beneficial?
Online learning comes with manifold benefits like anywhere access, time-efficiency, and convenience. That said, doesn't matter which part of the world you are in right now, you can join this course.
Synergic Learning
Considering the online prospect of learning, don't think you will be a passive receiver without any fun. Alternatively, being synergistic- the program is more of a brainstorming session, which calls for everybody's attention and say.
In simpler terms, the fuel-efficient course offers immersive learning exposure to you, where you actually participate and determine. Sounds fun, huh? This way, you not only learn content writing but acquire teaming capabilities as well.
Brilliant and experienced faculty
The IIM Skills Content Writing Course review is incomplete- without mentioning the excellent, experienced and, disciplined faculty. It may come out as a surprise to you, but the founder, Mr Vaibhav Kakkar, himself is your coach for the course.
Along with him, another experienced ma'am Roma Malhotra takes up the non-technical aspects of the course. Both of them have over and above experience of 10+ years.
And that's not all! The techniques and methodical pedagogy used by them add value to your schooling. They deliberately break down the complex subject matter into digestible chunks and couple it with a pinch of humour to make your overall experience a thing to remember.
Industry-aligned Curriculum
Much ingenuity has been shown in curating a systematic and streamlined curriculum aligned with industry requirements. Moreover, the well-thought-out curriculum undergoes regular updates.
Here have a look at what they have got to offer you:
Module 1: Web development
Module 2: UX/UI interface
Module 3: Content writing
Module 4: Keyword research
Module 5: Content writing practice
Module 6: Content writing tools
Module 7: Plagiarism checker
Module 8: Content distribution via email
Module 9: Google local page setup
Module 10: Social media marketing
Module 11: Social media marketing
Module 12: Freelance content writing
Besides, it will equip you with the art of master creation of a plethora of content: both long-form and short-form content. From a compelling blog to a viral social media post writing- they cover it all. See what all you will learn to produce:
blogs
articles
e-book
ads copy
academic writing
ads copy
press release
business writing
product description
video script
web pages
emails
brochure
digital media infographics
social media posts
3-month Guaranteed Internship Program
After the course, you have the option to become a part of the 3-month internship program, where you proceed to write and publish content. The internship program unfolds a lot more practical acquisitions.
In addition, the internship programs walk you along the path of monetizing your content writing skills. Altogether, it becomes one of the core components of the IIM Skills Content Writing Course Review.
Write your First TOI blog
Would you want to write for The Times of India blog? Well, who wouldn't? IIM Skills CWMC lets you scale up your portfolio with an interesting TOI blog on a topic of your own choice.
Create your own E-book
The CWMC gives you an added advantage to create your own E-book. The coach guides and directs you with all the things to keep in mind and later on assist you in publishing the book on E-kindle.
Easy Access
With online learning comes the benefit of easy access. That means you don't need to wake up early, reschedule your work tasks, or commute to a far-land institute.
Surprisingly, all you got to do is switch on your computer and laptop, type in your login credentials, and attend the classes from the comfort of your sofa. Internet connection and an electrical device like a mobile, computer, or laptop are sufficient to fortify your mind and develop content writing skills.
Flexible Batches
A stubborn problem faced by anyone in this bustling schedule is time management. Do you face that issues too? Fret not! IIM Skills has got multiple batches for you to choose from as per your availability.
Bringing in flexible batches, IIM Skills ensures you are able to squeeze all the juices of the course. And even though you miss a class, they have provisions for supplementary missed-class backups.
So, there is no chance that your hard-earned money gets wasted. You will reap the full benefits of your incredible investment.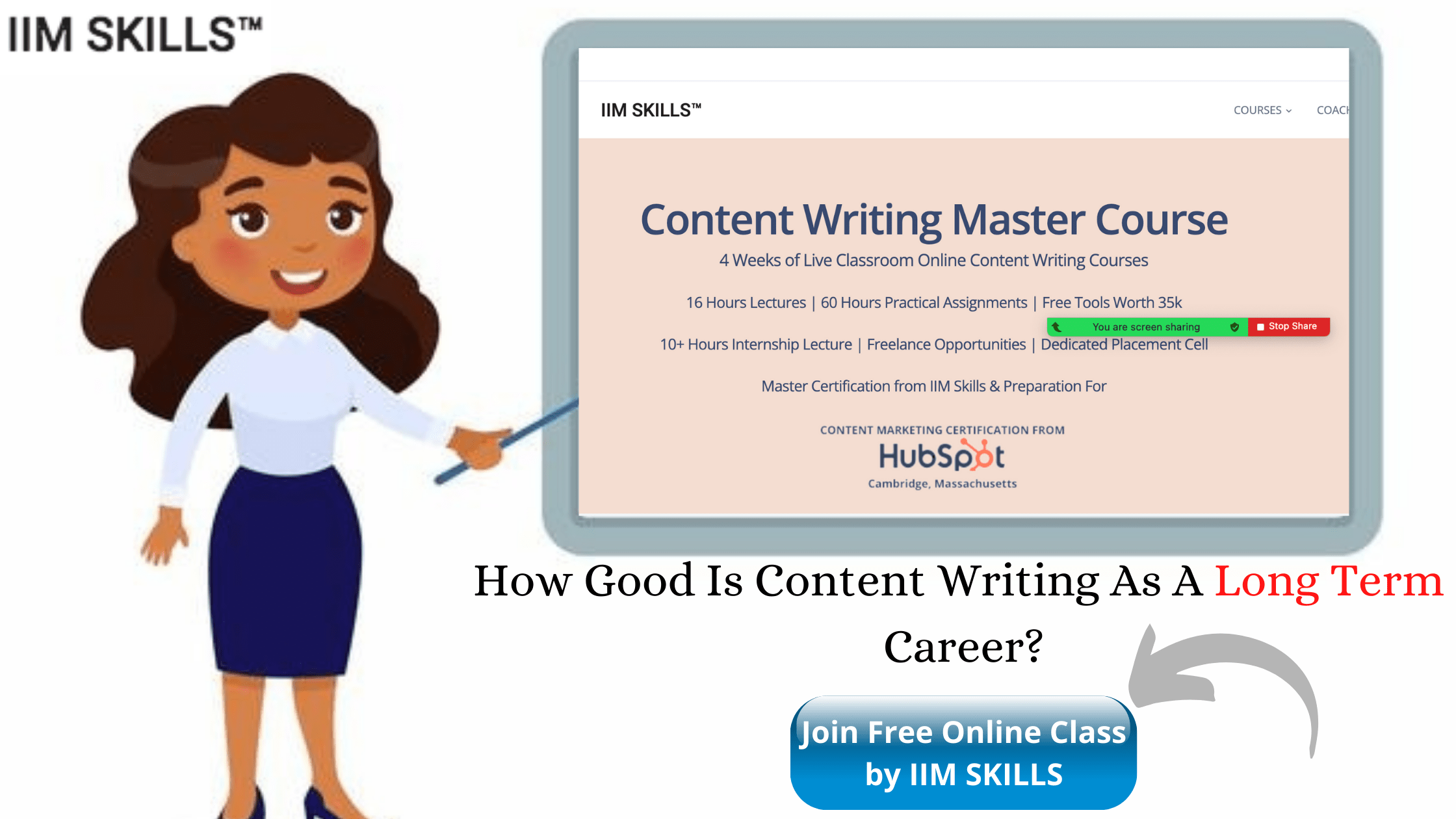 Personalized Attention
The next big thing that deserves a special mention in the IIM Skills Content Writing Course Review is personalized attention. Small batches account for individualized attention and qualitative learning.
To bring your content writing goal to life, they follow a student-centric pedagogy. They try to elicit responses from you and get a quick check-in via tad tasks to know if you follow.
Practical Orientation – assignments learn-by doing
All theory and no application make Jack a dull boy. That's the new-world mantra. Stuffed theory knowledge is of no use if you don't have the prowess to apply it. Taking into consideration this factor, IIM Skills puts a hard emphasis on practical application.
Intermittent class assignments are one thing. Other than that, you receive weekly assignments, followed by feedback. Thus, giving you ample scope for improvement.
Free Tools 
Professional content writing is incomplete without the much-needed aid of tools and software. These tools not only assist you in writing but also makes your write-up more effective and efficient. IIM Skills is all-in to teach you how to leverage these tools to the best of your use.
The icing on the cake is these tools are absolutely free. Yes, you read it right, the tools worth rupees 35,000/- are free.
To name a few tools:
Grammarly
Plagiarism checker
GTMetrix
Google Keyword planner
Ubersuggest
Google my business
Wordcounter
Free Demo Session
It's time for another freebie!
Trying before buying is the new trend-in. IIM Skills lets you do the same thing. You have the option to attend a complimentary demo session unconditionally- free of cost.
Mr. Vaibhav Kakkar himself takes the orientation session where he clears the air as to what awaits you in the course. Apparently, it gives you a good understanding of his expertise and teaching methodologies.
Post this free session- you can deliberate and choose if you want to give it a green signal and become a part of one of the most coveted programs.
Money-back guarantee
Another noticeable element is the money-back guarantee. IIM Skills gives you full leverage to claim back your money if you don't find it worth a dime post the first session.
This is a fascinating feature because it gives you solid faith in them. You know, if they are ready to pay you back, that means the program is worth the price.
International Certifications
What makes the content writing course a worldwide success is an international certification that comes bundled with the course.
Once you are thorough with the fundamentals, you are deemed to appear for an online examination. Clearing the examination will earn you a Master's certification that is globally recognized. That means you can apply for jobs-both domestic and international.
And that's not all! You get another highly-recognized certification from Hubspot Academy. Again, you have to pass out an examination for the certification.
Adding these certifications to your resume will give you a good head-start to find lucrative jobs and clients. Moreover, you can showcase the same on LinkedIn and other social profiles.
Post-course Assistance
The journey with IIM Skills doesn't end with the course. Post-course, you can seek assistance to get your first gig for freelancing, resume preparation, or even set up your own agency.
Wherever you find yourself in a dilemma, the IIM Skills team is there to pull you through it. So, you get hand-holding throughout your career.
Placement Guidance
For job-seekers, placement assistance is one of the considerable options to choose a course. And why not- you would want a steady future if you are investing in a course.
IIM Skills team keeps you in the loop with good placement opportunities. As and when there is an impressive opening, they update you with the same.
Some of the top Brands partners of IIM Skills that hire its Alumna

Affordable Pricing
Taking into account all the attributes and provisions offered, the pricing is positively pocket-friendly. Indeed. IIM Skills maneuvers to give delightful features at a sensible price packet. Why? Because the founder is aware that people with diverse backgrounds opt for the course, hence the fee is kept economical.
Further, you happen to have the benefit of paying the fees in installments as well. So, you can strike off the budget from your list when it comes to IIM Skills as a course choice.
LMS
As soon as you become a part of the course, you promptly receive your login credentials for LMS, or should we say Learning Management System.
LMS act as a repository where all your learning and recorded sessions get saved up. Additionally, it simplifies the possibility of Lifetime Access, which we will penetrate in a moment.
Lifetime Access
Another thing that deserves a special mention in the IIM Skills Content Writing Course Review is the lifetime access characteristic. Lifetime access allows you to come back and view the class recordings as many times as you wish.
Most significantly, this is the USP of this course because no one wants to worn-out their learning. You always want to keep traction in life with lifelong learning. And you can do just that with this course.
IIM Skills Content Writing Course Review- Final Verdict
Dropping the final verdict on IIM Skills Content Writing Course, the program deserves a big thumbs up! Why? That is because the course manifests a standardized curriculum, holistic learning, and empirical growth of learners.
From your first step to the last, IIM Skills professionals ensure you walk a steady race. Ironing out any doubts that trigger your mind, they believe in the fortification of knowledge.
Besides, the interactive traction of the sessions keeps you on the go, leaving out any chances of boredom. The fun-filled program serves freebies and trains you in its tool usage to help you sculpt your best works.
Another remarkable feature worth a mention in the IIM Skills Content Writing course is the sneak-peak into digital marketing tactics. Then comes the in-depth analysis of SEO- from on-page to off-page.
Once the course ends, the 3-month guaranteed internship not only gives you additional knowledge on SEO and affiliate marketing techniques but helps you build on a portfolio. That begins your preparation for the real world. Thus, IIM Skills withholds your hands until you actualize your goals of maybe freelancing, job, or agency- that too with a promise to guide you whenever you need guidance throughout your life.
All of this together makes IIM Skills Content Writing course a go-to-place for anyone with an ambition to become a reputable writer.
Frequently Asked Questions (FAQs)
Is IIM skills good for content writing?
IIM Skills is a definite choice for the content writing course. The power-packed course offers a broad understanding of various aspects of professional content writing. It has become a widely popular choice owing to refined faculty, up-to-date curriculum, and experiential learning.
Which is best for the content writing course Henry Harvin vs IIM skills?
Weighing the pros and cons of both institutes, IIM Skills is the best choice for a content writing course. While both have their specialties, IIM Skills outweighs Henry Harvin in terms of industry-aligned curriculum and practical orientated learning.
Is the content writing course worth it?
If writing is your passion, and you are determined to turn it into a profession, then the content writing course is worth your time and money. The course equips you with the intricacies of the content industry to help you make your space in the industry.
What is SEO content writing?
SEO content writing refers to the combined practices like targeting a keyword, meta descriptions, alt images, linking, etc to increase organic visibility, SERP ranking, and website traffic. The best technique for SEO content is to target keywords and couple them with a high-quality piece.
Is Content Writing a good career?
Yes, content writing is a great career choice in the digital era. There is immense scope for budding content writers and aspirants to not only make a living but to build a dignified profession out of it.
Conclusion
Before bidding adieu to meaningful readers of the IIM Skills Content writing Course Review, we would want you to have a look at what the course alumna has to say about their experience.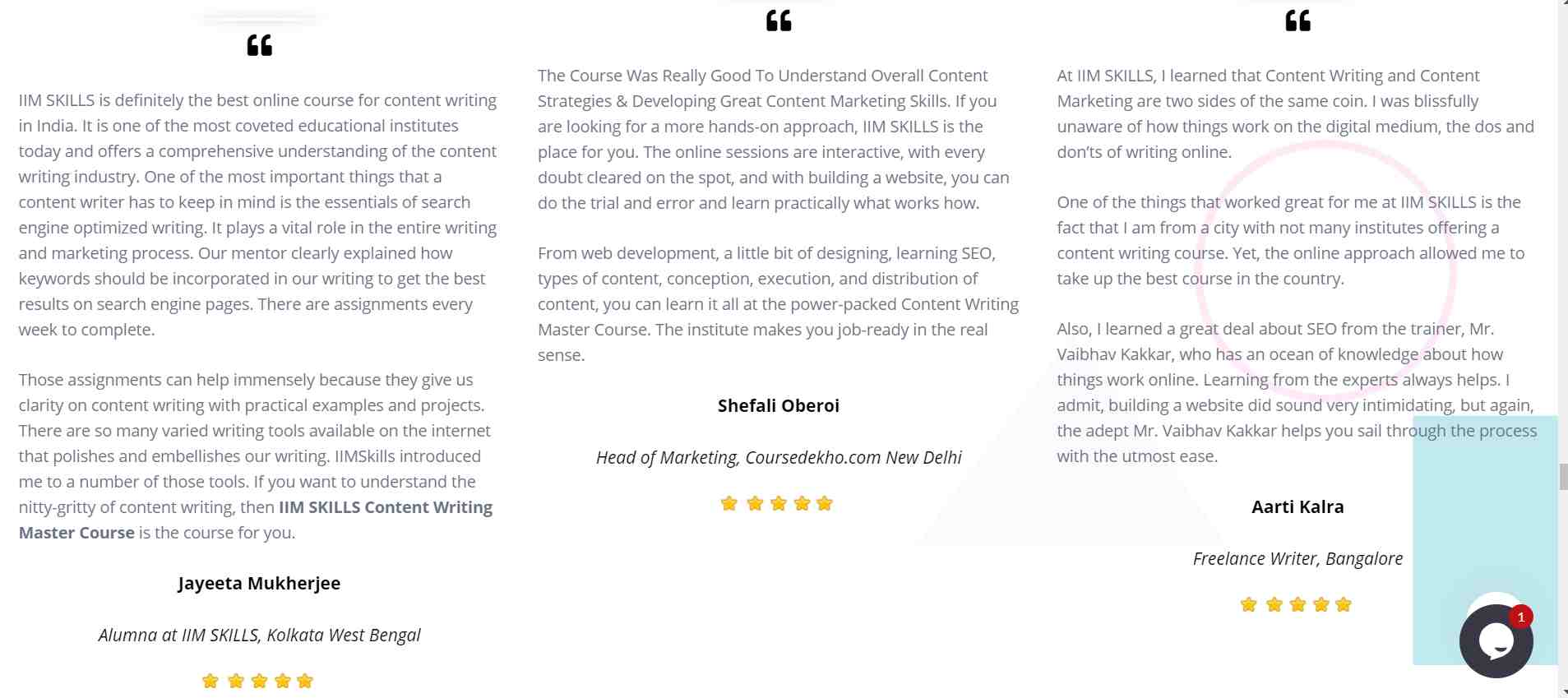 The reviews and testimonials do speak volumes of the impact of the course and play a vital role in the decision-making process. For more reviews, you can also scrutinize Quora reviews.
On that note, we put an end to the IIM Skills Content Writing Course Review. We did our best to give you an overview of what you are putting yourself into; now, the ball is in your court. Weigh down your choices and preferences, and go for it if it triggers your mind.
Farewell suggestion: Don't put too much time thinking; sometimes it's better to call out to know something.