People who desire to work in the taxation, finance, or accounting field would be benefitted greatly from the business accounting and taxation Courses in Thrissur. You need an overview of what Business Accounting and Taxation is, its employment opportunities, course breadth, and a list of the top institutes in Thrissur that provide the best business accounting and taxation courses. Because this course combines accounting and taxation, it will open up many work options in both the public and private sectors as a finance consultant, tax consultant, auditor, real estate finance, and other fields of trade.

What are Business Accounting and Taxation? 
Business accounting is the act of acquiring and evaluating all of your financial information. Corporate activities, financial reports, transactions, cash flow, and investments are all recorded. In general, bookkeeping is a system of accounting in which all of a company's or business's economic actions are recorded. Accounting assists business owners in making key business choices. 
Almost every country levies taxes on its residents, and taxation is the act of paying those taxes. Direct taxes, such as income tax, exist alongside indirect taxes, such as sales tax and goods and service tax. Accounting and taxation have a link in which all information gained through accounting is used in the calculation of taxes.
The difference is that accounting is concerned with a company's or individual's finances, whereas taxation is exclusively concerned with the many forms of taxes paid by a corporation, business, or individual.
Following Business Accounting and Taxation Courses in Thrissur, there are Several Career Options:
Every corporation, business organization, or individual, wants their finances and taxes to be in order at all times, which is where competent accounting and taxation professionals come in. After completing this course, students can work in an accounting firm to get expertise and practical knowledge about working in the field of finance, and then create their firm to assist businesses and individuals with their finances and taxes.
Many accounting and tax advisors now work as freelancers for multiple organizations or clients at the same time. Below we have listed some of the job roles which you will get after finishing the Business Accounting and Taxation Courses in Thrissur.
Tax Consultant/ Tax Accountant
A tax consultant is someone who organizes and fills out tax forms, prepares income tax returns, and ensures that taxes are paid on time. They also assist their clients in making tax-related decisions and ensuring that their tax liabilities are kept to a minimum. They must stay updated on new tax laws and be able to explain all tax regulations and phrases to their clients straightforwardly and clearly. 
Account Manager
An account manager's responsibilities include keeping track of a company's or an individual's financial records and accounts. They also keep track of budgets and invoices, making sure there is enough money to cover taxes, costs, and loans. It is a very lucrative career choice nowadays because one can begin as an assistant or executive and soon advance to the position of manager via experience and knowledge.
Financial Advisor/ Financial Consultant
Financial advisors assist their clients in managing their money and investing it in a way that maximizes returns while taking into account their specific financial needs. They also keep track of and update the portfolios of their clients. Although almost all financial advisors are self-employed, the role of a financial advisor is found in every firm.
Apart from the aforementioned positions, you will be able to work as an auditor, budget and tax analyst, financial analyst, accountant, tax planner, and income tax officer, once you have obtained the relevant training and certifications. The salary of an accounting and taxation expert ranges from 2 lakhs to 8 lakhs per annum and the potential to earn as a freelancer or a firm owner is limitless.
Skills Required
Certain talents are expected of a business accounting and taxes specialist, and these skills will determine whether or not you stand out in the competitive financial market. Even if you lack specific abilities, keep in mind that practically any talent can be acquired with enough practice.
Detailed and meticulous observation is one of the most crucial talents required. Because mistakes in taxation can sometimes be costly, an accountant or tax consultant should be able to monitor every element related to their clients' finances exactly.
A business accountant's and taxation consultants' objective is to save clients' money in legal ways, which they can only do if they have a thorough understanding of tax laws and problem-solving techniques.
Almost every profession necessitates great communication skills. Accounting and tax consultants with strong communication skills may effectively communicate with their clients to gather financial information as well as with their colleagues to analyze and generate financial reports.
Employers nowadays give extra consideration to candidates who are proficient in Microsoft Office and Excel, which increases their productivity and makes certain duties easier to complete. Because a country's taxation rules and GST laws change over time, corporate accounting and taxation experts must always be learning and making informed decisions. Aside from these, logical thinking, familiarity with numbers, and data analysis are some of the most vital abilities to possess.
Check out the top-rated Business Accounting and Taxation Courses in Kerela
Top 9 Business Accounting and Taxation Courses in Thrissur
The likelihood of becoming an in-demand professional accountant who can work in any capacity, from serving as a sole proprietor to holding high management positions with an organization increases if one follows the best Business Accounting and Taxation Course.
1. BAT Courses in Thrissur – IIM Skills
IIM Skills is committed to providing world-class education at a reasonable cost, and are constantly finding in-demand skills and developing study materials to assist people to learn and upskill in a short amount of time. Their Business Accounting and Taxation Course (BAT Course) is a four-month program with over 120 hours of lectures and practical work.
Highlights of the Business Accounting and Taxation Courses in Thrissur 
Working knowledge of accounting using tally

Learn about payroll, its policies, and advanced accountancy standards.

MIS reporting using advanced excel

GST Taxation

Financial Auditing and reporting

Understanding Income Tax and balance sheet using Tally.

Tools such as QuickBooks, BUSY.
Why should you choose IIM Skills BAT Course?
IIM Skills will provide you with a globally recognized certification.

Tool-based training and a practical learning method that includes assignments, case studies, and weekly chores.

Lifetime access to all of the tools and learning materials, allowing you to review and revise whenever you want.

The instructors have a lot of expertise and pay close attention to every student.

If you don't enjoy their course after the first session, they will refund your money in full.

IIM Skills has a tie-up with many reputed companies for placement assistance.
Course Fees- 49900/- + 18% GST
To Enroll- iimskills.com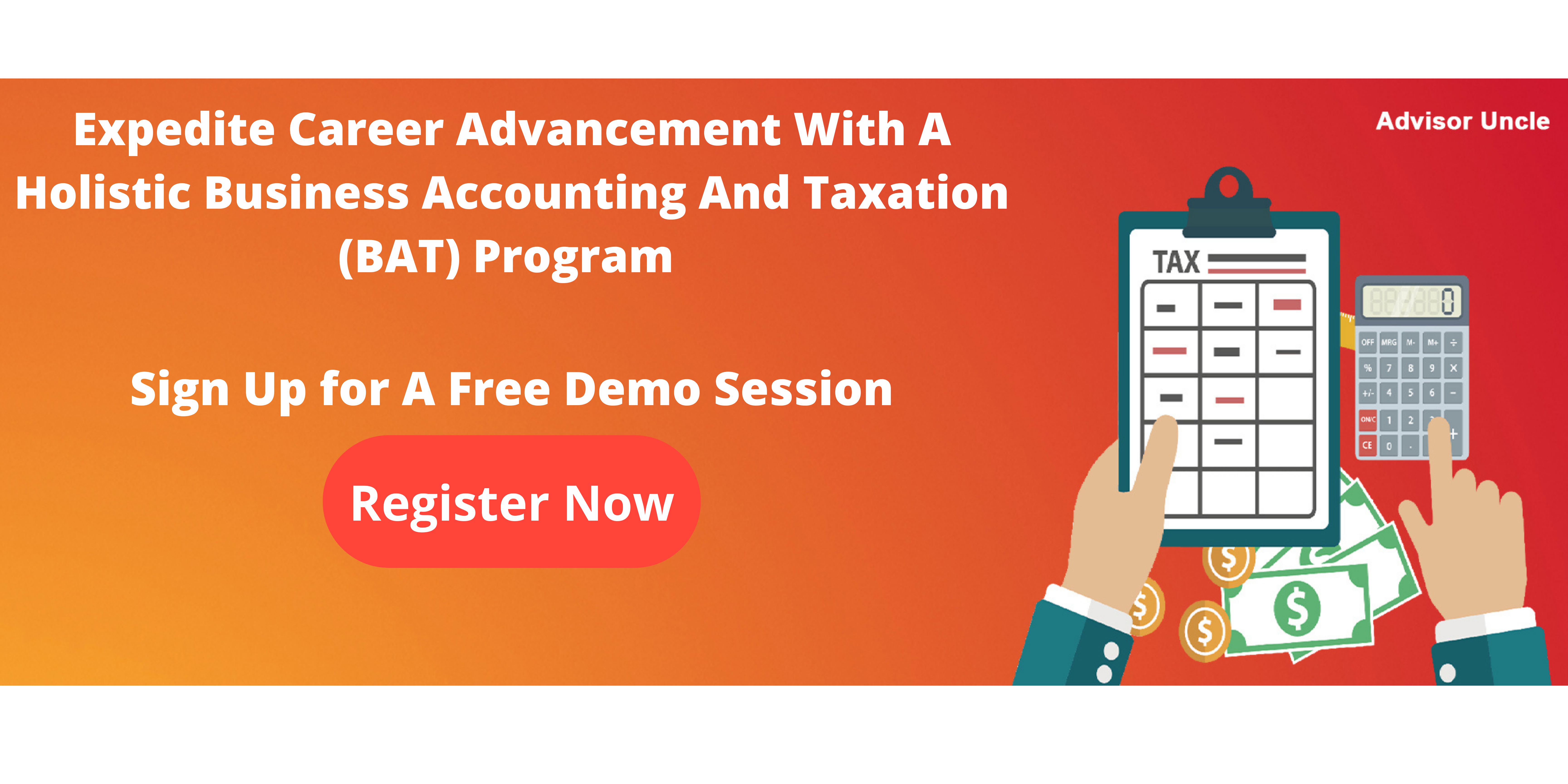 2. BAT Courses in Thrissur – Institute of International Accountants
IIA is a renowned institute that offers various business accounting and taxation courses, such as:
IBAT- International Business Accounting and Taxation.

DBAT- Diploma in Business Accounting and Taxation. 

MBAT- Masters in Business Accounting and Taxation.
This institute also offers fast-track variants of all the courses for those who are interested.
Highlights of the Business Accounting and Taxation Courses in Thrissur 
Real-time projects in excel

Concept of Tally ERP 9 and Tally Prime

Knowledge about inventory, fixed assets, payroll, employee benefits, etc.

Budgeting and reporting.

Financial statements, GST, Charts of accounts.
Why should you choose IIA for Business Accounting and Taxation Courses in Thrissur?
They prepare you to confidently perform the duties of an accountant and tax counselor, develop your business communication skills, and increase your possibilities for advancement in the sector.

Courses are created by industry experts, and each student receives individual attention.

All of IIA's courses will take you from beginner to advanced levels, making comprehension easier.

They help with job placement and have a job-hunting workshop that can help you locate your dream job.
Recommended Read: Business Accounting and Taxation Courses in Kochi
3. BAT Courses in Thrissur – NIFM Accounting Institute
NIFM's courses will cover everything you need to know about accounting and taxation, whether you need to upgrade your skills, get expertise with them, or even if you are a complete beginner. Their approach and course content are created in such a way that students receive practical information about working in the industry and can obtain employment in the jobs that they prefer. They have various branches throughout India. They provide both online and in-class courses.
Courses Offered
Advance Diploma in Financial Accounting & Business Taxation

Diploma in Financial Accounting & Business Taxation

Certified Accounts Professional

Certified Business Professional

Certified TDS Professional

Certified ESI & PF Professional
Why should you choose NIFM for Business Accounting and Taxation Courses in Thrissur?
Industrial Workplace Training

Career or Job Oriented Courses: 70 percent practical training and 30 percent theoretical training

Internships in prestigious companies

Industry specialists provide training. Faculty with a combined experience of more than 20 years

Free Demonstration

Faculty members are willing to help you for the rest of your life.
To enroll and for other information- nifm. in
4. BAT Courses in Thrissur – City Commerce Academy
City Commerce Academy has had a reputation for offering high-quality training in accounting and taxation since 1999. They have successfully trained a large number of students using their original and well-researched approaches, and they continually aim to be among the best training facilities.
Courses Offered
Fees– offered for free
All new B.Com, M.Com, MBA, CA, ICWA, CS, and other students who want to work as professional accountants in any industry will benefit from this foundational course. This course covers fundamental accounting principles, accounting theories, journal entries, the use of the double-entry system in practical accounting, and hands-on training with a practical project.
Fees– 6200/-
Both seasoned accounting professionals and recent graduates who desire to land an accounting position in any business can benefit from this course. This course covers a wide range of topics, including manual and automated accounting, inventory accounting, balance sheets, reconciliation, reporting, MIS, and Tally Erp 9.
Fees– 6800/-
If you have some expertise and knowledge of business accounting, it is advised that you take this course. The information in this course covers all aspects of direct and indirect taxes, including GST. Along with that, this course also covers tax deductions, employee state insurance, employee provident fund, payrolls, and much more.
Accounts and Tax Expert (All in One Course)
Fees– 10800/-
This course covers the entirety of the combined content from the aforementioned courses as well as the short courses. This course offers comprehensive practical expertise from initial balance sheet creation through completion and online tax filing.
Why choose City Commerce Academy for Business Accounting and Taxation Courses in Thrissur?
Their study material was created after 20 years of research.

Actual commercial transactions serve as the basis for practice projects.

Queries and Problems Discussion Forum for Online Students.

Support over the phone for enrolled students.

Printed Practice and Study materials are given to students through courier.

Training for a very short time with perfect performance.
To Enroll- onlinecca.com
Recommended Read: Business Accounting and Taxation Courses in Trivandrum
5. BAT Courses in Thrissur – EduPristine
The business accounting and taxation course offered by EduPristine is created in a way that prepares students for careers in accounting. It provides knowledgeable and useful accounting and taxes training. Students will receive guidance from the EduPristine career service team as they work to develop the necessary soft skills and get ready for job interviews.
Course offered
PG in BAT
It is a five-month course appropriate for recent graduates, those who wish to understand accounting technologies, as well as those looking to upgrade their skills.
Course Curriculum
Basics of accounting and Tally

Basics of GST

Direct Tax and its application in Tally

Excel used for Accounting and MIS

Payroll and its components

SAP

BUSY Software

Soft Skills Training

Finalizing Financial Statements
Why choose EduPristine for Business Accounting and Taxation Courses in Thrissur?
Regular job updates and training from professionals in the field.

Project-based learning and case studies.

In the soft skills training curriculum, you will acquire business, virtual, and email communication abilities.

Career and resume preparation guidance will be provided by them.

Advice on how to prepare for interviews, including industry-relevant training and dedicated discussion forums.

They also aid in your preparation for important certification tests.
To Enroll- edupristine.com
6. BAT Courses in Thrissur – ICE
According to ICA, the best business accounting and taxation course offers not just theoretical but also practical and up-to-date technology expertise. They offer numerous online and in-person courses related to accounting and taxation as well as training about a variety of tools, including Profit Books, Logic ERP, Tally Prime, Zoho Books, BUSY Accounting Software, and many others.
Courses offered
Certified Industrial Accountant- Online and Offline

Certified Industrial Accountant with SAP- Online

Certified Industrial Accountant Express- Online and offline

GST Certification Course- Online and offline

Tally Prime- Offline
Why you should consider ICA  for Business Accounting and Taxation Courses in Thrissur?
The best placement opportunities are available.

Even after you leave the institution, further assistance is provided.

After completing any of the job-guaranteed courses, students receive triple certification from SAP FICO Certification, Microsoft Specialist Certification, and ICA with NSDC Certification.
To Enroll- icajobguarantee.com
Recommended Read: Business Accounting and Taxation Courses in Kannur
7. BAT Courses in Thrissur – Udemy
A platform for online learning called Udemy offers a range of professional courses in different subject areas. You can buy separate courses or a bundle that includes business accounting and taxation. Self-paced courses are available on Udemy, allowing you to learn at your own pace.
Course Offered- CompleteBAT  2022
Course Curriculum
Complete knowledge about income tax and TDS

Tally Prime

Concepts of GST

Structure of Accounting Systems

Rules of Accounting
Why choose Udemy?
Full lifetime access to the course.

Downloadable resources.

You will get a certificate of completion after completion of the course.

Learning through assignments, quizzes, and practice tests.
For more Information- udemy.com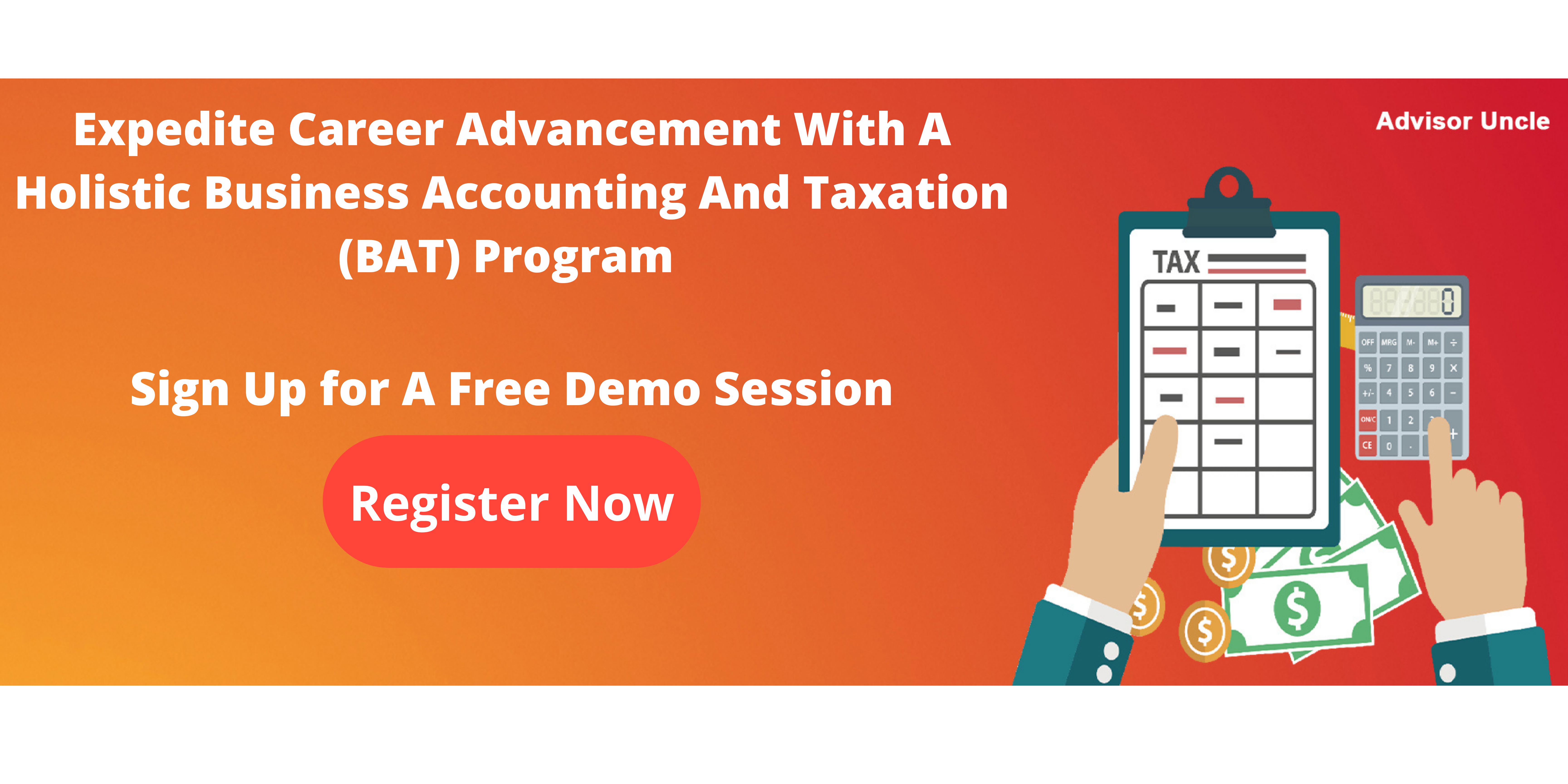 8. BAT Courses in Thrissur – SLA Consultants
One of the top Training Institutes for short-term certification programs is SLA Consultants India. Their in-depth up-skill training is focused on the jobs and is industry-oriented. Their placement department aids in obtaining the ideal employment with new skill-sets, and their professional trainers provide practical and project-based training.
Course Offered– Advanced BAT Course – GST, ITR, BSF, Custom, SAP Free SAP FICO Certification
Course Curriculum
Advanced GST Practitioner Course

Advanced Income Tax Practitioner Certificate

Advanced TDS Course

Preparation of Financial Statement and Balance sheet

Banking and Finance

Import and Export procedures

Advanced Tally Prime and ERP 9

Financial Reporting

Advanced SAP FICO Certification
Why choose SLA Consultants?
Experienced faculty members.

Real-time projects and outstanding case studies make the learning experience better for students.

Dedicated placement team.

Special doubt-solving sessions.
For more information- slaconsultantsindia.com
Recommended Read: Business Accounting and Taxation Courses in Coimbatore
9. BAT Courses in Thrissur – Henry Harvin Education
One of the best institutions that offer courses tailored to the particular needs of the sector is Henry Harvin Education.
Course Offered
BAT Course- Business Accounting and Taxation Course

Duration- 172 hours
Course Curriculum
GST Practioner Training 

Income Tax 

Analysis of Financial Statement

Advanced Tally ERP 9

Management of HR Payroll

Soft Skills Development Training

Resume Writing Training
Why choose Henry Harvin?
Each month, Bootcamp sessions are offered.

Guaranteed placement assistance.

Opportunities for internships

To keep students ahead of the industry, an integrated curriculum and industry-graded projects are used.

Practical training and clarification of doubts are provided both during and after the course's conclusion

.
To Enroll- henryharvin.com
FAQs
Q1. What are business accounting and taxation courses?
The Business, Accounting, and Taxation (BAT) course is designed to familiarize you with the fundamentals of the three major components of commerce: business, accounting, and taxation. The BAT course is an intense certification program that gives students in-depth knowledge of accountancy and theoretical and industry knowledge of book-keeping and account-keeping through in-person and online classes. This course also includes formal instruction in the System Application Product (SAP), which is a valuable skill to have. A BAT training also provides students with QuickBooks Coaching software tools and approaches.
Q2.Who is eligible for Business Accounting and Taxation courses in Thrissur?
This program is open to candidates who have completed their 10+2 from any recognized board. This course is also open to graduates with at least a 50% GPA who want to improve their accounting and taxes skills. This course is suitable for both freshers and experienced applicants who want to upskill or change jobs. For a better comprehension of the accounting and taxes course, candidates must be from a commerce background. The eligibility criteria also depend upon the institution from which you are pursuing the course. 
Q3. What is the scope after completion of the business accounting and taxation courses in Thrissur?
Auditing, taxation, finance consultation, budget and financial analysis, revenue agent, real estate financing, and many other disciplines are available to a professional business accountant and tax consultant. More firms are being established nowadays, which has resulted in significant growth in the demand for accounting and tax specialists. This course will expand your opportunities in both the public and private sectors, as well as allow you to start your consulting firm or work as a freelancer.
Q4. Are Business Accounting and Taxation Courses in Thrissur worth it?
Along with accounting, you will learn financial reporting and auditing, which will broaden your horizons in the sphere of commerce. It is a superb short-term PG diploma program and one of the best short-term courses following BCom. BAT courses are designed to prepare commerce graduates for careers in accounting and taxation, based on the growing demand for accountants in India. The BAT course provides students with an understanding of technical accounting systems and strives to train them on par with qualified CAs and MBAs.