Top 5 Business Accounting and Taxation Courses in Jaipur
If you have a penchant for numbers or figures with a commerce degree, then you should pursue Business Accounting and Taxation courses in Jaipur to enhance your skills. The rise in business establishments and an increase in taxpayers require professionals to guide them for periodic tax compliance with the financial laws and regulations set by the government. The demand for business accountants in India is growing manifold with attractive remuneration. BAT courses in Jaipur are key to building a promising career in Accounting and Taxation.
What is Business Accounting?
Accounting is the process of systemically recording, presenting, and interpreting financial accounts, thereby providing a statement of debits and credits for a business. It helps track business and financial transactions, assets, liabilities, and costs, aiding in analyzing and verifying them.
Knowledge of accounting is essential to understanding the financial terms in the business world. Business entities use accounting methods to analyze their income and expenses and define their financial position. Accounting is an integral part of life. People use accounting methods to track their budgets, maintain their monthly credit card bills, and balance their checkbooks.
Accounting is a requirement for all businesses, regardless of size, from sole proprietorships to large multinational corporations. While the size and scope of accounting departments may vary,  businesses must maintain a record of transactions. The business accounting and Taxation courses in Jaipur have all the above to offer.
What Is Taxation?
Taxes are an important source of government revenue. Taxes are compulsory levies based on an individual's earnings and property used for the welfare of society as a whole. The objectives of taxation are resource allocation, income redistribution, and economic stability.
The funds collected under taxes are utilized for development purposes like building infrastructure and providing services. Services like the military, police, courts, and hospitals get funding from this source of revenue. The two kinds of taxes are direct and indirect.
Income tax is a proportional tax that imposes the same relative burden on all taxpayers; it is a direct tax in which tax liability and income grow in equal proportions. A tax levied on the production or consumption of goods and services or transactions, including imports and exports (GST) is an indirect tax. One can find good Business Accounting and Taxation courses in Jaipur.
Purpose of Business Accounting and Taxation:
To get a perspective of the functions of a business accountant, Consider a business entity, such as a retail store that sells consumer items, to get a sense of what a business accountant does. A business accountant's key responsibilities include keeping accurate records of financial transactions, creating a log of expenditures, and preparing this information for legal statements.
It's critical to keep track of all assets, obligations, inventories, and other data that can help you attract investors, safeguard your assets from theft and uncover new methods to build your business. Bookkeeping, preparing and filing tax forms, and creating financial reports are among the main responsibilities.
Taxation:
By filing central and state income tax returns, tax accountants ensure that businesses and individuals comply with the law. Tax accountants can also help firms and individuals save money on taxes by providing tax planning advice. It is imperative to use the services of a tax consultant.
Check out the other in-demand courses in Jaipur
BAT Course Contents:
Financial Reporting with Tally (ERP Software):
Types of Accounts and Double Entry Accounting Systems are among the topics covered.

Generally Accepted Accounting Principles, 

Transaction Flow, 

Expense and Purchase Process.
Direct Taxation: 
Tax Deducted at Source (TDS)

 Accounting for TDS 

 Income Tax Returns

 Filing TDS Return, etc.
Payroll and its Components: 
Registration and Returns for Payroll Components

 Understanding Payroll Components

 Payroll in Tally
BUSY:
Introduction to Busy

Transaction Posting

 Extraction of GST Reports

 Creation of Ledgers
Creation of Financial Statements: 
Preparations of Financial Statements with notes

Understand and Compute Various Financial Ratios

 Preparation of Trial Balance

 Best Practices in Auditing
SAP Module( based on simulation ):
Vendor and Customer Management

 Delivery & Invoice Management 

 Liquidity Management

 Cash and Credit Management
Excel and MIS (Information Management System) Reporting: 
 Introduction to Excel

 Lookup Function – VLookup  and HLookup functions are used in Excel for business   analytics

 Objective and Advantage of MIS; MIS Reporting Using Excel
Applicability of GST

 Tax Invoice

 Preparation of and E-filing of GST

 Return Refund of Tax
A bachelor's degree in commerce or any relevant field is eligible for the PGP BAT–COURSE Post-Graduate Program in Business Accounting and Taxation. The course is suitable for freshers or those with 0–2 years of experience. Entry requisites may differ depending on the institute for Business Accounting and Taxation courses in Jaipur.
Duration and Course Fee:
The length of BAT courses in Jaipur varies depending on the student's experience and degree of expertise, as well as the institute that designed the course. A business accounting and taxation course typically last six to twelve months. Both online and offline courses in business accounting and taxation are accessible.
It is usually offered for six to ten weeks for a few hours per week. Some courses are only a few weeks long, while others require students to attend for an entire semester or year. Business Accounting and Taxation courses in Jaipur provide different duration and levels of training. The pricing structure varies depending on the length of the course, the modules taught, and the institute's course design. Fees range from Rs15,000 to Rs 2 lakhs.
Also Read: Online Business Accounting and Taxation Courses
Business Accounting and Taxation Courses in Jaipur: Career and Scope:
There are several promising opportunities for people who have completed the BAT courses in Jaipur. Various professional openings are available upon completion of accounting and taxation courses. There are jobs in taxation, budget analysis, auditing, management accounting, real estate financing, corporate taxation, revenue agent, personal finance consultant, and other fields.
Accountants and tax consultants hold expertise in tax law, tax compliance, and tax planning. Their functions include:
Filing e-returns

Tax documentation

Evaluation of a taxpayer's liability

Filing Income Tax:

Deciding on investments, pension plans, life/health insurance, or other tax-saving schemes
BAT courses in Jaipur can lead to high-paying jobs in the business world. It equips candidates with skills in taxation, finance, indirect taxation, auditing, financial analysis, and other areas. Taxation experts usually prepare taxation statements for clients, or they supply advice and information to assist customers to submit their particular tax returns.
They answer customer questions, help them prepare for future tax circumstances, and analyze information to ensure compliance with government regulations. These experts may check others and strive to detect mistakes in income tax preparation. The legal and logistical complexity of these situations varies significantly.
Some tax advisors focus on a narrow area of taxation law, although some have a more generalized strategy. Tax specialist services can help people handle tangible issues like creating trusts, handling taxes from local rental income, and understanding the income tax implications of births, deaths, divorces, and marriages, along with other life events.
Income tax consultants should have strong skills in communication, important reasoning, and complex problem-solving.  Taxation consultants have to know how to decipher complex information that is appropriate. They work nicely with numbers, stay organized, and pay attention to information.
It also helps to hold strong research that is appropriate, plus comprehension of laws, appropriate codes, central government regulations, and agency rules. Tax professionals demonstrate technology skills, including bookkeeping computer software, email pc software, financial analysis computer software, spreadsheet computer software, and income tax preparation software.
They are at ease using computers. Tax professionals work in company environments and use computers with software packages to complete their work. They even make use of telephones to communicate with consumers that will consult tax law handbooks to determine the processes that are correct in working with atypical taxation circumstances. Business Accounting and Taxation courses in Jaipur provide good skills in taxation.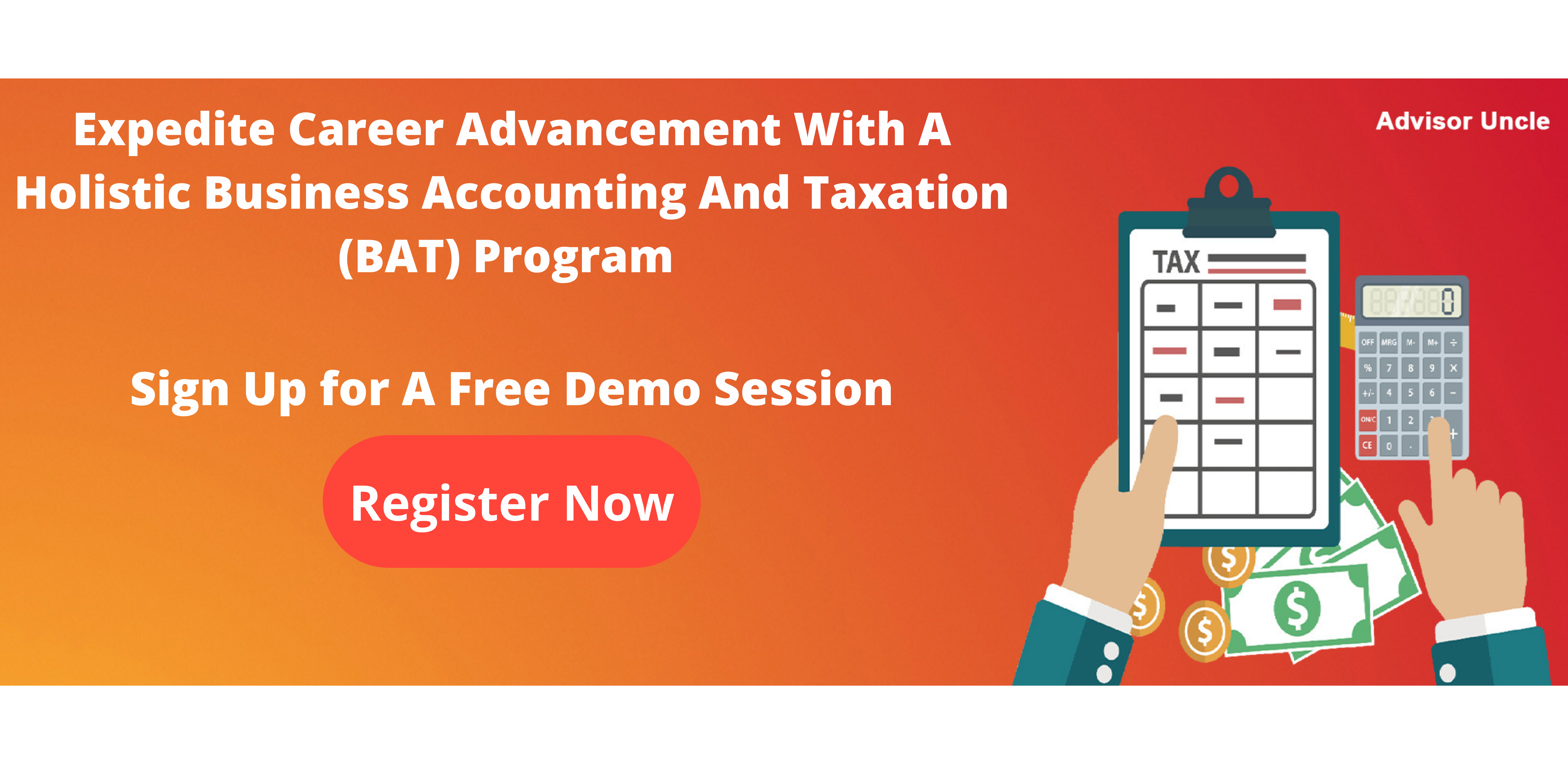 The average salary offered varies between INR 2 and 10 LPA per annum depending on the level of expertise.
Job Profile:
Accountant

Assistant manager

Tax policy analysis

Corporation taxation

Revenue agent

An employment tax specialist

Personal finance consultant

Executive indirect taxation
In Addition to Pursuing the Profile of a Tax Accountant, a Bat Course Graduate May Pursue the Following Other Work Profiles:
Senior Associate or Analyst

Senior Manager or Assistant Manager

Accounts Executive.

Deputy General Managers

Professor.
Top Institutes for Business Accounting and Taxation Courses in Jaipur:
1. IIM Skills 
IIM Skills is a well-known institute that provides professional courses online to students, working professionals, and people from all walks of life. They are well-known in the ed-tech space for mastery-level courses and online interactive classes that teach practical skills. Top blogs and media outlets have endorsed their students, hailing them as the leading ed-tech brand.
They deliver what they assure to offer with highly qualified and experienced staff. IIM Skills programs are appropriate and affordable for people of all career levels, intending to facilitate training at a low cost.
Moreover, due to its tremendous contribution to the learning space, it is recognized as a leading training institution in writing, marketing, finance, and taxation. The institute is growing and expanding due to its proven success in providing people with the necessary skills. As a result, they are able to track their career progress and advancements.
 About The BAT Course:
In the world of accounting and taxation training, IIM Skills provides one of the best BAT courses in Jaipur. The Master BAT Course at IIM Skills is designed to prepare you in the financial business. It includes GST, Income Tax, and TDS. Business Accounting and Taxation Courses are designed for individuals who want to pursue a career in accounting or taxation.
Course Structure: 
The IIM Skills BAT course is structured in the following way, as designed by experts with a wealth of experience:
 

Module 1: Accounting basics with Tally

Module 2: GST Basics.

Module 3: TDS basics.

Module 4: Payroll policies and elements

Module 5: Income Tax

Advanced Excel & MIS reporting
 Course Duration: 4 Months
Hours of online classes plus 60+ hours of practical assignments.
 Course Fee: INR 49,900
Why IIM Skills?
Get hands-on training with Tally, GST, Quickbooks, and Excel.

Acquire training under top CAs.

Enjoy lifetime access to course material, session recordings, tools, and techniques.

Internship opportunities.

Interview preparation sessions

Strengthen your skills for industry-specific jobs by doing practical assignments and case studies.

Obtain a recognizable and shareable certificate to showcase in your online profile and resume.
More Professional Courses from IIM SKILLS
2. EduPristine:
 EduPristine offers BAT courses in Jaipur. EduPristine has been providing accounting courses since 2008. The institute's primary goal is to equip students with the tools they need to achieve their objectives and impact the world of finance. It is a leading institute providing finance, accounting, and analytics education in India.
They offer instruction both online and in person. In India, they have a large network of classrooms. They impart training through real-world projects and case studies. In  Jaipur, Pune, and Hyderabad, as well as Delhi, Mumbai, Chennai, and Bengaluru, they offer a Postgraduate program in Business Accounting and Taxation. Postgraduate Program in Business Accounting and Taxation is the name of the course.
 Projects: Accounting Fundamentals and Tally Accounting 

GST Fundamentals & GST in Tally Income Tax Fundamentals,

 Tally Income Tax 

The components of a payroll Excel for Accounting and Management Information Systems Financial Statements Finalization 

BUSY Practicum Students SAP Soft Skills
Recommended Read: Business Accounting and Taxation Courses in Hyderabad
3. Tax Professional Academy- Jaipur:
Tax Professional Academy could be a high accounting and taxation college in Jaipur. The institute's courses square measure tutored by chartered Accountants with intensive company expertise and data. Their expert trainers give active, project-based instruction, and also the placement cell assists students to find the best positions for their new skills.
Accounting, Taxation, and GST coaching in Jaipur by Tax skilled Academy were established by practicing Chartered Accountants to fulfill the wants of accounting and taxation professionals. The course includes active instruction to arrange for students to satisfy consumer wants in an exceedingly real-world setting.
Their Business Accounting and Taxation courses in Jaipur have the subsequent course details:
Advanced Professional Course 3 month duration Syllabus:
Basic Tally Training

PAN Card Instructions

GST Basics

How to File GST Returns

How to Register a Company

E-Way Bill Preparation

Out Income Tax Forms

Complete a TDS Return

How to Register for GST Basic

Understanding of Income Tax

Partnership Agreement

Balance sheet

preparation for MSME

Adjustments
To learn more about Tax Professional Academy's BAT courses in Jaipur, please contact them at Phone no: +91-8696238748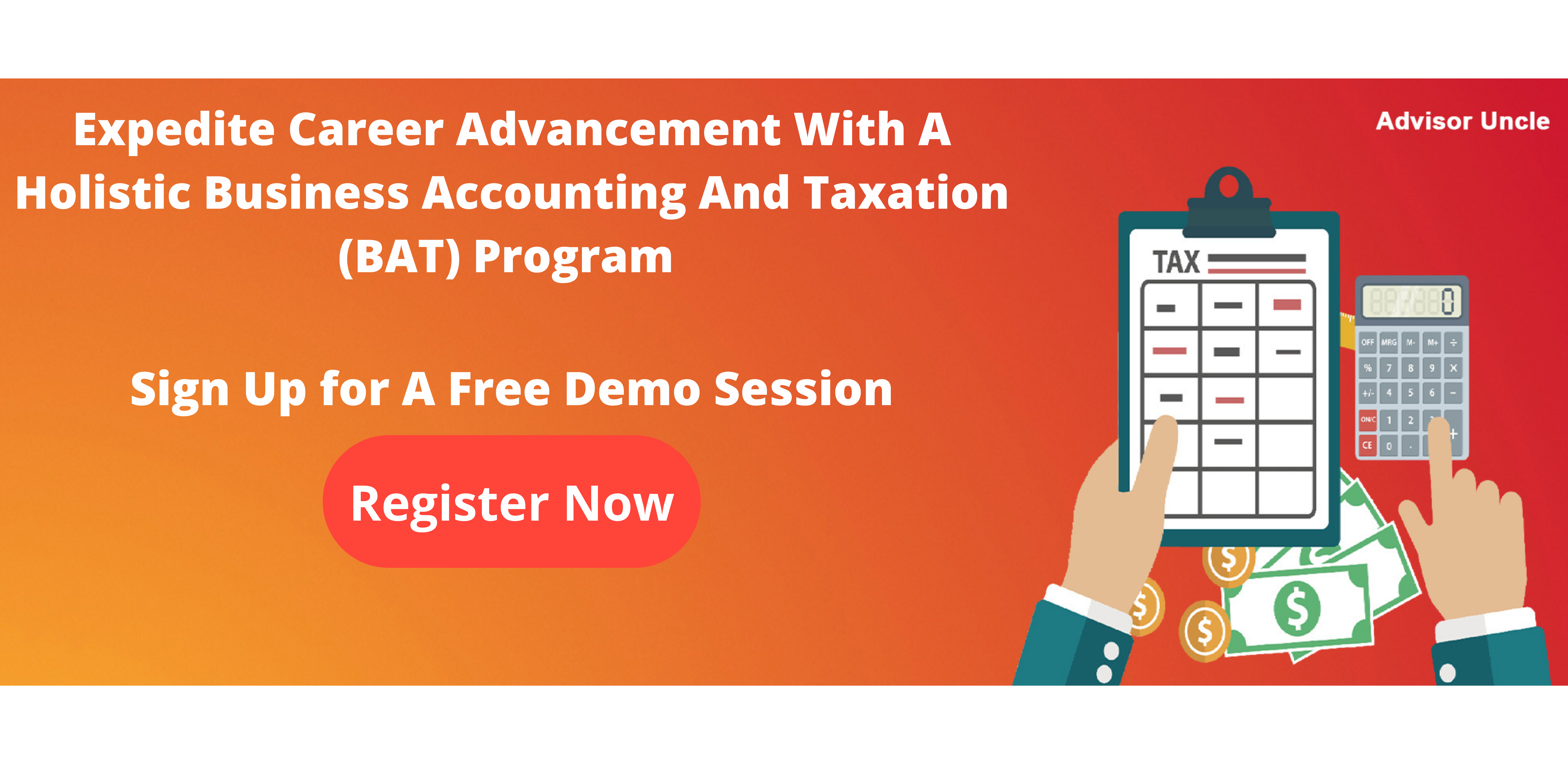 4. National  Institute of Financial Markets:
Through its fifteen sites across India, NIFM delivers systematically structured training programs in accounting and business taxation. Their Business Accounting and Taxation courses in Jaipur use a learning technique that includes hands-on instruction to help students develop the skills they need to succeed in the global employment market.
The Following Are the Specifics of the Course:
The Diploma in Financial Accounting, Auditing, and Taxation is a program that will teach you financial accounting, auditing, and taxation. six-month duration.
Fee: 45000 + GST (or) 55000 + GST in four payments
Recommended Read: Business Accounting and Taxation Courses in Kolkata
5. Henry Harvin Institute:
Harvin has a learning network spread all over. The business verticals of the institute include assessments, consulting services, public programs, college programs, books, corporate programs, and skill development programs. Their BAT courses in Jaipur cover essential accounting instruments such as GST, TDS, and Income Tax.
These tools will assist you in comprehending the financial business practices in India. Professionals who want to pursue a promising career in accounting and taxation should enroll in the institute's Business Accounting and Taxation Course.
The Following Are the Course Details:
The course provides the following package:

172 hours of live online room sessions with two-way interaction Projects which include the ability to calculate GST, advanced surpassing, HR Payroll, and alternative options.

Internship: office assistance to gain real-world experience with the concepts taught.

Offers a certificate offered by Henry Harvin, a Government of India certified and triumph institute.

100% guaranteed job placement 1 year after graduation assistance Access to e-learning with an abundance of tools and techniques, as well as video content, tests, and other resources

.

Hackathons and competitions hosted by #AskHenry are free to enter.

A1-year Henry Harvin Accounts Academy Gold Membership for the Certified Business Accounting & Taxation Course is available.
FAQ
Q1. What is a BAT course?
The Business Accounting and Taxation Course is a certified academic course offered primarily by institutes to provide essential skills in accounting, auditing, taxes, and bookkeeping, which are required in the financial sector.
Q2. What are the eligibility requirements for the business accounting and taxation courses in Jaipur?
B.Com Graduates or graduates with a relevant degree can enroll in the Business Accounting and Taxation course. The Business Accounting and Taxation courses in Jaipur are suitable for candidates with years of experience or freshers.
Q3. What is the scope of doing the BAT course?
It gives you the accounting skills you need to work in the various areas of business accounting and taxation, which are in high demand and provide attractive remuneration.
Conclusion
Students and professionals having a commerce background should enhance their accounting skills by doing the Business Accounting and Taxation courses in Jaipur or those offered in various other places in our country. It will pave the way to a successful career.