In our series of individual digital marketing course reviews, today, we will review the Web Marketing Academy digital marketing course. For other digital marketing institutes in Bangalore, you might want to read through the Inventateq digital marketing course review as well.
Whether you check the Linkedin 2020 Emerging Jobs Report India or the Economic Times article about jobs that will be in high demand over the next couple of years, digital marketing is one career that is spiralling up the ladder. It is a skill that is in great demand, an extremely lucrative profession, and a marketing strategy that you can no more ignore.
From basics to advanced, join the Digital Marketing Course to learn all concepts of digital marketing.
The opportunities and scope are tremendous for digital marketing in India right now, but for the deserving and skilled candidates. Where on the one side, engineering students and even postgraduate students face fierce competition and end up with a starting salary of 20-25k, simple graduates with digital marketing skills get the same starting salary.
Factually speaking, digital marketing and social media marketing job profiles have seen skyrocketing growth over the past two years. The demand is high, and the competition is higher.
What can you do to ensure you become one of the skilled professionals and not just another digital marketer with theoretical knowledge? The ideal answer is, join the "best digital marketing course."
How do you find the best course? What is suitable for one may be mediocre for another. What is best for one may be just about okay for someone else. Best is a relative term, really, and it all depends on your goals.
How to select a digital marketing institute?
Firstly, you need to delineate the reason for learning digital marketing. Is it because you are a student looking for a job? Or, you want to learn digital marketing to use it in your business or start-up? Maybe you are already working and want to upgrade your skills?
Next, you have to decide the mode of training, the time limit you are willing to dedicate to learning something new, and the financial aspect. While a majority of the population today is very comfortable with online learning and almost all institutes offer online courses, there is a section of people who prefer the classroom set-up and meeting other people in person.
The duration and feasibility of assimilating the humungous syllabus of digital marketing is also a point of consideration. Some institutes offer crash courses and free courses. If you have been researching for a while, you will know that the digital marketing course syllabus is extensive. The average person cannot have an in-depth understanding of all concepts within a short duration.
The course fee is also one of the determinants of where you will end up taking the course. While some seem reasonable, some seem exorbitant. Furthermore, there are determinants, like live projects, assignments, and real-life case studies. Though intimidating, they contribute to real learning. Some people are particular about certifications too.
Likewise, the above are just some of the points of consideration before choosing an institute. Make a list of the points that determine your decision and choose accordingly.
Once you have shortlisted some institutes, you can go more in-depth with research on the mentors, the student reviews, references, placement support, after-training support, and teaching methodology.
After that checklist, let us move on to the Web Marketing Academy digital marketing course review.
A Brief Introduction to Web Marketing Academy: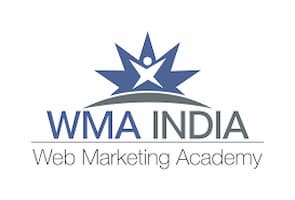 Web Marketing Academy is one of the top digital marketing training institutes in India. Endorsed by Christ University and an official partner for IIM Bangalore, the Web Marketing Academy digital marketing course is a preferred course in Bangalore.
The institute aims to empower the students with skills and expertise in digital marketing along with leadership qualities. With its inception way back in 2011, Web Marketing Academy has significant experience in digital and social media marketing. Along their journey, Web Marketing Academy has helped leading companies of the world maximize profitability through digital marketing.
The institute provides training for individuals and corporates. They conduct training programs and workshops for brands, start-ups, MNCs, and small businesses. The individual participants also get exposure to many seminars, meetups, and conferences, helping them stay up-to-date with the latest trends in the digital marketing industry.
In their words, Web Marketing Academy takes you on a journey beyond the digital world.
A little something about the Founder at Web Marketing Academy:
What started in 2008 as a meetup and community of like-minded individuals interested in sharing knowledge about digital marketing is today the Web Marketing Academy. Initially, a chef, the founder, Suresh Babu, learned about digital marketing way back in 2002 and in 2008 started a community that garnered more than 15,000 passionate digital marketers.
Ever since the inception of the Web Marketing Academy, the founder has been instrumental in training more than 3000+ individuals. He organizes web marketing related seminars, conferences, boot camps, and corporate training programs in and around India.
He has to his credit trained executives and leaders from fortune 500 companies and popular brands like Myntra, Google, Decathlon, NSRCEL, IIM Bangalore, Accenture, Cognizant, Red Bus, and so on.
The founder of Web Marketing Academy has even been instrumental in training doctors and other healthcare professionals on social media. The other feathers in his cap are that of being an alum of the IIMB and IIMC, business school visiting faculty at IIM Bangalore, Christ University and Symbiosis, and also an executive board member of the Christ University in Bangalore.
Courses at Web Marketing Academy:
The Web Marketing Academy is dedicated to digital marketing and offers no other courses. But what they do have is different offers for different individuals and custom training.
The Web Marketing Academy offers the novel "learn now, pay later" program (valid till October 28, 2020). This is hugely beneficial to students and working professionals dedicated to self-improvement and believe in up-skilling but cannot afford the fees. It is a wonderful learning initiative encouraging and motivating individuals who aspire to upgrade their skills.
Under this program, students and freshers seeking a job and between 18 and 25 can pay just 25% of the fee when learning. They can pay the remaining 75% after landing a job.
Working individuals have the option of paying the course fee in interest-free instalments. This is valid for individuals 26 years and above to help them learn and upskill.
Moving on to the Web Marketing Academy Digital Marketing Course Review:
Program Overview:
The Web Marketing Academy digital marketing course has 200+ hours or learning with live projects, case studies, and group activities. Additionally, there are monthly guest lectures and meets facilitating interaction with industry experts. The curriculum update is every three months, with a focus on quality rather than quantity. So, you can be sure of learning about the latest trends in the digital marketing industry.
Eligibility:
As with most institutes, the only eligibility criterion is the passion and determination to learn. There are no other prerequisites other than basic knowledge of English and the internet. Programming and coding expertise are not necessary. The course is ideal for a new career, career change, working professionals, business owners, and even entrepreneurs.
If you are someone who likes to live on your own terms, see yourself as a misfit in a job role, and aspire to be an entrepreneur, be sure to read through the top online entrepreneurship courses in India.
Course Fee:
While the curriculum is the same for an online and offline course, the Web Marketing Academy digital marketing course is INR 55,000 + GST for the online option and INR 65,000 + GST for the classroom option.
Course Duration:
Both online and offline modes of the Web Marketing Academy digital marketing course require 100 days to complete. There is flexibility in terms of batch timings
Syllabus:
The Web Marketing Academy digital marketing course has 40+ modules:
Concepts of digital marketing: Introduction, advantages, scope, and growth
Website planning
WordPress website design
Content for website
Affiliate marketing: The Amazon influencer program, Amazon affiliate program, and how to earn money.
Google Adsense: Earning money from a website, analyzing the ad campaign, and turning your passion into profit.
Fundamentals of SEO: On-page, off-page, voice SEO and structured data
Voice search optimization
Local SEO
Advanced SEO
Technical SEO
Blogging: Importance, blogging for business, structure, and best practices.
Content development and marketing: Content writing, strategy, and calendar. Learn different formats of content, tools, and apps for content.
SEO audit
App store optimization or app SEO
Adwords express Google ads certification.
Google search advertising
Google display advertising
Social Media Marketing: Introduction, SMM plan, how and why of SMM, and SMM for businesses.
YouTube advertising: Why YouTube, its importance, best practices, and YouTube for business.
Shopping ads or e-commerce ads
Mobile app advertising
Remarketing
Facebook Marketing: Facebook algorithm, Facebook ads, and remarketing and Facebook for business.
Linkedin Marketing: Linkedin for business, professional Linkedin profile, and Linkedin ads.
Marketing on Instagram: Influencer marketing, Instagram for business, Instagram stories, and ads.
Pinterest Marketing: Why Pinterest and best practices.
Marketing on Youtube
Quora: The best practices.
Twitter: Why Twitter, its importance, Twitter for business, ads, and best practices.
Storytelling: Creative content, how to tell a story, and the importance of storytelling.
Basics of video editing
Podcast: How to start, equipment, production, and distribution.
Inbound marketing
Email marketing: Email marketing strategies, building an email list, email design, and email marketing tools.
Digital marketing tools
Google Analytics: Analysing business data, metrics that matter, how to measure success, and making your data work for you.
Digital marketing planning and strategy: DM measurement model, budgeting, scheduling, measuring, templates, and plans.
Additional Modules of Significance:
Mock interviews: Sample interview questions, scenario-based Q&A, and presentation
Resume preparation: Sample resumes, formats, and add relevant projects.
Interview preparation
Freelance projects: Sample plans and project proposals.
Blogs and resources
Tools:
The Web Marketing Academy digital marketing course includes some top-notch tools which make digital marketing easier. Some of these tools are:
Mailchimp
Google Trends
SimiarWeb
Google Keyword Planner
Moz
Google Analytics
SEMrush
Google Ads
AHREFS
GTmetrix
Hype type
Projects and Case Studies:
The Web Marketing Academy digital marketing course includes many real-time projects and case studies alongside each module. It is one of the best methods to document your work, and the assignments go on to make you a more confident digital marketer. They add to your existing portfolio and are a testimony to your knowledge in the field of digital marketing.
While the projects help execute learning, the case studies provide a different perspective and insights beyond the subject.
Some of the projects include:
Website creation
Search engine optimization, implementation, and analyzing results and performance in real-time.
Google Ads, generating leads through live ad campaigns.
A social media marketing project that helps channelize your creativity.
Email marketing project to understand different email marketing strategies.
Certifications:
All participants receive the Web Marketing Academy certificate of completion and a certificate of excellence. Besides, the institute helps participants take up other globally relevant certifications such as those from Google Adwords, HubSpot content marketing, HubSpot email certification, and HubSpot inbound marketing certification, Facebook blueprint certification, and also the Google analytics certification.
If digital marketing is not your cup of tea and writing is your passion, unleash the writer in you through the Content Writing Courses.
Additional Benefits:
Apart from the curriculum itself, there are many other reasons to take up the Web Marketing Academy digital marketing course. The institute has faculty who are passionate about teaching and go even beyond class hours to help students.
The founder himself has international experience and has hand-picked the mentors to facilitate better learning.
From day one, it is not just theory, but challenges with case studies of the real world, thus equipping you with an action plan for a digital marketing strategy in any organization.
With all the meets and workshops, participants get an opportunity to interact with industry experts, connect with them, and form an invaluable network.
Furthermore, the fact that the Web Marketing Academy digital marketing course has an endorsement by prestigious institutes like the IIM Bangalore, Christ University, Bangalore; Presidency College; Jyoti Nivas College; Mount Carmel College; and ISBR College Bangalore, make it even more worthwhile.
An updated curriculum, hands-on practical training, live projects, intensive training, only 8-10 students per batch of the classroom programs are also some factors that make it an ideal choice. The topmost element is, of course, the placement assistance. Also, the academy offers lifetime mentorship, internship support, and one on one personal attention.
Student Reviews:
The overall rating from the students reveals that the Web Marketing Academy digital marketing course makes them more confident in digital strategy and execution, develop more robust leadership qualities, and many have progressed in their career or gotten new jobs with increase pay. Some even go to say that it is the right institute to learn the A-Z of digital marketing and that the course provides value and, on the whole, an excellent place to learn digital marketing.
Career Assistance:
The Web Marketing Academy follows a 17-step process for the placement. It makes sure students are confident about every concept, helping them implement the ideas in live projects. The mentors rectify the mistakes and validate the project reports. Finally, the participants learn about resume preparation and attend mock interviews. Management conveys job requirements to deserving students and keeps grooming and motivating them until they land their dream jobs. The academy also helps participants looking at freelancing or a start-up.
Beyond the Subject:
The Web Marketing Academy digital marketing course is not limited to the classroom or online interaction. The focus is on activity-based learning. There are thought-provoking sessions by industry experts to motivate the minds of the learners.
The academy even organizes potlucks, events, and outdoor sessions. All of these only go on to broaden the thinking skills of the participants.
Additional case studies, group discussions, and debates allow participants to view things from various perspectives.
Project management allows participants to work as a team and prepare them for real-life working scenarios. What is more noteworthy is that participants learn various soft skills, presentation skills, crisis management, etc. They get an opportunity to unleash their creative side.
Also find, the Best Technical Writing Courses available online. 
Corporate Digital Marketing Training:
Under corporate training, the academy provides digital marketing training, or social media training, or content marketing training to entire teams of organizations. The program is customizable. The participants get an opportunity to develop their core competencies and skills in various functional areas.
The corporate training program is intensive and covers not just conceptualizing a digital strategy but using various tools, executing the strategy, encouraging thinking from a global and local perspective, measuring results, and assessing the future.
Digital Marketing Crash Course:
The Web Marketing Academy also provides a digital marketing crash course, especially for individuals who are hard-pressed for time and aspire to learn within a shorter duration.
The fast track or crash course is only a classroom course available in Bangalore. Though done in a short period, it covers all aspects of digital marketing and follows the same pattern of theory with practical, case studies, discussions, and projects.
Starting from basic concepts and covering even advanced concepts, the course is customizable as per individual needs. The course is ideal for working professionals, C-level executives, managers, agencies, start-ups, heads of marketing, or marketing and sales executives.
Course Fees: INR 35,000 + GST
Duration: This is a 10-day course from 10.30 am to 5.30 pm.
Training Location: The crash course is only available as a classroom course at the Indira Nagar, Bangalore location of the academy.
Syllabus:
Through the ten days, the crash course covers the topics of:
Introduction to digital marketing
Website planning and designing with WordPress, no coding, and programming knowledge required.
Search engine optimization: Includes on-page, off-page, universal SEO, local SEO, blogging, and search console.
Google Adwords, which includes search ads, display ads, video ads, and app installs.
Social Media Marketing covers Facebook, Twitter, Linkedin, YouTube, Pinterest, and Instagram.
Content marketing
Case studies
Email marketing
Google Analytics
Tools and resources.
The fast track course ensures participants can develop a digital marketing plan for a business, articulate a content calendar, and identify which platforms are suitable for any given product or service.
The teaching methodology is the same as with the standard digital marketing course. It includes hands-on training under the guidance of accomplished faculty, case studies discussions, and learning with practical implementation.
Concluding Thoughts on the Web Marketing Academy Digital Marketing Course:
After a detailed and thorough review, one can deduce that the Web Marketing Academy digital marketing course has a good course structure and offers placement assistance.
Again, it is a personal choice, with the course fee being slightly on the higher end. The academy does offer options to make the course fee easy for the participants as well.
With an average rating by the students at 4.5/5, it does seem like a viable option to master all the digital marketing concepts with practical training, gain global certifications, and get desired placements.
Wrapping Up:
So, whatever career stage you are in currently, if digital marketing is your calling, you have already opened the doors to financial stability. And though life is mysterious and has its own ways to unfold, a stable job and income indeed bring some sense of calm in an otherwise stressful life.
Apart from mastering all concepts of digital marketing, a digital marketer requires other complementary skills to make it to the "skilled professional" list. One of these critical skills is communication. Good communication skills, good writing skills, the ability to work within a team, or even lead teams are additional qualities that employers seek.
Working under stress, managing deadlines, socializing skills, technical know-how are also a requisite. Design skills, video editing skills, and the ability to analyze and interpret data are value additions. And the one skill that all digital marketers should know, which comes under the realm of communication, is the digital marketing sales pitch and closing deals favourably.
No one is born intelligent, but digital marketing is a skill you can learn and acquire. It is a career that is far from routine, demands creativity, and has an eye for observation.
Go through your checklist today to choose an institute that will help you achieve your goal.