If you happen to be managing a website or blog you may have encountered the term SEO. SEO is all about how to generate traffic to your website or blog without having Initially, you may feel like it consists of too much technical jargon. However, as a matter of fact, search engine optimization is rather easy to understand. This blog aims to guide you on your journey to obtain SEO training in India.
How does SEO work?
SEO is all about helping your website rank higher organically on the search engine results page. It can be referred to as a process to help websites stand out from the crowd and get noticed from the multitude of similar websites. This is imperative as the internet consists of millions of websites competing for the eyeballs of users.
The search results for a query are of two kinds, pay per click advertising and organic results. In pay-per-click advertising, companies run advertisements via Google Ads or Facebook Ads. Organic results refer to the unpaid search results that are a result of SEO strategy by companies to boost their search engine rating to ensure better visibility.
People Also Find interesting:
Below are the steps carried out by search engines to display the relevant information according to your search query.
Crawling – Crawling refers to the process of Google's algorithm is taking a look at your page to see whether the content is new or relevant. This step occurs before indexing and the task is performed by software commonly referred to as a crawler or a spider (or Googlebot, as is the case with Google).
If it is deemed relevant it is scheduled for indexing and thus has the possibility to be ranked.
Indexing – An index is created by the search engine with the fetched web pages and they are stored in a giant database from where they can be retrieved as and when required. During indexing, the search engine narrows down the keywords and the ranking of each keyword in which your web page will land.
Processing – When a search request is performed by the user, the search engine proceeds to compare the search string by comparing it with all the indexed pages in its database.
Calculating Relevancy – It is very likely that more than one page contains the specified search string. When the search engine encounters the search string it starts calculating how relevant the search string is to its database.
Retrieving Results – The last step in the process of the search engine is to retrieve the set of results that match the search string. It is nothing more than displaying the required results in the browser tab.
Core elements of SEO:
1. Keywords
Keywords are the basic building blocks of SEO. Keywords are words that are used to look for all kinds of content. This content can be for a product or service or even for media such as images and videos. Businesses can, in turn, use these keywords to connect with people who are looking for their products or services as the case may be.
Keywords must appear on your website in the appropriate places, usually at the beginning at the end and also preferably once every 100 words approximately. It is essential to do a keyword analysis to help decide upon the keyword or keywords to be used. Along with the primary keyword, you should also have a secondary keyword as it will add value to your business.
While undertaking the task of keyword research it would be helpful to consider a mix of the short-tail (travel agents), long-tail (travel agents who specialize in adventure trips), and local keywords (travel agents who specialize in adventure travel in Chennai), to include in your content.
Short tail keywords however have intense competition and for those who are starting on their SEO journey, it would be a good idea to use long-tail keywords to start with.
2. Content
Content is without a doubt an integral part of SEO, as it is used to reach and engage with your prospective audience. If, for example, you are a chocolatier, to increase your visibility you could consider writing blogs on sourcing cocoa, various chocolate-making recipes, the equipment for making chocolate, etc.
When a person would like to know about chocolate making and scoured the internet for the relevant information, your blog would have greater odds of turning up as a search result. Your blog would in time become the go-to resource for all things chocolate.
Content could be in the form of infographics, blogs, social media posts, podcasts, etc. When creating content, it helps if the tone is both informational and casual. Examples of informational content would be tips, tutorials, etc. A casual tone would be a personal opinion. For example, using a certain brand of cocoa or sugar.
3. Off-Page & On-Page SEO:
Off-Page SEO is all about external optimization practices that drive traffic to your site. The technique is called backlink building. Guest blogging and influencer marketing are some of the methods used for backlink building.
The practice of creating and publishing a blog post on another blogger's or company's website is known as guest blogging. Guest bloggers would usually receive credit and a link to their website for their contribution.
Influencer marketing is the process of identifying people who have influence over potential buyers and are usually bloggers and those who have intricate knowledge in a particular field. If a company sold perfume that targeted millennials they would approach an influencer who's popular among millennials to help provide publicity for the product.
4. Local SEO
Local SEO is a search engine optimization (SEO) strategy that will assist in helping your business gain more visibility in your geographical location. Any business serving a specified geographical area or that has a physical presence can indeed benefit from having a local SEO strategy as part of its growth plans.
Google takes into consideration your location when you are searching for a local business. If you search for a restaurant serving pizza the search results would vary depending on whether you are at home or office as Google will show you those restaurants serving pizza in your immediate vicinity.
Popular SEO tools
1. Google Search Console
Google's Search Console is a good free-to-use SEO tool that can be used to view how your website is performing on Google's SERPs. Upon registering your website with Google, you will be provided with a unique code. Registering for an account isn't mandatory for your website to turn up in the search results.
The downside to that is you won't be having control over how the website is featured on the Google search engine results page. Thus, it's better to register for an account.
2. Ahrefs
Ahrefs is an SEO suite that includes options for keyword research, link building, rank tracking, and website audits. Ahrefs helps you to highlight which keywords your competitors are using that are helping to increase their ranking as well as which of their web pages bring in the most organic traffic.
It also has one of the largest backlink databases in the industry and this will help you know which sites link to your competition and the quality of their backlinks as well.
3. KWFinder
KWFinder is an SEO keyword that is similar to Ahrefs. KWFinder can be handy for helping narrow down long-tail keywords that do not have a high level of competition. It is a great SEO tool that can be used for keyword searches and provides analysis reports on SERP and backlinks.
KWFinder has a rank tracker tool that can be used to determine a website's ranking and help to improve the ranking as well.
4. SEMRush
With SEMRush you can view the rankings of your website, the changes made to it, as well as unveil opportunities to rank higher. The most useful feature of SEMRush could be considered to be Domain Vs. Domain analysis. This can help generate an analytics report that gives you access to your website's traffic and search data.
It also helps compare your website to your competitors and that will help you gain an insight as to what keywords are being used that drive traffic to the competitor's website. SEMRush also provides SEO training in India via an online mode of instruction.
5. Ubersuggest
Ubersuggest is used primarily as an SEO keyword finder tool. It can be used to identify useful keywords and also know which of the websites that turn up on the search engine result page along with their chosen keywords, have been ranked highly.
This tool will let you identify short as well as long-tail keywords, thus providing you with the keywords that can be used. The metrics that turn in Ubersuggest's report are cost per click, seasonal trends as well as keyword volume.
6. SpyFu
SpyFu was created in 2005 and is one of the oldest tools to analyze your competitors. It offers some of the most detailed and in-depth competitor analysis tools with an easy-to-use interface that doesn't overwhelm you with information. It will help you to discover the top pages, backlinks, and keywords used by other websites.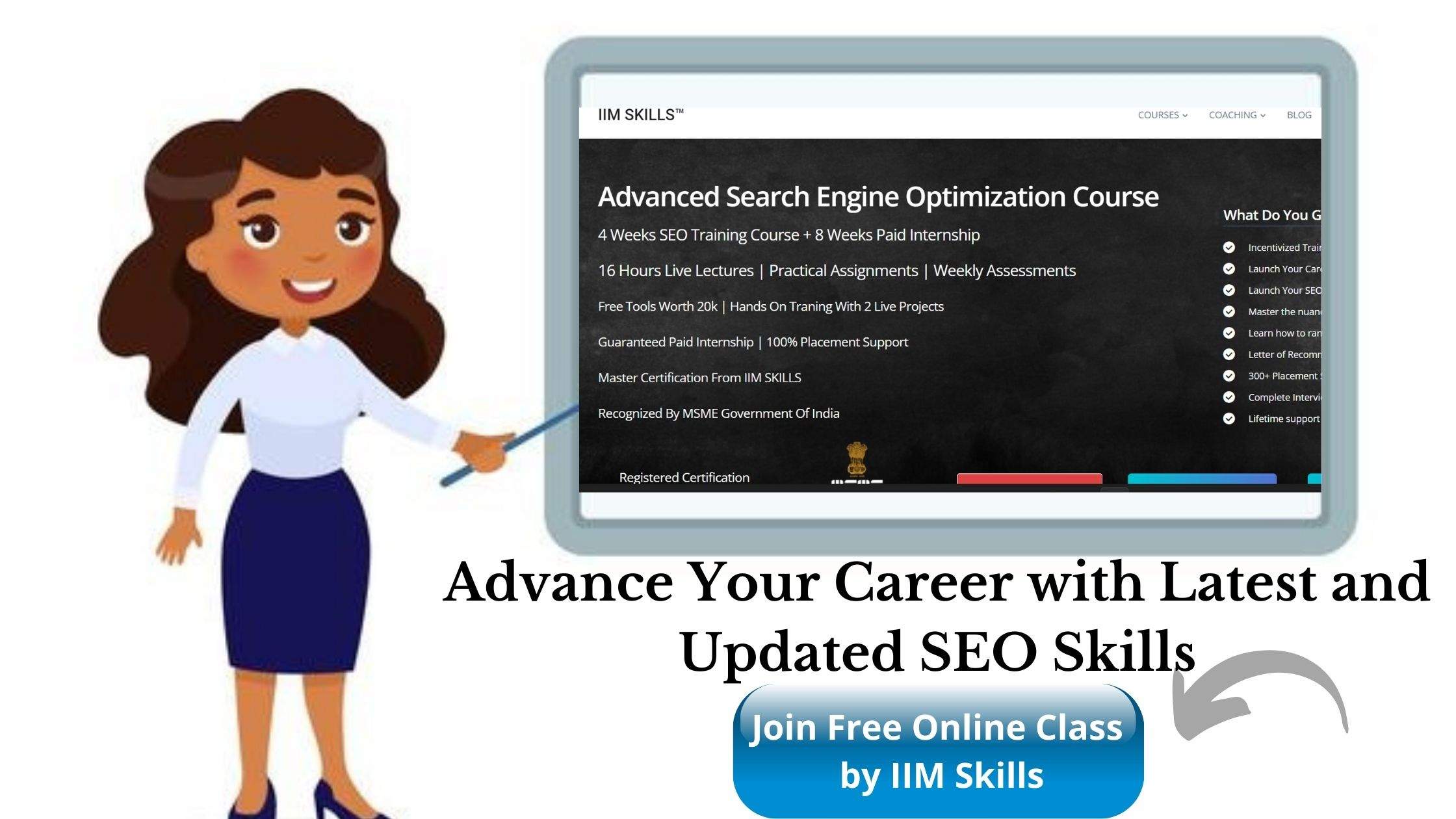 7. Moz
Moz could be considered a good alternative as well. They are credited with creating the metrics of Domain Authority and Page Authority, which are two of the key measurements for helping you to analyze competing websites.
While it is not as extensive a tool as that of Ahrefs their backlink analysis tool provides you with a difficulty score, search volume, and ranking position for each keyword.
Before we list some of the SEO courses in India, let us elaborate on the benefits of SEO for businesses.
SEO can help you improve the ranking of your website in the search results. This will potentially make an impact on your company's profitability by increasing the sales and leads inquiries you get.
#1. SEO helps target quality traffic.
SEO being an inbound marketing strategy is concerned with making it easier for people seeking information to find you as per their requirement, unlike with outbound marketing which can be intrusive as you are reaching out to your audience irrespective of whether they wish to hear from you or not.
Examples of outbound marketing are cold calls, TV commercials, radio ads, printed advertisements, etc. Inbound marketing can be explained as the process of helping potential customers find your company.
This step usually happens before the customer is ready to make a purchase, this pre-empting his need and making contact early can increase the chances of and encourage brand loyalty and this will lead to leads and revenue.
#2. Not required to pay for ads
Google's algorithm ranks your website according to what it determines are the best results for the query that is entered in the search box. Thus, if your page that Google identifies as worthy of highlighting for its users benefit, organic traffic will continue flowing to your site without you having to spend anything on advertisements.
Researching and creating high-quality content requires an investment that is either in the form of time or money, depending on whether the content is created by yourself or if you choose to hire a digital marketing agency to create the content for you. Once the initial investment has been made, there's no recurring cost to keep the traffic flowing.
#3. SEO gets more clicks than PPC
Most of the searches run on Google end up resulting in a click on an organic result from the first few pages of the search engine results page. This is true even though pay-per-click (PPC) ads end up appearing above organic rankings on the results page.
This could be because people instinctively trust organic results rather than paid ads. One would say it's akin to how people trust the word of mouth advertising more than flyers and other forms of advertising.
 #4. Staying ahead of the competition
SEO is widely considered an integral part of any marketing strategy. A majority of marketers have acknowledged that improving their SEO strategy and working on their online presence is a top priority for them. Your competitors will be working on their strategies as well.
Thus with an effectively implemented SEO strategy of your own, you can keep pace with and even stay one step ahead of your competition in your industry.
Top 9 SEO training in India:
Listed below are some of the institutes providing SEO training in India. These have been specially curated based on their track record of providing certifiably good quality education in the discipline of SEO. Some of the institutes listed below even provide tools that aid in the process of SEO.
1. IIM Skills
IIM Skills imparts SEO training in India via their, "Advanced SEO Course". The notable attributes of this course are that you are provided with the opportunity to gain practical experience via hands-on training with 2 live projects, 8 weeks paid internship on course completion, and recognition by the Department of MSME, Government of India.
What you will learn:
Fundamentals of SEO
On-page SEO
Off-page SEO
Technical SEO
Local SEO
SEO Audit
Search Console
Google Analytics
and more
2. Udemy
This is one of the many SEO courses in India which is offered by Udemy is called, "The Ultimate SEO Training 2022 + SEO for WordPress Websites." There are various courses providing SEO training in India and the course mentioned here covers the following aspects of SEO.
What you will learn:
SEO and how to implement it
Structure and Optimise your Website to rank higher
SEO Training Strategies
Identifying the best keywords possible.
Identify the keywords targeted by your competitors.
Generating content ideas for blogs
Building high-quality backlinks
3.  Yoast
Yoast provides SEO training in India via the online medium of instruction. The "SEO for beginners training" is the free course offered by Yoast. They also have a premium option that unlocks all their courses as well as gives you access to their Yoast SEO plugin for WordPress.
What you will learn:
Find out how SEO works
Get tips for improving your site
You will learn about the theoretical as well as the technical side of SEO
You can easily access the content through MyYoast and Yoast SEO academy.
4. Simplilearn
Simplilearn's search engine optimization (SEO) course will help transform you into an SEO professional who will be capable of ensuring sustained growth in your website's most critical marketing channel. You will become proficient in the various facets of SEO such as keyword research, technical SEO, link building, analytics, and they are highly rated on Trustpilot for the quality of their SEO training in India.
What you will learn:
Search Engine Optimization
Content Marketing
Web Analytics
Keyword Management & Research
Website Management and Optimization
URL Management
This is one of the SEO courses in India which will cover all the above-mentioned skills and help unlock the potential of your marketing efforts.
5. SEMRush Academy
The SEO courses in India, conducted by the SEMRush Academy, are free of cost and you will be tutored by a team of Semrush professionals. Further, you will also be introduced to the portfolio of tools in SEMRush's arsenal which will ease your entry into the world of SEO.
What you will learn:
Organic Research.
Keyword Analytics.
Keyword Magic Tool.
SEO Content Template.
On-Page SEO Checker
Position Tracking
Site Audit
Backlink Audit
The advantages of choosing SEMRush for your SEO training in India are that they provide the bonus of being in the SEO industry and they provide tools that help you organically rank on the search engine results page faster.
6. IIDE 
The Indian Institute of Digital Education was founded in New Delhi in the year 2016 and has both offline and online modes of training. The Indian Education Congress and Awards in 2020 also named IIDE as the best institute providing SEO training in India.
What you will learn:
Basics of SEO
Keyword Research
On-Page SEO
Off-Page SEO
Google Search Console
Blackhat Techniques
7. Inventateq
Another institute that provides SEO training in India is Inventateq and is called the "Advanced Digital Marketing Course." They have 13 years of experience in the field of SEO training.  They also provide placement support and opportunities to gain hands-on experience by working on real-time projects.
What you will learn:
Advanced SEO Methodology
On-Page Optimization
Off-Page Optimization
Content Marketing
Google Search Console
Google Analytics
SEO Tools like SEMRUSH, Ahrefs, Woorank
8. FITA
If you are seeking to learn SEO techniques and looking to gain an in-depth knowledge of prevalent SEO practices? FITA is your answer for undergoing SEO training in India. At the FITA Academy, they provide a comprehensive knowledge of various industry-standard SEO techniques under the guidance of professionals and they train you to become an SEO expert.
What you will learn:
Basics of Search Engines
Keyword Research
Off-Page Optimization Methods
SEO Tools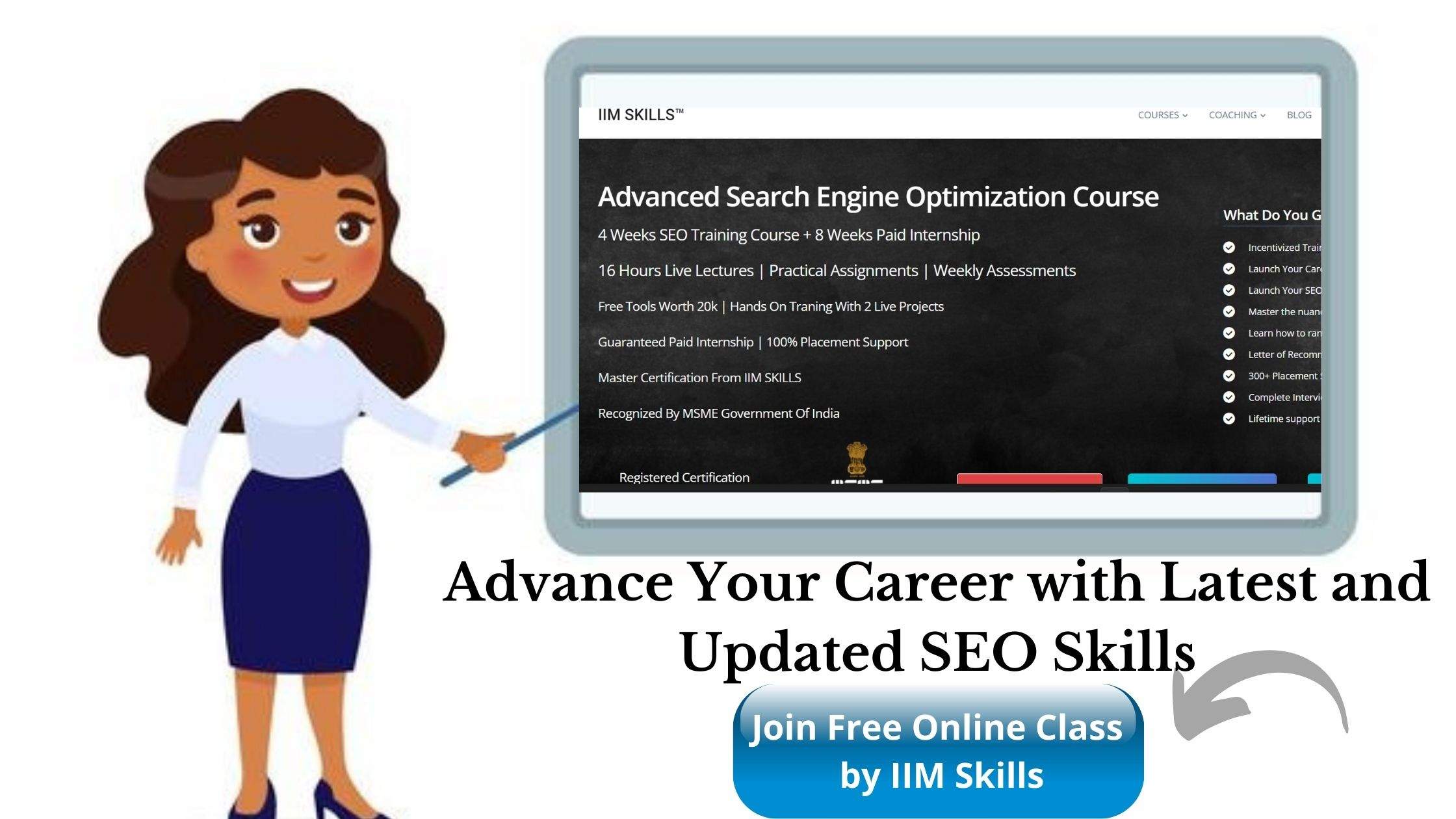 9. SEO Blueprint
SEO Blueprint provides Online SEO Training in India. They offer a better learning experience by providing opportunities to work on live projects under the guidance of one of their SEO trainers. The course content devised in their SEO course is the outcome of their many years of working experience in the SEO sector.
What you will learn:
An Introduction to SEO
Technical SEO
Keyword Research
Content Planning
On-Page SEO
Off-page SEO
Local SEO
Frequently Asked Questions
1. What is SEO?
SEO or Search Engine Optimizations is the process by which visibility is increased for your website on search engines such as Google and Bing.
2. What is the average duration of an SEO course?
The duration of an SEO course varies from a few months to 3 years. Both cost and duration vary among the various institutes that impart SEO training in India.
3. Does SEO require knowledge of coding?
The short answer to the question is SEO doesn't require you to know how to code. But if programming is a skill you possess it can prove useful.
4. Is SEO good for a freelancing career?
Yes, it is possible to become a freelancer in the SEO industry. Freelancing is a popular choice and SEO is an in-demand field. Any organization or a small firm that has a website will require their web pages to have greater visibility in the search engine results which is primarily what SEO is all about.
Conclusion:
In recent years the need for a good SEO strategy rose to an all-time high. As consumers shifted to online consumption of goods and services, even the most traditional business had to adapt and ramp up their online presence in a meaningful way that helped complement their revenue and remain relevant in the changing scenario. SEO could easily be stated as the most viable and cost-effective way to understand and reach customers. The list of SEO courses in India mentioned here, though not exhaustive, provides a good starting point as a guide to help you choose one according to your needs and expectations.