Inventateq Digital Marketing Course Review
In our series of reviews on individual digital marketing institutes, we will review the Inventateq Digital Marketing Course in this article. Inventateq is one of the leading training institutes in Bangalore.

Also, you may want to read through our article on the top 10 digital marketing institutes in Bangalore.
Marketing is always about making the right offer at the right time and place. In that sense, marketing has not changed at all. But the place and way of making the offer sure has undergone a tremendous change. You can no longer rely on just print ads, brochures, and pamphlets to do marketing as effectively. Why? Because your target audience, your customers, are reachable through other means today.
In the current scenario, internet consumption is at its peak. Everyone is online. People Google for all the information they seek. The internet is replete with information on anything and everything. Whether it is a service or product, people search the internet for information and even buy the service/product online.
The thing about digital marketing is it allows you to connect with your customers through the channels they use. It not just provides your product or service with wider visibility but allows for interaction with your audience as well. True, digital marketing can be overwhelming for someone new to the concepts and elements of digital marketing. Still, once you learn in-depth about digital marketing, there are no cons, only pros, and only benefits.
In our previous articles, we have given you insights about various components like social media marketing in the article top digital marketing courses in Chennai, and search engine optimization in the article top digital marketing courses in Gurgaon. Let us explore mobile marketing in this article before the detailed review.
What do you mean by Mobile Marketing?
Of the many components of digital marketing, mobile marketing is very crucial. Why? Simply because the number of smartphone users in the world will exceed 3.8 billion users in 2021, as per Statista. That number in India will exceed 760 million in 2021. Quite naturally, if you are not incorporating mobile marketing in your digital marketing strategy, you are losing out on a big chunk of your business.
A few decades ago, mobiles only served to connect and speak. It was a number to reach a person. Currently, mobile is much more than just an instrument to communicate. Integrating mobile and the internet has opened up the entire world for people. This, in turn, has opened fascinating opportunities to digital marketers.
With so many millions using their mobiles to search, reach out, and buy things, it is vital to have mobile-optimized websites and mobile-optimized marketing methods. Knowing all about the mobile marketing realm can enhance the overall value of your digital marketing strategy, improving customer engagement at multiple different touchpoints.
Mobile marketing, in simple terms, is the marketing of your product or service, optimized for mobile devices. A good mobile marketing strategy will provide consumers with personalized time-sensitive and location-sensitive information that is highly relevant to their search on the go. With an enormous amount of people using their screens for a longer time, mobile marketing, which is already on a roll, will be around for a long time.
If you have not thought of implementing mobile marketing in your digital marketing strategy, you are lagging behind.
Why Mobile Marketing?
A straightforward answer to this is that mobile marketing allows a business to reach a vast audience than online marketing. Online marketing confines itself to desktop/internet marketing. The beauty of digital marketing is that it takes a multichannel approach, and each platform is the best fit for different needs.
There is a drastic change in the way people consume digital content. The desktop/laptop is no more the only or preferred way to access digital content. Since an average person spends a great deal of time on a mobile device, it is only logical to take advantage of that and invest in mobile marketing.
Ultimately, all digital marketing moves and trends are on the basis of data. Analyses of various data lead expert digital marketers to come out with what works and what does not. Similarly, even mobile marketing has very interesting data to back its claim as being vital to digital marketing efforts. Here are some interesting facts that will give you better clarity on the role of mobile marketing.
Nearly 60% of online searches are through a mobile device.
On average, a person checks his/her mobile 96 times a day, which translates to almost once every 10 minutes!
Indians spend approximately three and a half hours on the mobile on average.
88% of Indian consumers prefer mobile use for shopping online
India is the second-largest market for smartphones.
Approximately half of the web traffic is also on mobiles.
A KPMG report indicates more than 88% of video consumption, too, is via smartphones. A whopping 3.7 billion videos/month streaming is via mobiles.
The above are some pretty self-explanatory facts and figures reiterating the importance of mobile marketing.
What are the types of mobile marketing?
Mobile marketing does have the potential to propel your business to another level. But how, and where do you start? There are different types of mobile marketing. Making your website mobile friendly is the first step, but not the only step.
Mobile Apps:
There is an inundation of the mobile market with mobile apps, most of which are honestly useless. If you want to leverage the power of mobile apps, be sure to provide value to your audience. When it is relevant and useful, the app does not feel like an aggressive marketing gimmick.
Mobile Push Notifications:
The push notifications are like messages; only they come from the apps that consumers install. The general use of mobile push notifications is to inform your consumers about updates, new offers, or event reminders.
In-Game mobile marketing:
These are your mobile ads that appear within games when you are playing. They can appear as banner ads, or as pop-ups, or full-page images.
Mobile-first ad strategies or mobile banner ads:
The banner ads are much like the desktop banner ads, only customized and optimized to fit perfectly well onto mobile devices.
Location-based or Bluetooth marketing:
Also referred to as proximity marketing, it allows for the delivery of location-specific relevant ads.
QR Code or quick response code marketing:
These barcodes, when scanned, take the users onto a specific website with more information about a particular product/brand. The QR codes have a mystery element because of the redirection to another website they have no idea of.
SMS Marketing:
Though passé and by far the most common mobile marketing method, it does still work, especially if you are loyal to a brand, and they text you about the promotional offers. SMS or text marketing can greatly enhance lead generation and sales.
Voice marketing:
The recorded and automated calls for promoting goods and services come under voice marketing.
Irrespective of the business vertical and niche, mobile marketing allows you to broaden your horizon. You can do trial and error until you understand what form of mobile marketing aligns well with your business goals, but mobile marketing is no longer just an option. It is vital to the success of a digital marketing strategy.
How effective is mobile marketing? What are its benefits?
Mobiles are ubiquitous. Integrated with the internet and the array of marketing platforms, mobile marketing is undoubtedly a compelling digital marketing platform. Businesses of any size can use mobile marketing to their advantage, increase the customer base, generate leads, and increase sales. So, overall, mobile marketing is beneficial.
Mobile marketing has a big list of benefits. Some of these are:
When it comes to humble SMS or text messaging, it is a cost-effective and cheap option when compared to TV ads or print ads. Moreover, it requires no special skills and or technical know-how.
There are more chances of the text messages getting read through by the consumers than emails. People, in general, check their message inbox way more than their email inbox. Hence messages rarely get ignored. Moreover, consumers willingly share their mobile numbers with the brands they trust and associate with and eagerly await promotional offers.
Mobile marketing works exceptionally well for local businesses. It is the most economical way to touch base with loyal consumers and inform them of various promotional offers.
Some mobile marketing best practices
Having covered the "what and why," let us move on to the how part of mobile marketing. Best practices are what provide successful outcomes to an action. As with every other element of digital marketing, mobile marketing, too, has some best practices for outstanding outcomes. Some of these best practices include:
Optimizing web pages and landing pages for mobile devices. This is the first step for that superb mobile marketing strategy to take your brand places. Well placed visual aspects and a good loading speed are mobile-friendly aspects.
Know your audience well to develop an ideal mobile marketing strategy. The social media platform they are on will guide you with the kind of mobile-optimized content you can create for a better and more engaging experience.
One critical best practice is keeping the call to action minimalistic in terms of steps required to complete it. CTAs requiring elaborate steps to complete will lead to higher bounce off rates.
The clarity of content and minimalistic approach is the way to go for mobile marketing. Since mobiles have smaller screens, anything overcrowded will put-off prospective customers. Keep it simple and to the point.
Most mobile searches are for local products and services, and hence optimizing for local is a great thing for mobile marketing.
You can experiment with the types of mobile marketing to see what the best fit is, but ultimately tracking results is what will give you insights into what works. Diligently track the results to get your ideal fit.
The ability to provide an omnichannel experience on a single device makes mobile marketing a very lucrative and indomitable medium of digital marketing.
Coming back to digital marketing, we will now enlist some points that make Inventateq a great place to learn digital marketing.
A Brief introduction to Inventateq: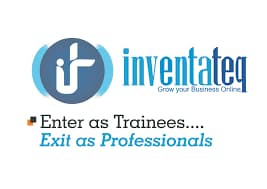 Inventateq is a leading software training institute in Bengaluru. For nearly half a decade now, the institute has provided training in various job-oriented courses in Bengaluru, Chennai, and online. Thus far, the institute has trained over 13294+ trainees and has a tie-up with over 100+ IT companies.
The institute provides corporate training as well as individual training. Inventateq has a long list of courses, including in-demand courses like Digital marketing, SEO training, cloud computing, various software programming courses, AWS training, artificial intelligence, blockchain, and data science courses. The institute even has content writing courses, web designing, and soft skill courses.
In Bengaluru, they have their centres in Jayanagar, Marathahalli, BTM Layout, Rajaji Nagar, and Kalyan Nagar. In Chennai, Inventateq has a centre in Velachery.
All of their courses are job-oriented and designed by industry experts. Inventateq also caters to corporate training focusing mainly on practical hands-on experience. The institute provides services of the highest quality, customized training modules to suit client needs, flexibility with time schedules, certified trainers with extensive knowledge, and at a location convenient to the corporates.
100% job support, globally recognized certifications, resume, and interview preparation assistance are additional perks of taking up a course at Inventateq. The trainers at Inventateq are from noteworthy companies like IBM, Accenture, and Dell.
Inventateq Digital Marketing Course Review:
The Inventateq digital marketing course is also a job-oriented course with 13+ certifications. It is a complete practical training and includes AI (artificial intelligence) tools with training by Google certified experts who have 14+ years of experience. Participants can avail of a free demo class on request.
The classroom course comprises 50+ hours of content, 6+ industry projects, 40+ practical sessions, and 25 expert coaching sessions.
The methodology at Inventateq includes studying theory with practical and assignments, followed by getting the certification. The institute then helps with the resume and interview preparation and enables you to get the desired job.
Eligibility: The only criterion that matters is internet knowledge. Any individual with basic computer knowledge can enrol in this course.
Course Fee: INR 15,999/-
Course Duration: The Inventateq digital marketing course is available as an online course and as a classroom course, and also for corporate training. The classroom course consists of 40-45 hours of real-time practical training classes. Weekday class slots are available from 8 am to 8 pm, and the weekend schedules have flexible timing. For the classroom courses, candidates can visit the centres. Corporate training is at client locations.
Syllabus:
The Inventateq digital marketing course is extensive and comprises 30+ digital marketing modules, some of which are:
Advance SEO techniques
Introduction
Web design for on-page SEO
What is on-page optimization
Content SEO techniques
Google webmaster tools and web analytics
Google SEO tips
Off-page optimization techniques
Web marketing tips
PPC Google Adwords
Setting up an Adwords campaign
Measuring and optimizing performance
Search fundamentals review
Adwords tools
Performance monitoring and reporting
Performance, profitability, and growth
About advertising on YouTube
Shopping ads
Avoiding Google penalty
SEO latest developments
Mobile overview
Advance social media
Measurement
Email marketing
Affiliate marketing
Google Adsense
Google analytics
The course includes website design and development using WordPress, social media marketing on Facebook, Twitter, Linkedin, and Google Plus; YouTube video advertisements, mobile app promotions, online reputation management, remarketing campaigns, artificial intelligence in digital marketing, and even Quora marketing.
Projects and Case Studies:
The Inventateq digital marketing course emphasizes learning with real-time practical projects such as:
Live Google Adwords PPC campaign: Learn to create and run a Google Adwords campaign to generate visitors and increase sales.
Facebook and Twitter campaigns, live: Create and run Facebook Ads campaigns. Learn how to optimize across multiple target options to generate more clicks.
SEO campaign with HTML code: Learn and implement website visibility on top search engines of Google, Yahoo, and Bing. Learn about the importance of keywords and how to drive traffic to your website.
Email marketing campaign: Learn to implement email marketing tools to make successful email marketing campaigns.
Making money online through website monetization: Learn to earn through blogging and content monetization.
Review of the Online Inventateq Digital Marketing Course:
Inventateq also has an instructor-led online digital marketing course for the benefit of individuals who cannot be a part of the classroom courses. It is not much different from the classroom course, and below are the details of the course.
The online course has 52+ content hours, 4+ industry projects, 40+ practical sessions, and 15+ digital marketing tools.
Eligibility: Anyone with a willingness to learn can enrol in the course. There is no minimum educational qualification.
Course Fee: INR 15,999/- + GST
Course Duration: The online Inventateq digital marketing course has 52 hours of training spread over three months. There is 24/7 technical support, and there is a provision of recorded lectures if you miss an online session. Separate doubt clearing sessions are also a part of the online program. The schedule and timing are as per individual comfort and availability.
Syllabus:
The online Inventateq digital marketing course is covers 10+ modules and includes:
Digital Marketing introduction
SMS and email marketing
Search engine optimization
Content marketing
On-page and off-page optimization
Google Ads, PPC, and Analytics
Ad copy and keyword usage
Social media marketing
Marketing automation
Social media strategy
Retargeting strategies, success rates, and optimization.
The delivery of the entire syllabus and learning modules is via email. It also includes video advertising, budget setting, and using digital marketing tools Hootsuite, and MailChimp
Projects and Case Studies:
The online Inventateq digital marketing course includes the following projects:
Google Adwords Management: Creating campaigns with optimization techniques, making ads live, and using suitable keywords for campaigns.
Social Media Advertisement: Learn to run a different set of ad campaigns on various platforms like Facebook, Instagram, Twitter, etc. use targeted keywords, create banner ads, etc.
SEO campaigns: Use the live website and learn about visibility on Google, Yahoo, and Bing and learn other aspects of SEO.
Email marketing campaign: Using email marketing tools to send great emails and target customers, and drive sales.
The standard features of the classroom and online Inventateq digital marketing courses include:
Instructors: The trainer is a Google certified industry expert with 14+ years of experience in managing digital marketing projects. Adept in the SEO space, the mentor adapts quickly to the changing trends in digital marketing, adopts them into the course structure, and provides an analytical approach.
Certifications: All participants receive 13+ digital marketing certifications from Google Adwords, Google Analytics, Facebook, Bing, SEMrush, HubSpot, Hootsuite, and Inventateq.
Tools: You can learn about the best digital marketing tools such as SEO tools, lead generation tools, Google optimized A/B testing, MailChimp, artificial intelligence content creation, AI in digital marketing, keyword research tools, and even affiliate marketing tools.
Skills: Some of the skills you will acquire with the Inventateq digital marketing course are blogging, social media marketing skills, Google advertisement, e-commerce marketing, copywriting, search engine optimization, affiliate marketing, YouTube promotion, and how to earn money as a freelancer.
Career Assistance: Inventateq provides 100% placement support, and they also have tie-ups with various MNCs, mid and small size companies. The institute also helps with resume preparation, frequently asked interview questions, two mock exams, and mock interviews to boost your confidence. The freshers in the digital marketing field get the benefit of internships as well.
Student Reviews: The overall student review ratings are 5/5. Here are some of the things that students have to tell about the Inventateq digital marketing course: Good learning experience, excellent trainer, excellent and friendly environment, interactive classes, good teaching methodology, very well-structured training, and affordable fees.
Concluding Thoughts:
The overall course structure for the online and classroom course includes the projects and case studies. Even the course fee is the same for online and classroom options. For individuals outside Bengaluru and Chennai, they can take up the online course, and even for Bengaluru residents, if time and commute are constraints, the online version provides the same training as the offline. The course fee is affordable, and there is placement assistance as well. There are also good reviews about the trainer and his teaching methodology—all in all, an excellent place to learn digital marketing.