Top 3 Instagram Marketing Courses in Delhi
In 2012, when Instagram came in the android version, the app got downloaded more than 1 million times in less than one day. That is because it came along with revolutionary features changing our social media experience like never before.
The next thing we know is that years passed and Instagram became the most advertising and marketing-friendly platform introducing tools specifically for business insights and analytics.  This article is to give an insight into how marketing on Instagram works while introducing you to several Instagram marketing courses in Delhi.

Marketing shot a level up after Instagram came in, as it amalgamated creativity, entertainment and audience like no other platform has done ever before. Instagram is not only a platform that connects over 2 billion people; innovative content engagement on Instagram is the other shining factor that makes this platform the best fit for people who want their business to get the right kick it needs.  
Today marketing doesn't need you to hustle with finding middlemen in every connected sector that you need to get indulged with- to make your presence in front of the targeted audience. Social media has removed that barrier for you. 
Since you are interested in skill development digital courses, you can also check other well-liked courses in Delhi:
If you are someone who has a product/service and some strategy, you don't need to worry about finding a pedestal to present yourself. Instagram can become that pedestal for you, and in this article, you will get answers to your probable questions.
The cai store, rugs and hugs, angel's kitchen, itsy bits are just the tip of the iceberg to show you that Delhi is home to some of India's most successful small businesses that started from scratch and made up their entire social media presence majorly using Instagram as their social media platform. 
In every field, from lifestyle to beauty to fashion, Delhi has some of the biggest influencers and small/large businesses who gained their popularity using this platform in the country making people, who see them often, wonder how this aspect of marketing works. 
Instagram has created a space in itself where you get what you need. If you are someone who wants to spend some leisure time, this app is just enough; if you want to promote your small business or if you want the world to see your skills, Instagram has to be the best platform for you to do that. 
As much as this platform can be your one-stop source for entertainment and work, there is a lot of insight you need to have about this platform so that you can use this platform to the best of its ability and get your small business the right push it needs. 
Business analytics, content audience engagement, targeting the right customers, maintaining your social media presence are some of the things you need to get yourself accustomed to before you start your journey of Instagram marketing or becoming a full-time social media influencer.
This article right here is to get you acquainted with some collected information on Instagram marketing courses in Delhi while giving you a small background about how it works.
Why Instagram Marketing?
Apart from following the money leads, increased brand awareness, and the fact that using Instagram isn't some rocket science making it handy for all, here is the ultimate 5 factors that make Instagram the best fit for your product/service marketing are listed below: –
●      
Evolved Features: –
Features like a boomerang, reels, stories are paired with business-driven features like Instagram bio update, contact button, and authenticity proving features like account verification. Over the years, Instagram became the reason for how many features got a shape- we never thought could exist.
●      
Larger Audience: –
Instagram is a family of more than 1 billion, with more than 500 million active users making it a high audience content engaging platform. People who want to make their business visible to a large mass find this social media as their best fit.
●      
Any Size of the Business can Come in: –
Instagram business account access doesn't require any special number related to your business, all you need to do is to sign in and click on the type of account you want to go with and you are good to go. Once you prove your authenticity to Instagram, you can get a verified account on Instagram.
●      
Setting up Your Instagram Shop: –
Yes, this is the ultimate feature that makes Instagram the handiest social media platform for setting up your business. Instagram allows you to have your digital shop on Instagram itself. Once you are done setting up your Instagram shop, the interested audience can go through what you have to offer.
Setting up an Instagram shop is easy, but setting up an Instagram shop that pays you off requires strategic planning and techniques to be incorporated. You can learn about all those tips and tricks by taking any one of the Instagram marketing courses in Delhi to make your shop outshine.
●      
Influencer Collaboration: –
You might need that extra help from those who are looked up to by many when you want you and your small business to be seen. Yes, collaborations and promotions by established influencers help your business sail smoothly.
These factors make Instagram a promising platform for your business marketing, and to help you get a deeper insight into how this works. 
How to Start with Instagram Marketing: –
Given below are 5 simple steps that you can follow to set up a flawless Instagram profile and get going with taking your business to a next level:
●      Download the App: –
The app comes in both Android and IOS versions; you can go up on the app store available on your device and download it from the respective store.
●      Set up an Instagram Account: –
Once you have downloaded the app, the next step is to create an account on the app. You can either sign in through your email ID or your mobile number and create a password for your account.
After signing in to your account, you need to give your profile a meaningful username and Instagram bio, so that your audience can understand you and your product better. After setting up your account, get yourself acquainted with the procedure and features of the app.
●      Click on Try Business Tools
If you are setting up a business account, you need to make it public. That shows that your Instagram handle is for the sole purpose of promoting your business and Instagram comes with a feature that divides Instagram accounts into various categories from which you need to click on the business account.
Once done with that, you then need to understand how Instagram analytics work, and how to find out how your product is doing or what is your level of content engagement and how is your business working online.
This part might need some hands-on experience or maybe a little help might be needed to understand how this part of Instagram works as this is all the part where you understand about your business. Later in this article, you will find out more about all the Instagram marketing courses in Delhi.
●      Link Your Business with Your Instagram Account
If you have decided to take on your business digitally, you would probably have a website or your business profile on Facebook already. To keep Instagram in the loop, you now need to link that website/Facebook business profile with your Instagram profile so that a prospective customer might find it easy to understand what you have to offer.
You can also set up an online shop on Instagram itself, as it comes with the feature of setting up an Instagram shop. This feature creates a difference as this is the most preferable feature for all those who want to make Instagram their one-stop source as a business platform.
●      Start Posting
Once you are done with setting up your business, you can now start posting and sharing content online on Instagram, as this is where you make an actual difference; consistency and quality are the keys to making it. 
All you need to focus now on is your content, your product, and how you can portray your USP in the best possible manner. Instagram comes with many audience-engaging features such as stories, videos, reels, boomerangs, and now IGTV too.
Instagram allows you to come up with creative videos that are eye-catching for the audience. To know more about how we can level up our posts so that our content engagement increases, there is a list of all the Instagram marketing courses in Delhi. 
While following all these steps, you need to make sure that your Instagram business doesn't fall short of anything just because of your lack of knowledge in any area of social media as it is still a seemingly new concept in India. 
You can always go for help. There are plenty of courses on the internet that help you come across everything that could have probably been missed on while researching your part. Given below are some highly suggested Instagram marketing courses in Delhi.
Top 3 Instagram Marketing Courses in Delhi: –
Here is a list of some online Instagram marketing courses in Delhi, which will help you go a long way in your journey of establishing a successful online business through social media and especially through Instagram. 
Digital Marketing Master Course – IIM Skills
This is an umbrella digital marketing course offered by one of India's best online institutes IIM Skills, that not only gives you an insight into how Instagram marketing works but acts as a complete guide for your digital marketing journey.
IIM Skills is one of the most promising platforms to learn about digital marketing as this course not only helps you get knowledge about how social media works, but also gives you various opportunities and platforms where you can present your skills at. IIM Skills is one of the most trusted Instagram marketing courses in Delhi.
Course Fee: 34,900 + 18% GST
Key Features- 
● 3 months guaranteed internship
● Launch your digital marketing agency
● Lifetime support (consulting and technical)
● Start your podcast with Google, Spotify, and apple
● Write the first blog for platforms like times of India and get yourself published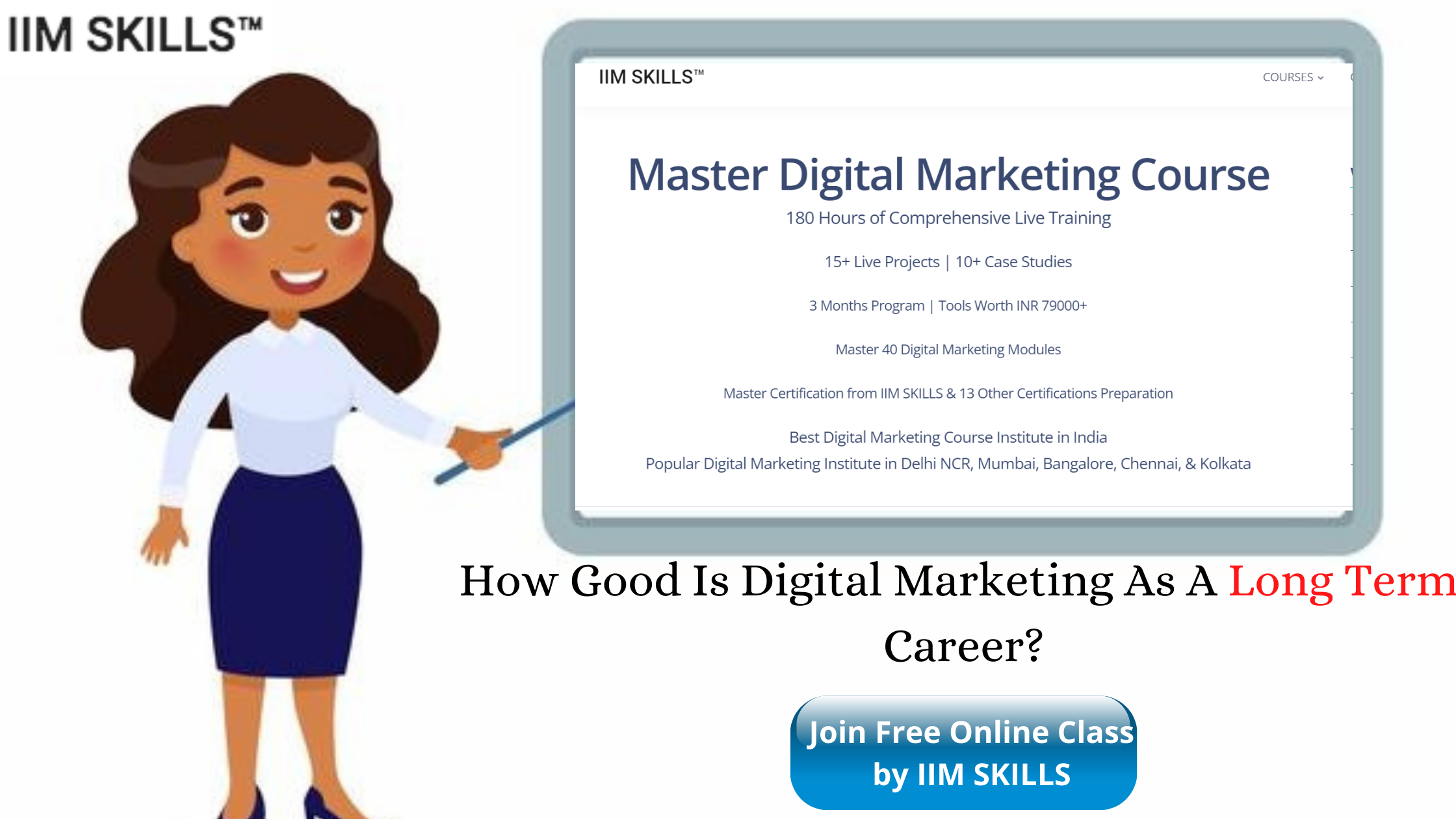 2. Hubspot: –
Hubspot is one of the best Instagram marketing courses in Delhi, which comes with this finely curated online course so that people can make their Instagram business profile business-worthy by getting you known with all the social media marketing strategies that could make an actual difference. Throughout the course, you will learn about Instagram analysis and methods to promote content through Instagram ads, etc. The course is in online mode.
Duration – 2:30 hours
Videos: – 21
Course Gains: –
Understanding marketing strategies of social media
Course Curriculum
1 What all is needed to make a successful Instagram strategy
4 videos (31 minutes)
Lesson Description:
In India, a few know about social media marketing, or for that matter, people don't have much awareness about Instagram marketing courses in Delhi, explaining why people start their online business with all their might but can't continue it for long. 
Understand how to put together an Instagram marketing strategy that will make your business reach its full potential. In the first module of this course, you'll get to know what a successful Instagram marketing business handle looks like, how to squeeze out the most of your business profile and understand how to calculate the performance of your Instagram content and what works best for you and your business.
2 Creating Remarkable Instagram Content
7 videos (50 minutes)
Lesson Description:
Instagram is a giant platform with an audience from all ages and backgrounds and delivering content that suits the needs of the right audience in the right manner. Understand what tricks and steps to use when handling your business online and especially on a relatively new platform like Instagram.
3 How to Get More Instagram Followers
3 videos (18 minutes)
Lesson Description:
When scrolling Instagram you might find some brands and business pages that have a giant audience that follows them and they convert that following into actual sales. How do they do it? Understand how to attract and sustain an audience of your own and convert them into prospective customers.
4 Setting Up Your Instagram Ads for more content engagement
3 videos (26 minutes)
Lesson Description:
The fourth module entirely deals with Instagram ads as this is where you come and monetize while advertising your product/ service. Understanding how to connect your business strategy to your ad, what ad formats are best for your campaign will also help you come across topics like place bids in Instagram ads.
5 Creating Remarkable Instagram Ad Content
1 video (11 minutes)
Lesson Description:
A Facebook business manager can also be used to create Instagram ads. You will get to discover tips and tricks that will blow away viewers of your Instagram Ad to click through and buy your product/ service. You can make your account on HubSpot for free and then enroll with this Instagram marketing course in Delhi.
3. Instagram Marketing Course 2021 – Udemy
Udemy is known for its wide variety of certificate courses and is one of the best choices from all the Instagram courses in Delhi that are short and crisp and help you get a hold on whatever you might be missing. This Instagram marketing course by Udemy helps you to understand techniques on how to attract the right type of followers on Instagram and methods by which you can convert clicks to customers.
Requirements:
● A computer (PC or MAC)
● Instagram mobile app
● Basic know-how of Facebook Ads
Description of the Course:
● Join us to master the art of the Instagram marketing business and discover everything social media has to offer
● Learn everything about Instagram analytics and Instagram ads now
● Create targeted followers on your Instagram account which you always wanted
● Learn how to create Instagram Ads
● Start generating email leads from Instagram
The Course Offers:
● Have an Instagram marketing game strategy and be distinguished and consistent with it
● Start with having a strong audience base, which you can turn into prospective customers
● Create your own social media family and generate your leads
● Create and optimize Instagram ads in a small amount of time
● Schedule your posts on Instagram and be consistent at your game
● Find out the right tools for your posts on Instagram
Frequently Asked Questions:
1. Is the Instagram marketing course worth it?
If you have decided to take on your business online and on a platform like Instagram, a little help might be needed to sail you through.
2. What are other options for Instagram marketing courses in Delhi?
Given above are the three best online courses that you can do while being in the comfort of your home. 
3. What can be the other related courses with social media?
Social media is a whole new field now. Understanding every aspect might need some help. You can explore content writing, digital marketing, inbound marketing, and other such courses. 
Conclusion:
Given above is a list of the top 3 digital marketing courses in Delhi that can help you understand social media marketing better so that you get going with your online business in the best possible way that there is. Instagram marketing might relatively be a new concept, but it's a promising platform to give your business a new dimension. Hope you found this article on Instagram marketing courses in Delhi helpful.