Top 5 Content Writing Courses in Nashik With Placements
Nashik is continuously growing towards the peak of technology through fast-growing infrastructure, which calls for increasing content. Content is like the ruler of the modern world.
With every standing building comes to a story and technique, constantly changing, that needs to be noted down. Every note, every story, every method, everything, is nothing other than content. So if you are intrigued by the world of scribblers or are willing to convert your interest into income, check out some of the best content writing courses in Nashik here.

People Also Read:
Content Writing Courses in Bangalore
Content Writing Courses in Delhi
Content Writing Courses in Mumbai
What is Content Writing and All of its Features?
Content, in other words, is information that is communicated in any way. Content writing thus is writing or communicating through the web. Ways may be through writing blogs, creating art, hosting a podcast, scripting a video, to even writing an autobiography. Although the wide three categories of content are audio, video, and text; the range the word "content" holds is as far as words can travel.
But is everything that easy to gain importance and authenticity on the internet? Sadly, being just optimistic here will not help. Being a good writer is not nearly enough to be a good content writer. A content writer should have a differentiating sense of what is important for the readers on the internet and what is not. An understanding of trends and techniques is important.
Every content doesn't get remarks and thumbs-ups. On the internet, it is as much about the need for your topic, SEO, ranking, and techniques as it is for the way you write. These technical bits are what it all comes down to standing above the crowd.
Content writing includes writing for blog pages, magazines, newspapers, podcasts, social media platforms, consumers, manufacturers, and other different industries as well. And what are some of the content writing services you can provide? That includes writing articles, listicles, blogs, scripts, SOPs, product descriptions, brochures, tutorials, books, infographics, and so much more.
Now, what are the features you look for in a content writing course? The features you have to look for are the basics of content writing, keyword researching, SEO (on-page and off-page), article writing, content writing tools, social media writing, press release, business listing, video script, and emailing.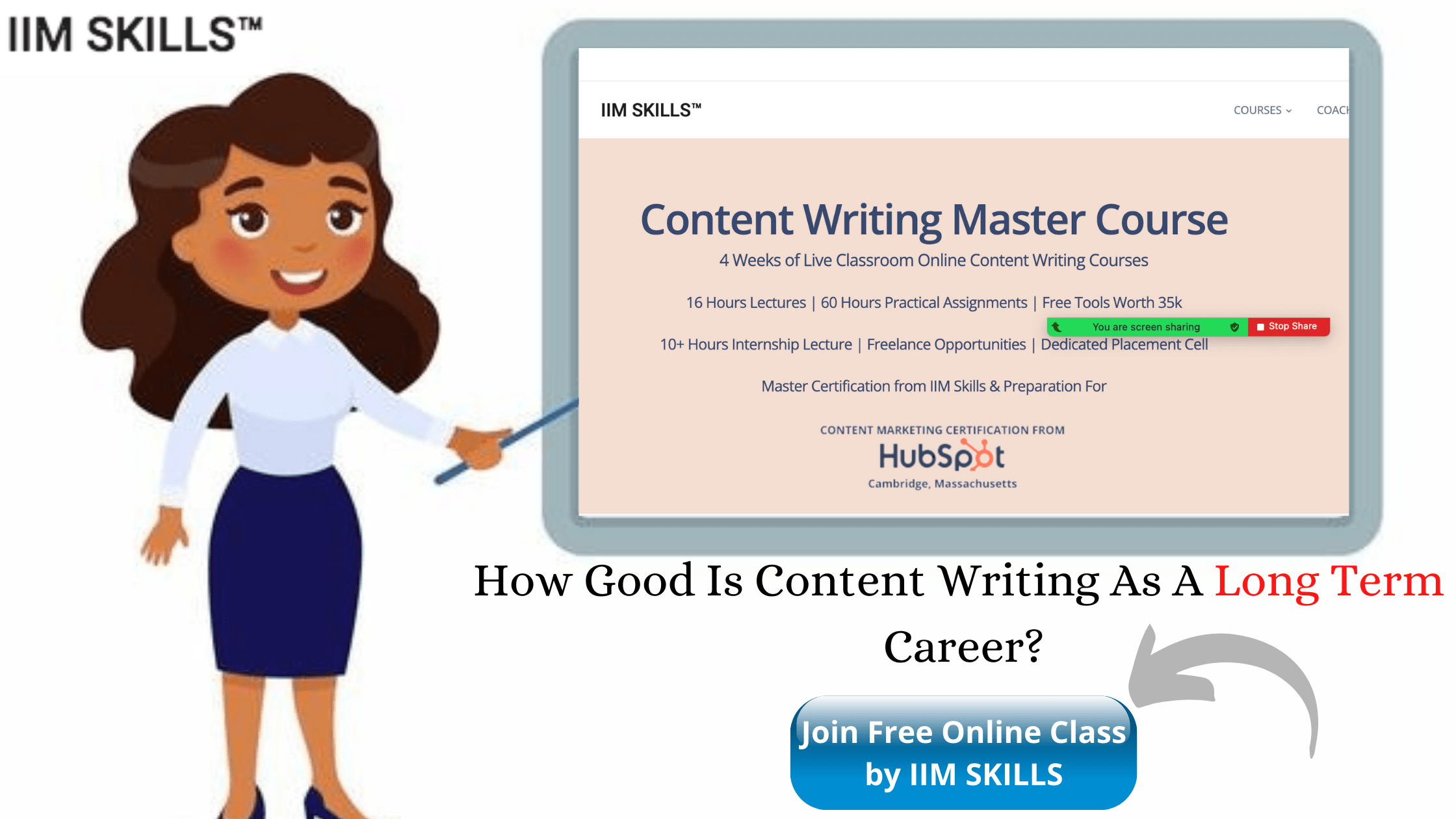 Is Content Writing a Good Career Option in Nashik?
Of course, you cannot merely ask for a list of courses available in Nashik without having full knowledge of whether content writing will earn you any pennies or not. So here is a brief insight on how good content writing as a career could be.
Content is everywhere. The internet, especially, is nothing but content. Every mode of communication you see is content- newspapers, articles, advertisements, product descriptions, books, magazines, and whatnot.
Nashik, like many other cities in India, is going through huge developments in many fields. Development is tailed by the IT industry, which as a result has a demand for content writers as well. Growing business means a growing advertisement, as well as communication and content.
Therefore, with each passing year, India is giving privilege to the pursuers of content writing, converting it into a more famous and needed job. The more the development, the more the content. The more the content, the more the need for content writers.
In this online world which is moving only more toward technology, online content is all that matters. So whether you are in Nashik or in the US, you can make the exact same impact with your work and efforts. The talent is at your fingertips and the seekers (companies, readers) are constantly searching for it. For a detailed list of content writing courses in Nashik with the main features, continue with the below article.
Content Writing Courses in Nashik
1. Content Writing Courses in Nashik by IIM Skills
IIM Skills is one of the most famous and authentic content writing courses in Nashik or elsewhere on the global map. IIM Skills has successfully trained over 15000 seekers in over 35 countries. Being a leading global online institute, they have gained stacks of experience and knowledge of the trends accepted worldwide.
The institute is populous with well-experienced experts and a maintained curriculum. The curriculum sets perfectly with the latest requirements of the continuously altering web. The content writing course provided by IIM Skills has been ranked no. 1 by many agencies like careers360, advisor uncle, media houses, CourseDekho, etc.
Having good anime throughout the world, the certification provided by IIM Skills holds a good amount of value on your name. You get great opportunities along with a general course syllabus. You can attend the course from anywhere in the world, as well as have lifetime access to the study material.
Course name: Content Writing Master Course
Course fees: ₹14,900 + GST
Their courses are highly engaging and helpful for even beginners. The online classroom enables students to access the class recordings anytime later. Their trainers are absolute guiding figures throughout the end of the course. The batches are divided into small numbers to transfer individual attention.
Other Professional Courses offered by IIM Skills:
Features:
Live online classes 4 weeks
136 hours of learning
16 hours lecture
Practical assignments for 60+ hours
Freelance opportunities
3 months internship guaranteed
Lifetime support and advice
Portfolio development
Master 25 types of writing skills
Publish your ebook
Master certification from IIM SKILLS
Course curriculum:
Introduction of content writing
Web development
User interface
25 types of content writing skills
SEO (on-page and off-page)
Keyword research and planning
Analyzing market
Content writing tools
Google local pages setup
SMM (social media marketing)
Freelance content writing
Their curriculum is updated regularly, watching the ever-changing demands of the internet. Some of the types of content writing skills include articles, blogs, ebooks, newsletters, product descriptions, business listings, infographics, video scripting, etc.
Being an online institution, the course timings are very flexible. You will receive class recordings if you miss the live class or couldn't attend. Certification by IIM Skills is valuable. All in all, it is one of the best content writing courses in Nashik.
For more insights, go through IIM Skills Content Writing Course Review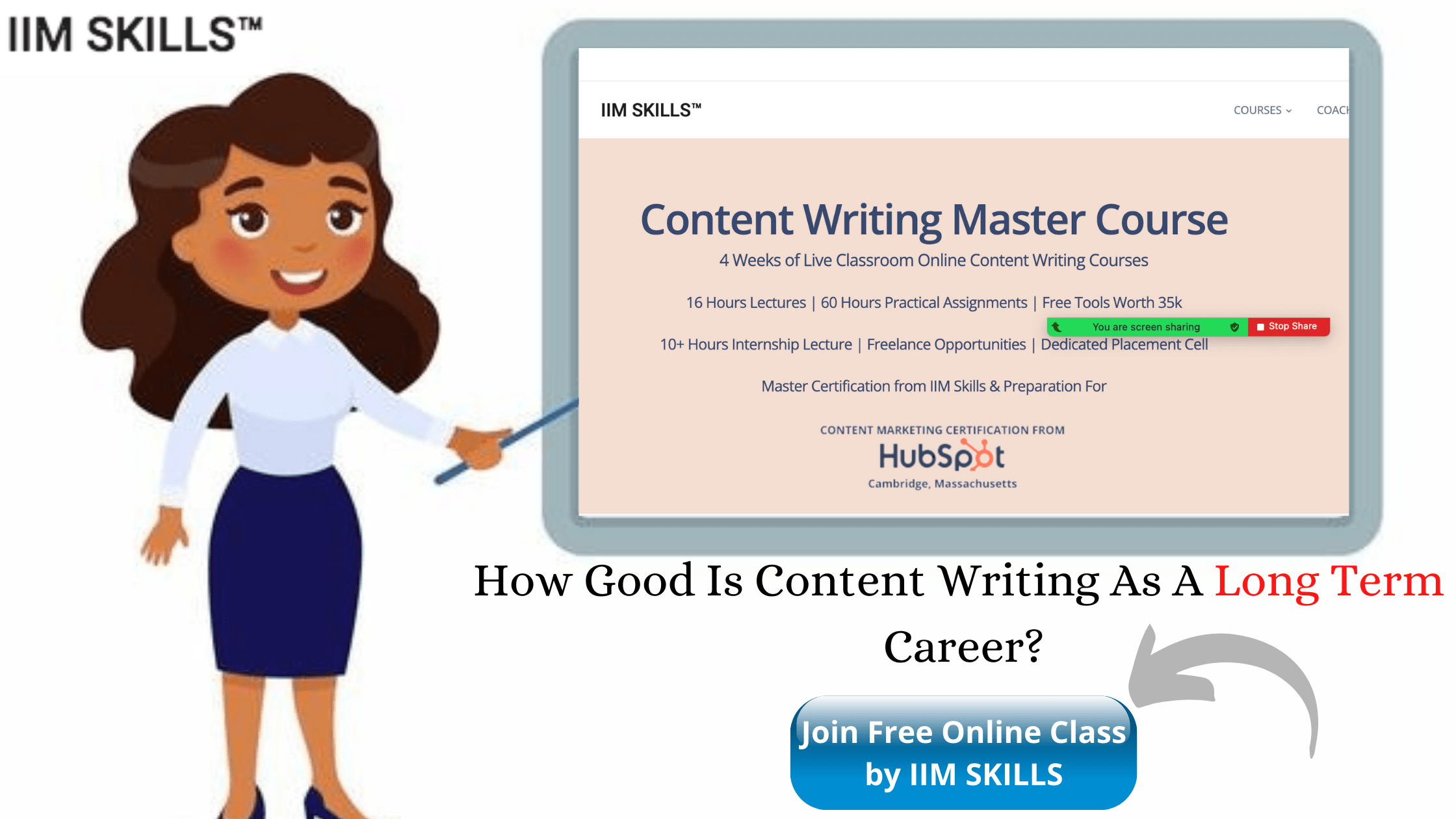 Email: [email protected]
Contact number: + (91) 99 11 839503
2. Content Writing Courses in Nashik by Skills Upgrader
Skills Upgrader is a career development and consultancy-oriented firm. They help to nurture their students as per individual needs. Skills Upgrader provides a wide number of services and is devoted to helping you with your dream job, whether you are a beginner, a professional, or just exploring different options. They provide strong knowledge for today's market as well as the opportunity to pursue internships.
Whether you are an aspiring writer, blogger, digital marketer, student, graduate, business owner, or any other professional from the industry, the online content writing course is apt for you. The course is a live classroom training of 4 weeks. The teaching method will be online and engaging. It deserves a special mention as one of the best content writing courses in Nashik.
There will be 16+ hours of online classes and 70+ hours of hands-on assignments. The course will have an opportunity to take part in a content writing internship. You will receive useful tools during the course and full support from trainers while using them. Skills Upgrader also promises dedicated placement support. You will receive content writing certification by Skills Upgrader.
Course curriculum:
Introduction to Content Writing
Web Hosting
The Connection Between Content Marketing & UI/UX
Website Creation
Understanding the Writing Process
Search Engine Optimization
Keyword Research
Writing SEO Optimized Content
Content Creation
Content Marketing Using Social Media
Call To Action
Content Marketing Strategy
Lead Generation Using Content Marketing
Content Marketing Using Email Marketing
Freelance Content Marketing
Skills Upgrader's content writer course is one of the best online award-winning courses. The course constitutes 15 well-defined modules that are examined and revised as per the need of the practical world.
Email: [email protected]
Contact number: +91-9034229196
3. Content Writing Courses in Nashik by ECT – Education and Career Times
ECT is recognized by the government of India, giving it a wide certificate of authentication and value. ECT has trained many participants from all over the globe while promising secured job assistants to each participant. The government-certified certificate clears a nice amount of twigs from your path to stand above the crowd.
The beginning of ECT was a career blog page, in the year 2010. The aim was always the same: helping students find the right path in careers. This eventually gave them government recognition. Since 2018, ECT has been delivering educational courses to students.
The content writing course provided by ECT is gemmed with loads of opportunities, including a free internship. The course is well designed for participants looking for a placement as 100% job assistance is also guaranteed by ECT. The classes build up with live and interactive sessions.
Course cost: ₹15,000
Course features:
3-month course
32 hours of Classroom/Live Training
50 hours of E-learning and useful videos
7 assignments
5 live projects
10 quizzes
1 government-recognized certification
100% placement assistance
Work from home job opportunities
Lifetime support
Course curriculum (modules):
Introduction to content writing
boost your vocabulary
Avoid grammar errors while writing
learn writing tools, tips, and techniques
sharp your creative nonfiction writing Skills
Learn fiction writing: master storytelling
Master business writing skills
Learn technical writing
Hone your academic writing skills
Write specific pieces of content
Master content marketing
Monetize your writing skills
Publish your book
The curriculum is well-modulated as per today's requirements and standards. ECT provides quality courses with authenticating certificates. You will be able to enjoy loads of opportunities including publishing your first ever book. The inbuilt internship with the course is a highlight to acknowledge as experience is a valuable asset in a profession like a content writer.
Their live classes are highly engaging and flexible. You are eligible to attend the course no matter what your profession is, even if you are a student or housewife. You will receive personalized attention while classes or doubts, and lifetime support. So, what are you waiting for?
Contact number: +91-7827916060
Email: [email protected]
4. Content Writing Courses in Nashik by Nestsoft
Nestsoft Technologies was established in 1997, with the foremost aim of providing IT solutions, and they have successfully done so today. It is the first digital marketing company in Kerala. The company has more than 1000 customers from India, SA, UK, USA, and Oman. Nestsoft provides world-class SEO services to more than 100 companies, in India and outside. They continue to peak their quality of courses.
Nestsoft's forefront agenda is to be surrounded by internet/intranet technologies. This area covers many parts which directly or indirectly connect content/digital writing to it, like business-to-business, e-commerce software solutions, web developing, SEO specialization, and many more. Nestsoft is remarkably specialized in SEO and intranet/internet technologies.
Nestsoft provides a number of courses for you to choose what you require. With the ever-changing and challenging internet, Nestsoft aims to give specialized and perfected knowledge. With the ever-changing and challenging internet, Nestsoft aims to give specialized and perfected knowledge. It provides 100% placement assistance.
Course curriculum:
Module I- Essentials of Writing
Module II- Before You Write – Introduction to Writing, types, planning, guidelines, reader-centric documenting, reading and referencing, plagiarism
Module III- Write Right – Effective paragraphs, pre-writing, communication with experts, grammar
Module IV- After You Write- Proofreading, editing, communication with graphic artist, rewriting
Module V- Publishing – writing for the web, project work
Module VI- career development for writers
Contact Number: +91 8301010866 / +91 9895490866
5. Content Writing Courses in Nashik by Henry Harvin Institute
Henry Harvin is one of the most famous and reputed institutes in not only India but many countries on the map. It is a global Edtech company set up in the US and India, carrying customers of more than 97 countries. It has ranked as one of the top companies on a global scale. With Henry Harvin's experienced and awarded storyline, they're one of the best providers of content writing courses in India.
The content writing course with gold membership of Henry Harvin is a 9 in 1 features course. It is a perfect match for beginners as well as professionals seeking placement opportunities as content writers. The 9 features of the course are online training, hands-on projects, in-built internship, Henry Harvin certification, placement, E-learning, boot camps, hackathons, and the gold membership.
You will learn more than 30 different content types online through interactive classes hosted by experienced trainers. You will learn how to attract readers through your words. Henry Harvin makes sure to assist you while you secure a placement or for any queries regarding freelancing.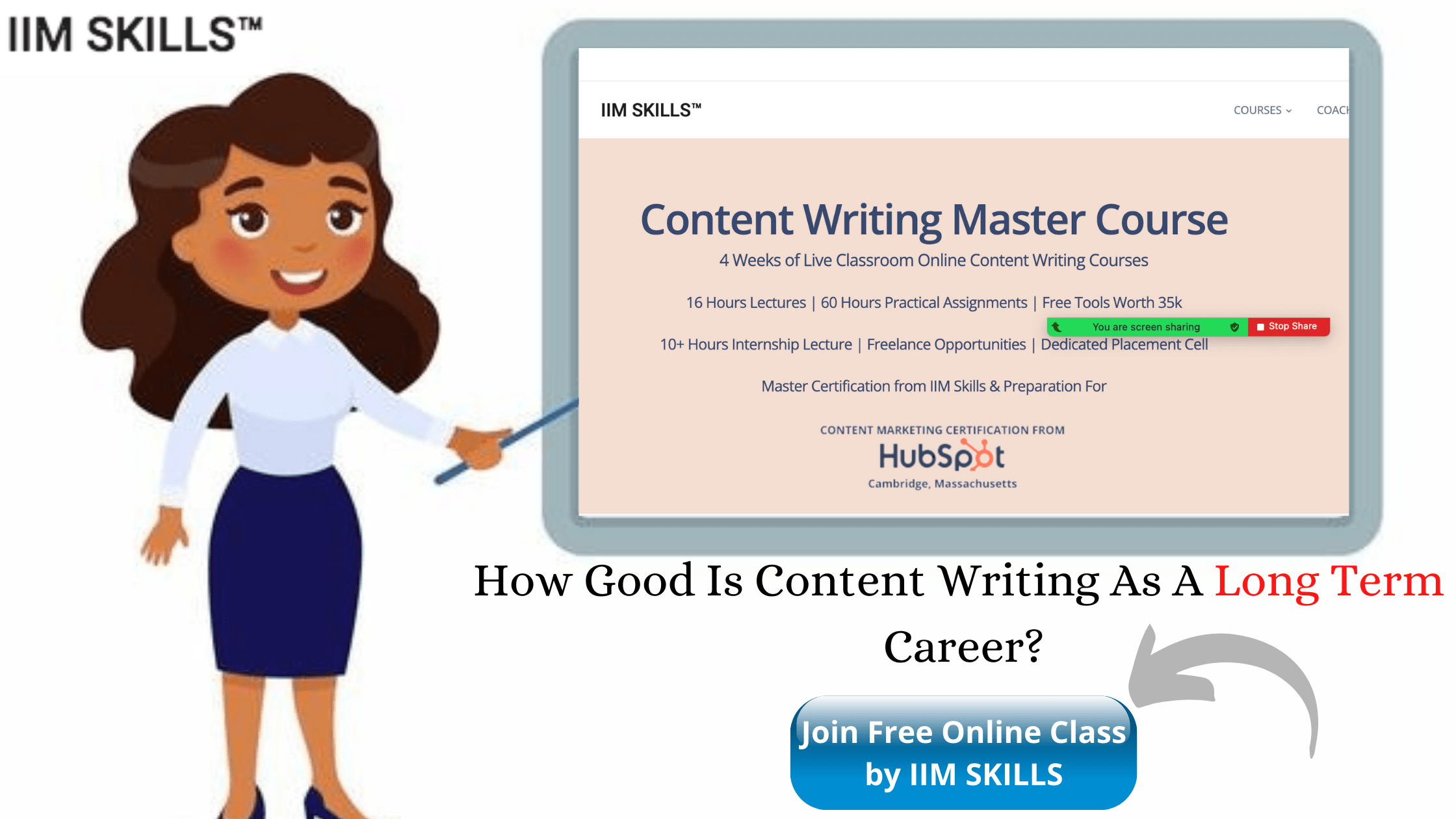 Course curriculum (modules):
Module 1: Language skills
Module 2: Internet skills
Module 3: Business & marketing writing
Module 4: Content strategy
Module 5: Technical & research writing
Module 6: Academic writing
Module 7: Creative writing
Module 8: Copywriting
Module 9: Email writing
Module 10: Earn online & receive International projects
Module 11: Simulated content writing projects
Complimentary module 1: Soft skills development
Complimentary module 2: Resume writing
The course consists of 36 hours of live and interactive online training, a globally recognized CDCW certificate, 1-year gold membership of Henry Harvin (which lends some amazing measures of your need to you), regular boot camp sessions, study material, access to a learning management system, video recordings of the class sessions, internship, and placement assistance.
Contact number: +91-9891953953
Email: [email protected]
Frequently Asked Questions
1.    Are content creators in demand?
The demand for content writers has spiked up about 33% in comparison with the last few years. This alone represents the starting growth of content media in India. It is true that without skills and knowledge, it is difficult to mark your name much high in this field.
2.    What are content writing examples?
Content writing is a term covering each and every form of communication happening on the web. Some examples of content writing are blog posts, articles, newsletters, business listing, statements of purposes, magazines, video scripts, podcasts, marketing, advertisements, product descriptions, and much more. Literally, any form of communication you could think of comes under content writing.
3.    Can I learn content writing online?
Yes, very easily. There are many reputed institutes providing online content writing courses with reputed certificates.
Conclusion:
Above is the list of the 5 most preferable choices for content writing courses in Nashik. But what good will the course be if you are not interested? Is a course 100% efficient if one does not or wishes not to possess the skills required for content writing? The straightforward answer is "no".
Before being very sure of the course, do know what you are walking into. Content writing is a little more than simply writing. Though there are some things that will ensure you are good to go.
If you carry a love for writing, reading, researching, and learning new things, then I would say you have a good chance of liking the job. An interest in more technical areas like the internet, web development, digital language, will also prove to be very handy.
Though even without the knowledge of the language, you can learn many things if you have a desire to. Most of all, you can always learn everything you need to from the course if you have enough enthusiasm, patience, and persistence.