Top 10 Content Writing Courses in Nagpur With Placements
 Content is key. The world is quickly realizing the importance of content in today's marketing. Content is what speaks to people, what reaches the masses. Content is the customer's first impression. That's why businesses need content that makes the best impression on the customer. And for great content, they need great content writers. And to become a content writer, you're going to need somewhere to start. So, if you have a flair for writing, and you're looking for content writing courses in Nagpur, read on!
Anybody with a phone and an internet connection knows that the world of marketing is booming right now. With the advent of a new era of technological developments, the world is in a high tide of business it has never seen before. New companies and businesses are popping up from all corners of the world. Globalization is constantly on the rise. So, if you're a creative thinker and you're positive that you want to ride this high tide, you might realize one of the best options for you out there is to become a content writer.
Before we discuss the various content writing courses in Nagpur, there's something else you'd want to know first.
What exactly is content writing and why is content so important?
-> Content is how a business connects with people.
True, there are statistics and numbers they can show to people to prove how talented and reputed they are in their field, but if a business wants their customers to really get comfortable and familiar with them, they need great content.
-> Times have changed.
Content is in high demand. On average, an adult spends around 7 hours a week on content online. Any business knows that competition is tough. That's why they need excellent content writers to push past the competition.
-> Great content can accelerate business growth by several leagues.
Digital marketing is indeed the most important aspect of marketing today. That's why the perfect content tailored to fit the company's message and the customer's needs can repeatedly snowball the business to new horizons of success.
-> Content can save time and energy in the digital world.
Content writing involves several additional technical aspects like SEO, design, email marketing, call to action, script-writing, etc., and a content writer is someone specifically skilled in these aspects.
What exactly does a content writer do?
A content writer is someone who makes digital content for companies whether they are blogs, articles, social media posts, SOPs, video scripts, booklets, and so on.
There is a much more technical aspect to content writing than general writing as content writers have to know the technical aspects involved too. While searching for content writing courses in Nagpur, you will have to keep all these aspects in mind.
Top 10 Content Writing Courses in Nagpur:
For content writing courses in Nagpur, your best options are online. So, let's look at the top courses.
1) IIM Skills
IIM Skills is a popular name in the content writing industry that equips you with the knowledge of a variety of content writing topics including article writing, blogging, e-books, SOPs, emailers, business listing, about pages, press releases, SEO, etc. It offers 16 hours of live interactive online classes along with weekly assignments and tasks to prepare you well for the industry.
IIM Skills has churned out several content writers over the years and is a dominant name in the best content writing courses in India. If you're looking for a course to give you the right information and tools to get started in the content writing industry, then IIM Skills is the choice for you.
Founded by: Vaibhav Kakkar
Course Membership: Lifetime
You can check out their website IIM Skills or simply sign up for a demo class at Content Writing Master Course
Fee: 14900 + GST INR
It also offers a placement guarantee as well as student support for your queries. The course also helps you digest the lessons learned in the lectures with their 3-month internship program with lectures of 10+ hours. The course offers a Master Certification from IIM Skills and helps you develop your portfolio for the freelance market. IIM also offers class recordings so you can catch up on missed classes or concepts you need to revise once more.
Trusted Brand partners of IIM Skills
Reviews and Testimonials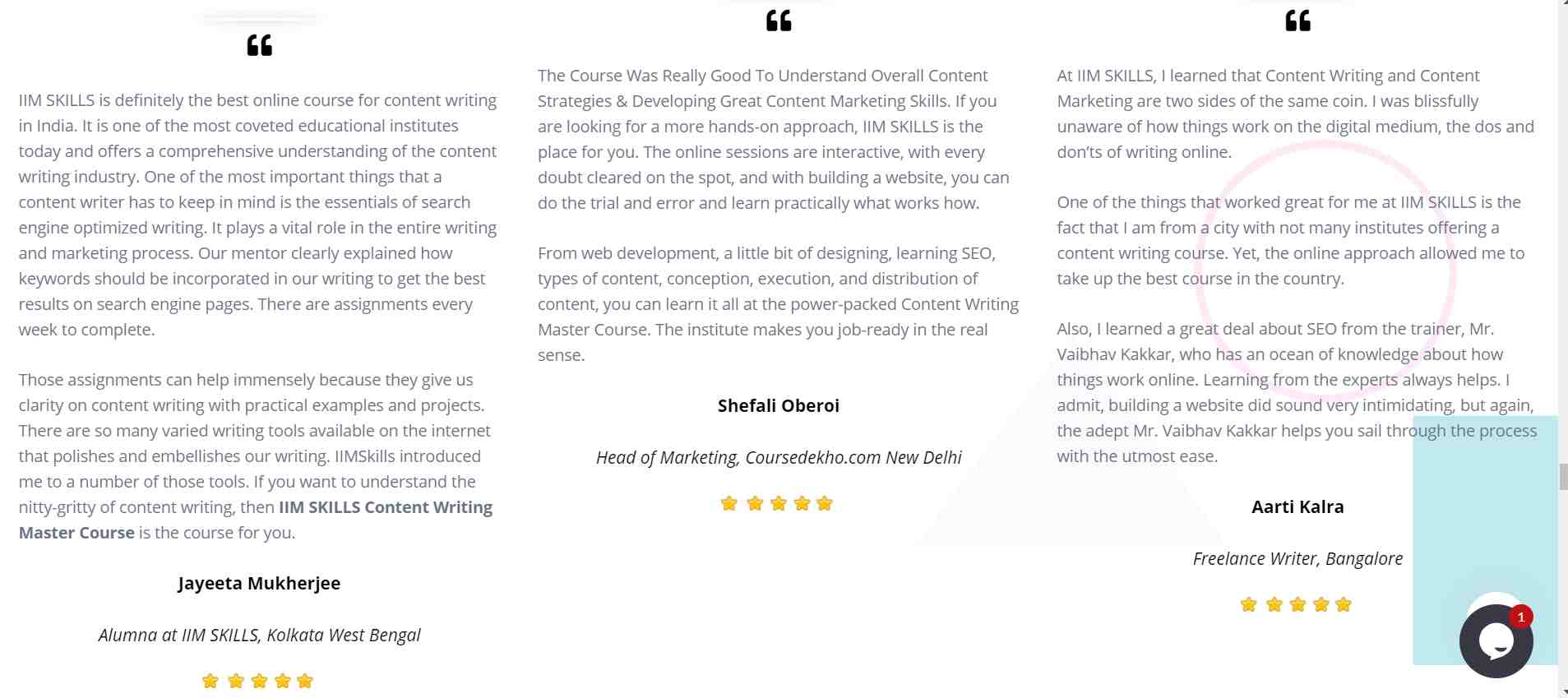 Also, read this detailed IIM Skills Content Writing Course Review to acquire better insights about the course. You can also check out the top professional courses to pursue here.
2) The Strategy of Content Marketing (available in Coursera)
Offered by the University of California, this content marketing course is a joint venture between Copyblogger, one of the most popular resources for content writers and content marketers, and UC Davis Continuing and Professional Education.
This course teaches you how to develop and sustain a content marketing strategy, write excellent persuasive copy, build a framework for your writing, test the efficiency of your content, and build brand authority over the market through your content marketing. The course not only teaches you how to become an effective content marketer but also how you can build your very own personal brand and build it through your new content marketing skills.
This course gives you skills in management, content marketing, copywriting, and general writing skills. It takes around 19 hours to finish the course and is for students at the intermediate level. You also get a certificate from the course in the end. It is one of the best free online content writing courses 
Cost: Free!
3) Content & Copywriting 101 (available in Udemy)
Created by Felicity Kay, this course prepares you to enter both the content writing and copywriting industries. It helps you understand the basics of effective content writing and copywriting, equipping you with just the correct skills to enter the freelance writing industry and begin your career. It helps you understand how you can make more profit quickly and effortlessly.
If you're pressed for time, and you're just looking some courses online that can quickly brief you about the tips, tricks, and techniques to write awesome content in the field of content writing and copywriting, this course is perfect for you as the entire course is made up of just 5–8-minute videos you can watch during your leisure intervals. The total length of all the videos in this course is just 30 minutes, so if you're looking for little courses packed with great info, this one is a great choice.
Cost: Free!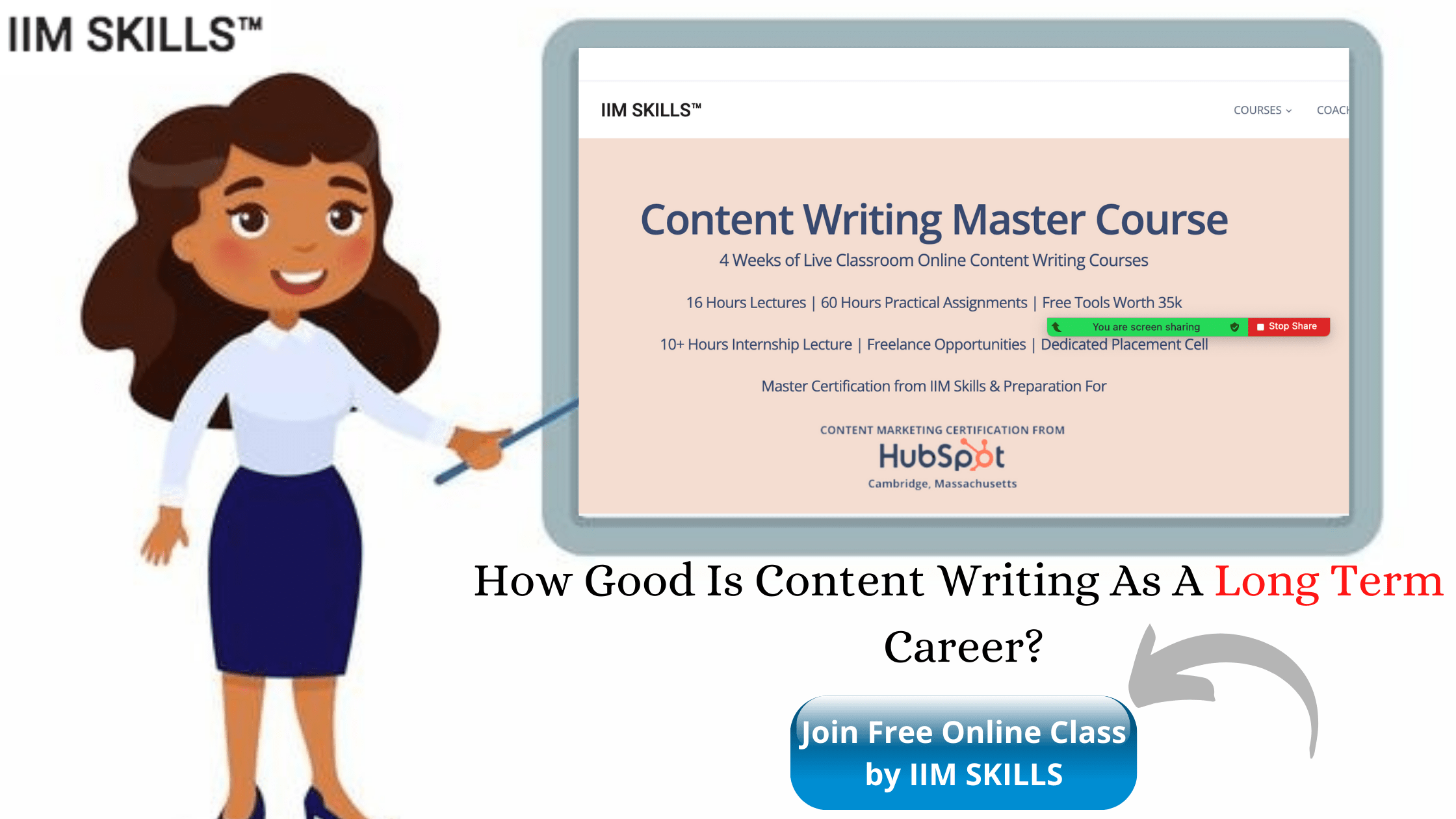 4) The Complete SEO Content Writing Course for Web Promotion (available in Udemy)
Created by Vivek Verma, this course teaches you great content writing techniques to write for blogs, articles, and web pages and rank your content. As the title of the course suggests, the course is specifically designed to teach you how to write SEO-oriented content that can help your page rank at the top of the results pages.
The course informs you about a number of tools you can use to help write your content efficiently. It teaches you to add value to your content copy by choosing just the right keywords and SEO techniques that make it easily visible to readers on the internet. It also helps you steer clear of bad SEO tactics and SEO blunders that all content writers must avoid.
-Usually available at 490 INR.
You can also have a look at the Top 5 Paid Content Writing Courses Online
5) Content Marketing Certification Course (available in HubSpot)
This is a valuable certification course offered by the HubSpot team and it is designed to give beginners a much more detailed look into the content marketing industry. This course is a must if you want to become an efficient content marketer. This course is specifically designed for marketing professionals, inbound professionals, and content producers.
The key aspects you will learn from this course include creating a content creation framework that helps you publish effective content on a steady basis, make content that is not just designed to please search engines, but also to impress your consumers, and finally, becoming a more effective, efficient content marketer.
–Free of cost
6) Skills Upgrader
The Content Writing course by Skills Upgrader is a live online classroom training of 4 weeks. It too includes 16 hours of classes with 70+ hours of practical assignments as well as an internship of 3 months where you prime the skills you learned during your classes. It also offers lifetime support to its students as well as its very own Content Writing Certification. Skills Upgrader also helps develop your portfolio and guides you as you hit the job market with its dedicated placement support.
The course helps you transform concepts into words that appeal to readers, equips you with the ability to write for international clients by teaching you the differences between American and British English, teaches you to target audience personas as well as to handle social media marketing, and so on.
Membership: Lifetime
Fee: 8258.82
7) ECT (Education & Career Times)
According to the ECT website, the Content Writing Course offered by ECT is the only government-recognized Content Writing Course in India as of now. A certificate from this site will boost your career and help you find the right job opportunities. They too have an internship program and a dedicated placement cell. If you're looking for content writing courses in Nagpur or those that can be accessed from Nagpur, this is also a great option.
Having a government-recognized content writing course in your resume or portfolio might be just what you need to push yourself forward and earn you the right content writing gigs for your talents. ECT is a great option for you if you want an informative course to teach you the details of content writing.
The course itself is of 3 months with 32 hours of live classroom lectures, 50 hours of E-Learning, 7 assignments, 5 live projects, 10 quizzes, 100% placement assistance as well as lifetime support.
Fee: 15,000 INR
8) Omega Training Institute
Omega Training Institute offers digital marketing and content writing courses that can be helpful for aspiring content writers. They offer 100% Job Placements and opportunities to work on live projects to understand the practical side. They were established in 2014 and also offer social media designing, graphic designing, and web design and development as other courses.
Omega Training Institute is a well-reputed and dominant institute providing digital marketing courses and can be a great choice if you want to enter the digital marketing industry. The course is packed with useful information you can use to upskill yourself and forward yourself in the marketing industry. The course is designed to keep the doubts and concerns of the student in mind and is a perfect choice if you want information at a steady, digestible pace.
Contact for details – 9130160158 or [email protected]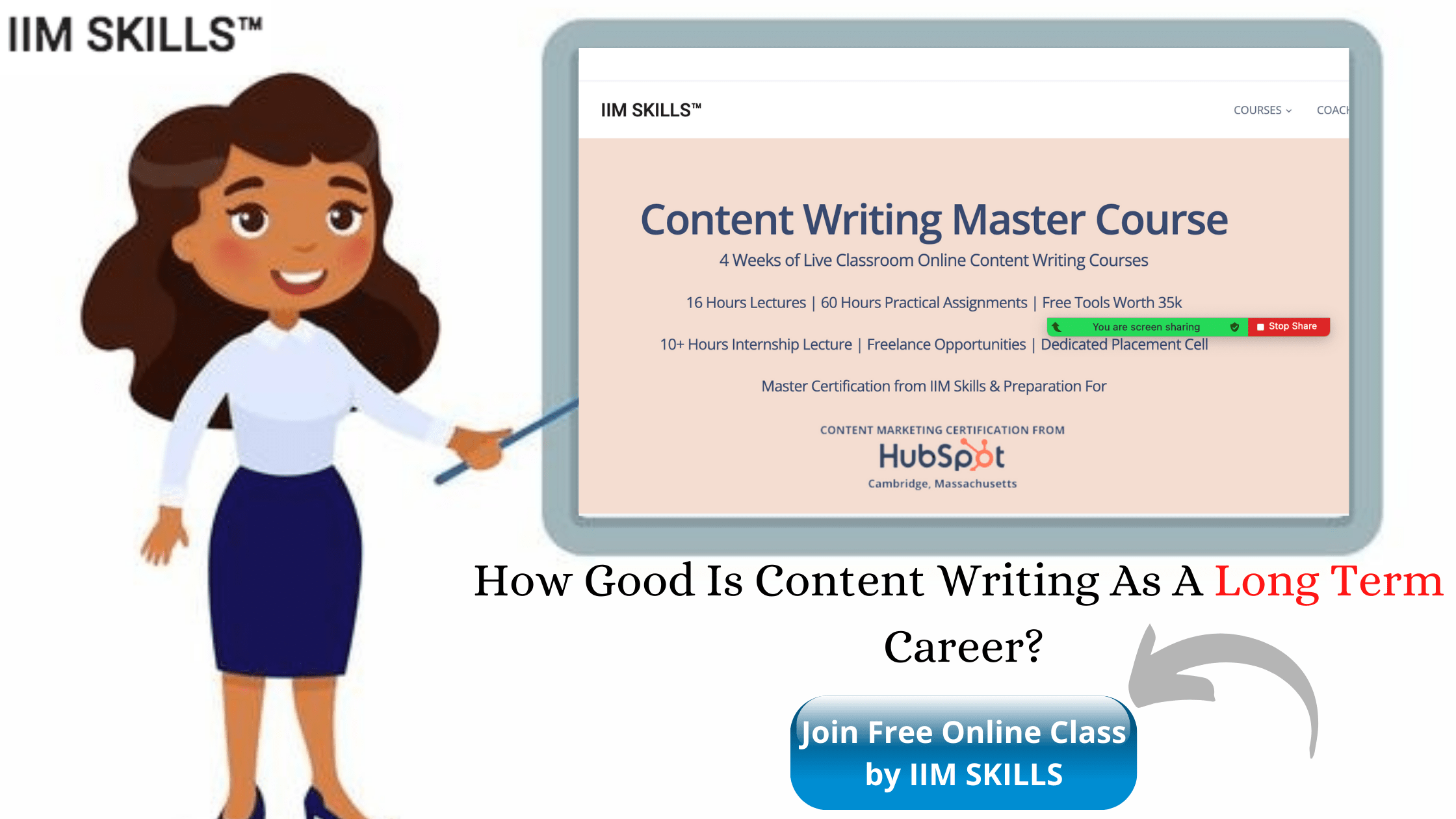 9) Technosys Academy
If you're looking for content writing courses in Nagpur, you can also consider Technosys Academy, located in Kolkata as it is accessible for you online and provides a content writing course that provides relevant information on content writing concerning websites, SEO, blogs, articles, etc. They understand that genuine, relevant, and unique content is important to compete in today's search results pages and are willing to teach you how to write exactly that.
Their course is designed with the present demand and scenario in the content writing market. If you go for their course, you can leave behind all fears of missing out on new techniques and trends as the course makes sure you're always up to date with the newest trends in the content writing industry. This course is a great choice if you want a detailed, informative look into the industry and keep yourself updated with the latest trends at the same time.
You can contact them at the IndiaMART website.
10) Henry Harvin Education
The Content Writing Course with Gold Membership by Henry Harvin is an excellent course designed with the deepest insights into the core aspects of content writing. It includes 36 hours of live interactive online classroom sessions and has several projects, and included an internship, and a placement cell for 1-year post successful course completion.
They also offer their own certification of 'Certified Digital Content Writer'. And lastly, they include several boot camps over the course of 1 year to keep students active and up to date regarding the latest developments in the content writing industry. The course is primarily online and is perfect for aspiring content writers who want to begin their careers and establish themselves in the content writing industry.
Founded by: Kounal Gupta
Course Membership: 1 year
Fee: 13,500 – 15,000 INR
What skills can these courses teach me?
1) Time Management
A content writer usually always works under a time deadline within which they must complete researching, creating, proof-reading, and optimizing their content for their client. This is not at all an easy task especially when you have multiple clients at a time.
Leaving work for the last minute is simply not an option for a content writer as this can seriously affect the creative aspect of content writing resulting in bland, rushed, uninteresting, and even forced content.
2) Research Skills
Content writing is almost always research-based as it involves diving into the core aspects of the field you are currently assigned to work with. For example, if you are writing content for a travel agency, you will have to do your homework on the workings of the area of the tourism industry you will be writing about. This can often be a herculean task if you have no previous experience whatsoever in making content for the tourism industry.
3) Impeccable Writing Skills
It goes without saying that a content writer needs flawless writing skills. A content writer must be well-versed with the grammar of the language they intend to write in. If you're an English content writer, excellent command of the English language is a prerequisite. Depending on whom you're writing for, you might even have to switch between American English, British English, and so on.
You don't need to fill your content with giant words, flowery language, and idioms and metaphors full of deep meaning. Quite the opposite – you need to use plain, quickly understandable, and easily readable content that can be understood by an eighth-grader. Because the ultimate goal of content is not to show the reader how well you can write but to inform them and convince them about what you are writing.
4) Writing Styles
Most services offered by a content writer require different types of content in different tones and styles. For example, you're reading an article about content writing courses in Nagpur. How is this different from reading a blog?
An article is much more fact-based and educational than a blog. Blogs are usually more personal and opinionated.
Similarly, a content writer has to make different types of content in different tones and styles as opposed to a general writer. This is usually not as easy as it sounds because it requires you as a writer to leave your comfort zones far behind.
5) Technical Skills
You don't need to be an industry expert in any of these skills. But a basic understanding of SEO, WordPress, HTML, CSS, Web Design, and other marketing skills will go a long way in ensuring your success as a content writer.
You can, of course, become a content writer without knowing the ABC of HTML, but knowing the basics can not only improve your career prospects but also make the job easier for you.
More important skills like SEO are a must. SEO is search engine optimization, or optimizing and adjusting your content so that search engines like Google can present your content to relevant search queries.
6) Social Media Skills
Even if you are not social, a content writer should have an active social media presence. If you can provide value to your followers while maintaining a friendly, approachable persona, while also getting to know various businesses and familiarizing yourself with their industries, finding clients will become marginally easier. You cannot rely solely on sites like Linkedin or Upwork to find your clients.
For example, when searching for content writing courses in Nagpur in various places, you might have seen several courses throughout social media in the form of posts and ads. Social media is an important part of marketing that a content marketer cannot skip.
FAQs
Q1.What are some alternatives to content writing courses?
The main alternatives to content writing courses in Nagpur are digital marketing courses, copywriting courses, and creative writing courses as they revolve around the same core subject – writing to entertain and convince.
Q2. Where can I find digital marketing courses?
Some good options are IIM Skills, IIDM (Institute of Integrated Digital Marketing), Omega Training Institute as mentioned earlier in the article as well as Netpreneur.
Q3. Where can I find copywriting courses?
Great options for copywriting courses accessible in Nagpur come from IIM Skills, Udemy, and NestSoft among others.
Q4. Where can I find creative writing courses?
If you're looking for content writing courses in Nagpur, it's also a good idea to consider the creative writing courses by Indira Gandhi National Open University (IGNOU) and Nagpur University, both of which have strong presence in Nagpur.
Conclusion
It is evident that the vast majority of content writing courses in Nagpur are best accessed through the online mode. There are a plethora of options available to you whether you are a beginner, intermediate, or talented content writer. There are always low-budget and free courses available on sites like Udemy, Skillshare, and Coursera.
However, if you want much more detailed learning options with placement guarantees, student support, interactive live sessions, and active job placements in addition to the best industry advice, paid options are almost always a better choice. After all, it's an investment towards your future. It's best to do your share of research in addition to the information provided in this article to find the perfect course that meets all your needs.