This article walks you through the best content writing courses in Lucknow that you can take up to set the foundation piece of your career in content writing. Read on the whole article to learn about the flamboyant institutes that offer remarkable courses with internship and placement facilities. 

Digital Technology has seen a significant rise in the past few years. Social media, advancement in the network from 3G to 4G and now upcoming 5G, Cloud computing, Artificial intelligence, the way food and groceries get delivered at our doorsteps by just ordering online, everything has changed the way things used to function previously.
The word content has become quite common these days. Content, in simple words, can be thought of as a piece of idea or information that is intended for a particular type of audience. Every person is now creating content through various means like making videos, conducting a podcast session, or writing a blog, infographics, or social media platforms.
These are now the new agents of delivering content to the people, surpassing traditional agents like TV or Radio. Business, Education, Health care, industries, transportation almost every field has moved their presence online. Due to this, content writing is the new in-demand career.
As technology gets advanced, the way search engine operates changes. Whenever we search for some information on the Google search engine, we click on the first website, which appears on the top of the page.
It will be of no use if your content is listed on the 5th or 6th page of the search engine. So, content writers have a huge demand who understand technical terms related to content writing like SEO (Search Engine Optimization), Keyword Research, Organic Traffic, etc.  The various profiles under which content writers work are:
1. Technical/ Academic Writer
These writers mainly write on topics that include technical terms or content which revolves around technology and academics. They are different from creative writers or copywriters, and their main focus is to write documentation or manuals in a more simple and transparent way. Technical writing can be a great career option if one has a strong technical background or is interested in learning new technological advancements in the industry. Technical knowledge combined with excellent writing skills would help you to grow in this career domain. IT industries are focusing on building strong documentation for their products and services, so technical writers are in demand these days.
Copywriter
A copywriter is the one who writes content for the purpose of advertising or marketing and also to create brand awareness. Creative writers are flexible in writing for various products and services across different domains. Copywriters mainly write specifically for their target audience and write in a way that will indirectly generate leads and traffic. Blogs, white papers, Social media posts, case studies, industry reports, website copy are the types of content written by copywriters.
Editor
An editor checks for every piece of content very precisely and sees to it that the content is written according to the grammar and punctuation rules and proper style guide. Before any piece of content is published, the editor reviews it.
SEO Writer
SEO writers conduct thorough research and find out keywords that are used frequently when information regarding specific content is searched. They try to write content in a way that will help to increase the ranking of the web page on the search engine. They are also responsible for generating traffic for the web page.
Apart from this, one can also be a scriptwriter, blogger, short story writer, or screenplay writer. There are various content writing courses available, which will be beneficial to gain knowledge and learn these technical terminologies.
Here are the Top 8 content writing courses in Lucknow
IIM Skills
IIM Skills offers a Content Writing Course, which covers all the detailed aspects of content writing. This course includes online training sessions, which provide flexibility for the learner regarding time and space. Articles, Blogs, Press Releases, Product descriptions, Ads Copy, Business writing, Brochure, Infographics are the various types of content covered in this course.
Key Features of The Course:
World's leading online education Institution, equipped with expert trainers having 12+ years of experience.
Ranked #1 by top educational blogs like AdvisorUncle, Coursedekho, etc.
Trusted by well-known brands like Amazon, Dell, BMW, Barclaycard, etc.
4 weeks live online classroom training
60+ hours of hands-on practical assignments
Lifetime access through learning management system
Free tools required for Content writing worth Rs 35000
Portfolio development and placement assistance support
Master Certification (IIM SKILLS) and Hubspot Certification
Course fee – Rs 14900+GST
This course includes assignments and case studies that help in gaining practical knowledge along with theoretical concepts. Other than Content Writing Master Course, IIM Skills also provides Digital Marketing Course and GST Certification Course. This is currently one of the best content writing courses in Lucknow.
      Course Curriculum
Web Development
Content Keyword Research
Google Adwords
UI UX interface
Understanding landing Pages
Understanding types of content like articles, blogs, E-book, Social Media Copy, Press Release, etc.
E-Mail Marketing Tools
Social Media Marketing
IIM Skills Brand Partners

Reviews and Testimonials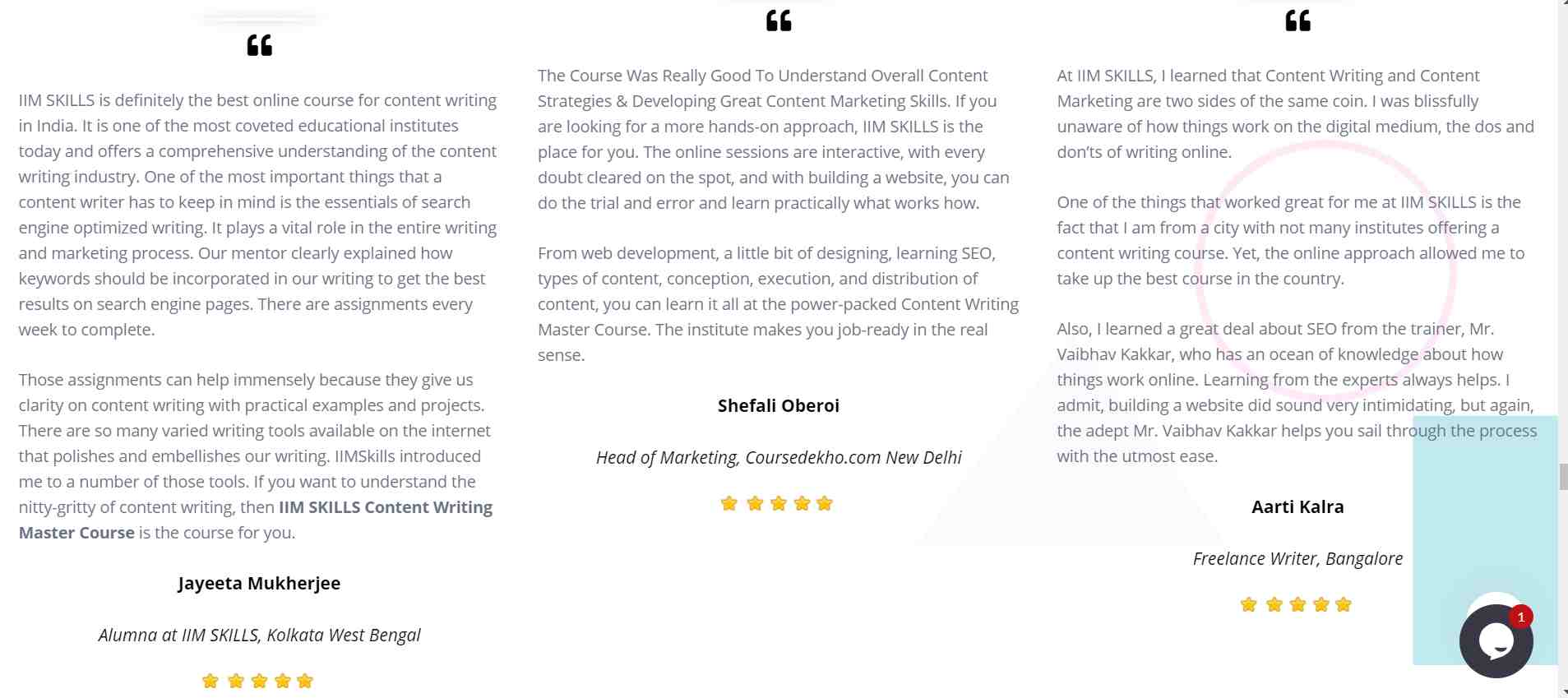 More Professional Courses from IIM SKILLS
2. Education and Career Times (ECT)
Education and Career Times (ECT) is one of the renowned training organizations providing content writing courses in India. It deserves to be considered as one of the best content writing courses in Lucknow. It is the only training institute recognized by the Government of India as a Start-up in 2019.
Digital Marketing Course, Communication Skills, and Personality Development Course are the other courses provided by ECT. It has trained 950+ students over the last 10 years and has an audience of 35K+ subscribers. It is also known by the name Digitalimpulse Online.Pvt.Ltd. The certification provided after the completion of the course has global validation.
Course Curriculum:
Introduction to content writing
Sentence construction and revising
Editing and proofreading
Tips for building your vocabulary
Using Thesaurus
Google Tools like Google Adwords, Google Analytics
Learn writing Tools, Tips, and Techniques (Grammarly, Copyscape, Ginger, Hemingway App)
Internet Research Skills
Introduction to Digital Advertising
Web Content Writing
Blogging skills
Writing effective e-mail, newsletter, Facebook Ad, Landing Pages Content
Fiction Writing
Business writing skills and academic writing
Technical writing
Monetizing your writing skills
Content Marketing
      Key Features:
Duration- 3 months
32 hours of live classroom training
50 Hours of informative e-learning videos
Placement Assistance
Personalized attention and Feedback
Internship opportunities
Lifetime support
3. Skills Upgrader
Skills Upgrader is one of the most renowned and well-known institutes which provides content writing courses in Lucknow. Skills upgrader has designed this course which will be helpful to level up your skills and prove to be beneficial for career enhancement. Blogs, Videos, podcasts, Social Media posts, E-mail, Webinars, Infographics are the different types of content covered under this course. This course also provides the flexibility of time and space as the lectures are conducted in a virtual classroom environment.
Key Features:
16+ hours of classes
70+ hours of practical assignments
Rs 40K worth tools provided along with the course
3 Months guaranteed Internship
Affordable Cost
Dedicated Placement support
Portfolio Development
Content Writing Certification and Hubspot Certification
    Course Curriculum:
Introduction to Content Writing
Web Hosting
Content Marketing and learning UI, UX.
Website Creation
Search Engine Optimization (SEO)
Keyword Research
Freelance Content Marketing
Content Creation
Social Media Marketing
Call to Action
Lead Generation
Content Marketing and E-Mail Marketing
4. Lead Academy
Lead Academy is one of the leading online training institutes that provides professional courses in multiple domains like accounting and finance, business and management, digital marketing, health and fitness, Food Hygiene and Safety, IT, Photography, Web Design, and development many more.
The courses offered by the Lead Academy have no deadlines and can be completed within the flexibility of time and space. There are various courses under the writing category offered by Lead Academy. Some courses are provided free, and some are paid courses. The courses are mentioned below that make it one of the best content writing courses in Lucknow.
Copywriting Masterclass
Freelance Writing- Success Secrets
Craft of Writing
Mini Fiction Writing Course
Basics of writing and How to monetize writing skills
Screen Writing
Movie Script Writing
Novel Writing
Creative Writing
Business Report Writing
Blogger for Beginners
On successful completion of the course, a validated certificate will be provided.
         Key Features:
Lifetime Access to the courses
Self-placed courses
24/7 customer support through E-mail
Students belonging to different countries can join the course
Advanced e-learning study material and online learning platform
5. Greens Technologies
Greens Technologies is yet another leading institute to provide various online courses in the IT domain and provides content writing courses as well. The courses provided by this institute are well organized and created according to an individual's requirement. The content writing course offered by this institute is designed for new individuals and those who have some experience in this field.
After successful completion of the course, candidates are provided with a widely recognized certificate. There are enough reasons to consider it one of the best content writing courses in Lucknow and they are mentioned below.
Course Curriculum:
Basics of English Grammar
Boost your vocabulary
Writing tools, tips, and techniques (Grammarly, Copyscape, Ginger, etc.)
Creative Writing
Business Writing
Technical Writing
Academic Writing
Specific Writing (SOP, Resume, Cover Letter)
How to earn money as a writer (Freelancing options)
Content Marketing (Google Analytics, Google Keyword Research)
Recommended Read: Digital Marketing Courses in Udaipur
6. Newcent Training Academy
Newcent Training Academy is one of the leading private training institutes which provides professional courses to advance your skills. They provide courses on the latest technology in the industry, which helps professionals to stay updated and increase their occupational skills.
This is one of the best content writing courses in Lucknow because all the courses provided by this institution are Distance Learning courses that eliminate geographical barriers and enable students to learn according to their own time and space. They have designed courses in various sectors like Translation and Interpretation, Digital Media Marketing, Secretarial practices course, Office Administration and Co-ordination, Business Communication, Team Leadership Program and many more.
7. Nestsoft Technologies
Nestsoft Technologies has been established as one of the leading and growing institutes providing innovative IT solutions. Their primary focus is on technologies like Business to Business (B2B) E-commerce solutions, Business to Customer (B2C) E-Commerce solutions, Web Development, Web database Applications, and similar fields. The content writing course tailored by this institute covers various aspects and techniques on ways to improving one's content. The features that make it one of the best content writing courses in Lucknow are:
Course Curriculum:
Essentials of Writing
Referencing and Plagiarism
Common Grammatical errors
Proofreading and editing
Writing for the Web
Professional Development Skills
Search Engine Optimization (SEO)
       Key Features:
Training by experienced professionals with 18+ years of experience
Placement assistance with their own job portal (jobsNEAR.in)
Individual attention
Internship on real projects
1000+ Professionals trained
8. Henry Harvin Education
Henry Harvin is also one of the renowned training institutes for content writing courses. They also provide training in various other fields like management, finance, law, Cyber Security, IT Digital Marketing, and many more.
This course includes training, multiple projects, internship opportunities, and placement support. There are two courses one is a self-paced course, and the other is a live online classroom course. The reasons to consider one of the best content writing courses in Lucknow are mentioned below.
Key Features:
Globally recognized Certified Digital Content Writing (CDCW) Course
Lifetime E-Learning Access with abundant tools, video content, and assessment
Free access to various Hackathons and competitions
1-year Gold Membership by Henry Harvin Writing Academy
Recognized by American Association of EFL
           Course Curriculum:
Language Skills
Research Skills
Google Keyword Planner
Google Analytics
Business and Market Writing
Content Strategy
Technical and Research Writing
Academic Writing
Creative Writing
E-Mail Writing
Soft Skill Development
Resume Writing
You can also check out the Top 5 Free Online Content Writing Courses
Frequently Asked Questions:
What are the best content writing courses in Lucknow?
IIM Skills is the most popular and the best content writing course in today's world. IIM Skills does not only provide the students with the best learning materials but also provides them with appropriate platforms to put their skills to good use.
What are the fees of the Content Writing Masters Course at IIM Skills?
The amount is Rs, 12,800 + GST. The total will be around Rs. 15,000.
What is the best online content writing course in India?
® IIM Skills provides the learners with the best online content writing course in India. This is an internationally acclaimed content writing course that steers you across content writing and its central concepts in the most interactive and practical manner.
Final Words
Content will always be in demand in the industry. One who is interested in content writing can think of it as a passive source of income and start their careers in this field. As of now, there are millions of websites on the internet and content related to every niche. Writing content is not the only criteria; one needs to write content taking into consideration the functioning of the Search Engine Optimization.
As digital marketing has changed the way traditional marketing functions, content leaders who can generate more attention among the audience, generate more leads, and engage in brand awareness will be in demand. One of the main motives of businesses today is to provide valuable content. Content should be simple, credible, personalized, and engaging.
As technology keeps on evolving, learning should also have no end. Content Strategy, Content Management, Search Engine Optimization, organic traffic, keyword research are some of the technical terminologies that need to be understood to establish yourself as a successful content writer. Every individual is a writer at heart but understanding the science behind this and then implementing it in your writing is what makes a difference.
Given above are the content writing courses in Lucknow which will guide you through this journey of becoming a content writer. During this pandemic situation, distance learning courses serve as a great opportunity for us to learn new skills and increase our knowledge. Hope this article provides you with detailed information and will help you to pick the right course and start your journey as a content writer.