Top 5 Content Writing Courses in Coimbatore With Placements
The field of content writing has blossomed in recent years, and content writers are in high demand. According to CMI, improved quality content generation is responsible for 78 percent of content marketers' success over the last year.
In addition, a whopping 47% of marketers currently outsource their content. We will take a look at a number of the best content writing courses in Coimbatore in this article that can improve your career in content writing.
What is a Content Writer?
A content writer specializes in creating useful, entertaining, and engaging written material for websites. Every website is designed with a certain target audience in mind, and in order to reach that audience, well-written, informative, and generally high-quality material is required. A content writer's work will typically include keywords aimed at improving a website's search engine optimization (SEO).
What are the Different Types of Content Writing?
Content writing can be in a number of forms such as:
Blogs:
Blogging is not a new type of content writing in the digital world; however, it has grown in popularity because of the digitization of the business world. To boost your blog posts, you need to focus on keywords so that your posts show up when people search for those keywords. Depending on the topic or the industry you write for, a blog post can vary in topics and even the writing style.
Social Media Posts:
Did you know that over 55% of the world's population is on social media? No wonder that every business, brand, and company must have a presence on social media platforms (Instagram, Twitter, LinkedIn) to reach their targeted audience. Social Media posts tend to be relatively creative, short, and eye-catchy.
Technical Writing:
Technical writing is the form of writing that explains the technical discourse and makes it simpler for the targeted audience to understand as they are comprehensive. These technical writings could be: how to install or how to use.
Recommended Read: Top 10 Technical Writing Institutes in India
Emailers:
They initially have one goal and that is CTA (Call to Action). The content is always clear, simple, and intriguing. They include newsletters, campaigns, and sales.
What Makes a Good Content Writer?
A good content writer will be able to write for most or all of these internet mediums because they specialize in written material. To produce high-quality work, a competent content writer must have a thorough understanding of the objective of a given piece of material.
The material should appeal to a specific, defined audience, which could include current or potential customers, stakeholders, employees, or investors. If well-written and researched content with a creative writing style don't communicate to the intended audience, it's not serving its purpose.
What are the Content Writers' Roles?
Content writers don't merely write, there are other roles and tasks they fulfill as well. Every content writer will have to conduct their own research, regardless of who the customer is or what type of material is being written.
Because the content writer will most likely be working with the subject they are unfamiliar with, substantial research is required to ensure that the information produced is factual, up to date, and consistent with the company's existing messaging. Good content writing starts with good research.
When a web content writer creates a piece for a client, they must be certain that the content is formatted to look well on screen. The content writer ensures that copy doesn't just look like an uninviting block of text by strategically placing subheadings, bullet points, and other handy methods. They should also be able to layout content, add links, and highlight specific words or areas using basic HTML techniques.
To edit and polish the information, the content writer will have to sift through poorly written material. This is a difficult task, but it is a necessary element of a content writer's job.
Global content marketers New Media Services highlight the necessity for both a content writer and a content developer. When a company has a content developer, the content writer's work can be spread thin for a fee that doesn't reflect the workload involved.
Experienced content writers would have worked at a position where their abilities were stretched too thin for pay that didn't represent the amount of work they were doing.
Here are the 5 Best Content Writing Courses in Coimbatore:
1.    IIM Skills:
IIM Skills Online Content Writing Course is deemed as one of the best online content writing courses in Coimbatore. The up-to-date curriculum is designed to meet the needs of the students regardless of their educational/professional background.
Whether you are just about to delve into the world of content writing or are already a professional content writer but still feel the need to hone your skills, this course is meant for you. The course contains many practical assignments, 60 hours in total, where you can practice what you studied such as social media posts, email writing, article writing, and much more.
Moreover, you don't need to worry if you miss a live session as there are accessible video recordings of every session that you can go back to and catch up with the rest of your batch.
By the end of the one-month sessions, students may join a guaranteed 3-month internship where they can have hands-on writing experience that can help them to build a portfolio. One of the birks of the content writing course at IIM Skills is that you will be able to write and publish your first eBook on Kindle and Google books.
Course Features:
16 hours live sessions
60 hours practical assignments
Free Tools Worth INR 35000
3 Months Internship (Optional)
Online demo class
100% Placement Support
Content writing certification
Types of Content Writing You will Learn in this Course:
Article Writing
Blogging
Writing & Publishing Your ebook
Copywriting
Press Release
Brochure
Instructional
Social Media Post
Digital Infographics
Resume Writing
Here is the most genuine guide to – Is IIM SKILLS Fake?
Course Modules:
Module 1 – Web development
Module 2 – Interface and blog creation
Module 3 – Introduction to content writing
Module 4 – Keyword research methods
Module 5 – Writing your own content
Module 6 – Tools to excel at content writing
Module 7 – Content duplication detection and its effect on your blog
Module 8 – Writing content to gain subscribers/traffic on your site and automating the process
Module 9 – How to establish Google local pages
Module 10 – Utilizing social media to market content
Module 11 –Social media tools and their impact on marketing content
Module 12 – How to profit from your content writing by attracting clients
Course fee – INR 14,900+GST
To get more insights, go through IIM Skills Content Writing Course Review
2.    Skills Upgrader:
Skills Upgrader is a well-known company that offers content writing training. Skills Upgrader has been delivering content writing courses in Coimbatore for quite some time, and this content writing institution has done a fantastic job of teaching students how to produce content.
Studying content writing at Skills Upgrader will grant you lifelong support from Skills Upgrader, which means that if you need to retake any of the existing course modules, learn a new writing format, or access any of Skills Upgrader's resources at any point during your career, you can do so for free at any time.
Moreover, the curriculum used in teaching this course is cutting edge and designed to suit both those with experience in content writing and fresh starters in this field.
Their modules cover an array of topics pertaining to content writing such as website creation and writing SEO-optimized content. By the end of the course, students have the option to join a 3-month internship to develop their skills and portfolio as well.
Who Should Enroll in this Course:
Students/Graduates
Aspiring Writers
Bloggers
Marketing Professionals
Mass Communications Specialists
Content Marketers
Business Owners
Entrepreneurs
Digital Marketers
Marketing Communications Specialist
Other Industry Professionals
Course Features:
16+ Hours of Live Classes
70+ Hours of Hands-on Assignments
Rs 40K Worth Tools
Access For Latest Content for Lifetime
Devoted Placement Support
Content Writing Internship
Freelance Writing Openings
Immediate Content Writing Certification
Types of Content Writing You will Become Familiar with after Completing the Course:
Blogs
Videos
Podcast
Social media posts
Emails
Interview
Webinars
Infographics
Course Modules:
Module 1 – Introduction to Content Writing
Module 2 – Web Hosting
Module 3 – Understanding the Relation Between Content Marketing & UI/UX
Module 4 – Creating websites
Module 5 – Understanding the Writing Process
Module 6 – Optimizing Search Engine
Module 7 – Keyword Research
Module 8 – Creating SEO Optimized Content
Module 9 – Content Writing
Module 10 – Marketing Campaigns on Social Media Platforms
Module 11 – Call to Action (CTA)
Module 12 – Strategy of Content Marketing
Module 13 – Utility of Content Marketing in Leading Generation
Module 14 – Content Marketing Using Email Marketing
Module 15 – Freelance Content Marketing
Also, go through 7 Best Content Writing Courses in India
3.    New Cent Academy:
Albeit New Cent Academy is a Delhi NCR-based private school, they offer one of the top-rated content writing courses in Coimbatore. They provide a variety of short-term courses, including content and creative writing, that are designed to help candidates improve their writing skills in order to land a job or advance in their current one.
Their training is hands-on and skill-based, allowing them to complete job tasks more successfully and efficiently. Their content & creative writing program is tailored into three courses to suit the needs of the students:
Classroom Course: this face-to-face course includes classroom coaching along with the course content, examination and certification upon completing the course successfully. The duration of the course is 8 weeks and might extend beyond that based on the need of the course.
Distance Learning Course: this course is aimed at those who are busy and/or overseas and would like to benefit from the content writing program. Just like the classroom course, the distance learning course includes course content, examination, and certification upon completing the course successfully.
Direct Certification: If you have experience of two years and more under your belt in the field of content writing and merely looking for a certificate to boost your resume then you want to enroll in this program as it is designed just to take the exam and be a certified content writer.
4.     ECT:
Education & Career Times (ECT) offers one of the most efficient content writing courses in Coimbatore that is recognized by the Government of India, which promises to enhance the students' writing skills within 90 days.
The 13-week content writing course in Coimbatore is divided into two parts: 6 weeks of classroom and live training and 7 weeks of live projects and internships.
Course Features:
3 Months Course
32 Hours of Classroom/Live Training in Addition to 50 Hours of eLearning and useful Videos
7 Assignments
5 Live Projects
10 Quizzes
1 Certification
100% Placement Assistance
Work from Home Job Opportunities
Lifetime Support
Types of Content Writing You will Learn in this Course:
Copywriting
Newsletter
Social Media Posts
Fiction Writing
Press Release
E-book writing
Ghostwriting
Technical Writing
Academic Writing
Resume Writing
Blogging
Course Modules:
Module 1 – Introduction to content writing
Module 2 – Boost your vocabulary
Module 3 – How to dodge common grammar mistakes in your writing
Module 4 –Writing tools, tips, and techniques
Module 5 – How to sharpen your non-fiction creative writing skills
Module 6 – Master fiction writing: master the art of storytelling
Module 7 – Learn business writing skills
Module 8 – Master technical writing
Module 9 – Sharpen your academic writing skills
Module 10 – Master writing specific pieces of content
Module 11 – Learn content marketing
Module 12 – How to profit from your writing skills
Module 13 – Publish your first E-book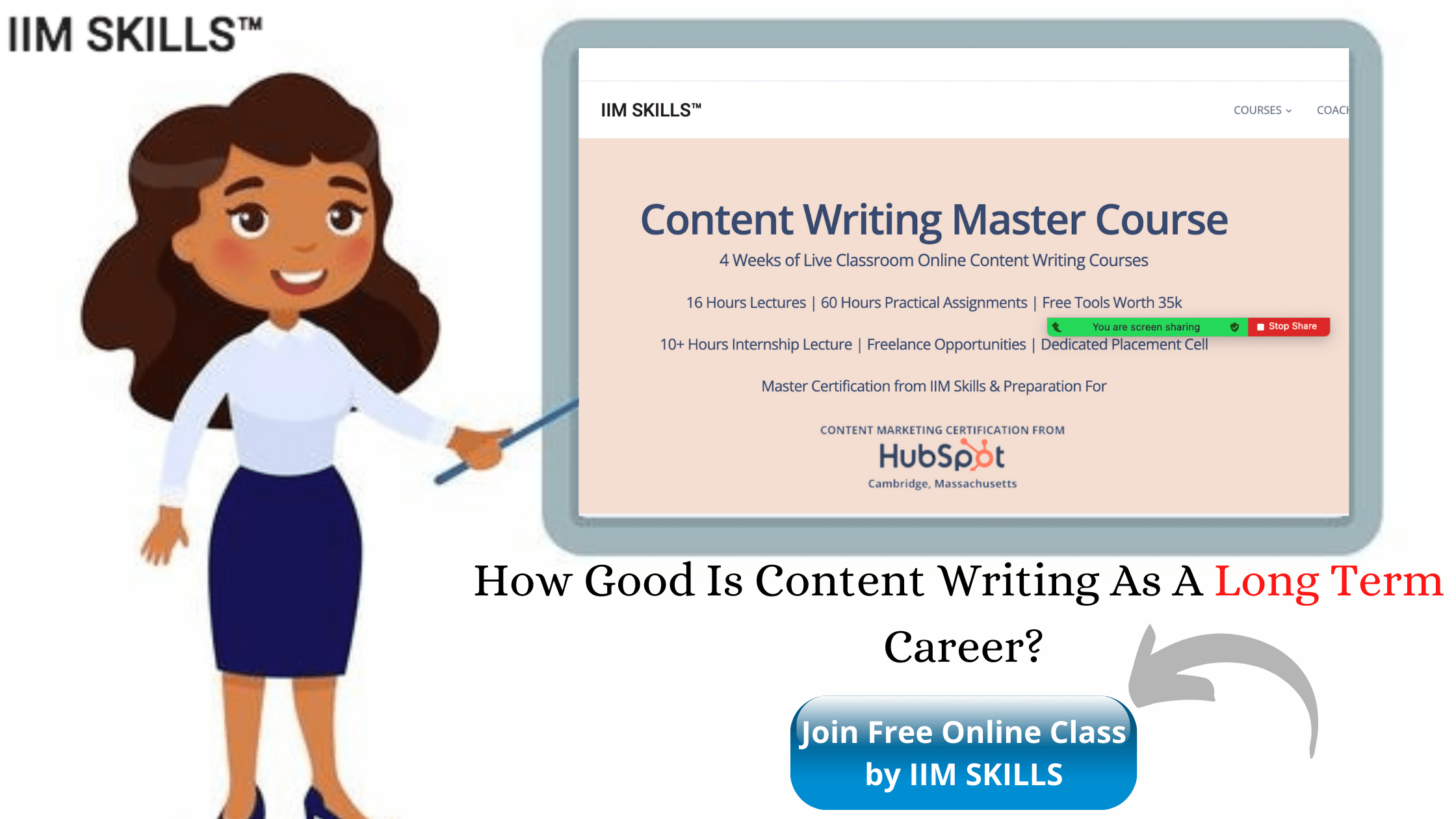 5.    Henry Harvin
Henry Harvin is a well-reputed institution and it is the first institute to launch a content writing course in South Asia. Their online content writing course in Coimbatore is in high demand.
Unlike most of the other content writing courses, Henry Harvin's content writing course includes a module specified for language skills and presentation skills to improve the students' overall lexical knowledge content writing-wise.
Once a student is enrolled in the content writing course, they will have the liberty to attend different batches with different trainers and have unlimited repetition of the course within the membership period. Moreover, the American Association of EFL, the Content Writing Association of India, UK Cert, UKAF, and MSME all recognize their course.
Course Features:
32 hours of Instructor-Led Training.
Extra 24 Hours of Live Online Brush-up Sessions.
50 Hours E-Learning Access.
Guaranteed Internship.
Placement Support post-completion.
Bootcamp Sessions.
24×7 Lifetime Support.
Access to 100+ Tools Worth INR 35,000.
Types of Content Writing You will become familiar with after Completing the Course:
Academic writing.
Business and marketing writing.
Technical and research writing.
Creative writing.
Email writing.
Course Modules:
Module 1 – Language skills
Module 2 – Internet Skills
Module 3 – Business and Marketing writing
Module 4 – Content strategy
Module 5 – Research and technical writing
Module 6 – Academic writing
Module 7 – Creative writing
Module 8 – How to secure online and secure international projects
Module 9 – Soft skills advancement (complimentary module)
Frequently Asked Questions
Are online content writing courses in Coimbatore useful?
Online content writing courses in Coimbatore allow you to grasp the various aspects of the content writing area at your own pace and from anywhere you choose to study.
When you enroll in an online content writing school, you have no restrictions on what you can learn. They are just as effective as any offline content writing course, with the added bonus of not having to commute and access to a 24/7 online help desk.
Is content writing in demand?
Because businesses now recognize the value of strong content, content writers are in high demand. There are numerous ways to begin your content writing profession, including social media writing, news writing, SEO writing, blog writing, copyright, and scriptwriting.
Which degree is best for content writing?
Writing content is a skill-based profession. There is no degree dedicated to learning content writing. Not every writer has a literary background. To be a content writer, as a rule of thumb, a bachelor's degree in journalism, English, or mass communication is recommended.
However, if you come from a different educational background and want to be a content writer, you may check one of the content writing courses in Coimbatore listed in this article.
How long is the content writing course?
If you're a beginner, learning the fundamentals of content writing will take you about 1-3 months. It can take anything from 6 to 12 months to fully grasp the ideas in a more advanced course. All the aforementioned content writing courses in Coimbatore range between 1-3 months courses.
What is the scope of content writing in Coimbatore?
In Coimbatore, the content writing sector is booming hence the growing volume of content writing courses in Coimbatore. There has been significant growth in the number of content writing or content marketing organizations that provide content writing services in Coimbatore. Because most businesses are becoming digital, the demand for content writers is increasing as well.
Conclusion:
The 5 content writing courses in Coimbatore listed above will offer you industry knowledge that will assist you in creating content that will resonate with your target audience as the primary goal of content writing is to offer the target audience accurate information in an engaging manner.
Writing high-quality content is an art form that takes time and skill to master as learning is an ongoing process. In the field of content writing, there is also the opportunity to develop new skills on a daily basis. The majority of businesses are attempting to incorporate content marketing methods into their operations because the content is so crucial in the promotion of websites and blogs.