Everyone is now online. Whether someone wants to learn more about their favorite hobby or buy a product or service, the first thing they do is use a search engine like Google, Bing, or Yahoo. But, with millions of websites to choose from, how do these search engines decide which ones to display first? Here's where SEO comes in. Understanding the foundations of how search engines work is critical if you manage a website, whether it's a blog or an e-commerce store. In this piece, we'll look at the best options for the SEO Course in Hyderabad that will boost your digital marketing efforts.
What is SEO?
Search engines are algorithms that are designed to identify the most relevant websites or pieces of content when someone searches for any keyword. SEO, or Search Engine Optimization, is the process of making your website more compatible with Google, Bing, or any other search engine's algorithms.
This is significant because these search engines will only display your website first if they consider it is the most relevant for any keyword search. This means that your website will be more likely to receive traffic and attract new and existing customers to your business.
Creating high-quality SEO-optimized content, tracking a website's technical health, obtaining backlinks, keeping correct internal linkages, and having a fast load time are just a few of the variables that go into a successful SEO strategy.
Why Learn SEO?
Owners of large and small internet businesses alike are constantly on the lookout for Google's first page results. Everyone is aware that practically all searches take place on Google. Google is the world's most popular search engine. As a result, if their websites rank well in Google, they will receive highly targeted traffic.
Many start-ups and small businesses may not have enough funds for paid marketing and, as a result, choose to advertise their business online using SEO strategies. Because more businesses are focusing on having an online presence, the need for SEO services and SEO specialists is increasing.
This demand has been heightened by the pandemic. An SEO analyst or specialist is now one of the highest-paid in the world of digital marketing. Following that are Social Media Specialists, Ad Campaign Managers, and E-mail Marketing Specialists.
Also, check Content Writing Courses in Hyderabad
What do you learn in an SEO Course?
Each SEO training is different in terms of its approach and delivery. In general, however, all SEO courses cover a core of topics that are essential for anyone interested in learning about search engine optimization.
Crawling, indexing, and ranking – aspects of how search engines function
How to create a website that ranks on the top page of a search engine by designing, structuring, and optimizing it.
How to perform Technical and Off-Page SEO
How to conduct comprehensive and targeted keyword research for your website and clients.
How to do a thorough competitor analysis
How to write SEO-friendly content that will help you get more visitors.
Backlinks are the backbone that binds the SEO architecture together.
What tools should be used during the SEO process?
The importance of optimal internal linking when it comes to website ranking.
How to deal with the constant changes in SEO algorithms.
How to do an SEO audit to detect and resolve issues.
Let's have a look at some of the best options for the SEO Course in Hyderabad that can help you master SEO strategies.
1. IIM Skills
The #1 SEO course in Hyderabad on our list is the Advanced SEO Course by IIM Skills. IIM Skills is one of the leading online education service providers in the world. It is based in New Delhi, India. IIM Skills SEO Training Course is comprehensive and all-encompassing. Moreover, IIM Skills also presents the topmost digital marketing courses in Hyderabad.
It is a combination of an internship for practical experience and weekly training to ensure that participants receive 100% practical training, making it India's best SEO Training.
Best Suited For
Students, Online company owners, Digital Marketing Professionals, Freelancers, Content Writers, Copywriters, Homemakers, and anyone who wants to create a career in digital marketing can attend this SEO training in Hyderabad.
Duration & Mode of Delivery
This SEO course in Hyderabad includes four weeks of online classroom instruction and an eight-week paid internship. There will be 16 hours of live lectures each week, as well as weekly practical assignments and assessments.
Why Choose?
IIM Skills has become a worldwide recognized institute in recent years. Since 2015, they've educated over 25,000 people on SEO. Because this is an entirely online course, you may learn from anywhere at any time. BMW, IBM, Genpact, Dell, Amazon, and others are among the top companies that hire students from IIM Skills.
Other Courses offered by IIM Skills:
2. Indian Institute of Digital Education
The second SEO course in Hyderabad on our list is the Online SEO Course by the Indian Institute of Digital Education (IIDE). The Indian Institute of Digital Education is one of India's most well-known and successful digital marketing schools. IIDE provides a sophisticated teaching style for its Online SEO Course.
The course begins with self-paced video lectures of excellent quality, followed by live online sessions and a 'Book a Mentor' feature. IIDE offers a fantastic team of instructors that are industry specialists with practical knowledge in the subjects they teach.
If you want to acquire the complete package of digital marketing, you can also check top Digital Marketing Courses in Hyderabad
Best Suited For
Professionals, Business Owners, Students, Fresh Graduates.
Duration & Mode of Delivery
IIDE offers three different types of programs:
Post-Graduation in Digital Marketing for 11 months (Offline On-Campus). Only students holding a bachelor's degree in any field from a recognized university are eligible to participate.
An online digital marketing course that lasts four months. This comprises a series of high-quality online video courses, as well as weekly live training sessions and 1-on-1 mentorship sessions suited to your specific needs. Students with a least 55 percent score and a (10+2) or equivalent qualification in any field from a recognized university are eligible to apply.
Short-term certification course lasting one week. This is open to everyone interested in marketing.
Why Choose?
IIDE is a Digital Marketing specialized institute. They provide a variety of program lengths to suit your needs. IIDE was also recognized as "India's Best Digital Learning Institute" by the Indian Education Congress and Awards 2020. Students get insight into the corporate world by learning from renowned business professionals.
Also Read: Best Advanced SEO Courses
3. Ace Web Academy
The third SEO course in Hyderabad on our list is the SEO Training Course by Ace Web Academy. Ace Web Academy, one of the finest SEO colleges in Hyderabad, will turn you into an SEO master. Their highly qualified instructors will show you how to increase the exposure of your website using organic methods.
Their SEO classes are meant to provide you with a comprehensive understanding of SEO, from the foundations to advanced ideas. Practical experience with various SEO approaches on real-world projects equips you to meet the challenges of the online world.
Best Suited For
You can enroll in this SEO course if you are a business owner who wants to advertise your company online or a computer specialist with an IT background who wants to build his SEO agency. Even students who have recently graduated from high school or housewives can take this course and start working as freelancers.
Duration & Mode of Delivery
This is a three-month course that may be taken online or in-person at their campus.
Why Choose?
You may enroll in their SEO training programs to become a master of all the principles required to get a high ranking on Google's search results page. Their search engine optimization training will provide you with all of the information and practical experience you'll need to go forward and acquire confidence in your professional path.
Here are the best Technical Writing Courses in Hyderabad
4. Digital Brolly
The fourth SEO course in Hyderabad on our list is Advanced SEO Training by Digital Brolly. Digital Brolly is one of the top institutes providing SEO training in Hyderabad. They offer highly educated trainers with years of hands-on expertise in digital marketing and search engine optimization.
They assist people in gaining practical experience in digital marketing and SEO through real-world projects. They also provide individualized training and report analysis to help businesses improve.
Best Suited For
This SEO course in Hyderabad is ideal for Job Seekers, Professionals, Business Owners, Corporate, and Students.
Duration & Mode of Delivery
They offer 2 weeks of SEO training both online as well as offline.
Why Choose?
Digital Brolly isn't a mob-driven institute where hundreds of people are crammed into each other's laps attempting to figure out what the instructor is trying to teach. Each batch will have no more than 20 people in it. Their trainers have the best chance of focusing on each student and having an impact on their learning because of their small and precisely tailored batches. Individuals gain practical SEO knowledge with a live project. They also offer complete job placement support.
5. Simplilearn
The fifth SEO course in Hyderabad on our list is Advanced Search Engine Optimization (SEO) Training Course by Simplilearn. Simplilearn is one of the most popular online boot camps for digital economy skills training to assist people in gaining the skills they need to succeed in the digital economy.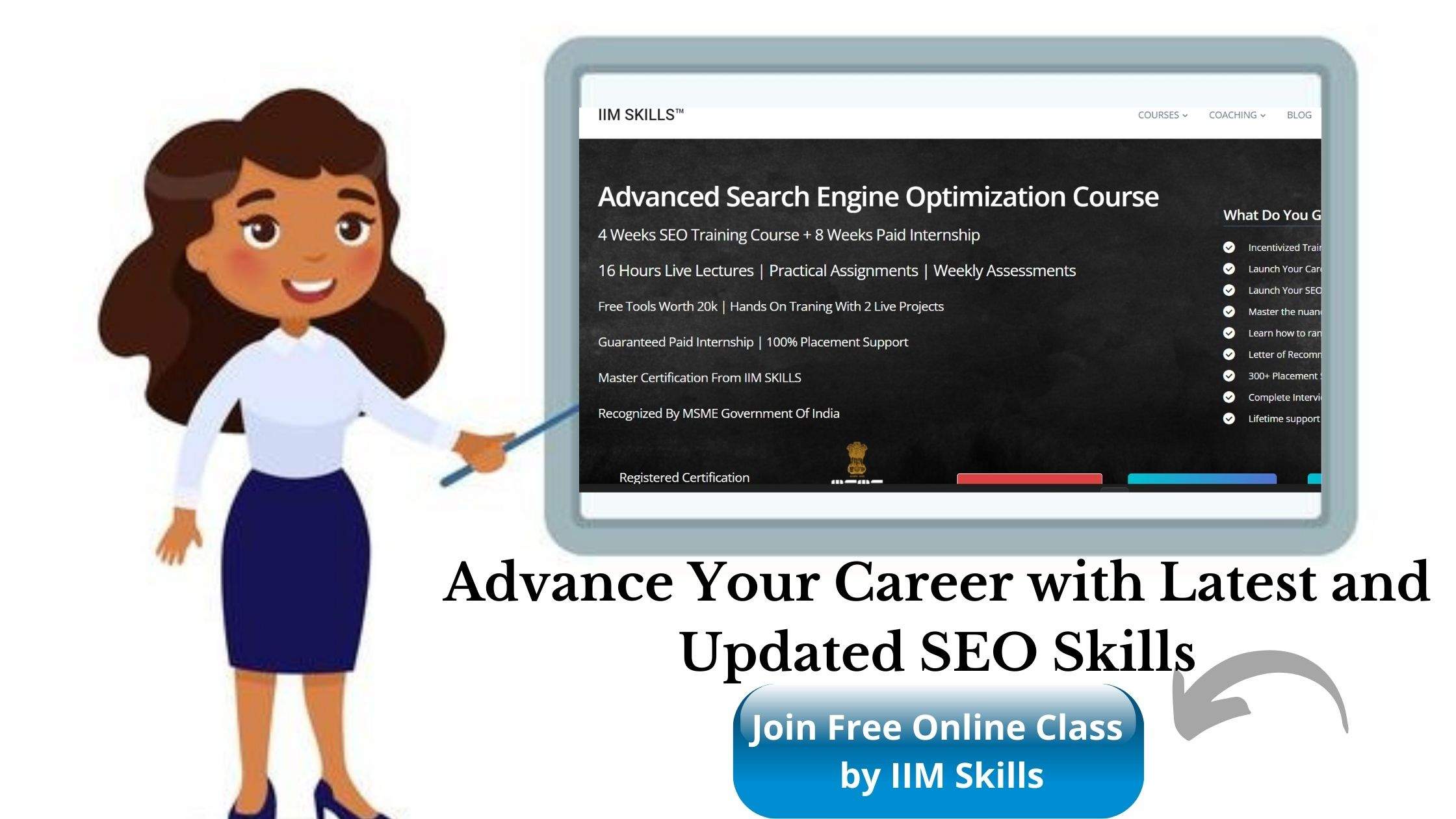 They are based in San Francisco, California, and Bangalore, India, and have assisted over two million individuals and enterprises from 150+ countries in being trained, obtaining certificates, and upskilling their workforce. Their SEO training will help you develop professional SEO abilities while driving long-term growth in the most important marketing channel for your website.
This SEO course in Hyderabad will teach you how to work with many aspects of SEO such as keyword research, technical SEO, link building, and analytics, to mention a few of the many aspects of this course.
Best Suited For
Marketing Managers, Digital Marketing Professions, Content Writers, Marketing and Sales Professionals, Management, Engineering and Communications graduates, Entrepreneurs, and business owners are some of the professionals that may be interested in this SEO training in Hyderabad.
Duration & Mode of Delivery
Simplilearn offers three types of training:
With lifelong access to high-quality self-paced e-learning content handpicked by industry experts, you can learn at your speed.
The Online Bootcamp concept combines self-paced learning content with live, online classroom instruction from renowned educators and practitioners.
Customized learning delivery methodology (self-paced and/or instructor-led) for corporate training.
Why Choose?
The award-winning online boot camps from Simplilearn are created and updated by over 2000 prominent industry and academic professionals. They give millions of individuals and thousands of corporate training organizations the work-ready skills they need to excel in their jobs through individual courses, complete certification programs, and collaborations with world-renowned institutions.
The patrons' trust is crucial to Simplilearn. They do, however, provide a 7-day money-back guarantee if the course does not fulfill your expectations.
You can also check Top GST Courses in Hyderabad
6. Apponix Technologies
The next SEO course in Hyderabad on our list is SEO Training in Hyderabad by Apponix Technologies. Apponix Technologies is a cutting-edge training and recruitment firm based in Bangalore that provides classroom and online training across India, the United Kingdom, and the United States.
They offer a variety of courses, including digital marketing, Python programming, web design and development, and more. They also provide SEO classes taught by industry professionals, which have received a 5-star rating from over 4000 students.
Best Suited For
This SEO course is open to students, online business owners, digital marketing professionals, freelancers, content writers, copywriters, and anybody else interested in pursuing a career in digital marketing.
Duration & Mode of Delivery
The course lasts about 25 hours, and Apponix Technologies offers its students a flexible schedule, allowing them to enroll in any batch that best matches their needs.
Why Choose?
Apponix Technologies offers high-quality training at an affordable cost. Their instructors have more than 8 years of expertise in the field of Advanced Digital Marketing and have trained over 1000 students in Digital Marketing. The lecturers are well-versed in the digital industry. This SEO course is completely job-oriented, to prepare learners to face any firm's interviews and examinations.
7. Digital Nest
The last SEO course in Hyderabad on our list is SEO Training in Hyderabad by Digital Nest. Digital Nest is a Google Certified Institute that offers training programs that combine classroom, online, and e-learning training modes. Their training programs are devised and developed realistically, focusing on the candidate's ability and working to improve their behavioral and technical abilities, allowing them to overcome this competitive industry.
Their SEO training includes subjects ranging from analyzing the current website to design principles, understanding the SEO aspects present in the site, and then fitting the proper content, design, and code to the website to guarantee that sites appear at the top of search results.
They not only teach how to apply SEO, but they also provide instruction on how to design blogs and websites in WordPress, as well as SEO Diagnosis Tools and SEO report creation techniques.
Best Suited For
This course is open to anybody with basic computer skills. Content Writers, Web Designers, Web Developers, UX Professionals, Students, Housewives, Internet Addicts, Marketing and Branding Professionals, startups, and Business Owners are all ideal candidates for this course.
Duration & Mode of Delivery
This is a one-month course with 20+ hours of learning content delivered in both online and offline modes and the possibility to participate in a two-month internship for practical experience.
Why Choose?
Digital Nest, named Institute of the Year by the Times of India and Silicon Awards, caters to the requirements of students, entrepreneurs, and freelancers looking to learn, improve, explore, and soar in their professions. They have been a pioneer in the training area due to their wide talents, unique knowledge, and exhaustive analysis. They also provide full job placement assistance.
FAQs
1. Is SEO hard to learn?
Learning SEO is not difficult. All you have to do is be ready to put in the time and effort required to master the various SEO strategies. You can enroll in any of the courses mentioned here if you're just getting started with SEO. You'll learn how to approach the SEO learning process and the steps to take to make it easier than it appears.
2. How can I learn SEO at home?
There are several online classes that you can enroll in and begin learning SEO from the comfort of your own home. All you need is a computer, either a laptop or a desktop, and access to the internet.
3. Is SEO a good career?
Yes, SEO is a viable job option these days since it provides you with a wide range of options. You have the option of working in-house, taking on clients, and even launching and managing your websites. With the onset of the pandemic, the need for SEO has risen even more, as more companies want to sell their products or services online.
What path you choose will determine how much money you make in the SEO sector. Working as an SEO professional for a flourishing firm or a digital marketing agency is usually a secure bet.
Conclusion
The demand for SEO and SEO specialists will continue to exist as long as the internet exists. SEO may appear difficult at first, but if you are prepared to devote some concentrated time and work, it may be one of the most gratifying career options for you. The above courses can undoubtedly assist you in getting started.