Top 8 Online Digital Marketing Courses With Certification
LinkedIn placed digital marketing among the top 15 most in-demand jobs. The combined market value of this industry shall be a whopping 650 billion dollars by 2024. Thus, digital marketing can be safely considered a field that will create more jobs than it currently does (60 lakh jobs predicted in India).
As every business goes through a digital transformation, the market value of which has been considered 3294 billion dollars by 2025, digital marketing shall become one of the greatest fields to work in in the 21st century. However, it is hard to navigate countless digital marketing courses to find the ideal course that particularly fits your needs. So here we are, aiming to make your job a little easier by presenting to you the top 8 online digital marketing courses you can avail of in 2021.
Must Read: 10 Tips to How Choose Digital Marketing Courses
Course Name:  Digital Marketing Master Course
Course Fee: INR 34,900 + 18% GST
Duration: 4 months (incl. 3 months internship)
Placement Support: Yes (over 300 placement partners for interview support)
Why This Course:
3 months internship guaranteed
Tools worth INR 79,000
Help with launching your own digital marketing agency
Personalized mentorship
Help with launching your podcast, YouTube channel and going live with affiliate marketing
15+ live projects
10+ case studies
Course Structure:
Why Digital Marketing
WordPress
Search Engine Optimization
Search Engine Marketing
Email Marketing
Inbound Marketing
Social Media Marketing
Marketing Strategies
Google Analytics
Brand Reputation Management
Affiliate Marketing
YouTube Marketing
Skills Acquired:
Learning Lead Generation
Brand Creation
Acquiring Clients
An understanding of the Space of Digital Media
Content Building and Copywriting
Content Writing and Blogging
Course Details:
Students learn the modules (such as web development, social media marketing, search engine optimization, affiliate marketing) with hands-on assignments. Over 180 hours of intensive digital marketing training through live online classes that are interactive (120 hours assignments + 60 hours live training).
The students can access recordings of each class if they are unable to attend. The trainers are industry experts and are always trying to help the students with little details. None of the learning happens with pre-recorded material. Human-centric learning is the goal of IIM Skills. The Learning Management System stores recordings of all previous batches, learning material, and class ppts. The students shall have free access to all future classes because IIM Skills provides lifetime access.
A free demo is available on the IIM Skills website so students can decide whether the course fits their demands.
IIM Skills alumni are working in companies such as Amazon, BMW, KPMG, Barclaycard, Dell, Genpact, HTC, etc., evidence of their constant support. Hence, this course deserves a place among the top online digital marketing courses.
Reviews and Testimonials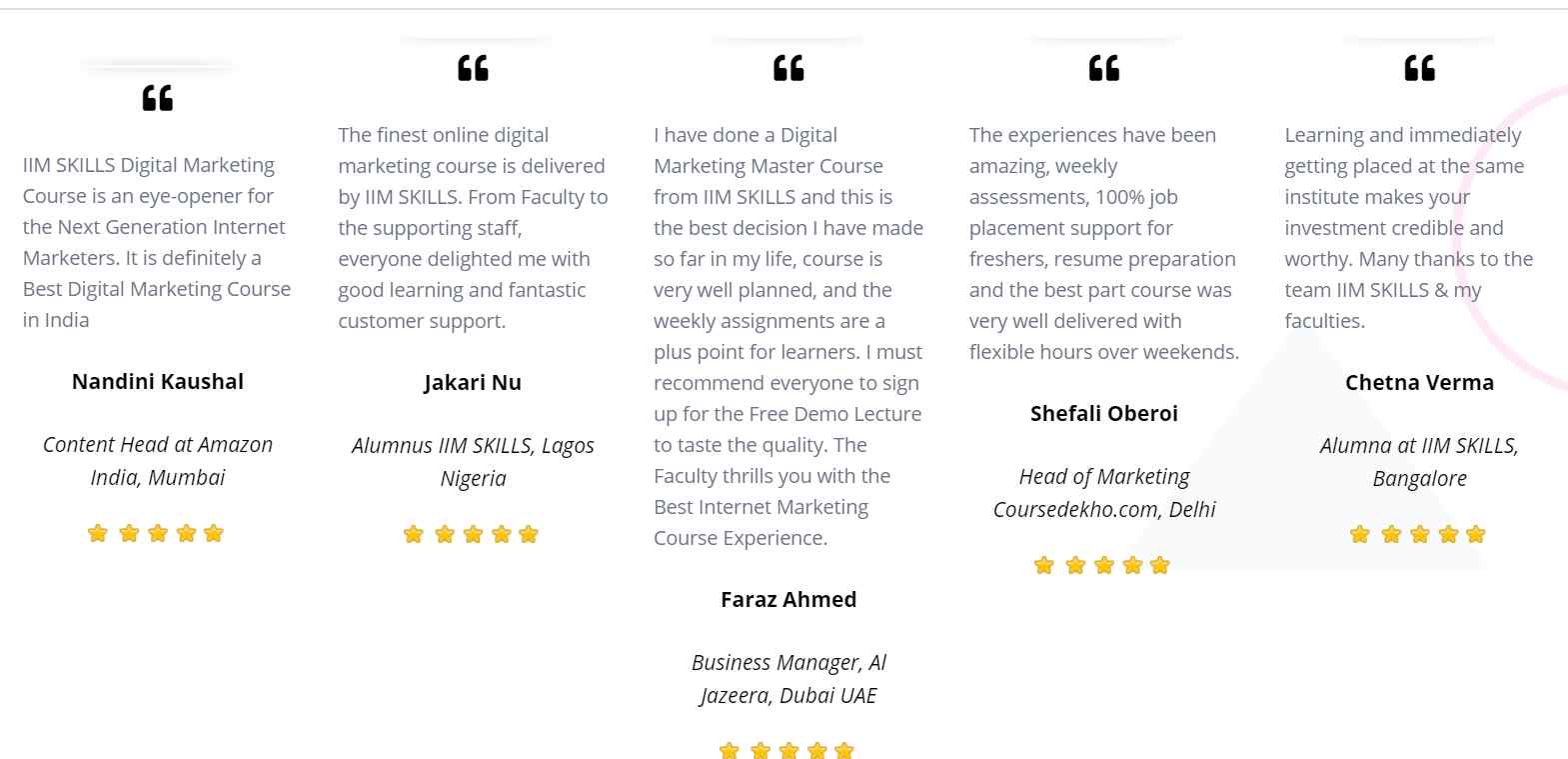 Do read about IIM Skills Digital Marketing Course Review
Other Courses offered by IIM SKILLS:
#2 IIDE
Course Name: Advanced Certification in Digital Marketing
Course Fee: INR 68,000 + taxes
Placement Support: Yes
Duration: 4 months
Why This Course:
70 hours of live classes
40 hours of video material
1-on-1 mentoring sessions
20+ tools
Placement assistance
Resume building & interview support
Real brand projects
0% EMI options
Course Structure:
Introduction to Digital Marketing
Website Planning
E-Commerce Platforms
Search Engine Optimization
Search Engine Marketing
Google AdSense
Marketing Strategy & Strategy Planning
Social Media Marketing
Brand Reputation Management
Media Planning & Optimization
Google Analytics
Developing Soft Skills
Course Details:
IIDE is a premium institute that specializes in imparting training to freshers and other individuals who want to make a career transition to digital marketing jobs or are looking to upskill themselves. The course is a well-blended formula consisting of pre-recorded video material, webinars, and 1-on-1 mentoring sessions, making it one of the best online digital marketing courses for Indians.
They also provide an excellent placement assistant with a track record placing students in several upscale digital marketing agencies worldwide. Although individuals above 16 years can apply, they prefer students who have passed 10 + 2 with at least 50% marks. Their course format is quite comprehensive and questionnaire-oriented. If required, students can extend the course duration of 4 months with a 50% course fee.
Herr also check out the Top 10 Digital Marketing Courses in India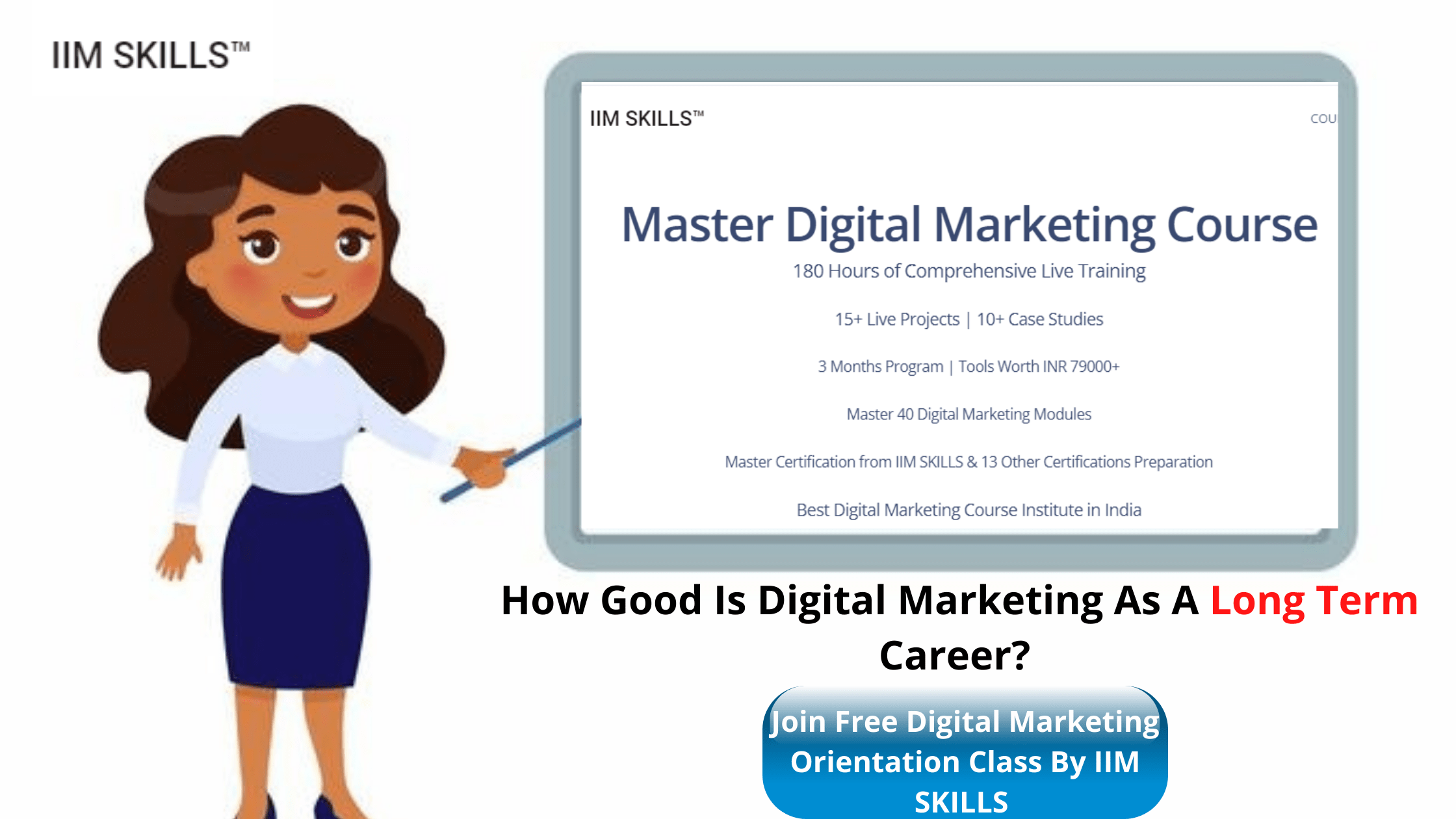 #3 Upgrad
Course Fee: Multiple plans depending on the course structure you select—INR  1,00,000 to INR 1,52,000
Duration: Between 32 to 50 weeks courses
Eligibility: Bachelor's or equivalent
Placement Support: Yes
Why This Course:
MICA Alumni Status
Industry-oriented Mentoring
Practice Interviews by Hiring Professionals
15 Case Studies and Projects
Resume Building Mentorship
EMI Options
Course Structure:
Overview of Digital Marketing
Exploring Digital Channels
Social Media Marketing
Search Engine Optimization
Search Engine Marketing
Display Advertising
Content Marketing
Web Analytics
Digital Marketing Strategy
Planning a Digital Marketing Team
Capstone Projects
E-commerce Bootcamps
Specializations in Branding, Marketing Analytics, Content Marketing, Social Media Marketing, Marketing Communications
Course Details:
This course ranks among the top online digital marketing courses because of several reasons. First, its outcome-oriented curriculum focuses on three major tracks—the executive track (understanding the basics of digital marketing and learning campaigns on five tools), the management track (building, running, and analyzing search & creating social media campaigns), and the leadership track (strategizing, optimizing and analyzing digital marketing campaigns & SEO, SEM and social media).
The students have doubt clearing sessions in which they are provided with expert feedbacks. They also receive personalized expert responses and assessments on their projects and assignments. In addition, brand projects on big names such as L'Oréal Paris, Google, The Quint Project, Adfactors case studies ensure quality learning.
#4 Udemy
Course Name: The Complete Digital Marketing Course
Feature: Subtitles available in English, French, German, Spanish, Polish, Italian; Offered in English
Offered By: Rob Percival, Daragh Walsh
Course Fee: INR 450 (approx.) during discount periods (keep an eye for those)
Duration: 22.5 hours video material
Why This Course:
Excellent icebreaker course for growing an online business
Learning what digital marketing professionals are expected to do
Introduction to affiliate marketing
Receiving an idea about freelancing as a digital marketing professional
Course Structure:
Market research, simplified with three questions to authenticate your business idea
WordPress
Email marketing and the importance of building a mailing list of 1000 people in a month
Writing copy that sells
Search Engine Optimization
YouTube Marketing
Social Media Marketing
LinkedIn Marketing
App Marketing
Google Adwords
Facebook Ads
Google Analytics
Course Details:
Students have lifetime access to the course once purchased. It is an excellent option to test the waters of digital marketing to see whether the field is the right fit for their career aspirations. One can learn a few basics that shall help them later while looking at other more expensive courses to buy. It can give them an idea about what to look for in a course and which aligns with their interests and aims.
Udemy courses are cheap and thus, can be purchased without much contemplation about 'losses,' although there is a 30-day money-back guarantee. Thus, it is an important entry among online digital marketing courses.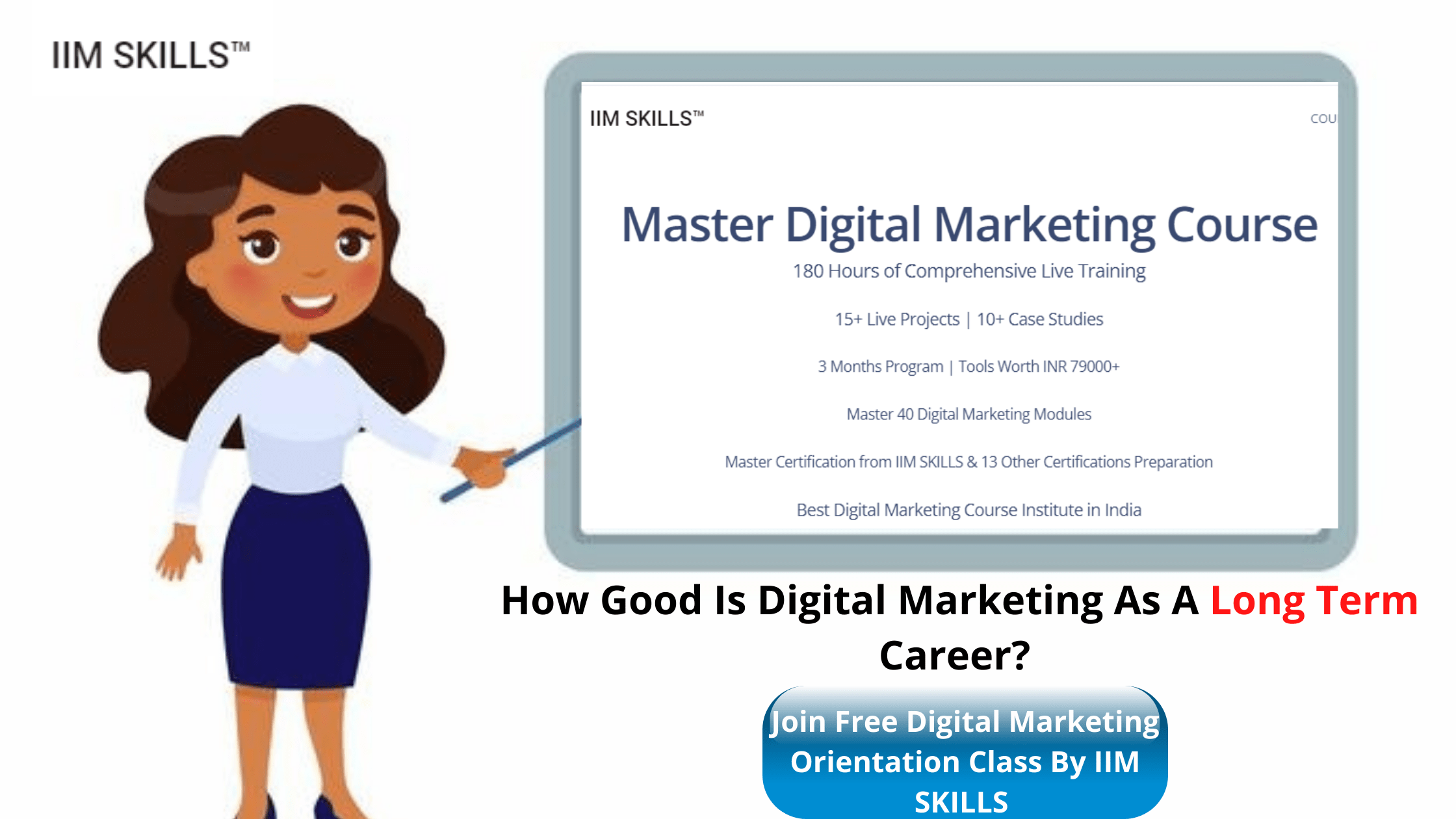 #5 Udemy
Course Name: Digital Marketing Ultimate Course Bundle
Offered By: Juan E. Galvan
Course Fee: INR 450 (approx.) during discount periods (keep an eye for those)
Duration: 27 hours of video material
Why This Course:
Creating sales funnels that reap profit
Creating Facebook ads, Google ads campaigns
Lead generation for LinkedIn
Messenger bots
Building and ranking websites
How to build a digital marketing business
Course Structure:
Building sales funnels
Cold pitching on emails for lead generation
Facebook ads
Messenger chatbots
Profitable Google ads
SEO
Lead generation on LinkedIn
All about building, selling, and ranking websites for businesses
Video marketing
Affiliate marketing
Growing a consulting business
Course Details:
This course is one of the few online low-cost courses that speak about lead generation and affiliate marketing. It is obvious from the course structure that a lot of practical thought about imparting pragmatic marketing skills has gone into the course. As a result, this fairly new course on Udemy seems to be one of the best online digital marketing courses the internet offers across the globe.
If you had to buy one introductory course to understand digital marketing, there is no course better than this one. Tough concepts have been dealt with very easy-going, making it the perfect deal for your hard-earned buck.
#6 Digital Scholar
Course Name: Online Digital Marketing Course
Course Fee: INR 40,000 (approx.)
Duration: 3 months
Why This Course:
Instagram Influencer Mastery
Access to freelance marketplace
One-year free hosting
Paid internships
Dedicated ad budgets
Course Structure:
Fundamentals of Marketing
Personal Branding
Content Writing
WordPress Development
Search Engine Optimization
Facebook Ads
Instagram Ads
Google Ads
Email Marketing
Marketing Automation
Sales Funnel
LinkedIn Marketing
Social Media Management
Instagram Influencer Mastery
Agency Management
International Freelancing
Course Details:
This course is a popular one among online digital marketing courses, especially among Indians. Even in the online course, their class setup is quite agency-styled. The instructors handle learning in areas of their expertise. Separate instructors are dedicated to teaching separate areas. Students learn landing pages, WordPress, SEO, social media marketing, Twitter, Instagram, Facebook ads, Google ads, content marketing, agency pitching, e-commerce, and soft skills from teachers dedicated to each topic.
An elite panel of guest lecturers makes the learning more industry-specific and pragmatic.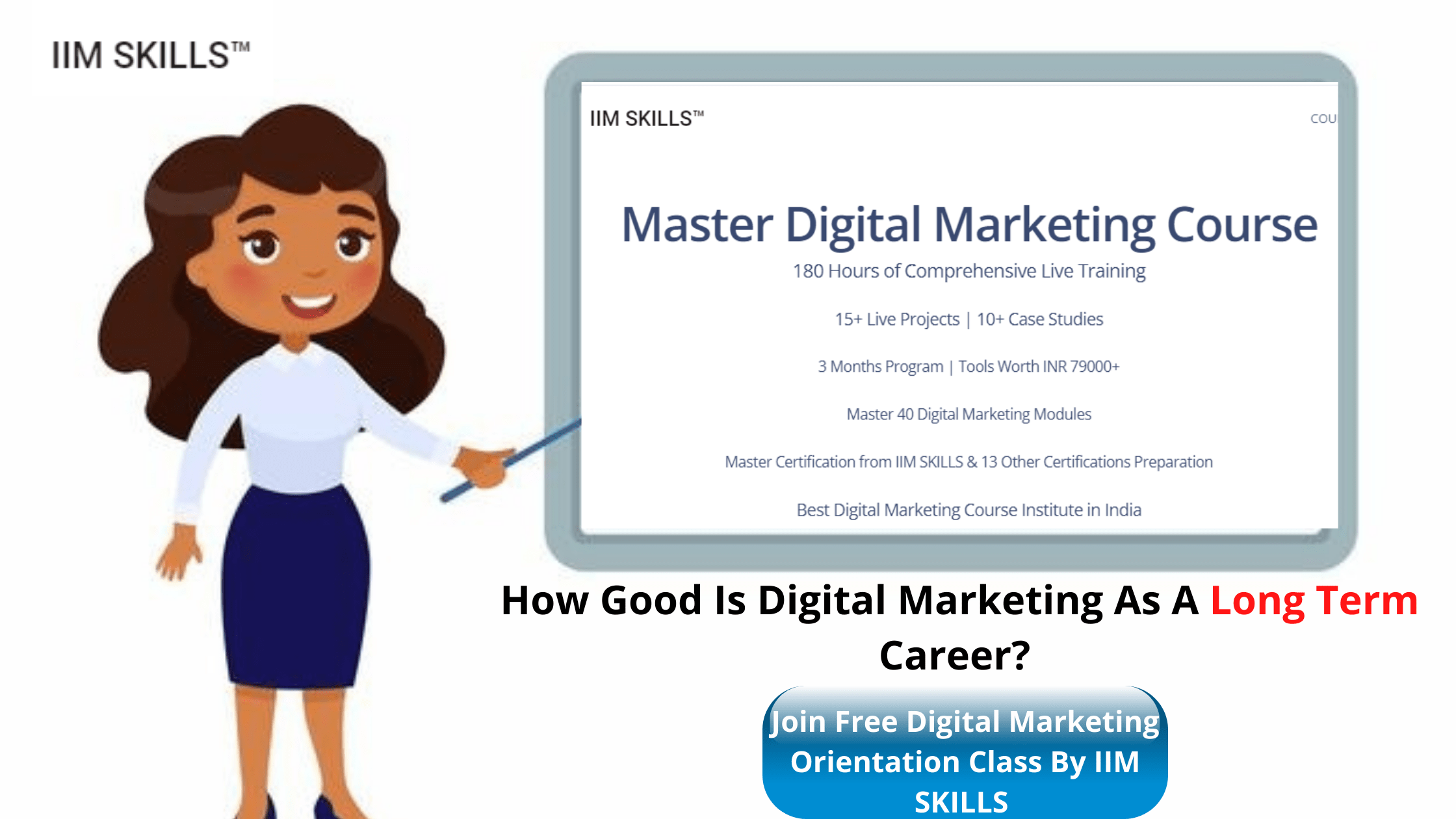 #7 NIIT
Course Name: Full Stack Digital Marketing Programme
Course Fee: INR 60,000 + 18% GST
Duration: 20 weeks
Placement Support: Yes
Why This Course:
Structuring a marketing problem
Website creation
Creating AV content for media and marketing channels
SEO (on-page and off-page) and relevant keyword research
Social Media Marketing
Google campaigns, bidding strategies, YouTube, ROI
Leveraging e-commerce platforms, including promoting Amazon store
Designing and launching email campaigns
Course Structure:
Introduction to Digital Marketing
Finding clients with the right keywords
On- and off-page SEO
Leveraging social media (All about e-commerce platforms—setting up and promoting Amazon store; managing sales and inventory; the importance of data and optimizing ROI; automation to reduce chances of error; email campaigns.)
Creating a business plan and the skills required to follow through soft skills for business
Course Details:
This course deserves a place among the best digital marketing courses because of two major qualities. Firstly, because of its focus on leveraging e-commerce platforms, especially amazon Store, and because of its stress on professional skills.
This course prioritizes inculcating business etiquette in the students, managing stakeholders, interpersonal skills to handle their customer base, pitching, and effective articulation to ensure maximum communication.
Building leadership qualities is one of the most remarkable features of this course because most digital marketers often lack the leadership qualities required for the job.
#8 Skillshare
We shall not name any particular course as the best from Skillshare because we believe their courses can perform better when taken in assortments—a collaboration of several courses that you find fit for your career goals. An example of such collaborative learning could be what we took (we focused on Instagram marketing):
How to Brand Your Business (Everett Bowes)
Content that Attracts (Stanley Idesis)
Analytics and Authenticity on Instagram (Sophia Chang)
Instagram for Business (Tyler McCall)
Social Media Marketing (Cat Coquillette)
Similarly, you can select courses that align with the niche you want to practice. Skillshare is a great platform for digital marketing courses because most other platforms do not provide flexibility. In addition, you can exploit the opportunity to yield maximum learning benefit because of Skillshare's assortment of free and premium courses. Of course, you can always choose the free courses first and check whether you enjoy their teaching style. We certainly enjoyed our method of choosing the courses that fit our goals.
Enter the keywords (social media marketing/ digital marketing/ blog writing/ content marketing or whatever is your heart's calling) and opt for courses accordingly. Although an atypical method, an unbeaten track might surprise you. The fact that you do not invest a ton of bucks immediately but gradually (only if you want to) is a perk of this method.
These courses perform as the perfect icebreakers if you hope to take on digital marketing as a profession and do not want to walk into an expensive course being clueless about what the profession entails.
Frequently Asked Questions:
#Why choose online digital marketing courses over offline courses?
For three main reasons: affordability, ease of access (location), and time flexibility (students receive class recordings).
#Are online digital marketing courses as good as offline courses?
They can be. The mode of the class is hardly a factor deciding the quality of the course. It depends on the dedication of the teachers and whether they are industry experts with a will to share their hard-earned secrets.
#Can affordable online digital courses be good as well?
It depends on what we define as 'affordable.' An abundance of courses priced anywhere between INR 499 and INR 10,000 will not give you more than the technical knowledge involved in the profession. They shall not give their learners any knowledge of client acquisition, mentorship, or any form of post-course support. Thus, courses that cost INR 25,000 and beyond have several reasons to charge on that level.
#Is a digital marketing course necessary if I want to pursue a career in digital marketing?
Technically, it is not. However, there is very little chance that an industry expert would casually share their hard-earned industry knowledge outside a course. A course shall help you grow your network and lend you the support needed to build a career in this area.
#What will I get from online digital marketing courses aside from knowledge about tools?
You will learn how and where you can get clients. In addition, you shall grow the soft skills required to succeed in this profession. Courses, ideally, provide placement support and help you build a portfolio. Personalized mentorship shall be beneficial if you want to freelance successfully, which is another perk of a good online digital marketing course.
 #What skills do I need before I take an online digital marketing course?
Basic knowledge of computers, social media, and 7th-8th grade English shall be enough, Of course, you to begin with.
#What do I need to do online digital marketing courses?
A laptop, internet connection, and a desire to succeed.
#Do digital marketing courses require any specific academic qualifications?
No, they do not. Unless you want to opt for a degree course, there is no requirement for a specific degree. Anyone can take these courses, including school students, homemakers, professionals of other (and unrelated) fields.
#Are there extra costs after I purchase a course?
There might be. You shall need to buy a domain name if you want to build your career as a freelancer. However, the extra costs depend mostly on how much you want to invest. There are usually no mandatory extra costs.
#How much mentorship can I expect from an online digital marketing course?
A cheaper course does not provide mentorship, a course that costs more ideally provides mentorship to land jobs and kickstart a freelancing career.
Conclusion:
These are the best digital marketing courses you can opt for to build your career in the digital marketing industry.