Top 7 Online Business Accounting and Taxation Courses
In today's competitive world, there's a high demand for industry professionals, well versed in the nitty-gritty of finance, accounting, and taxation policies. Online Business Accounting and Taxation courses aim to impart the fundamental knowledge of these critical financial concepts to Commerce Graduate students who need to bridge the gap between industry demands and their education, as well as for professionals who wish to upgrade their skills from the comfort of their homes.

Now, What Exactly Business Accounting and Taxation Are? 
Let's break it down into its individual parts and consider them.
Business accounting is a systematic recording, understanding, analyzing, interpreting, and presenting of financial information. Accountants create or examine the accuracy of financial statements, ensuring that all financial records and statements are as per the laws and regulations.
The Financial statements include the balance sheet, the profit and loss statement, the cash-flow statement, and tax returns. Accountants also keep track of the financial transactions of a business over time. They record the information needed to prepare entries into the general ledger.
They must also keep their eyes open for any inconsistencies or irregularities in the records and statements. Accounting may be done by an individual or in groups depending on the size of an organization. It is how a business keeps track of all its operations.
Taxation is a part of accounting that deals with the preparation of tax returns and payments. This is practiced by governments all over the world whereby it imposes charges on individuals or companies to collect revenue that can be put to use for the developmental activities around the country.
Taxation for an individual focuses on income, qualifying tax deductions, donations, etc., while it is more complicated for a business where it deals with how the investment needs to be spent, and what is and what isn't tax-deductible.
Taken together, Business Accounting and Taxation involve handling the financial operations of an individual or a business. In order to have a competitive edge over the other Finance Graduates or for a business to fare better than its peers in this day and age, one needs to have a thorough understanding of the various financial operations and documentation undertaken.
That's where an Online Business and Taxation Course steps in. This course equips you with the knowledge and skills that are required to manage the finances of any organization. An Online Business Accounting and Taxation (BAT) Course is a certified 3 to 6-month program offered by many Educational Institutes across India.
This course helps a student achieve an in-depth knowledge of Accountancy, formal training in System Application Product (SAP), which is high in demand for Business Management, and also trains students in software like Quickbooks, which helps to store and keep track of confidential financial statements.
Are Online Business Accounting and Taxation Courses Necessary?
Accounting is used to analyze the profitability of any venture. All businesses must keep an accounting register to track their financial position. While accounting covers all aspects of a company's operations, taxation focuses on how to develop strategies to help businesses complete their tax returns more efficiently.
Online Business Accounting and Taxation Courses guarantee a lucrative career in finance or just about any other industry as every field requires Accountants and tax experts.  A traditional accounting graduation degree no longer covers accounting and taxation subjects in depth.
One needs to be well versed in all of the latest industry accounting systems and tools to stay current. Hence, taking Online Business Accounting and Taxation courses that are designed to prepare students to become skilled professionals and job-ready from a reputed institute is a great idea.
Also, check out the other most-opted online courses
Course Curriculum
Basics of Accounting
Accounting in Tally
Basics of GST
GST in Tally
Basics of TDS
TDS in Tally
Payroll
Payroll with Tally
Income tax with Tally
MIS Reporting
To pursue Online Business Accounting and Taxation courses, it is recommended to have a Bachelor's degree in Commerce. Apart from this, the entry requirements may differ from one Institute to the other.
To apply for the BAT course, you can visit the official website of the institute you are interested in and download the form, print it out, and fill or fill out the application online. The fees for each institute offering BAT courses may vary. The Education may be imparted in offline or online mode.
Online Business Accounting and Taxation courses can earn you job opportunities in a number of fields, in both the Public and Private sectors. Given below is a list of jobs for a BAT course certified Professional:
Analyst or a Senior Associate
Assistant or Senior Manager
Accounts Executive
Deputy General Manager
Tax Accountant
Lecturer
Accounting and taxation jobs are high in demand. Accounting is absolutely necessary to track a company's income and expenses. A good course in Accounting and Taxation can help land one a lucrative career with top MNCs such as Genpact, Delloite, KPMG, Adobe, Bajaj, and Grant Thornton.
Certificate-holders of BAT Course from any of the below-mentioned top Institutes make around 2 Lakhs INR to 8 Lakhs INR p.a.
Institutes offering Online Business Accounting and Taxation Courses
Here are the names and details of a few Institutes that offer Online Business Accounting and Taxation Courses-
1. IIM Skills
This BAT course is structured to inculcate applicants with industry-specific skills, tools, and software, making them job-ready. Because of the extensive facilities, their online training is considered the best business accounting and taxation courses in India.
Course Name: Master BAT Course
Duration: 4 months
Fees: INR 49,900 (Exclusive of GST)
(BAT) program is an intensive 120 hours program, designed by Financial Industry experts. With competitive pricing, this Institue offers quality Education in various fields of learning. Their training programs are tool-based, with practical aspects of Business paid on the same footing as theoretical knowledge.
In the Online BAT Courses, you will get to learn and practice Accounting software like Tally ERP and QuickBooks through 60-plus hours of assignments. There's some amount of flexibility with the Timing of classes as you can pick from weekdays as well as weekend classes.
Key features of the Online BAT Courses offered by IIM Skills include-
 Certificates – Govt of India Certificate of Participation/ Certificate of Excellence.
100% Placement assistance along with soft skills training which will help students crack the interviews.
Recorded classes to help you attend at your convenience.
More than 60 hours worth of hands-on learning to better prepare for real-world problems and expectations.
Every topic is followed by software usage training. This being a tool-based program, In addition to Tally, you will also learn other accounting software like QuickBooks and BUSY, which takes away the need for a separate practical accounting software course.
The certification you get at the end of this course is valued in India as well as in any part of the world.
There will be assignments, live projects, and weekly assessments.
Free ebooks, tools, and software will be provided.
Lifetime free access to LMS
Phone: + (91) 99 11 839503
Email Id: [email protected]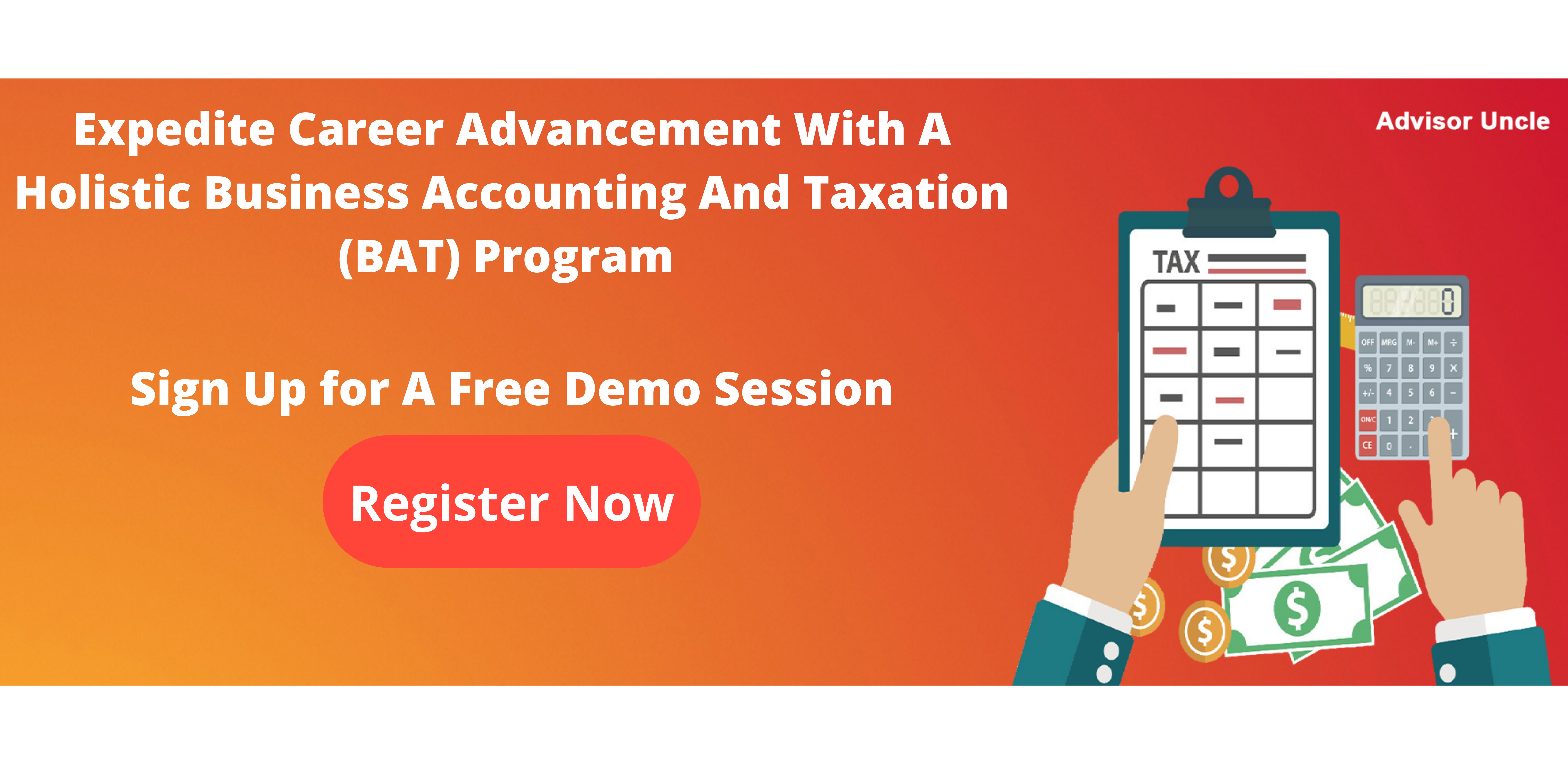 More In-Demand Courses from IIM SKILLS
2. EduPristine-
EduPristine is a renowned provider of Education with a specialization in Finance, Analytics, Accounting, Marketing, and Healthcare. Taught by leading experts in Industry, the programs at EduPristine gives practical knowledge to face the challenges that bombard businesses day in and day out.
You get to pick from Online, Offline, or self-paced education curricula. The Post Graduate Program in Business Accounting and Taxation (PGP-BAT) by EduPristine is an online Business Accounting and Taxation program developed to help students become highly skilled accounting professionals.
The program modules here are designed by industry experts with years of experience in Accounting and Taxation. Additionally, their career assistance team will support the students master soft skills and help them prepare for job interviews.
Course Details of the Online BAT Course by EduPristine:
Course Name: Post Graduate Program in Business Accounting and Taxation
Duration: 5 months
Key Features
Dedicated computer lab
Industry-relevant content
Case-studies based learning
Project-based practical training
Training by industry experts
Work on Tally, SAP, MS Excel, and Busy software
Prepare for 4 top accounting certifications
Dedicated discussion forums
Effective business communication
Interpersonal communication
Email and virtual communication
Presentation boot camp
Interview preparation workshop
Effective business communication
Interpersonal communication
Email and virtual communication
Presentation boot camp
Interview preparation workshop
To know more about these online Business Accounting and Taxation Courses, you may contact EduPristine at:
Phone no: 1800 200 5835
Email Id: [email protected]
Recommended Raed: Business Accounting and Taxation Courses in Delhi
3. APG Learning
APG Learning was established in 2013 with the goal to educate and ensure sustainable socio-economic development. They conduct some of the most sought-after job-oriented courses in business, technology, finance, and lifestyle. They update their programs on a regular basis to ensure that the material stays current.
Their interactive courses prepare students with the knowledge and skills needed to excel in a highly competitive World. The Online BAT courses by APG Learning give practical exposure to Tax and Accounting and update students with the latest knowledge of finance, accounting, and taxation to make them job-ready.
The Following Are the Course Details:
Course Name: Certificate Course in Business Accounting and Taxation
Duration: 3 Months
Fee: ₹ 35,000/-
To know more about their online BAT courses, you may contact APG Learning at:
Phone no: +91 735 000 1602 or +91 937 111 8008
Email Id: [email protected]
4. National Institute of Financial Markets
NIFM Institute provides you with a complete package of accounting and taxation courses tailored to your requirements. It doesn't matter whether you want to start from the basics of accounting & finance, or you just need to upgrade yourself with hands-on experience on tally ERP9, GST Returns & Filling, ESI & PF, business taxation, Income Tax, and management accounting, NIFM is here to help. NIFM offers 100% job assistance and internships to students of Online Business Accounting and Taxation courses.
Course Name: Diploma in Financial Accounting, Auditing & Taxation
Course Duration:  6 months
Course Fees: Rs, 45000+GST(one time fee) / Rs. 55,000+GST(4 installments)
Key Features of Online BAT Courses Are – 
Practical Industrial Training
100 % Job Assistance
Unlimited Practical hours
Internships in Top-Notch companies
Complete Tally ERP9 software training
Training by industry experts
Faculties with over 20+ years of experience
Availability of weekend batches
Lifetime support from faculties
Low batch strength
Free Demo
Contact –
Tel: 09910300590/ 011-45646322
Email: [email protected]
Recommended Read: Business Accounting and Taxation Courses in Hyderabad
5. Coursera
Coursera is an online course provider that offers many Accounting and Taxation Related courses at affordable prices. Its association with leading companies and universities like the Indian Institute of Technology, Google, ISB, IBM, etc makes it a worthy platform to consider. It takes approximately 5 months to complete the Online BAT courses.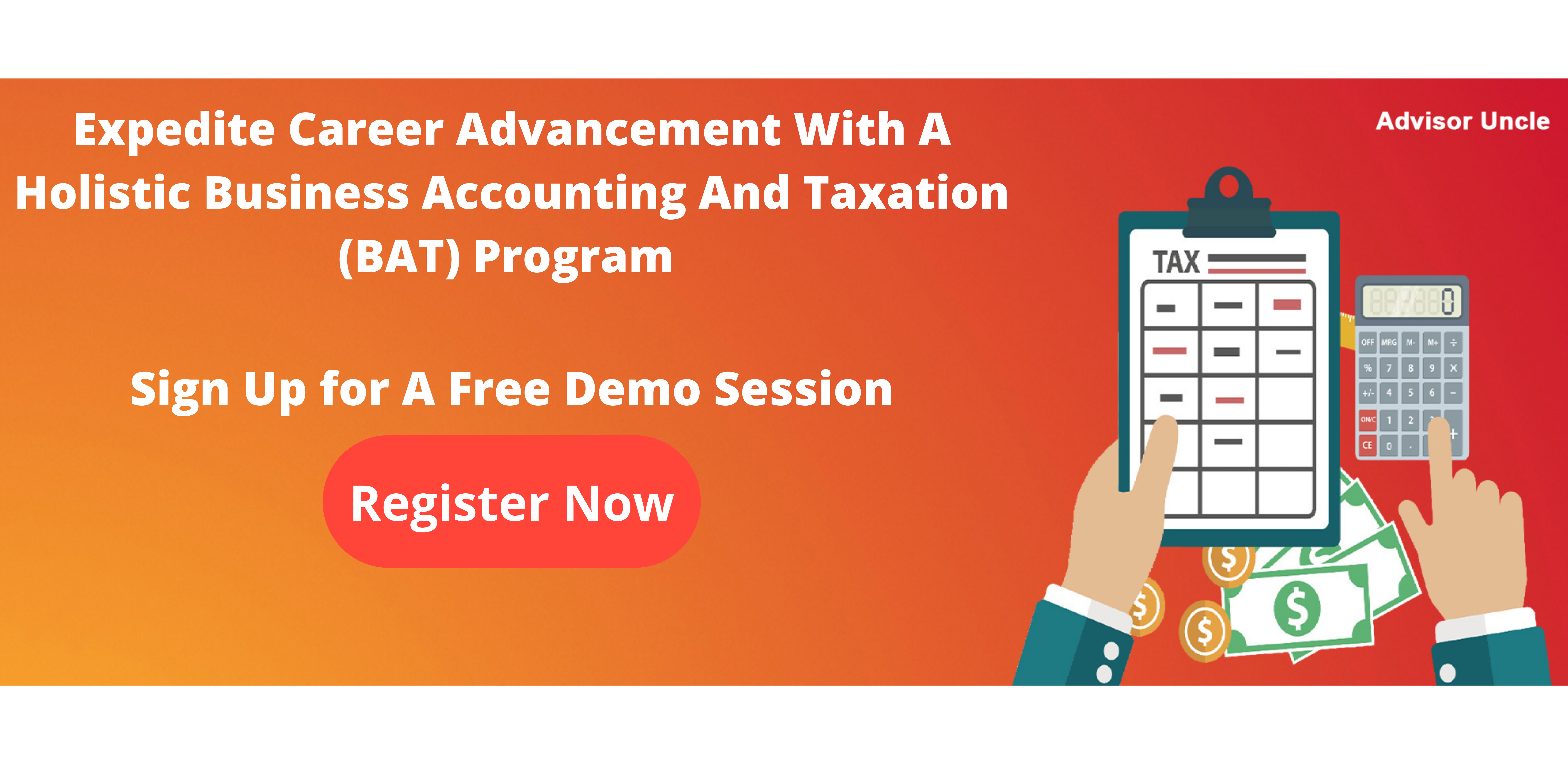 6. Udemy
Udemy is an online certification course provider for a plethora of subjects including the Online Business Accounting and Taxation courses. Once enrolled in the course, students can learn at their own pace as Udemy provides lifetime access to the course material.
Topics Covered
Tally Prime
GST and GST Portal Concepts
Income Tax and TDS
Double Entry Accounting Systems,
 Elements, Steps,
 and Structure
Tally – Introduction, History, and Advantage
Course Fees: Rs 2,299
Recommended Read: Business Accounting and Taxation Courses in Bangalore
7. Henry Harvin
Henry Harvin offers various business and skill development Programs. The BAT training program by Henry Harvin teaches the important concepts of Accounting and taxation like Income Tax, GST, and TDS. This course is for budding and professional Finance enthusiasts to sharpen their accounting skills. The following are the course details-Accounting like GST, Income Tax, and TDS that have a crucial bearing on the modality.
Course Name: Business Accounting and Taxation Course
Duration: 172 Hours
Fee: ₹ 34500/-
Key Features 
Interactive live online sessions
Projects in GST,
 Advanced Excel,
HR Payroll, etc
Internship Assistance to facilitate practical learning
Course completion certificate
Dedicated Placement  Support for one year after the course
E-Learning access
Regular Bootcamps for one year
Gold Membership for one year
To know more about this online BAT course, you may contact Henry Harvin at:
Phone no: +91-9891953953
Email Id: [email protected]
Frequently Answered Questions:
1. Are Online Business Accounting and Taxation Courses worth it? 
Yes, it is totally worth the cost, time, and effort put in. The Accounting industry is highly competitive. And not just the Finance Companies that have a requirement for Accountants and Taxation Experts, any Business needs to keep track of its income, expenditure, tax returns, etc. So a BAT course student can gain a wide variety of job opportunities to pick from. BAT course can give you the knowledge and skills to handle any financial scenario a company has to face.
2. Can the BAT course help me in the advancement of my career?
After completing Online BAT courses, you can choose from many high-paying jobs in both private and public sectors, such as tax consultant, corporate legal assistant, finance manager, company law assistant, tax analyst, etc. The average salary for BAT course graduates usually ranges between Rs. 2 lakhs to Rs. 8 lakhs per annum.
3. Can I enroll in a BAT course program while pursuing my Master's Degree?
Yes, Absolutely. Enrolling in Online Business Accounting and Taxation Courses while pursuing your Master's in a Commerce-related stream adds to the value of Post Graduation. Most of these courses are flexible when it comes to timing, so one can complete them alongside the Degree. A BAT Course from a reputed Institute like the IIM Skills offers valuable practical knowledge which gives the student an opportunity to put into practice the theoretical knowledge gained in a University Setting.
Conclusion-
Accounting is highly essential in any Industry in Today's World. Any Business, big or small, requires a highly skilled Accounting team that manages and tracks Investments, Loans, and Profit gains. Tax Compliance is a must for a Company's Credibility. Someone needs to be aware of the latest rules and regulations in Government Tax Policies. And that makes a good Accountant and Taxation Expert a highly sought-after Individual in today's Job Market. Short-term Courses like BAT Courses from a good Educational Website hold value in the booming Indian Market as well as Globally.