The introduction of GST was the single biggest reform introduced by the government in the year 2017. It unified the entire country into one single tax regime and made it easier for businesses to be tax compliant. Though it was a long pending reform that the industry was crying for, its implementation meant that the whole industry now had to rework their entire practices and software to comply with it. In its wake, it has unleashed a requirement of skilled manpower who can understand GST and implement it quickly and correctly. In this article, we look at 4 such GST certification courses in Varanasi.

What is GST?
Before we go ahead and list down our list of 4 GST certification courses in Varanasi, it makes sense to understand what is GST and the history behind it. This would help us in appreciating the huge reform that was long-awaited and its potential.
Before the implementation of GST, there were different taxes like VAT (Value Added Tax), service tax, excise duty, etc. Not only were there different types of taxes that one had to look out for, but they were different from one state to another.
For a company wanting to grow across India, the burden of compliance with these different taxes meant that many of the companies preferred to be regional players instead of competing throughout the country. The introduction of GST was meant to help lessen this compliance burden on the industry. The GST is made of two parts:
CGST: This is the central GST which is the amount paid to the centre.
SGST: This is the state GST which is the amount paid to the state.
Now, not all the goods and services are covered by GST, as there are certain exceptions; but these are few and far in between and almost 95% of all goods and services fall under GST. Also, the GST is not a uniform tax slab but has multiple tax slabs to cater to the requirement of differentiating between luxury goods and necessary goods. Thus, the sheer variety of goods and services and the different slabs necessitate a requirement for formal training.
Who Uses GST?
Almost all businesses and even certain categories of self-employed people (in particular cases) have to file for GST. Thus, in a country that is ranked in the top 20 global startup rankings, the need for people skilled in helping file GST just keeps shooting up.
Is GST Certification Important?
It is not required by law to have someone with GST certification in your company, but practically it makes a huge lot of sense to have someone well versed with the filing of these taxes. Also, these laws are subject to change every year and it makes more sense to learn it formally from an experienced practitioner than learning on the job.
Some of the courses that are mentioned below also have live simulations and internships which help to increase the skills of the individuals immensely and also help them gain a huge amount of confidence before doing the same on the job. Hence the certification assumes a good amount of importance. The certification helps us understand if the candidate is good enough and has the requisite skills.
What are the Various Career Options after Completing a GST Certification Course?
Generally speaking, GST certification by itself does not guarantee a successful career. It is more like either an add-on certification or something that one starts with but branches out into several different other services. Generally, the people who are taking up this course belong to one of the following categories of people:
Commerce students looking for a career in taxation
Self-employed accountants who would like to add GST filings as part of their services
Executives working in the industry who need to learn this for use in their respective companies
The Different Career Opportunities after Doing this Certification Course are as follows:
GST practitioner
GST assistant
GST executive
Accountant
Tax practitioner
What are The Different Types of Courses?
There are three types of courses available:
Offline Courses:
These courses are conducted in a classroom manner with experienced teachers helping students learn. The students are all able to learn together and learn from each other's doubts and mistakes. This makes classroom teaching a very rich learning experience.
This type, of course, is generic and can provide certifications that can help in a job search. Pre-pandemic, there were a lot of institutes providing GST certification courses in Varanasi.
However, with the new normal of lockdowns being enforced to reduce the daily count of people contacting COVID, these GST certification courses in Varanasi have mostly moved from offline to online. Though after the situation returns to normal, some of these offline classes might start again, most of them will remain online.
Online Courses:
These courses are conducted online and have less amount of peer to peer interaction. Though lacking in the rich formal learning environment, these have become very popular due to the Covid
Online courses can again be divided into two parts; pre-recorded courses and instructor-led live online courses. The live instructor-led courses are closer to the classroom experience whereas the pre-recorded courses are more like those offered on Coursera and Udemy.
Customized Courses:
Some of the companies prefer to teach their candidates instead of hiring them newly from outside. These courses are tailor-made for those requirements. The experienced teachers will come over to your company to provide the necessary coaching and training necessary to carry on with the required GST-related compliance immediately. The duration of the course, as well as the required materials for the same, can be decided as part of the company's requirements.
Most of the above courses also have an add-on package of Tally through which is used during filing returns.
4 GST Certification Courses in Varanasi
So now that you have a basic understanding of GST and its far-reaching effects, let us proceed with detailing the 4 GST certification courses in Varanasi that will help you start or distinguish yourself from your peers. Following the pandemic all GST certification courses in Varanasi, for most of the institutes, have moved online.
GST Certification Courses in Varanasi #1: IIM Skills
IIM Skills is one prominent institute that is well known for its online format of teaching. It provides 3 different types of courses; Content Writing Course, Master Digital Marketing Course, and Online GST Course.
GST Certification course Details
The salient features of this course are as given below:
16 hours of lectures delivered in total
Practical assignments help understand the depth of the subject
It has dedicated web posts for freelancing opportunities
It has a dedicated placement cell that helps the students get a job
It is a self-paced course, meaning that sessions are pre-recorded
They provide the students with free e-books, Invoicing Tools and Softwares
It costs only Rs. 2900, which is one of the cheapest courses that one can find
Though this is a recently started course, the high quality of its earlier two courses means one can likely expect a very high level of quality content again being delivered online.
Course Fee – Rs 2900 + GST
In keeping with the need to impart skill to the students even amid the lockdown, all the institutes have been quick to set up online versions of their courses. These courses are live ones and or pre-recorded and the students might get to interact with the teaching faculty on a personal level (like it is in classroom coaching) as well. Hence it makes sense to do the course online in the current scenario. Hence I have made a list of the different institutes that teach GST online.
Master Certification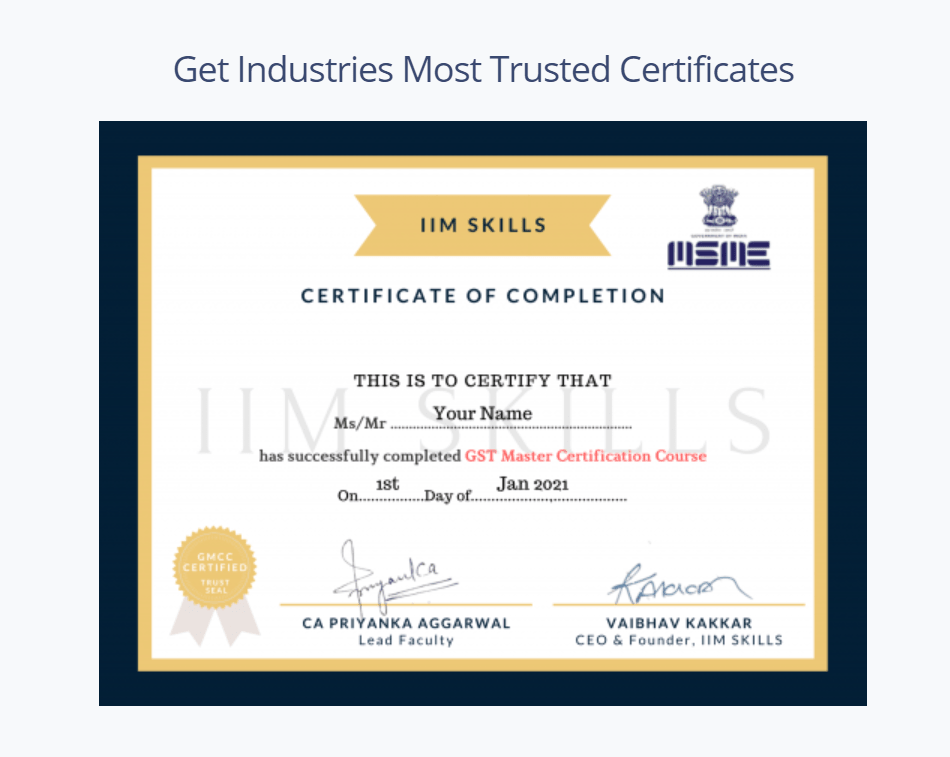 IIM Skills Top Brands Connections

Reviews and Testimonials

Recommended Read: Top 12 GST Certification Courses in India
More Professional Courses from IIM SKILLS
Business Accounting And Taxation Course
GST Certification Courses in Varanasi #2: GST Center
This is a course provided by TEACH (Topman's Education and Career Horizons Ltd). It is a company incorporated under the Companies Act 2013 and is also approved by the Ministry of Skill Development & Entrepreneurship, Govt. of India. It is also certified for ISO 9001:2015 and is promoted by Chartered Accountants. It conducts the following different types of courses:
Live online sessions
On-Campus Training Programs
Corporate Workshops
Their live sessions, which are of our interest, are conducted by experienced professionals and are conducted daily in the morning and evenings with the following timings:
Sr.No.
Days
Timing
Topic
Faculty
1.
Monday to Friday
6 AM to 7.30 AM

8 PM to 9.30 PM

GST
CA. Naison Louis
The entire course will be completed within a month and the students will have access to 6 batches in 3 months. The DGST course provided by this institute has the following salient features:
Study materials (GST beginner, GST Intermediate, and GST in Tally ERP9)
Live classes
Video tutorials in their own Learning Management System
Simulation software to provide hands-on experience in registration, payment of taxes
The simulation software is particularly useful in that it helps the students go through the process of registration, filing of taxes, etc which is a more hands-on approach than just understanding the theory.
The GST Beginner Module Provides The Following Skills:
Understand which individuals or organizations need to register for GST
Understand the right way to register taxable persons
Understand how to prepare all the right documents correctly
Understand how to arrive at a final price on which the GST is to be calculated
Understand how to generate an E-way bill
Practice payment of GST using simulation software
The GST Intermediate Module Provides The Following Skills:
What are inward and outward supplies in GST
How to calculate the CGST, SGST, and IGST based on the place of supply
Understanding GSTR-2A and GSTR-2B and checking the same
What is GSR-3B and how to file it monthly
What is GSTR-1 and how to file the same
What is the right method to file annual returns
This is a course that provides one with a very intense focused approach and opportunity to learn about GST and get the confidence to practice the same either for another organization or for your agency. The cost of this course is Rs. 6500. The exam at the end of the course will be held online and the passing students will receive a certificate of merit.
You can also review the Top 10 GST Courses in Delhi
GST Certification Courses in Varanasi #3: ICMAI
The ICAI (Institute of Cost Accountants of India) is a well-known institute in India that provides this course. It is a statutory body under the act of parliament and provides two courses on GST; Online Course on GST and Online Advanced Course on GST.
The first as the name suggests is the basic course and the second one provides an understanding of advanced concepts of GST.
The Salient Features of The Basic Course are as follows:
It is conducted completely online for a total duration of 72 hours
The assessment is also done online
Study test material and mock test papers will be provided to all students
It costs Rs. 10,000
The Salient Features of the Advanced Course are as follows:
It is conducted completely online for a total duration of 40 hours
The assessment is also done online
Study test material and mock test papers will be provided to all students
It costs Rs. 14,000
Live doubt clearing sessions would be provided for both courses. All cost and management accountants (members of ICMAI), other professionals (CS, CA, MBA, M.Com, Lawyers), executives from industries and tax practitioners, and students pursuing CMA or CMA qualified are eligible to apply to this course.
GST Certification Courses in Varanasi #4: Henry Harvin
Another well-known name in the teaching circles is Henry Harvin. Its GST course has been ranked as number 1 in the industry by India Today and Tribune India. Henry Harvin has an alumni network of 18000 professionals in 23+ cities across India. It is one of the oldest institutes and the first one to launch a GST course in 2016. The salient features of this course are as given below:
It has 32 hours of live online instructor-led classroom sessions
It provides the facility to undergo projects in GSTR 3B, GSTR 1, GSTR 2A, and more
It provides internship assistance to gain practical experience of the learning
It provides free access to #AskHenry hackathons and competitions
As part of this course, one gets 1-year gold membership
Recommended Read: Digital Marketing Courses In Varanasi
Frequently Asked Questions
I am not from a commerce background. Can I still do this GST certification course?
Ideally, if you are not from a commerce background, then this certification course will not by itself provide you with a successful career path. Look at it this way; if you are already in commerce and are going to grow as a tax consultant or in the accounts department in any company, a certified course will give you a leg up when competing with others.
For people from another background, it might lead to a job but growth might be restricted because of the lack of formal education in commerce. Another option is to freelance; in that case, there is no limit. The only limit is the one placed on yourself by your imagination.
I am a self-employed individual. Do I need to register for GST?
Most self-employed individuals might not be required to register for GST. However, there are cases where registration is mandatory. These cases are as follows:
The total value of services that you provide is less than Rs. 20 lacs in a financial year. It is Rs. 10 lacs for people from some north-eastern states.
If the services are being provided to a client outside India and you are residing in India.
Do I need to know or learn Tally?
For people who are planning to work in commerce, knowing tally is an advantage. However, even if you do not know Tally, there are some institutes like the GST centre which provide this training as part of the course material; but this is a rarity and not a general practice. If you are interested in learning tally then an online course specifically focused on the same would work wonders for you.
I am still confused about which institute to go with. Can you simplify it further for me?
It depends on person to person and the kind of time that they have available to devote to study. If you are already working and would like to have a self-paced kind of learning experience, then go ahead with IIM Skills.
If you would rather prefer to work on simulations and want both live and video recordings then GST Center is the way to go. If you are looking for doing it not from a training institute but an established financial organization then please go ahead with ICMAI. If you would like an instructor-led course but want access to possible internships and hackathons, then Henry Harvin is the right choice.
Conclusion:
It is said that one should never let go of grabbing the opportunity in any calamity. Since the onset of the pandemic, people have had more time on their hands as most of the people are still working from home and online courses are available a dime-a-dozen.
It is important to understand which of these courses are providing quality education and which are providing garbage in the name of education. This is where it pays to go with branded names as in all other walks of life too.
Our list of 4 GST certification courses in Varanasi will ensure that you are not left holding a dummy at the end of this course and have taken up some industry-relevant skill set that can be utilized immediately.