Top 8 Content Writing Training In Hyderabad With Placements
There is a demand for content writing jobs in cities big and small across India.  Hyderabad is no exception and is witnessing a demand in the content writing industry. We take you through the top 8 content writing training institutes in Hyderabad.

From the outside, the job of a content writer looks all rosy, but that is far from the truth. You need to embark on a journey to reach the rosy part of being a successful content writer. This journey is replete with hard work, patience, and expertise. It also requires exceptional research abilities, and the ability to write original content.
Coming to the demand for content writers, with globalization, all places with and without IT industries see a shift from traditional ways of marketing to digital platforms. This shift necessitates and gives rise to a whole new set of jobs in the digital marketing domain. Content writing is an essential aspect of digital marketing, and hence the demand in most cities.
Hyderabad, the capital of Telangana, is a major IT hub in India. Buzzing with IT industries as well as retaining its impressive old-world architecture, Hyderabad is a mix of the old and the new. A city of stark contrasts, it is home to some very noisy bazaars as well as to the HITEC City or Cyberabad.
Hyderabad, being a centre for big conglomerates and other businesses and start-ups, the digital marketing industry has grown leaps and bounds to help all businesses transition onto the digital platform. Consequently, the increase in demand for content writers as well.
You can check out our article on the top Content Writing Courses In Chennai 
There are many digital marketing training institutes offering content writing training. There is also exclusive content writing training institutes. Let us explore some top institutes in content writing training in Hyderabad.
IIM SKILLS
IIM SKILLS is a premium institute and a leader in the content writing training field. It is one of the best institutes offering content writing training in Hyderabad. It is a company that invests its time in identifying skills that are in demand in the job industry and provides affordable courses in up-skilling.
With its headquarters in New Delhi, IIM SKILLS has, within a mere five years, achieved training of 5000+ professionals with 1000+ pieces of training. Hands-on experience, international certification, and global placement assistance are just some of the benefits of learning from IIM SKILLS.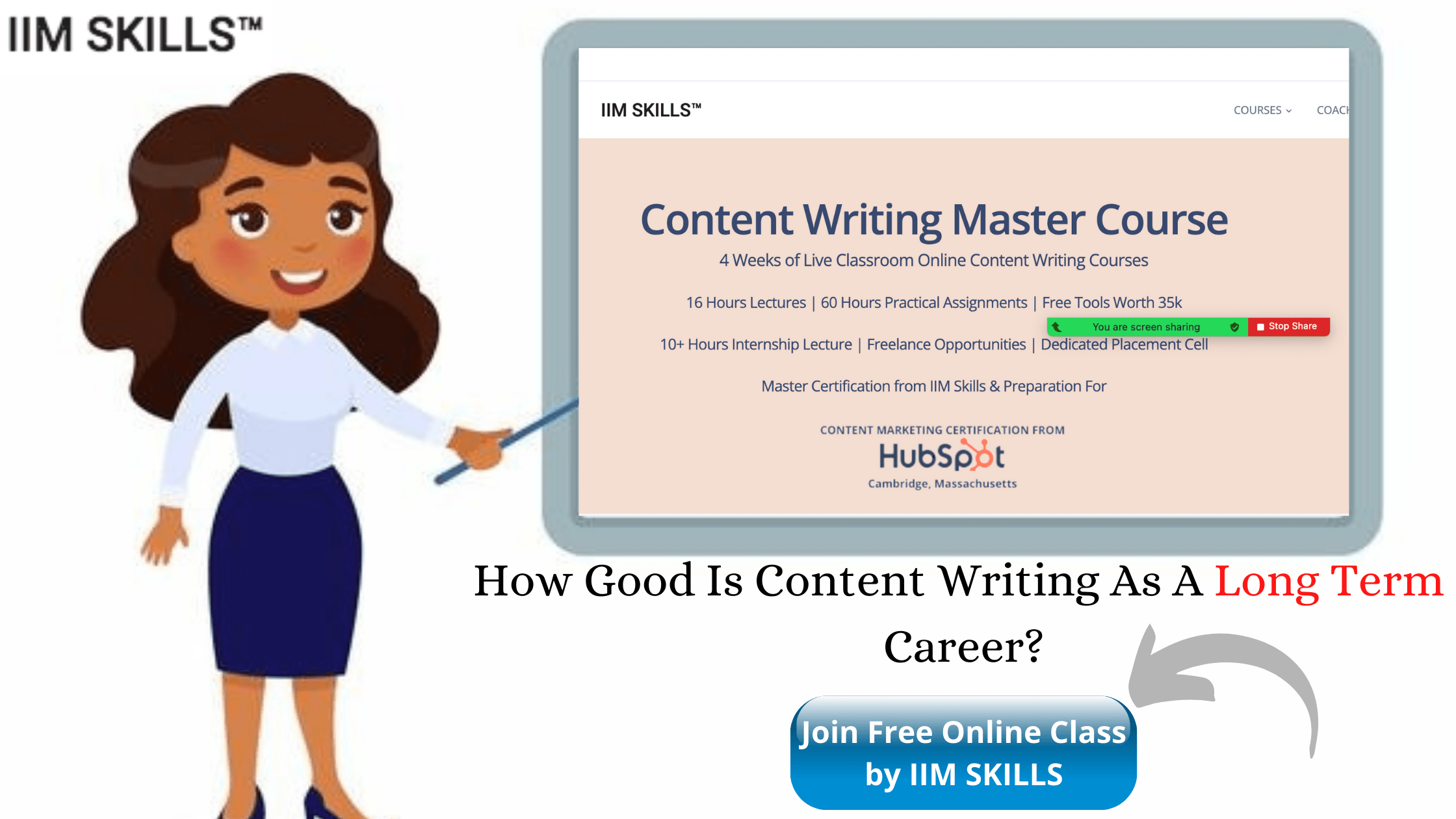 Through their courses, the enthusiastic mentors/trainers at IIM SKILLS engage, motivate, and guide the candidates into achieving their goals of financial independence. Currently, they provide courses in Content Writing, Digital Marketing, and CAT coaching.
Their flagship course, the Content Writing Master Course, is an exhaustive training program. It encompasses all the aspects of content writing, along with some basics of digital marketing that overlap and are essential to content marketing.
The Content Writing Master Course is suitable for beginners as well as existing bloggers or digital marketers. It is beneficial to students and homemakers alike with its income potential. There are no prior requirements for taking up this course. Participants will learn as they do as IIM SKILLS believes in learning by doing.
The course is more practical than theoretical. The participants work on live projects giving them a hands-on experience of what content writing is. Learning under the guidance of industry experts provides the course participants an unparalleled and enriching experience.
Course Name: Content Writing Master Course or CWMC.
Course Fee:  INR 14,900 + GST.
Content Writing Course Highlights:
The CWMC is open to all and accessible from any city and any device.
The curriculum includes four weeks of live online classroom training with 60 hours of practical assignments and 16 hours of lectures.
Modules start with web development by the end of which participants learn to set up a website and have it running.
Participants learn about creating killer landing pages, understanding web traffic, and setting up accelerated mobile pages.
The content writing module covers all aspects, including types and styles of writing, grammar, plagiarism, and even content publishing.
The curriculum gives hands-on training on various tools that are gold standards in the content writing industry. Participants use these tools on live projects and get real-time knowledge of the same.
Aspects of content distribution, automation, email marketing, and impact and use of social media form separate modules.
The curriculum also includes the use of Google Analytics, Google local pages, and other hacks for content writing and content marketing.
All-in-all, it is an efficient training program by the end of which participants will have the confidence to write blogs on the website created during the training.
Along with learning how to use various tools, the content writing master course provides free tools worth INR 35k to all the participants.
Another noteworthy feature of the course is the money-back guarantee. If a participant is not happy after the first session, he/she can claim back the money.
The faculty has 10+ years of rich experience in the industry and is excellent in guiding and motivating students to bring out their hidden potential.
The course is comprehensive and replete with all the learning material on the Learning Management System. Participants get free lifetime access to the LMS so they can stay up-to-date with the latest trends in the content writing industry.
Certification:
The Content Writing Master Course comes with a certification from IIM SKILLS, as well as the global accreditation from HubSpot for content marketing.
Contact Information:
IIM SKILLS (Co-Offiz) H B Twin Tower, 8th Floor,
Max Hospital Building, Netaji Subhash Place,
Pitampura, New Delhi-110034
Phone: 99118-39503
RAMESH INSTITUTE OF SPOKEN ENGLISH AND CONTENT WRITING
RISECO or the Ramesh Institute of Spoken English & Content Writing primarily offers cost-effective content writing services to businesses in Hyderabad and Visakhapatnam. The institute also has E-Learning Programs. For aspiring content writers, their content writing program is a complete career program.
Having been in the content industry since 2000, they have provided service to 1850+ clients across 18 verticals. They develop content for websites, flyers, brochures, articles, and company profiles. They also offer social media optimization, live mail text corrections, and YouTube business videos, amongst other things.
With such a strong background in content services, it is no wonder that RISECO is one of the top institutes for content writing training in Hyderabad. They have E-Learning programs for English proficiency, soft skills, and content writing.
Course Name: Professional Content Writer Certification (PCWC)
Course Fee:  INR 3,600
Duration of the course: The course is for two months/eight weeks.
Content Writing Course Highlights:
The PCWC prepares aspiring writers about the different aspects of content writing. It is a career program at the end of which candidates can choose to work as freelancers or as full-time content writers.
PCWC is a comprehensive online training program designed and developed by Mr Sanjay Nannaparaju, a web content writer and English trainer for two decades.
Admission is only by a screening test. Some basic writing knowledge will be of help in getting past the screening test.
PCWC accepts only 10 participants in a batch.
The eligibility criterion is graduation in any stream.
The training program is flexible with easy LMS (learning management system).
The unique feature of this program is the "earn your fee back." Paid writing assignments are a part of the learning which takes practical knowledge to a whole new level.
The blended learning combines classroom and online training with work on live projects.
All candidates are eligible for placement assistance.
The course curriculum has 15 modules, two practical, and one project.
Upon completion of the assignments, you can participate in the discussion forum and start working on freelance projects.
Certification: Yes. Upon completion of the course, candidates get the Professional Content Writer Certification.
Contact Information:
Sanjay Nannaparaju, 3-5-1004, Beside Narayanguda Swimming Pool, Narayanguda, Hyderabad, Telangana-500029
Phone: 98484-34615
Recommended Read: Digital Marketing Courses in Bangalore
SHREYAS CONTENT STUDIO
Shreyas Content Studio is a content creation agency that is an expert in SEO content writing, marketing collaterals, and technical content writing. It integrates best SEO practices into its content creation, providing value to clients. Their content writing services are inclusive of web content, copywriting, technical writing, product descriptions, brochures, landing page writing, etc.
Shreyas Content Studio or SCS follows the methodology of content strategy, content creation, and content promotion. Having worked for an impressive array of clients, Shreyas Content Studio is one of the top institutes offering content writing training in Hyderabad.
The company has a presence in India as well as UK, USA, and UAE. Being in the content creation sector, it is but natural that they know content writing from the inside out. Shreyas Content Studio is one of those few content writing agencies that offer training as well.
Course Name: Content Writing Training.
Content Writing Course Highlights:
The content writing training is online through conferencing platforms.
Training is by subject matter experts.
The course modules cover general topics, grammatical elements, and web content.
The training teaches about various publishing concepts.
It also discusses different types of documents created by content writers in detail.
Further, there is an emphasis on content writing ethics, plagiarism, proofreading, and editing.
Certification: Upon completion of the course, students get the content writing certification.
Contact Information:
Shreyas Content Studio
7-33, Bharadwaj, Bapuji Nagar,
Nacharam, Hyderabad-500076
Phone: 81793-63135
91607-07678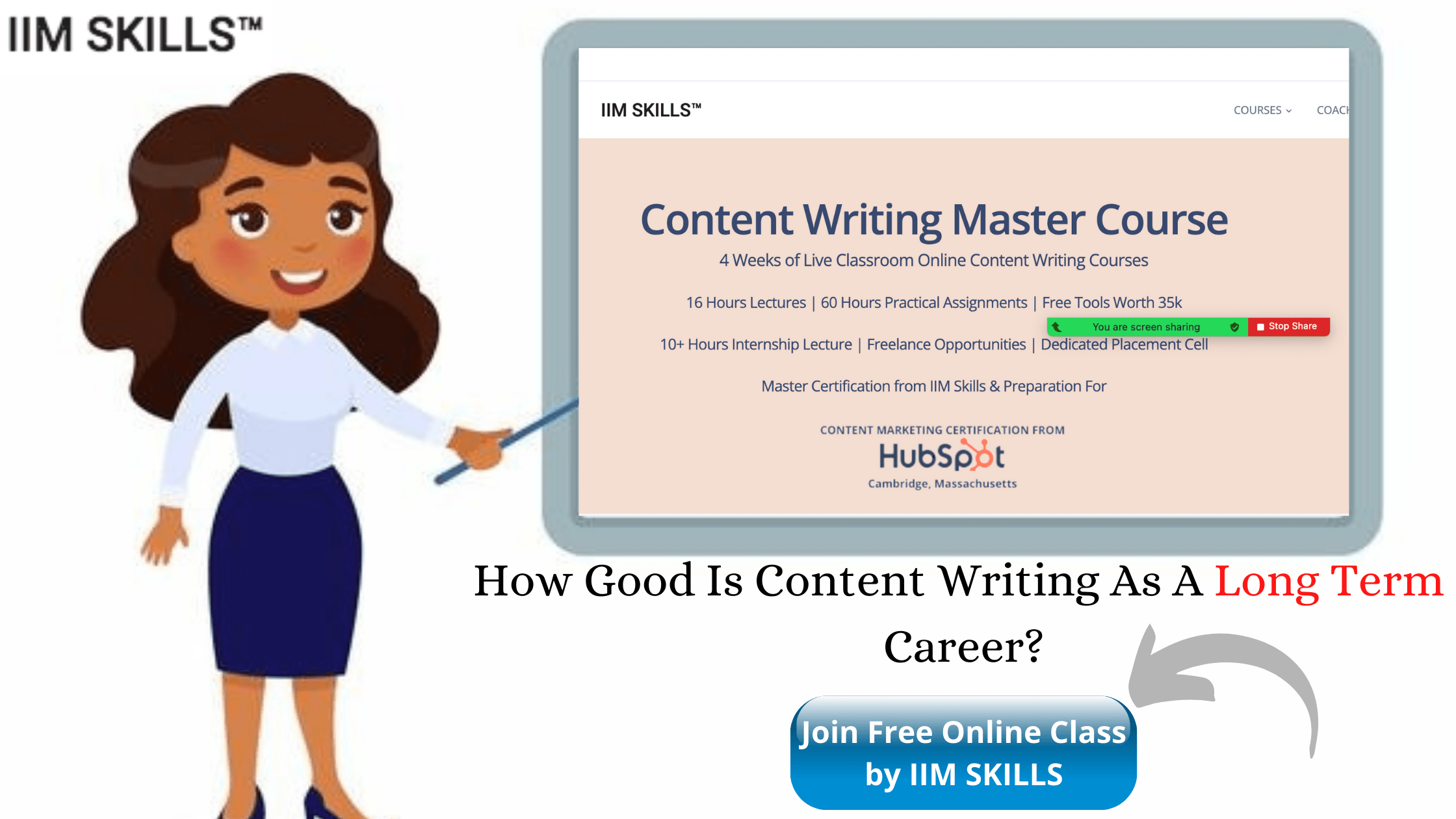 WEB TRAININGS ACADEMY
Web Trainings Academy is a digital marketing training institute that provides quality training as per international standards. It provides training for students as well as businesses. The focus here is on student satisfaction and providing real-time training through live projects.
Their training is either classroom training, online training, or video courses.
Web Trainings Academy trains students in various courses such as digital marketing, SEO, Google Ads, SMM, web designing, content writing, etc. The content writing training is only on the classroom platform.
Having won a prestigious award at the Radio City Icon Awards 2019, Web Trainings Academy is also one of the top institutes offering content writing training in Hyderabad.
Course Name: Content Writing Course.
Content Writing Course Highlights:
Web Trainings offers hands-on training in content writing to aspiring content writers.
The trainer has experience of more than two decades.
Web Trainings offers 100% placement support to all the trainees.
Prerequisites for the course include excellent communication skills, a flair for English.
Course objectives include an understanding of the impact of promotional messages.
The course educates the trainees on techniques for effective content writing.
It imparts an understanding of the impact of mass media promotion.
The trainees also learn about content development for different types of media.
The curriculum has nine modules, of which the first two deal with an introduction and what to know before content writing.
There are separate modules on blog writing, website content writing, proposal writing, writing for brochures, and social media posts.
Finally, there is a module for career development and project work.
Contact Information:
Zore Complex,
First Floor, Block 1, Flat 104,
Above Red Rose Restaurant, Opp. Erramanzil Bus Stop,
Punjagutta, Hyderabad, Telangana-500082
Phone: 90524-25444
 Recommended Read: Digital Marketing Courses in Pitampura
ACE WEB ACADEMY
A group of highly qualified professionals makes up the Ace Web Academy. They are into web development and other web solutions. Keeping in mind the evolving needs of clients, Ace Web Academy has made a name for itself by displaying high levels of expertise, timely delivery, unique designs, and affordable pricing.
Apart from various services, they are also into IT training with offices in convenient locations across Hyderabad, Telangana, and Vijayawada. Ace Web Academy provides online training in web designing, web development, mobile applications, digital marketing, content writing, full-stack development, java, artificial intelligence, IoT, and more.
Ace Web Academy is one of the top institutes offering content writing training in Hyderabad.
Course Name: Ace Content Writing Course
Content Writing Course Highlights:
The course includes 25 hours of learning with 20 hours of classroom learning. There are 18+ hours of simulation practice.
The academy has a rich experience of 10+ years and has trained more than 7k+ students.
It is a comprehensive course replete with a sound foundation.
The curriculum involves knowledge about web content and publishing methods.
There is a discussion on blogging with a step-by-step guide, along with useful resources.
The syllabus has a module each about general articles, press releases, and classifieds.
The course goes over social media postings and their details.
Finally, there is also a session on content marketing strategy.
Aspirants get an opportunity to participate in career-related seminars from time to time.
There is regular interaction with the rest of the industry to identify job opportunities.
Ace Web Academy assures 100% placement with its content writing course training.
Students have the choice of speaking with the counsellors or attending a live demo session before enrolling.
Certification: Candidates get an AWA certification (Ace Web Academy) as well as an internship certification. The course completion certificates given have goodwill in the market, making it easy for placement.
Contact Information:
Doshi Chambers, First Floor
3-6-327 & 328,
Basheer Bagh, Beside Commissioner Office,
Hyderabad-500029.
Phone: 98850-10497
ECORP TRAININGS
Since its inception, Ecorp Trainings has had a focus on training in the lasts IT technologies. It specializes in providing online and corporate training, IT, and HR consulting, including recruitment and outsourcing. They use best practices in the industry.
Ecorp Trainings have around 2000+ course with 2000+ certified trainers and 3000+ students. They provide online training, classroom training, as well as corporate training. The online training is live and instructor-led with 24 x 7 support. Aspirants can select the course they want, schedule a demo session, and start their learning journey with Ecorp Trainings.
Ecorp Training provides cutting-edge training and research services with operations in India, the USA, and globally. They have training programs in various fields such as accounts, finance, leadership, administration, management, IT, science, and development studies.
The institute offers content writing training in an online mode. Ecorp Trainings is one of the top institutes providing content writing training in Hyderabad.
Course Name: Content Writing Training
Duration of the course: The course is 25 hours of online training. It is a 12-day program extending up to two hours a day.
Content Writing Course Highlights:
The training is entirely online.
It involves real-time scenarios with interview guidance.
Ecorp Trainings provide one-to-one student attention with a small batch size.
The course teaches content writing from scratch and includes research and editing.
The online virtual classes are available in the mornings, evenings, and weekends.
No prerequisites to take up the course.
Course content includes essentials of writing, introduction, and types of writing, plagiarism, grammar, proofreading, editing, and also writing for the web and ultimately publishing.
Course Inclusions: Course Material.
Contact Information:
No. 318, Down Town Mall, National Highway 9,
Beside Lotus Children's, Hospital, P & T Officers Colony,
Lakdikapul, Hyderabad, Telangana 500004
Phone: 81431-11555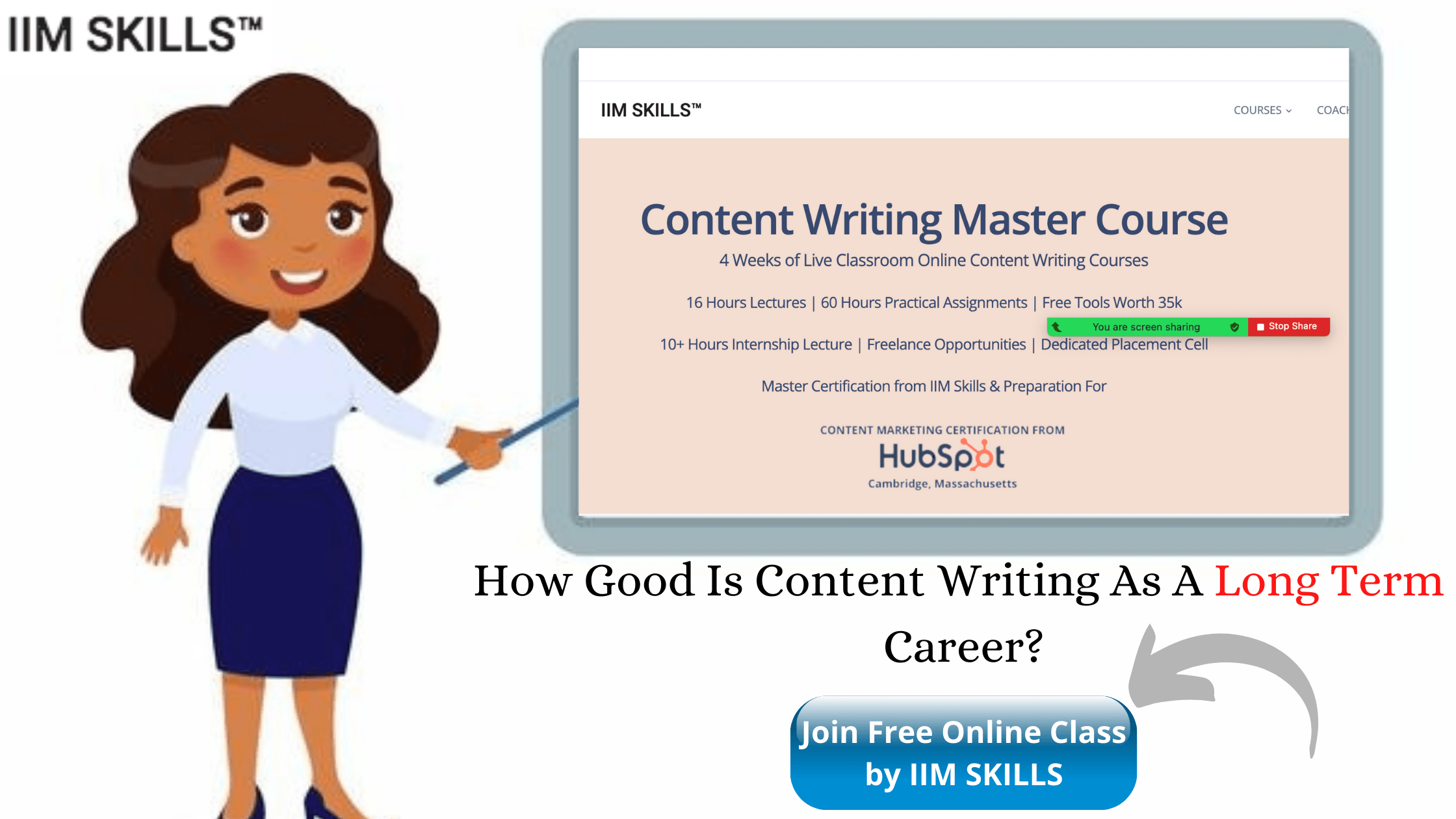 DIGITAL MARKETING SERVICES
Digital Marketing Services or DMS is a leading digital marketing agency with clients across the globe. The DMS team provides innovative, operative, feature-rich web designs.
DMS provides various digital marketing services, including search engine optimization, search engine marketing, social media optimization, social media marketing, online reputation management, and email marketing. Also on offer are content marketing, mobile marketing, conversion rate optimization, and affiliate marketing services.
The training arm of their company provides courses in digital marketing and content writing primarily. Having extensive knowledge in digital marketing services and training, DMS is also one of the top institutes offering content writing training in Hyderabad.
Course Name: Content Writing Online Training
Content Writing Course Highlights:
The content writing training is available as a classroom course or online platform. It is also available as a fast track course and available as weekend classes as well.
The syllabus includes the working of a search engine, introduction to online goals, user intent analysis, and types of online audiences.
Next in the course is learning about keywords in-depth, SEO, and content calendar preparation.
The course then moves on to the different types of content writing in detail, including publishing.
Ultimately students learn about content quality and quantity factors with the basics of content marketing.
There is an internship opportunity with a stipend.
The internship program is for six months. Students benefit from the program in terms of better writing ability, valuable experience, writing for various niches, enhanced employability, and a chance to work within the same company regularly.
There are content writing workshops that are relevant and interactive and conducted by industry experts.
Certification: Yes, all participants get a course completion certificate.
Contact Information:
Phone: 79897-19730
RISHI ONLINE TRAINING
Rishi Online Training is also one of the top institutes in Hyderabad, offering content writing training. They provide online training for some across the globe high-demand certification courses. They have experienced faculty and employ quality training methods.
Rishi Online Training provides training in areas like software, DevOps, programming languages, data science, digital marketing, and content writing. The academy provides training to many individuals, professionals, as well as companies.
Course Name: Content Writing
Content Writing Course Highlights:
The training is online, and course notes given via email.
There are back up classes if candidates miss classes due to genuine reasons.
There are mock interviews as well as placement assistance once candidates complete the course.
The learning is entirely online and hence interactive learning.
The faculty has good experience and guides students, clearing their doubts.
Certification: Rishi Online Training provides a course completion certificate.
Contact Information:
Block 3, HIG-34,5th Phase,
Opp Forum Mall,
Kukatpally, Hyderabad, TS-500072.
Phone: 97040-70384
FAQS
1. Which Is the Best Content Writing Institute?
Considering all the important criteria like faculty members, Job-support, training methodology, curriculum, post-placement support, student reviews, and testimonials, we rank IIM SKILLS in Position 1 for Content Writing Courses.
2. Will there be 100% Placement Assistance Once I complete the content writing course?
Several institutes offer placement guarantees, interview assistance, soft skills development, and resume preparation. We recommend you to check with the institutes regarding the same. 
3. What Is The Average Fee for Content Writing Courses? 
The Average Fee for Content Writing courses is anywhere between Rs 10000 to Rs 20000 for a duration of 1 month to 3 months. 
4. What is the best way to start a content writing career? 
The best way to start your content writing career would be to sign-up for an intensive content writing training course. Thereafter, create your own website and create content. With relevant and good-quality write-ups, you will get visibility.
IN CONCLUSION:
Though there are many content writing service providers in Hyderabad, there are few institutes that provide training to aspiring candidates. If you are an aspiring content writer from Hyderabad, you can go through the details of the top 8 institutes mentioned above. Some institutes offer a demo session, and yet others provide counselling. Choose one that offers an internship and assists in placement.
There are educational platforms like Udemy, Coursera, Skillshare, Unacademy, etc., offering content writing courses. These platforms mostly provide video tutorials, along with tasks and assignments, and are self-paced. In contrast, the most significant plus point of joining an institute and taking online or classroom coaching is the live interactive sessions. The live projects and assignments go a long way in assimilating all the learning at a faster pace.
Take time to go through the details of the prospective institutes that you shortlist and then make a decision.
Whatever your background, whatever your calling, every newbie writer can find motivation in a few nuggets of inspiration. Here is one for all the aspiring content writers out there.
"Writing isn't about using big words to impress. It's about using simple words in an impressive way." – Sierra Bailey.