Business accounting and taxation, also referred to as BAT has always been an in-demand skill in the accounting sector. Today big companies and individual businessmen have understood the importance of accounting and taxation. With people and companies becoming aware of the importance of tax filing, the demand for BAT professionals is growing. Over the years the process of accounting and taxation has changed and become more detailed. Professionals are required to keep themselves updated with the changing taxation policies and file returns for the companies or individuals in the speculated time. BAT is a professional program for individuals interested in the accounting field.  If you want to make a career in this domain, here is a list of the top 9 institutes offering Business Accounting and Taxation courses in Mumbai.

What is Accounting?
A systematic recording, analysis, and interpretation of financial information of a business are referred to as business accounting. Accounting can be done by an individual or by a group of people depending upon the size of the organization. Financial accounting involves preparing financial sheets like cash and income flow statements, balance sheets, etc.  Accounting helps businesses to meet their compliance obligations and make smart choices with their money.
What is Taxation?
Taxation is a legislative process where the authorities, usually the government or the state, levies tax on individuals, groups, and companies. Taxation is an important component of a country's financial structure. This is a source of revenue for the government which is used for economic growth and development.
In India, the tax levied is divided into two categories, Direct Tax, and Indirect Tax. Taxes that are paid directly to the government are referred to as Direct taxes. These taxes are levied upon income and property, which are assessed by the government. The rate of tax is determined by the Ministry of Finance each year in the annual budget.
Whereas taxes levied upon sales of goods and services is referred to as Indirect tax.  This is governed by the Good and Service Tax, 2017. The Central Goods and Service Tax (CGST) and Integrated Goods and Service Tax ( IGST) are paid to the Union whereas the State Good and Services Tax (SGST) is paid to the state.  It also includes The Central Exercise Act 1944, The Customs Act 1962, and The Goods and Service Act 2017, and in certain cases Sales Tax is also applicable.
The course lays a platform for fresh graduates and interested candidates to build a carrier in this field. The program aims to teach the students the Indian taxation system, basics of accounts, payroll policies and some very important concepts of economics, and much more. It imparts in-depth knowledge for a better understanding of the subject.
Mumbai is the financial capital of the country, there is a vast scope of students who peruse Business Accounting and Taxation courses in Mumbai. Candidates with this certificate can work in various government and non-government organizations.
With this certificate, one can work in numerous fields of accounts and taxation, like Taxation, Auditing officer, Revenue agent, Corporation Taxation, Accountant, Tax Policy Analyst, Employment Tax specialist, and other such.
Here are a few other courses that could be of your interest.
Eligibility Criteria
The interested candidates should have a Graduate degree in Commerce to do a Post Graduate program in Business Accounting and Taxation. This is beneficial to fresh graduates who have less than 2 years of experience. There are no exams conducted for admission in this course, admission depends on the percentage you attained in graduation.
Interested applicants can visit the official website of the institutions and get the details from there. Here is a list of the top 9 institutes that offer these ensure Business Accounting and Taxation courses in Mumbai.
Rank# 1. BAT Courses in Mumbai
1. IIM Skills
IIM Skills is a renowned institution offering professional courses online. One of the top-selling lines is their Business Accounting and taxation courses in Mumbai as it is designed keeping in mind the up-to-date industrial skills. The course covers fundamentals before going to the advanced topics. This makes it easy for the students to understand the topics with clarity.
The institute has trained over 25,000 students and given them proper assistance for global placements.  IIM skills shares tie-ups with companies like Dell, Amazon, IBM, HTC global services, and other big leaders which has made it easy for them to understand the market trend while developing their curriculum. The course is divided into 6 modules and takes about 4 months to complete.
Course Fee – ₹ 49,900+18%GST
BAT Course Syllabus:
Accounting and accounting tally
GST and GST in tally
Tax Deducted at Source (TDS) in Tally
Payroll with h tally
Income Tax
Advanced excel and MIS reporting
 Course Highlights
100% Job assistance
Tool driven training
Practical learning
24×7 support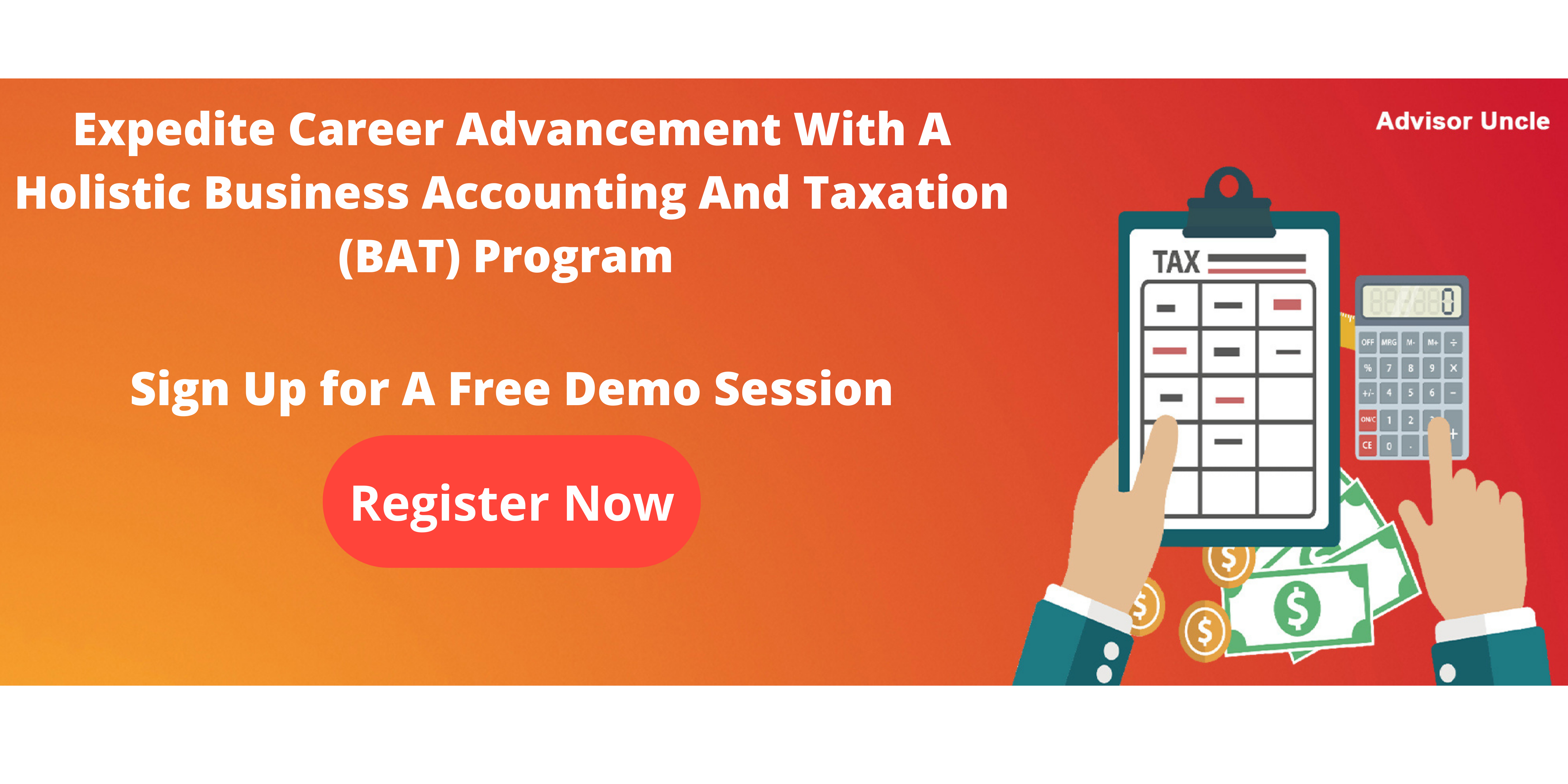 More Professional Courses from IIM SKILLS
Rank# 2. BAT Courses in Mumbai
2. Laqshya Institute
Founded in 2009, Laqshya is a government-recognized ISO-certified institute in Mumbai with various locations across the city. They ensure that their students meet the industry requirements, therefore they have a detailed curriculum that is prepared by professionals in the field.
Their trainers are highly qualified professionals from the industry. The students are provided with classroom training along with practical sessions on weekdays or weekends depending on their availability. For this reason, the institute is on the top 9 list of Business Accounting and Taxation courses in Mumbai.
An online option is available for people who cannot attend the class in person. Certification is given only to those students who clear the assessment. The course is offered to freshers and professionals with different models to suit the level of the student's understanding.
Course Module 
Basic Accounting with Tally & Basic MS-Excel
Advanced Tally Entries & Practical Accounts
Tally Prime with GST Entries
Direct Taxation
Income Tax
Tax Deduction at Source (TDS)
Advanced Accounting and Finalization
Highlights
Live Projects
100% Practical Training
Government Form Filling and e-Filling process
Course delivery through experienced CA's
 Notes and Study Material is provided
The fast track option is available on request
Sunday Batches are available for working professionals
100% Placement Assistance provided
Recommended Read: Business Accounting and Taxation Courses in Thane
Rank# 3. BAT Courses in Mumbai
3. ITAA – Accounting Shiksha
Located with its headquarters in Thane (W) in Mumbai, ITTA is spreading its wings all over the country. Currently, they have branches in the western & eastern suburbs of Mumbai, Pune, Ahmadabad, and Vadodra. Accounting Shiksha is a course designed to impart practical knowledge in accounting.
This course is offered in 4 languages Hindi, English, Gujarati, and Marathi. This is the only institute to conduct Business Accounting and Taxation courses in Mumbai in 4 different languages. The program is a good blend of Tally, accounting, and Taxation, where the students not only learn Tally and accounts but also the implementation of these in the real world.
As the institute focuses on the importance of practical learning and application, thus 70% of its curriculum is based on understanding and application of practical accounting and taxation. This course is partnered with a few colleges in Mumbai and Gujarat. The Chartered Accounting Committee also approves it.
The institute is a selective partner of Tall pan India which gives them the authority to provide discounts for students when they purchase Tally software. The program is completed in approx. 50 hours. On completion, the students are given a certificate from ITAA and Tally Academy.
Course Curriculum 
Tally Prime- Basic and advanced accounting
Learning from experienced experts as faculties
Practical experience with the appropriate market practices
Bank Reconciliation
Accounting for Taxes (Income Tax and GST)
Overview of MS Word, Excel, and PowerPoint
1 year of free access to Tally Academy
Highlights
The course is conducted in 4 languages
2 certification
1-year access to Tally Academy
1-year placement assistance
Discount on purchase of Tally software
Rank# 4. BAT Courses in Mumbai
4. Edupristine-
EduPristine is one of India's largest and oldest Accounts and finance Training Providers. Founded in 2008, EduPristine provides an online platform and a network of classrooms pan India that caters to the growing demand for various courses through physical classes, self-paced and online learning.
To apply for the BAT courses in Mumbai, the candidate must be a commerce graduate and /or a fresher with less than 2 years of work experience. This course is a mix of theory and practical experience to give the students an overview of their working environment. This helps the students to excel in their jobs. The business and taxation program takes about 5 months to complete.
Course Curriculum:
Basic accounting
Tally –ERP Software for Financial Reporting
Goods and Service Tax ( GST)
Direct  and Indirect Taxation
Payroll and its Components
Finalization of monetary statements
Ms-Excel for  Accounting and
 MIS Reporting and MIS
SAP module (Simulation-Based)
Key Features:
Practical and experiential learning
Soft skill development
Placement assistance provided
Access to Learning Management System (LMS) for 1 year
4  certificates
Experienced trainers
Recommended Read: Business Accounting and Taxation Courses in Goa
Rank# 5. BAT Courses in Mumbai
5. NIFM- Diploma in Financial Accounting, Auditing & Taxation
NIFM is a top institute in India providing courses in the financial market, accounting, and taxation. It is a private vocational training institute, providing short-term and long-term courses across the country. They conduct online and offline line programs. They use a practical approach and work on live projects that improve the student's understanding.
They continually modify their courses as per the industry's needs. The designed course meets the industry demands in the Business accounting and taxation sector. To take admission in this program the candidate must have a 10+2 certificate and be familiar with computers, MS Office, and the Internet. The course takes 9 months to finish.
Course Fee:
₹ 85,000 +GST ( in 6 installments)
₹ 75,000 +GST (onetime payment)
Curriculum: 
Business Accountancy
Goods and Service Tax (GST)
GST filling with Tally ERP 9
TDS/TCS
Tally ERP 9
Income tax
Payroll
Auditing
 Key Features:
Practical training from industry experts
Diploma in Financial Accounting Certification from NIFM
Personality development assistance
100% placement assistance
Flexible Schedule
Rank# 6. BAT Courses in Mumbai
6. Aptech Learning –
Aptech institute is one of the best educational institutes for professional courses. Under the umbrella of Aptech Limited, Aptech learning conducts courses in IT learning solutions, banking and finance, and English communication. It is one of the premium institutes to conduct Business Accounting and Taxation courses in Mumbai.
The institute teaches the latest accounting techniques and trains the students for various roles in the field of accounts, finance, banking, and tax Qualified teacher help the students achieve their goals. The institute also conducts various placement workshops, jobs, and industry seminars soo that the students can interact with industry experts.
BAT courses are 15 months long where classes are held on the campus for 2 hours a day, 3 s in a week. The program can be perused by any undergraduate working professional.
Course Fee:  The course is priced between ₹ 48,000 – ₹ 70,000
Curriculum
The program is divided into two parts. The first part covers basic computer applications, business accounting, and tally. The second part focuses on advanced accounting and banking & financial services.
Part 1
Business Computer Applications
Advanced Excel
Business Accounting
Accounting with tally-ERP9
Accounts receivable and accounts
Payable ( AR and AP)
Recording and Reporting ( RR )
Business Communication
Project 1 ( Business accounting and tally)
Part 2
Statutory Compliance
Payroll (PR)
Direct Tax
Goods and Service Tax ( GST)
TDS
Advanced Accounts
Banking and financial services
Financial Accounting and Cost
Controlling-ERP
Project 2
Key Features:
Explore the world of finance with an extensive opportunities
Training in accounts, banking, finance, and transaction
Tally software used in detail
Recommended Read: GST Certification Courses in Thane
Rank# 7. BAT Courses in Mumbai
7. Learning Stage – Practical Business Accounting and Taxation
The learning stage offers Practical Business Accounting and Taxation courses in Mumbai where they follow 80% practical and 20% theory, model. For in-class learning, they conduct classes in Thane and Navi Mumbai. The institute has highly professional trainers who are setting global standards for professional practical training with advanced job-oriented courses.
The course is offered in the classroom, online, and through direct learning methods. Students can choose their available time from weekdays to weekends, and it takes up to 3 months to complete the course. There is a fast track option available which can be completed in 1 month. This is one of the few institutes that provide Business Accounting and Taxation courses in Mumbai on a fast track.
Course Fee: ₹ 15,000 (they currently have an off of 20% off)
Curriculum
Bookkeeping with Tally ERP9 & its functionalities
Basics of Accounting covering financial statements & reports
Routine Entries
Balance Sheet Finalization
Direct tax – Income Tax Computation
TDS Deduction
TDS Correction Process
Short Term & Long Term Capital Gain Calculation, DTAA-Act
Online ITR-I, ITR-II & ITR-III E-filling
Gift Tax, Clubbing of Income
Complete Introduction of CGST, SGST, IGST
GST return filing
New tax invoicing system
Input tax credit
E Payment and Returns under GST sections
Transfer of tax credit
 Payroll Reports and MIS reports
Employee's Taxation, Professional Tax
Provident Fund, ESIC, Gratuity, and Bonus
Advance Excel
Key Features
Affordable fee
Practical training
Personal Guidance
Best faculty
Flexi mode
Carrier assistance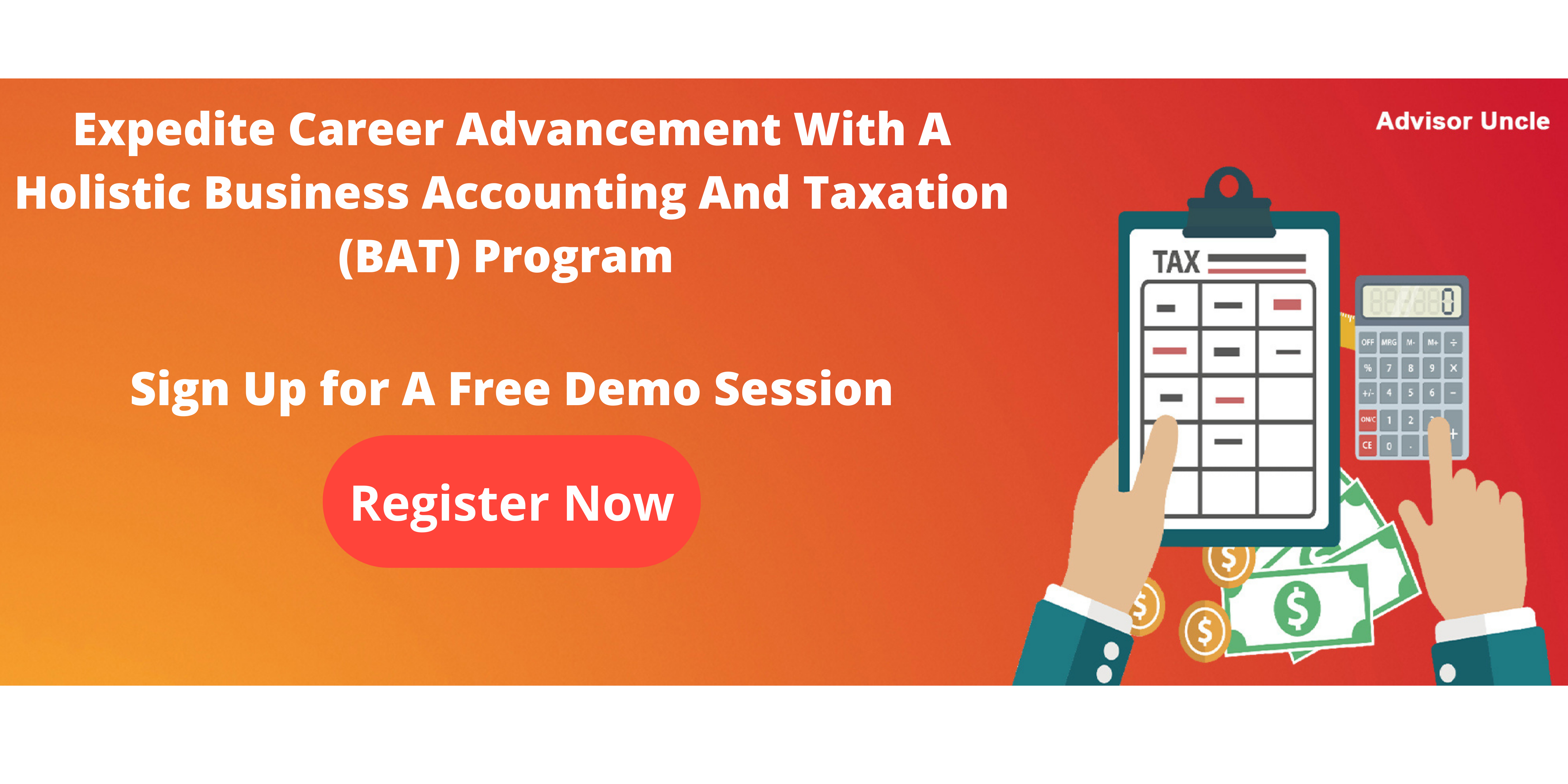 Rank# 8. BAT Courses in Mumbai
8. IBA – Practical Accounts and Taxation (PACT)
Institute of Business Applications (IBA) is a well-known name offering business accounting and taxation courses in Mumbai. It is India's highest-quality education service provider. They have many courses in accounting, finance, taxation and PACT course are a few to name which make the candidates ready for the industry.
Their practical accounting and taxation skills course is called the PACT. The course focuses on improving accounting skills and learning concepts of taxation which improves their carrier prospects in the accounts field. Students who intend to join this course should be a graduate in any field.
Professionals and business owners can also take this course to improve their accounting skills. This is a good course as it is flexible and available to do on weekdays and weekends for working professionals, for which reason it is on the top 8 list of Business Accounting and Taxation courses in Mumbai.
Course Syllabus:
Account up to finalization
Accounting standard
Payroll
Financial report analysis
Audit
Income tax, GST & TDS
Course Highlights
The institute offers the best practical skills along with training
Easy Method of explaining
Has a good Learning Environment
100% job placement
Helps in building confidence for independent working
Recommended Read: Financial Modeling Courses in Pune
Rank# 9. BAT Courses in Mumbai
9. Henry Harvin –
Henry Harvin is a top Education company offering many programs to up-skill across the globe. The institute offers many courses in finance and taxation and BAT is one of the best courses to avail. The course covers, Accounting, Income Tax, GST, Payroll Hr payroll, etc.
The course is designed in a way that it gives the students practical knowledge through Tally and Excel. This is a 6 months intensive course with additional 6 months for an internship. The institute is affiliated with big MSMEs, foreign institutes, and the Government of India and gives Master Certification in Accounting and Taxation which is globally accredited.
This 9-in-1 program consists of training, projects, internship, certification, placement, e-learning, boot camp, hackathons, and gold membership making it one of the top courses to do.
Course Curriculum
GST Practitioner- GST, Models of GST, GST Invoicing, Returns, and Refund
Income tax course-  Income Tax return / Tax Audit, Income Tax, Exemption, and Deduction
Financial Statement Analysis – Prepare Statutory Reports, PF, ESI, PT, TDS, and more
Know about Labor Law Statutory compliance, Provident Fund, Professional Tax
Learn Advanced Excel Functions
Learn about the Comparative analysis of the Provisions of Depreciation in the Income Tax
Learn Accounting Management with Advanced Tally ERP 9
Learn SAP Integration, SAP FI- Financial Accounting basic settings
Highlights
Soft skill development
Resume Writing
6 months of internship
100% placement assistance
Interview Guarantee
Integrated curriculum
Industry graded projects
FAQ
Q1. How do I apply for Business Accounting and Taxation courses in Mumbai?
To apply for Business Accounting and Taxation courses in Mumbai, one can directly contact the institute or check their website for details. Most of the institutes provide admission details on their website where they ask you to fill out an application form so that they can get in touch with you.
Q2. What are the eligibility criteria for doing Business Accounting and Taxation courses in Mumbai?
Most of the institutes ask for a graduation degree in commerce. Some institutes take some some some some institutes take to students holding graduation in other fields as well. Students awaiting their final results can also apply. Fresh graduates who have less than 2 years of experience are also eligible for this course. Having some knowledge about accounting and Excel is helpful during this program.
Q3. Why do companies require Business accounting and tax professionals?
Companies require business accounting and tax professionals for various accounts and tax-related jobs such as bookkeeping of sale purchases, expenses, etc, tax filing, tax calculation, etc. Nowadays, even individuals require BAT professionals to do their accounts and tax-related work.
Q4. Do institutes provide certification for doing the course?
Yes, all institutes provide certification at the end of the course. In some institutes, the candidate is required to clear the assessment to get a certificate.
Conclusion
Mumbai is a hub of business in India and opens many opportunities for people doing a course in business accounting and Taxation. BAT course certificates create many avenues like Accounts executive, Clerk, Supervisor, Auditor, Evaluator, and many more such opportunities. One doesn't need to work for big companies and can open a business as they gain experience in the field. Today's generations have become aware of the importance of taxation and want to file income tax returns, they also want help in maintaining their financial holding, and here is where a BAT professional can come to assist. There are many opportunities in this field and to peruse this course the list here of Business Accounting courses in Mumbai would be of great help.