Business Accounting And Taxation Courses or BAT as it is popularly known are conducted by top-notch institutes in India to impart incisive knowledge to professionals and students in diverse finance disciplines. They offer training in topics like Tally, GST, payrolls, TDS, shares, and stock markets which are innate to the finance sector. Thorough comprehension of Business accounting and taxation terms and concepts is integral to the smooth execution of financial tasks. In this article, we are going to cover the top 10 business accounting and taxation courses in India to enlighten you on BAT Courses, the syllabus, their efficacy, and the job prospects after successful completion of the course. 

Why are BAT courses so much in-demand today?
The reasons for the high demand for BAT courses in India are multitudinous. 
There is a significant gap in the demand and supply of accounts professionals who understand the best practices of accounting and taxation and can carry out complex tasks with ease. 
The BAT courses in India give the opportunity to students and professionals who have a penchant for finance and mathematics to bolster their existing skills and offer solutions to business organizations for all their financial requirements. This solves two purposes – businesses get the required skills and manpower, and professionals get lucrative options.
The financial sector is a highly paid industry (initial salary ranges from 3 – 4.5 lakhs) where people who have the ability to successfully perform accounting and taxation work have a very promising future awaiting them. Once you have proved your mettle as a finance professional, you are in a position to charge an amount that you feel is commensurate with your acumen and services.  
Here are the top Business Accounting and Taxation Courses in India (BAT) that empower you to gain enhanced skills in business accounting and taxation to flourish as a finance professional. 
1. IIM SKILLS
In the world, of professional courses, IIM SKILLS is unparalleled. The institute offers a variety of job-specific courses for people from diverse professional backgrounds. Their business accounting and taxation course (BAT) is an intensive curriculum designed to give you an all-encompassing knowledge of BAT. The course helps to develop insight into complicated operations and activities of the financial industry thereby preparing students to face challenges with conviction and to triumph over difficult situations no matter how adverse they are. 
IIM SKILLS BAT Course comes with a total of 112 hours with meticulous training on the most important concepts of business accounting and taxation. With their comprehensive courseware and innumerable benefits, they are one of the best business accounting and taxation courses in India. 
The Course is divided into 6 modules covering the most pertinent topics that will equip you with the necessary skills to prosper in the financial sector.
Course Name – Business Accounting and Taxation Course
Syllabus
Accounting Fundamentals And Accounting In Tally 

Basics Of GST 

GST In Tally 

Basics Of Tax Deducted At Source (TDS)

 Computation Of TDS 

Payroll With Tally 

Income Tax 

Advanced Excel And MIS Reporting
You will work with several tools in the training program to help you become more well-versed with accounting and taxation.
 Some of the tools taught in the BAT Course are as follows:
Advanced Excel 

Tally 

Quickbooks 

BUSY
The only requisite requirement for enrolling in the course is a bachelor's degree in finance or any equivalent degree from a recognized University. You should have a working knowledge of the internet and computers. It will be favorable for you if you possess basic communication skills, both written and verbal. 
The BAT Course will bolster the resumes of the following:
Commerce Graduates 

Tax Professionals 

Accountants 

Finance Professionals 

Entrepreneurs 

Chartered Accountants 

Company Secretary 

Start-Up Owners 

Tax Consultants. 
Why Should You Choose IIM SKILLS For BAT Course in India? 
IIM SKILLS ensures that the course is disseminated in a way that offers flexibility in timing and batches. This enables you to upskill at a convenient time without having to compromise on your prior commitments. 
The learning management system for the BAT course is available for free lifetime access. It is a repertoire of learning materials, resources, case studies, recorded classes, presentations, and all updated information on business accounting and taxation. 
The learning pedagogy is impeccable and conducted by astute finance professionals who have had years of experience honing their skills and becoming coveted names in the finance industry. 
Once you complete the course you will be able to apply for important job profiles in the finance and taxation industry. The course successfully bridges the gap between the need and demand of taxation and accounting professionals. 
If you are interested in other finance courses, check out the Best Financial Modeling Courses in India. 
IIM SKILLS has a tie-up with the following companies for placement assistance  

Reviews and Testimonials 
Contact : info@iimskills.com , 9911839503. 
Check out some in-demand Professional Courses
2. NIMB
National Institute of Management and Business Studies offers a BAT Course In India that encompasses all the vital elements of accounting and taxation. The course is divided into 6 modules and incorporates two practical projects for better comprehension of elements of accounting and taxation.
The duration of the course is 2 months.
Options are available for daily classes or alternate-day classes. They also have the provision of attending weekend classes. 
The curriculum is well-structured and formulated by industry veterans who have in-depth knowledge of the business accounting and taxation domain. This makes the institute one of the finest business accounting and taxation courses In India. You have a variety of features like placement assistance, flexible learning schedule, industry-recognized certificate, live interactive learning as well as physical classroom sessions. You can download the course brochure from their website. 
After successful completion of the course, you can take up the position of a business analyst, Senior Business Manager, Accounts Executive, General Manager, Deputy General Manager, and lecturer. Thus, it opens up a world of opportunities for you to explore. 
Contact : nimbenq@gmail.com, 8384048346
Read on to know about some of the other highly professional courses conducted in India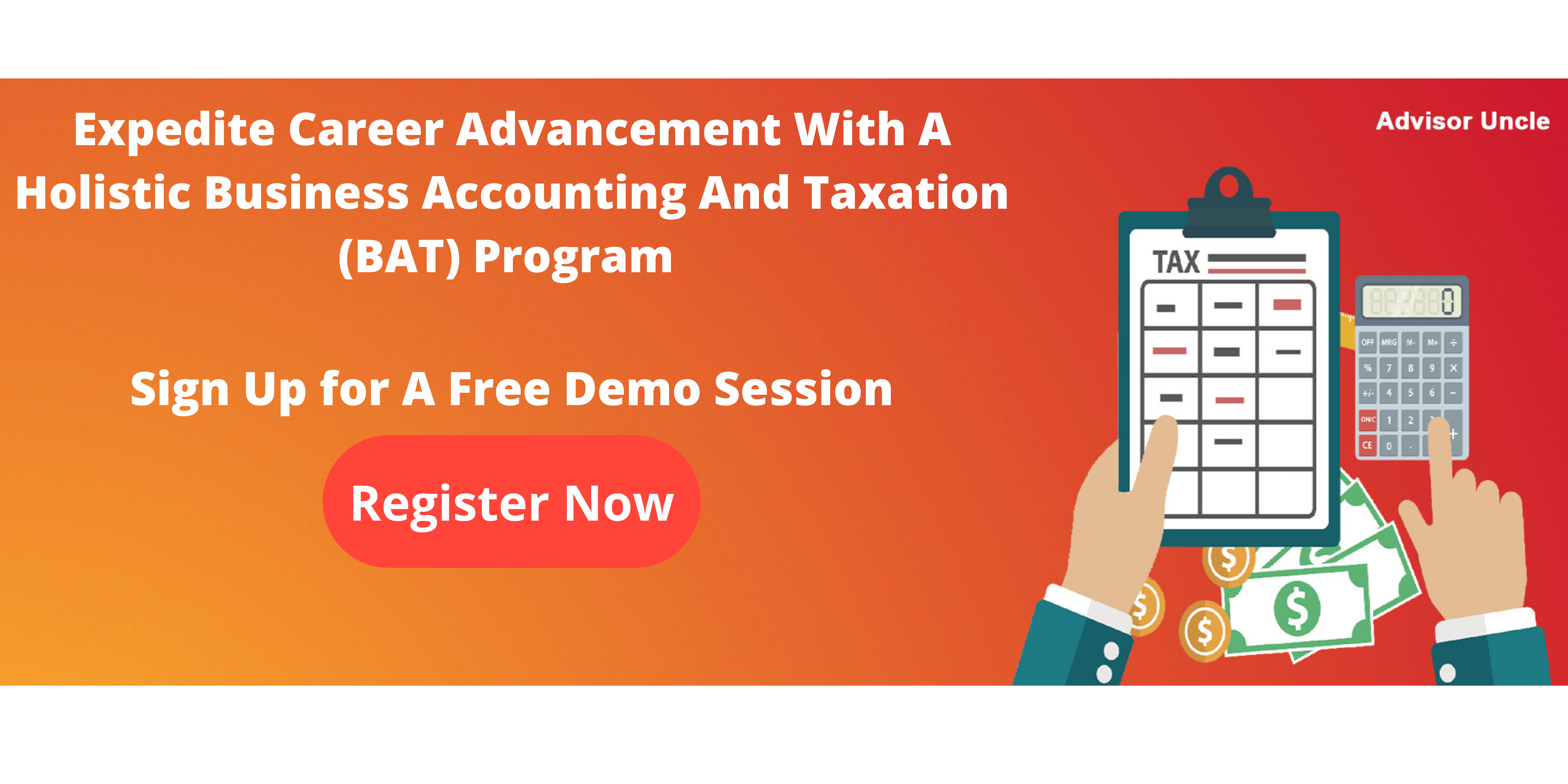 3. NIFM
The National Institute of Financial Markets ( NIFM) is a coveted training institute that offers one of the leading BAT Courses In India. They conduct long-term and short-term, career-specific courses that help you to develop your skills and strengthen your CVs. They offer virtual classes as well as offline classes. 
All the courses involve topics relevant to the financial sector. There are a variety of courses on the stock market, commodities market, fundamental analysis, technical analysis, debentures, share market, derivatives market, forex market, and more. 
They have state-of-the-art facilities for students to learn the concepts with proper hands-on training. It provides an immaculate learning experience so that you imbibe the best practices of BAT with precision. 
Course Name – Diploma in Business Accounting and Taxation
The qualification for the course is 10 + 2 or graduation. Having a good knowledge of computers, MS Office and the internet is mandatory. 
The duration of the course is 6 months and you can opt for a weekend or weekday batch. There is a lot of flexibility and you can choose from a variety of batch options.
The course fee is INR 45000 + GST (One-time payment).
 If you want to pay it in installments, the course fee amounts to INR 55000 + GST.
The course curriculum is as follows
Module 1: Accountancy
Syllabus
Accounting Basics And Process 

Bank Reconciliation Statements 

Depreciation 

Final Accounts 

Sole Proprietorship 

Partnership Firm 

Goodwill And Capital 

Debentures 

Forfeiture And Reissue Of Shares 

Redemption Of Preference Shares And Others.
Module 2: GST
Syllabus
Overview Of GST 

Accounts And Audit 

Time Place And Value Of Supply 

Input Tax Credit 

Reverse Charge Mechanism 

GST Registration 

Invoicing 

Penalties Under GST

Computational GST

Forms And Annual Return among others
In this module, you have a practical workshop that is conducted over one week. 
Module 3

 is TDS TCS. It comes with hands-on practical learning for 7 days. 

Module 4:

 Tally ERP 9 with GST 

Module 5:

 Income Tax 

Module 6:

 Auditing. This comes with a practical training workshop as well. 
Whether you are a research analyst, a manager, or a marketing professional, NIFM, through its diverse finance courses will help you to understand the nitty-gritty of the financial markets in a more comprehensive manner. 
Contact: 011 456 46322, 9910 300 590
4. Edupristine
Edupristine is one of the most trusted names in the education industry with a variety of professional courses. With over a decade of experience, they have ensured that they continuously evolve, and polish their training methods to empower more students and professionals coming from varied educational and professional backgrounds. The curriculum is customized and updated regularly to incorporate all the new information and changes happening in the corporate world.
Course Name- Postgraduate Program in Business Accounting and Taxation.
The course is comprised of 9 modules and 14 projects. You get well-versed with software tools. After the completion of the course, you are provided certification and job assistance. You also have soft skills training to apply for and get the best jobs available. 
The 9 modules are as follows:
Basics Of Accounting With Accounting In Tally 

Basic Of GST And Tally 

Basics Of Income Tax And Tally 

Payroll And Its Elements 

MS Excel And MIS

Understanding And Finalizing Financial Statements Purchase And Sales Process 

SAP

Hands-On Training On The BUSY Software 

Interpersonal Communication 

Effective Business Communication Skills 

Resume Preparation And Overall Softskills Training
Edupristine has an exceptional faculty that comprises thought leaders and coveted names in the corporate world. The training pedagogy is exam-oriented and replete with useful resources. They provide soft skills training and post-course support to students. These qualities have made them one of the top business accounting and taxation courses in India. 
Contact : care@edupristine.com, 1800 200 5835. You can also fill-up the form on the website and connect with them for more information about the course. 
Check Out the Best Business Accounting and Taxation Courses in Delhi
5. APG Learning
APG is a premier Institute that conducts business accounting and taxation courses in India for students from financial and non-financial backgrounds. The course is offered in an online interactive format. 
In 2 months of the BAT Course, you complete 85 hours of training to equip yourself with all the knowledge required to excel in the finance industry. The course is practical-oriented and based on practices that have been applied in real-time for students to become competent in carrying out taxation and accounting tasks. 
Course Name- Business Accounting and Taxation Program
Syllabus
Industrial Accounting 

Tally 

Direct and Indirect Taxation Difference 

GST 

Payroll And Its Components

MS Excel 

MIS Reporting 

Valuation Basics 

Ratio Analysis. 
Some of the best features of the BAT Course at APG learning are enumerated below. 
The course has been professionally formulated to cater to both students and professionals who have some years of experience. 
The learning is 100% practical oriented and interactive helping students to communicate with mentors, and brainstorm to get in-depth knowledge of all the components that comprise the counting and taxation industry.
The course is an excellent fit for students and professionals from a background in commerce, MBA, Law, and finance. However, the course has been designed in such a way that it can also help people from non-commerce backgrounds provided they have a minimum of 1 year of experience as a professional. The course is also ideally suited to chartered accountants, company secretaries, financial analysts, and people pursuing such courses. 
6. SLA Consultants 
Structured Learning Assistant Consultants better known as SLA consultants is a popular IT and Non-IT training and development Institute that offers one of the leading business accounting and taxation Courses in India. With more than a decade of experience in the training sector, they provide a well-formulated curriculum that gives wings to your ambition and helps you to get high-paying jobs in the financial accounting sector. 
The course is especially beneficial because the mentors are industry experts, and working professionals in multinational corporations who understand how to execute taxation and accounting tasks with full precision. The institute additionally offers a 100% job guarantee and personality development training.
Course Name – CTAF (Certified Taxation, Accounting, and Finance)
Curriculum
Basics Of Gst GST 

Rules And Format of TDS 

Input Tax Credit 

Electronic Commerce 

Job Work And Composition Levy 

Income Tax 

Advanced TDS 

Import and Export Procedures 

Banking And Finance 

Advanced Tally Prime 

ERP 9 

Financial Reporting 

Advanced Excel 

Advanced SAP Certificate.
Salient features of SAL consultants
The accounting and taxation certificate is provided to you after a careful assessment of your skills and strengths. The certification is industry-recognized and will help freshers as well as experienced professionals to switch to a career in accounting and taxation or to apply for senior positions in the sector. 
Along with an experienced faculty and placement assistance, they also offer a variety of accounting and taxation workshops to help you grasp the components well through implementation in real-time projects. Several case studies help you to further understand how the taxation and accounting tasks are completed successfully.
SLA Consultants have advanced lab facilities to help you become more proficient in the finance domain. There are technical test series and practical sessions to further boost your knowledge in BAT. 
Contact : 8700 575 874.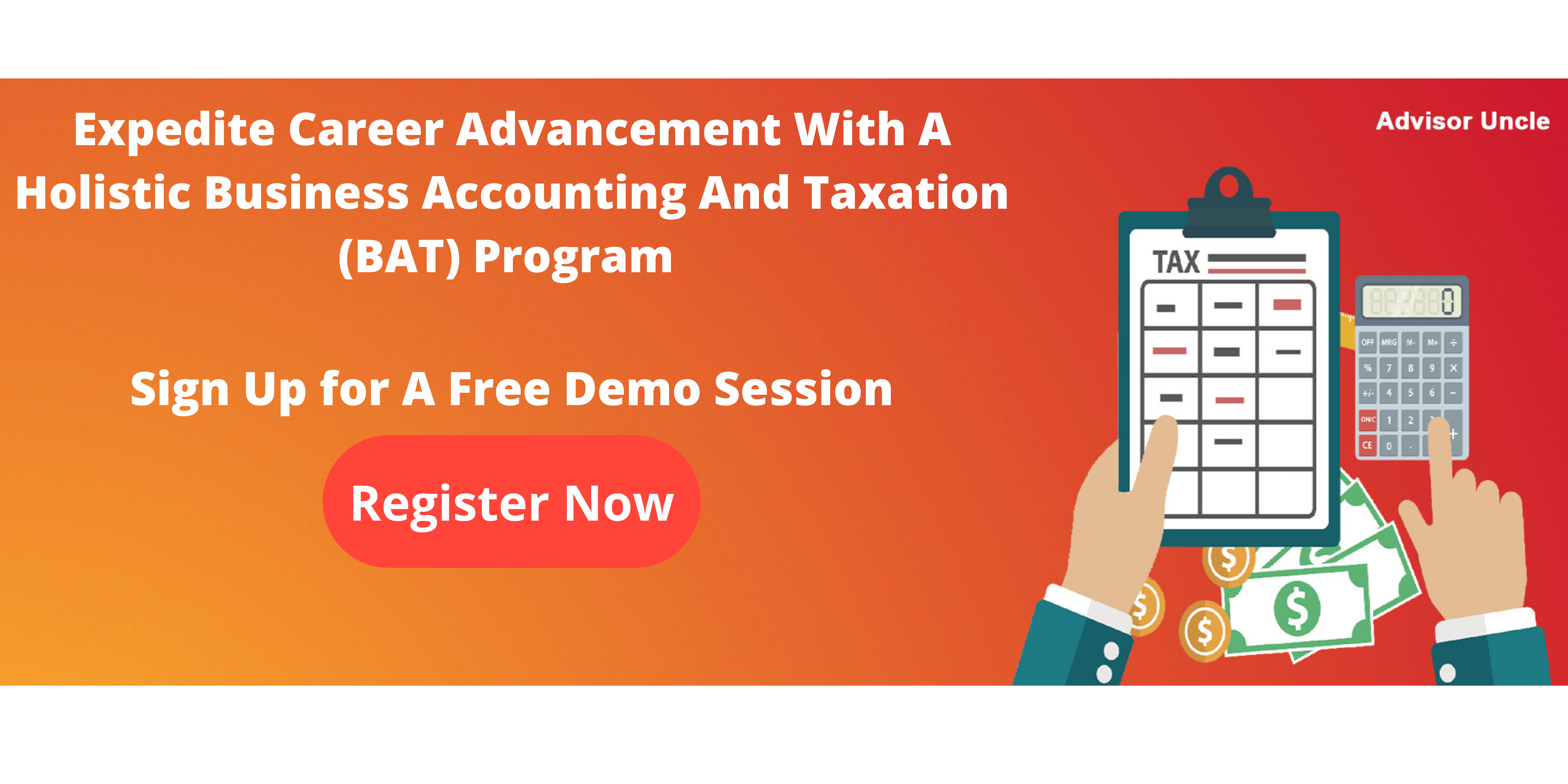 Recommended Read: Financial Modeling Courses in Delhi
7. Udemy
Udemy is a distinguished name in the ed-tech sector with a plethora of courses conducted in different disciplines. The business accounting and taxation courses in India offered by Udemy help to master the fundamentals and advanced concepts of BAT. The courses are offered by industry experts and come with assignments, quizzes, and practice tests that fortify your knowledge of BAT. 
Course name – Complete Accounting and Taxation Course
Course fee – Rs 8640 (They offer discounts regularly, so you have to check the site for the current course fee.) 
Syllabus
Data Analysis 

Financial Management 

MIS 

Tally Erp 9 

Accounting Fundamentals 

TDS 

Accounting And Taxation Management 

Basics To Pro MS Excel
With a total of 32 hours of on-demand video and full-time access to the course content, Udemy ensures that students don't miss out on any new information. The course is accessible on different devices giving you the flexibility to learn on the device of your choosing. After the completion of the course, you get a certificate which you can then display on your profiles that can act as leverage to gain the attention of potential companies.
8. Keerti Institute
Keerthi Institute is a well-reputed institute offering an intensive BAT Course in India online. They offer one of the most renowned Business Accounting and Taxation Courses in India and help to leverage the benefits of the immense potential of the finance domain. The course is industry-aligned and helps to impart knowledge on the operations aspect of the finance and tax sectors. 
Course Name – K-FAT
 (Keerti Certified Course in Financial Accounting and Taxation). 
The course has been formulated keeping in mind, students and finance professionals, who need to acquire higher skills to perform the various complex financial accounting and taxation tasks.
The pedagogy helps to train people from the finance and commerce field to implement accounting and taxation activities in all sectors be it manufacturing, service, or trading. 
Eligibility for the course: You have to be a graduate in commerce, accounting, finance, banking, and insurance. 
Duration –  6 months. 
In these six months, Keerti Institute incorporates 288 hours of intensive training to help you gain an advanced understanding of different finance and taxation concepts.
Syllabus
Working With Office Tools Like MS Word, Excel, Powerpoint, Outlook 

Advanced Excel 

Banking 

Financial Services 

Insurance 

Direct Tax 

Business Accounting 

Quickbooks 

Introduction To Investments 

TDS 

Costing And Auditing 

Indirect Tax Including GSTTally Prime 

Advanced Inventory With Tally Prime

Advanced Accounting With Tally Prime 

Job Costing 

Job Works 

MIS Reporting 

Introduction To Payroll 

Soft Skills Training 

Resume Writing Skills 

Interview Skills 

Communication Skills 

Personality Development
You can apply for senior profiles like finance executives, analysts, senior account executives, tax consultants, and commercial managers after completion of the course. 
Contact: 7700 906675, info@keerti.org
Recommended Read: Business Accounting and Taxation Courses in Chandigarh
9. Institute of Professional Accountants 
Institute of Professional Accountants, IPA offers one of the most comprehensive business accounting and taxation courses in India. The course is conducted online as well as offline.
Course Name – Diploma In Accounting Finance Taxation And Banking
Course duration – 18 months
The course is offered to students from commerce as well as non-commerce backgrounds and equips them with real-time training and professional knowledge on business accounting and taxation.
The course covers 13 modules with 7 projects, 6 software
Syllabus
Industrial Accounting 

Knowledge Of Accounting Software Including Tally Erp, BUSY

Income Tax 

GST Auditing 

Provident Fund 

Labour Laws 

Company Laws 

Stock Market 

E-commerce & Banking 

Advanced Excel 

SAP FICO Module

Soft Skills Training 

Personality Development 

Speaking English Fluently
Contact: info@tipa.in, 9213855555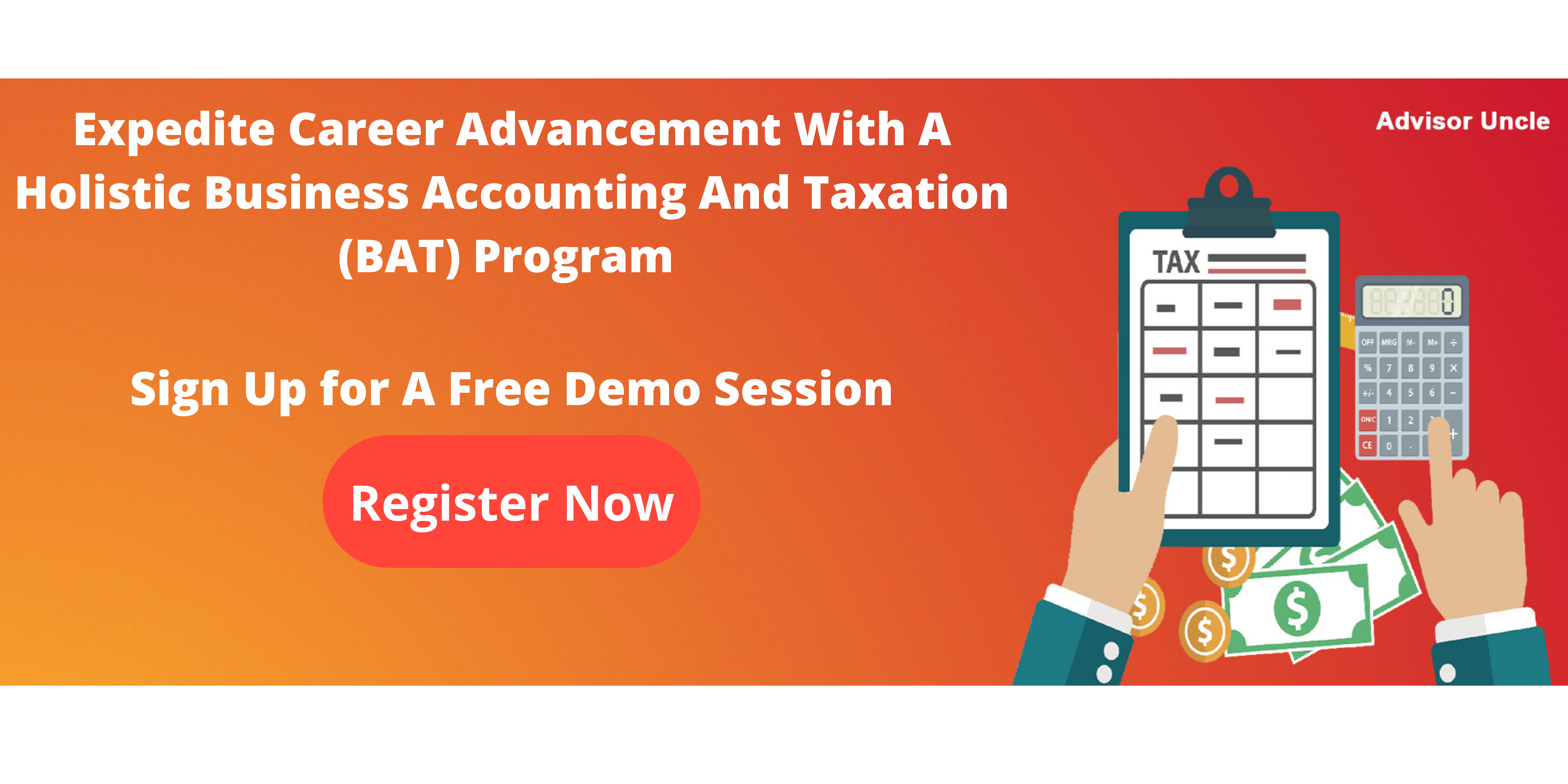 10. City Commerce Academy
City Commerce Academy is regarded as among the most reliable online business accounting and taxation courses in India. Ever since its inception in 1999 City, City Commerce Academy Academy has striven to become one of the best institutes offering professional courses in the finance discipline. 
To enroll for the BAT course In India, you can choose to take 4 individual courses or one course that includes all the topics covered in the individual courses.
Course 1 – Business Accounting – INR Free
Concepts Covered
Accounting Theories 

Journal Entries 

Basic Concept Of Finance

Business Accounting 

Double Entry System In Practical Accounting 

Practical Training
Course 2 – Accounts Expert INR – 6,200
Concepts covered
Manual Accounts 

Computerized Accounts 

Tally Erp 9 

Reconciliation And Balance Sheet 

Inventory Accounting 

Reports And Mis 

Debit Note 

Credit Note 

Imprest Accounting
Course 3 – Tax Expert INR – 6800
Concepts covered
Goods And Services Tax 

Income Tax 

Indirect Taxes 

Tax Deduction 

Employees Provident Fund 

Employee State Insurance 

Payrolls
Course 4 – Accounts and Tax Expert INR – 10, 800
Course content
Business Accounting 

Accounts Expert 

Taxation Expert 

Short Courses
Contact: 9256992278, 7009257199
Concluding thoughts on the Business Accounting and Taxation Courses In India.
Here are the top 10 BAT courses in India conducted by some of the most reputed institutes in the education and technology sector. All the institutes for BAT courses in India mentioned above, come with additional features like lifetime access to the content, placement assistance, and soft skills training that further helps to boost your confidence as a finance professional when you apply for job profiles. Make sure that you go through the syllabus of the BAT courses thoroughly and select the course that ticks most of your requirements. 
FAQs
1. Is BAT Course Worth Doing?
The finance sector is an extremely lucrative career avenue for people with a proclivity for business management, business mathematics, accounting, and taxation. A BAT course in India gives you proper training on the varied factors of business accounting and taxation. You sharpen your existing skills and become eligible for better positions with handsome pay after you complete a BAT course from a reputed institute. Therefore, it is very much significant for someone who wants to flourish in the finance domain. 
2. What is the fee for Business Accounting and Taxation Courses In India? 
The fee for business and taxation courses in India can be anywhere between INR 35000 to a few lakhs depending on the features the institute provides. 
3. Are there any prerequisites to enroll in Business Accounting and Taxation Courses in India?
Students with a background in finance, business management, and commerce have a working knowledge of accounting and taxation. Hence it becomes easier for them to discern the topics of BAT more comprehensively. However, it is not mandatory and various institutes implement different rules for eligibility for the course. The apt thing to do would be to visit their website and check for the eligibility option.