Top 5 Business Accounting and Taxation Courses in Hyderabad
Completing one of the business accounting and taxation courses in Hyderabad offers the attractive prospect of a secure and lucrative career in a key niche of the financial industry, providing successful students with the opportunity to bridge the gap between the academic foundation they achieved in university and the specific requirements that financial corporations look for in their prospective employees. The course will provide the specialized knowledge that allows the new graduate to climb the promotional ladder faster while boosting their professional self-confidence to handle the tasks provided by management. 

What is Business Accounting and Taxation?
Examining both fields separately before discussing why they are combined, business accounting is a critical financial tool that allows companies the ability to budget, forecast, and review organizational finances to keep operations running smoothly and in a correctly funded manner.
Taxation, by contrast, is necessary—but almost universally disliked—the practice of revenue collection by governments to provide them with the ability to fund vital public services and meet the financial goals of the relevant country.
Taking the timeless adage about death and taxes as an example, it seems logical that—regardless of automation anxiety—careers in business accounting and taxation are going to be available in a developing form for the foreseeable future.
Adding one of the business accounting and taxation courses in Hyderabad to their résumé will allow the professional and motivated students to appraise themselves of the latest changes in the field, adapt to the AI revolution in the sense of how it will affect business accounting and taxation, and increase their value to their respective organization.
Normally, there are two major and completely distinct roles in company finance departments: operational finance and corporate finance. The bifurcation of duties is necessary primarily to allow the operational finance team to focus on operational profitability when required, allowing a detailed look at specific products, services, or brands that are underperforming at a department level; while allowing the corporate finance team to take a broader perspective, preparing the balance sheet and consolidating the accounts at a wider company level.
This bifurcation of two different accounting duties is a major part of the rationale for business accounting and taxation courses in Hyderabad and indeed worldwide: There is a requirement to clearly understand the difference in operational accounting at a department level, involving accounting codes and mapping.
A business accounting and taxation (BAT) course essentially provides the framework for students to understand how to combine the knowledge and skills from the two related fields of business accounting and taxation and use them both in a seamless and integrated manner in practical—rather than simply theoretical—professional environments.
You may also want to know about Small Business Accounting Software
Why Should You Take Business Accounting and Taxation Courses in Hyderabad?
From an Indian perspective, in particular, attending one of the business accounting and taxation courses in Hyderabad certainly has the potential to fast-track a graduate's career, considering the developing nature of the economy and the resulting boom in the accounting market throughout the country.
If you are a recent graduate and are determined to hit the ground running in your accounting career, one of the business accounting and taxation courses in Hyderabad will provide the degree of specialization and an introduction to the practical side of accounting that will make you stand out clearly from other new graduates in the field.
If you have spent up to two years working in basic accounting and have the impression that you are treading water in your career, adding this course to your portfolio may be what you need to allow you to quickly recover your initial momentum and break whatever barriers are slowing your upward progress.
If you are an experienced accounting professional and have identified a key position or niche in your organization or client base that requires the specialized knowledge that business accounting and taxation courses in Hyderabad will provide, the course will allow you to grasp the opportunity, using the new skills that you learn the confidence and expertise to add value to your organization or clients.
Check out here the other rewarding courses in Hyderabad
At this point, it will be constructive to examine how completing one of the business accounting and taxation courses in Hyderabad will affect and advance the career of a new graduate or accounting professional. The career options of an accountant will, of course, be primarily influenced by their ability, experience, and skills; geographic location and language are also relevant.
While not providing all of the immediate options that an accounting career in New York or London can offer, the Indian market has its advantages, being perhaps the economy that will, in time, develop and grow the largest in what is the most dynamic economic region in the world—Asia.
Furthermore, in comparison to several other leading economies, Indian demographics are promising, and the country is headed towards becoming the world's most populous. India is heavily globalized, open for business and trade, and well-integrated into the wider world economy;  the fact that a significant proportion of its white-collar workforce is proficiently skilled in English is another advantage.
Essentially, the prospects for a young Indian accountant are very good, with many domestic career options available, followed by the possibility of employment at a multinational corporation such as KPMG. If a properly qualified candidate wishes to use or develop their skills abroad, that door is also open.
Thanks to the abovementioned language skills and integration into the global economy, combined with the industrious reputation that the Indian financial workforce has acquired, a career move abroad is a feasible option for the candidates offering adequate value to the organization.
One of the best ways to lead with this value when approaching an international financial company for employment or promotion is the practical and specialized knowledge offered by an appropriate professional-development course, such as one of the business accounting and taxation courses in Hyderabad.
It's essential for the accountant who wants to pursue an international career to choose a course—or a combination of courses—that results in qualifications offering global recognition and credibility. Potential students would be well advised to discuss their options carefully and critically with peers and mentors already established in key parts of the financial industry, and then approach a trustworthy course provider.
After achieving the relevant qualifications, a career path is a leading financial multinational corporation (MNC) such as KPMG, PricewaterhouseCoopers (PwC), Deloitte, or Ernst & Young (EY) is created, with all the possibilities that follow. Regarding examples of specific opportunities for an Indian accountant abroad, a brief look at Naukri.com will reveal potential opportunities for accounting and finance jobs in countries such as the USA, Canada, and Australia.
Career options for accounting graduates include the following sectors: business, human resources (HR), and finance; secretarial, clerical and administrative; retail and management. The position of chartered and certified accountant receives a high number of new graduates; with wage clerks, bookkeepers, and payroll managers also collectively absorbing many newly qualified accountants.
Notably, there is a high correlation between the particular accounting degree held by the graduate and the professional role that they eventually go on to fill, suggesting the value of choosing a clear accounting specialization and the increased value offered by specializing further with one of the business accounting and taxation courses in Hyderabad.
According to both Money View, India, and Futurelearn, the profession of accountant still ranks among the highest paying jobs in India. In addition to accountancy firms, the scope of further employment opportunities after completing a financial accounting and taxation course includes insurance companies, management consultancies, investment banks, high street banks, and building societies to mention a few.
As mentioned in the previous section, the position of accountant offers an opportunity to earn an excellent salary, both domestically in India and internationally. In India, a newly qualified business accounting and taxation accountant working in a basic organization can earn around Rs. two Lakhs, increasing to Rs. ten Lakhs with time served and further experience gained.
Chartered Accountant (CA) firms offer new graduates an opportunity to gain vital practical experience, gain an overview of the industry, make their mistakes, and build their professional relationships before advancing in their careers. A CA firm normally offers new graduates three to eight Lakhs as a starting salary.
For a chartered accountant working in India, joining a multinational corporation like Hindustan Unilever Ltd (HUL), Procter & Gamble (P&G), Marico, and Reckitt Benckiser Group (RB) can lead to a salary over 18 Lakhs, with the opportunity to significantly increase the financial rewards of the relationship with time and advancement within the relevant company.
Information Technology (IT) companies offer accountants an average starting salary of between eight and ten Lakhs, and examples of companies that could be approached for employment include Tata Consultancy Services (TCS), Infosys, and Wipro.
Candidates who manage to join the "big four," or KPMG, Ernst & Young, Deloitte, and PricewaterhouseCoopers are in a particularly advantageous position to develop their careers in various directions within the accounting field.
For accountants wishing to pursue an international career, USnews.com reported a median salary of 73,560 USD in 2020 for accountants working in America, while an accountant in Australia or the UK might expect 92,341 AUD and 33,900 GBP respectively.
Regarding those who do aspire to work in America, becoming a certified public accountant (CPA) will open the door to work in both the private and the public sector, and sufficient experience as a CPA in the right field, such as tax preparation, could eventually lead to an excellent position: An example being a chief financial officer (CFO).
Also Check: Business Accounting and Taxation Course Colleges in Mumbai
Certification Offered
Certification in BAT courses in Hyderabad is normally in-house in nature, and the value of the particular course is more directly related to the skills that it teaches, and the reputation and relationships that the training provider may enjoy with companies in the accounting industry, than with the certification provided at the end of the course.
A potential student interested in topping up their basic accounting skills with taxation and business accounting training would be well advised to carefully discuss what relationships a training provider has established with employers in the financial industry. The value of the certificate will depend on this factor.
List of Top Institutions Offering BAT Courses
Rank# 1. BAT Courses in Hyderabad
1. IIM Skills
After five years as a leading course provider in India, training more than 14,300 professionals from over 30 countries, IIM Skills has launched one of the premier online business accounting and taxation courses in Hyderabad. Students who participate in this course will enjoy several key advantages. If interested in other finance courses, check out the top financial modeling courses in Hyderabad. 
Firstly, the unique teaching methods of IIM Skills utilizing the long experience and engaging communication skills of the instructors to distill and transmit the technical knowledge of leading industry experts into very clear course materials that can be easily understood.
Real teaching skills from professional instructors are essential if students are to comprehend and retain the knowledge that they are taught, instead of being overwhelmed with mountains of incomprehensible technical jargon that swiftly disappear from memory during an intense course.
Secondly, lifetime access to course materials and a support team available to answer follow-up questions. Each student will progress at their own pace, and the option to return to the lessons periodically in the weeks and months following the course allows the knowledge to be retained and available when the student needs it.
If the student has an inquiry, the support team will usually reply to emails the same day. Finally, IIM Skills offers global placement assistance for its graduates after the course has been completed. If a student has made the effort to complete the coursework, IIM Skills will guarantee an interview.
The IIM Skills BAT Course Syllabus Includes the Following Components:
Four months of live online training with the Indian government recognition of the content.
More than 120 hours of lectures and 60 hours of practical assignments.
Extensive training in vital accountancy tools including Excel, Tally, GST, and Quickbooks.
An opportunity to master the course content and gain practical experience in a challenging internship.
Specifically, the Course Consists of Six Modules:
The Basics of Business Accounting and Tally (25 Hours)
The Basics of Goods and Services Tax (GST) and using Tally in GST (22 Hours)
The Basics of Tax Deducted at Source (TDS) and TDS using Tally (20 Hours)
Payroll Accounting Fundamentals and Advanced Payroll using Tally (12 Hours)
Income Tax Accounting with Tally and Income Tax E-Filing (23 Hours)
Advanced Use of Excel and Management Information System (MIS) in Accounting (18 Hours)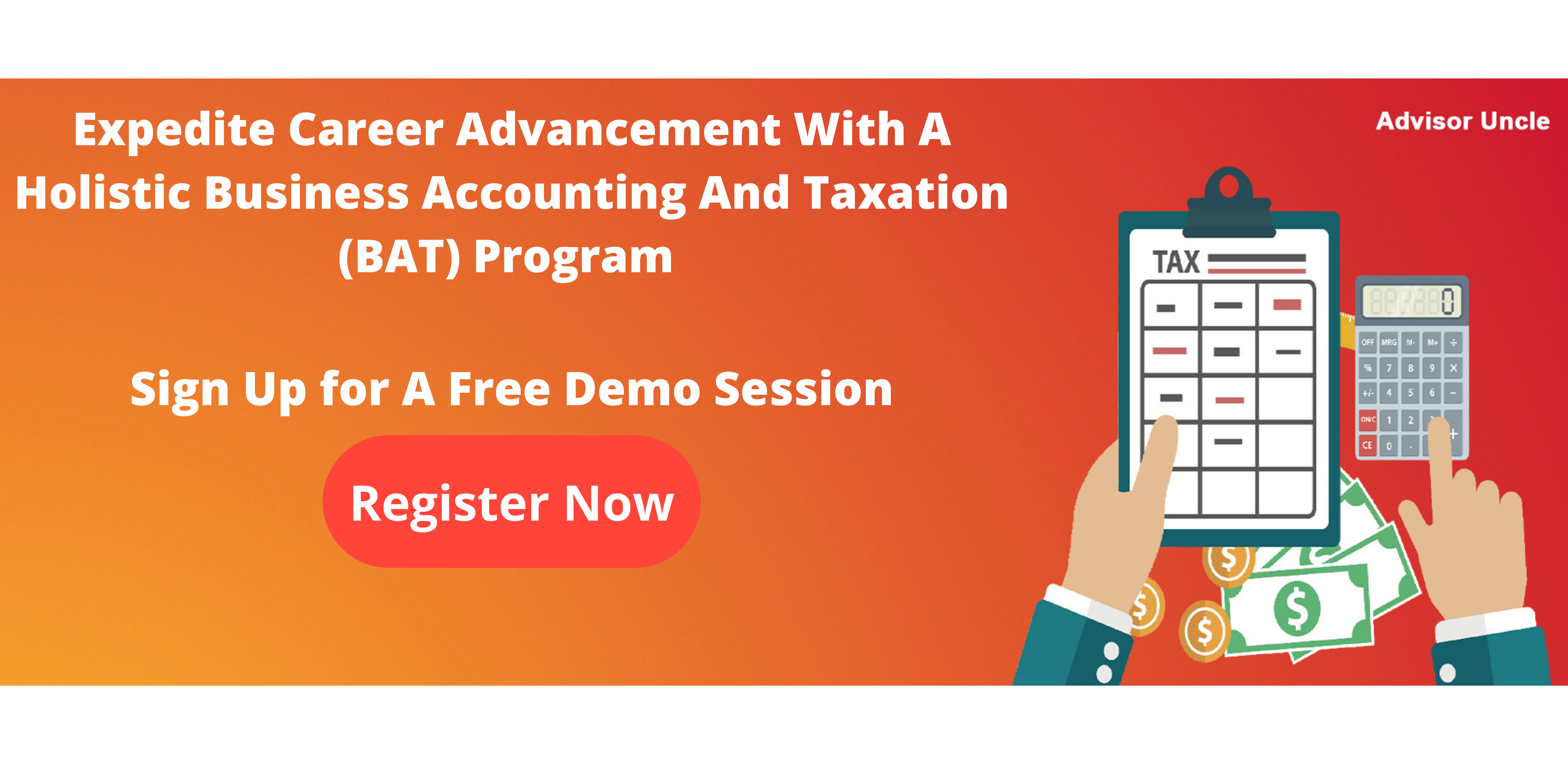 More In-Demand Courses from IIM SKILLS
Rank# 2. BAT Courses in Hyderabad
2. EduPristine
EduPristine is another respected and well-known training provider of BAT courses and is another option for students interested in one of the certificate business accounting and taxation courses in Hyderabad.
The EduPristine Business Accounting and Taxation post-graduate program is designed with up to nine structured modules intended to equip the student with the required knowledge to become a professional accountant that can operate effectively immediately on completion of the BAT courses.
Preparation for job interviews is provided by a career services team, and an option to complete just six of the modules in a more condensed course is available. The EduPristine BAT courses in Hyderabad can be completed in a minimum of five months. The first four modules teach the basics of several key accounting components and how they are used in Tally: Accounting, GST, Income Tax, and Payroll.
The fifth module is focused on Excel and MIS, while the sixth and seventh deal with Financial Statements and BUSY Practicals respectively. Module eight deals with SAP, and the final course module teaches the soft skills of business and interpersonal communication.
Find here the Most Popular Online Business Accounting and Taxation Courses
Rank# 3. BAT Courses in Hyderabad
3. Finprov
Finprov provides a six-month course in business accounting and taxation for graduates intending to complement their degree with a BAT specialization. The Finprov Certification in Business Accounting and Taxation (CBAT) course includes approximately 200 hours of training including 10 case studies, and, on successful completion of the course, students will be offered placement assistance to enter their chosen niche in the accounting profession.
The Course Includes the Following Material:
Training in Tally Prime and Quickbooks
Corporate Law, PF Computations, and ESI Calculations
Cash Budget Preparation and Reports with MIS
How to Prepare, Finalize, and Analyze Balance Sheets and Profit and Loss Accounts
GST
The Finprov CBAT course is currently being advertised for 40,000 Indian rupees.
Rank# 4. BAT Courses in Hyderabad
4. Udemy
Udemy courses, while short and lacking the credibility of the longer and more detailed courses in this article, arguably have a role to play for accounting graduates who are in the process of deciding if business accounting and taxation is the specialization that they want to pursue in their career, and if they have an aptitude for it.
Before making a significant investment of time and money in a course and internship that will last months, the student can try a course on Udemy, often for less than 1,000 Indian rupees. As a very basic introduction to the field of taxation and accounting courses, the Udemy accounting and taxation course fees are reasonable.
While lacking a support team or extensive and detailed content, students of the Udemy Complete Accounting and Taxation Course 2022 will receive an introduction to the following accounting and taxation concepts:
An introduction to Tally, including its history and advantages as an accounting tool
Concepts of GST and GST Portal
TDS and Income Tax
GST Concepts
The Udemy Online Accounting and Taxation course offers lifetime access to 32 hours of video and one article, and includes case studies, assignments, and practice tests; with an in-house Udemy certificate on completion. Finally, Udemy offers a 30-day money-back guarantee.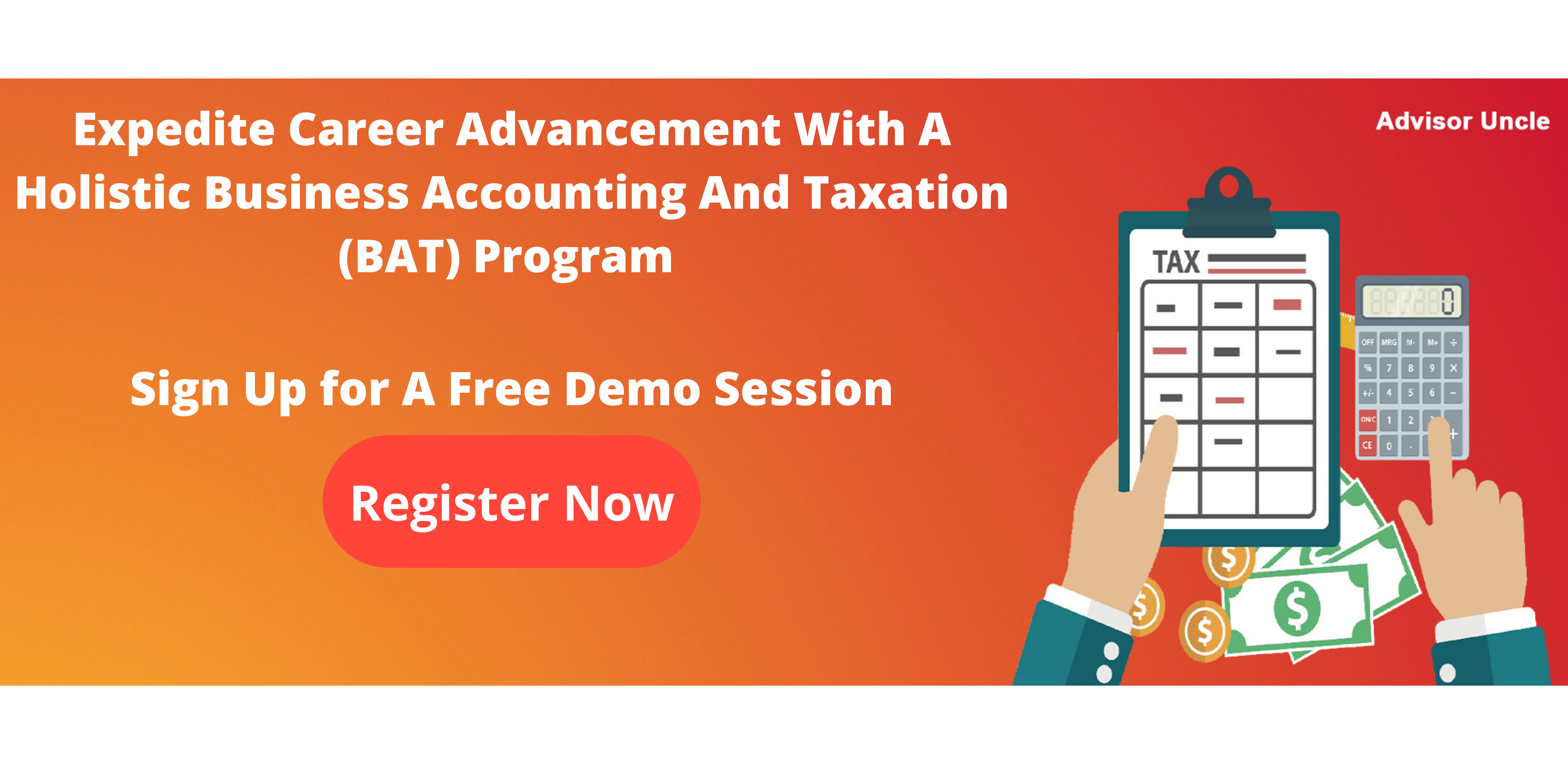 Also Read:  Financial Modeling Courses in Pune
Rank# 5. BAT Courses in Hyderabad
5. Henry Harvin
The Henry Harvin Post Graduate Program in Business Accounting and Taxation (PGAT) is a six-month course followed by an internship of up to six months.
Students Who Join This Program Are Trained Using Henry Harvin Pgat Course Material:
GST Types and Models
GST Skills, including Returns, Refunds, and Invoicing
Accounting Management using Advanced Tally
Preparation of Statutory Reports
Functions of Advance Excel
Tax Audit and Tax Return Filing
Compliance with Labor Laws
FAQ
Q. Who do I approach for more information about one of the business accounting and taxation courses in Hyderabad near me?
It is always better to cast your net as wide as possible, receiving advice from as many relevant and informed sources as you can before investing in your education. Colleagues who are already established would be a good start, and the well-known advice about the value of a mentor is both true and generic across any industry. After discussions with colleagues and mentors, or if these assets are unavailable to you, your next port of call should be in the form of an established and trustworthy training provider, such as IIM Skills, India, with the experience and credibility to offer you the best variety of options.
Q. What prior qualifications are needed to be eligible for one of the business accounting and taxation courses in Hyderabad? 
The necessary background will vary from one-course provider to another; however, as these are courses intended for a trained accountant to specialize, a basic accounting degree is a logical prerequisite in the majority of cases. Except for an example members of a family business undergoing accounting and taxation training, the prospects of securing employment as an accountant without a relevant university degree are not good.
Q. Are the business accounting and taxation courses in Hyderabad what I need to pursue an accounting career internationally? 
Not directly, However, after attaining an accounting degree and completing a course that legitimizes you to work in a particular country, such as the certified public accountant (CPA) course in America, a business accounting and taxation course will increase your chances of employment globally as a result of adding to your professional skill set.